There are more than 600 sites in Mesa Verde National Park, the only national park dedicated to the works of man, but not all are open to the general public.
Mark you calendars now for the 2020 season, because there are specialty tours Mr.D likes to sign up for and they book up fast. These small group tours, 10-12 people, are led by a knowledgable park ranger allowing for a more intimate and close-up opportunity to explore select cliff houses.
This past week was the last tour of the season for Oak Tree House.  For those familiar with the layout of Mesa Verde, Oak Tree House is near Sun Temple with an amazing view of Cliff Palace (eastern side of the park).
To get an overview of the dwelling, take the Mesa Top Loop Road on the Chapin Mesa. There you can view Oak Tree House across the deep Cliff Canyon.
This house is unique in that it is a 60-room sandstone site built on two ledges, and is one of the largest cliff dwellings in the park. Oak Tree House is a well preserved but a fragile site that features plastered walls and varied architectural styles.
(map courtesy Mesa Verde National Park)
Getting to the site is a big part of the adventure.  First, you meet at Sun Temple parking lot where the ranger greets you to go over safety instructions. A 2 hour, 1 mile hike, it is moderately strenuous and we were told to expect narrow, unpaved, uneven trails with steps carved into the sandstone, steep drop-offs, and a 15 foot ladder to maneuver.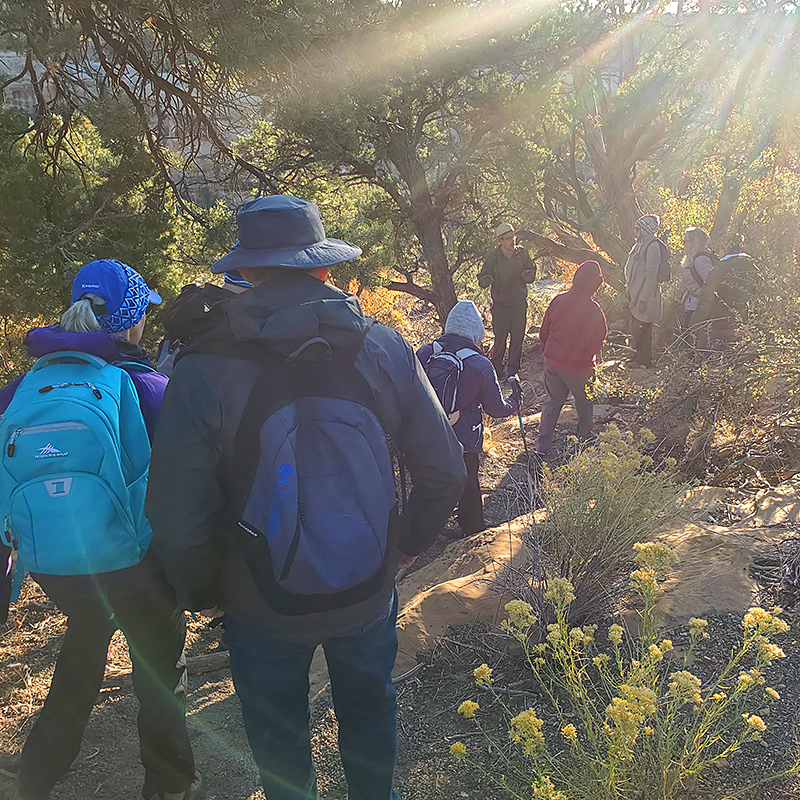 It was a chilly October morning with the sun peeking over the canyon.  We were all dressed in coats, hats, layers, with walking sticks, and plenty of water on hand.
We walked down the rocky path to the ladder.  Each of us took a turn holding onto a rope for support, down an ancient footpath carved into the rock, and then scampered down the ladder.
(Above pictured: look to the alcove in the upper right of the photo, that is Cliff Palace dwelling in morning shadows.)
We continued on a rocky path and navigated down a narrow rock walkway (seen below).
The trail keeps descending through brush, juniper, cedar, and Scrub Oak (hence the name of the dwelling).
A unique part of this hike is that you walk by an ancient seep spring that, after all these years, is still providing water. The wood positioned across the spring is to help preserve the site and allow animals to drink from it.
Getting closer now through the brush along the sandy path …
We arrive at Oak Tree House.
Ancient walls with plaster, and soot marks from fires are still visible. Some of the walls have been righted and secured, but most everything is still intact from over 800 years ago.
You can tell from the layout of the structures that these were close quarters, with carved sandstone rocks and clay mortar walls.
Above pictured: look to the center bottom where they built around a fallen boulder.
Above you see an area dug out with walls built up.  This is believed to be an area for work and grinding corn on a metate.
Pictured below is a kiva — a round, sacred ceremonial structure found in every dwelling and pueblo at Mesa Verde. Note the black soot from fires long ago.  Directly above the black soot is plaster still in place.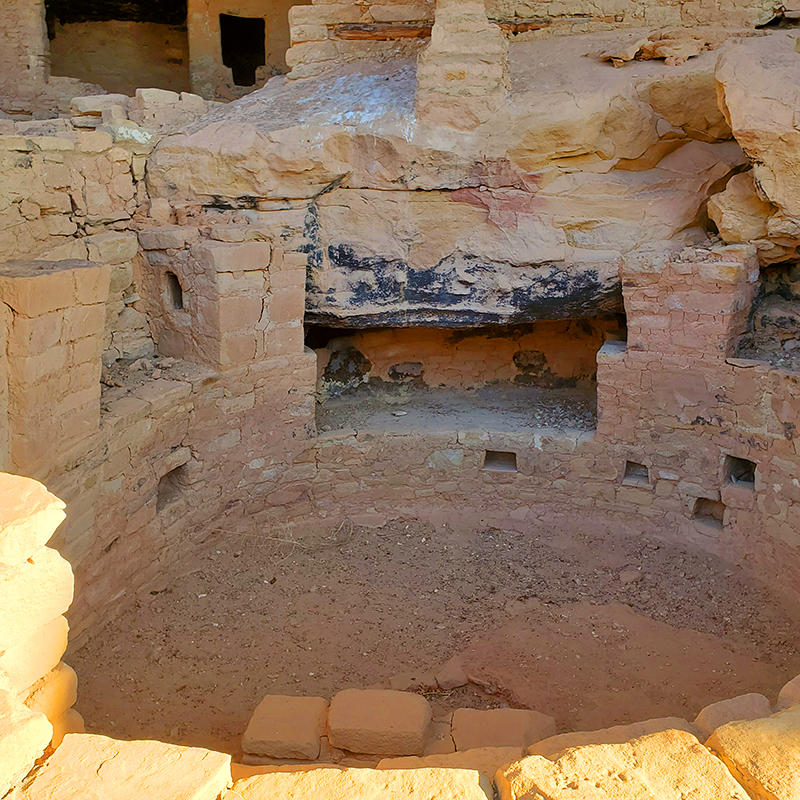 Oak Tree House has over 50 rooms and 7 kivas, with some entrances in the distinct T-shape.
After an hour exploring the site, Q&A with our ranger, finding potsherds to look at (and place back where we found them), it was time to leave. We exited the way we came in, and what a view! …
Wishing You Happy Discoveries!
Amy and Mr.D
Backcountry hikes and tours can be reserved at www.recreation.gov. 
More discoveries …
Backcountry Hikes (will vary each season) :
Mesa Verde Dwellings and Tours:
Mesa Verde Video Tour – Long House.
Balcony House Sunrise Summer Solstice.
Balcony House and Spruce Tree House.
700 Year Tour and Cliff Palace.