I really thought I could cover all of  Mesa Verde and the Metate Room restaurant in only two posts??  This is my fourth article photo essay from our amazing trip.  Shown here is the Waldorf Astoria of the cliff dwellings, Cliff Palace.  If I had a short time to discover the park, I'd buy my ticket and make a beeline for it.  With over 150 individual rooms and more than 20 round kiva rooms, it's the largest cliff dwelling in North America.
We caught the 2:00 bus for the 700 Years Tour  named for the timeline in which Mesa Verde was inhabited by people who used to be called the Anasazi, but this is thought to mean 'enemy' in another language so they are now known as the Ancestral Puebloans.
Tip: get a seat on the right side of the bus, the views are better.
With a map from the visitor's center and site markers like this, you are sure to find your way for self guided tours.  The beauty of taking the bus was that neither of us had to drive.  We could sit side by side, take in the sites and learn the history and details from our tour guide.
One of the first stops, an excavated pithouse.
Excavated kiva room.
Pithouse illustration and model.
These prickly pear cactus were near the Pithouses.  This land was and is harsh, not a lush climate for crops.  The ancient inhabitants made use of things available to them.  Cactus for jam.  Pinyon sap to line baskets and needles to make tea.  Pinyon nuts for protein.  Sage for insect repellant and ceremonial purposes.  Juniper bark for weaving.  A use was found for every part of a plant or tree.
There are MANY gorgeous lookout stops on the tour. Pictured above, Sun Temple is on the top left, and our first glimpse of Cliff Palace is in the distant shaded cliff alcove to the right.
Sun Temple.  The black drip markings down the cliff face are called Desert Varnish.
Another teaser peek of Cliff Palace from Sun Temple.
There were also quite a few views like this, with sandstone that had frozen then thawed to expand and break off from the mesa tops.  Reminds one of how special and amazing it is that so many of the cliff dwellings are still standing and in good condition.
Sun Temple was situated in such a way that it glowed golden-orange.  It was a ceremonial structure, no household artifacts were found there.
This little notched basin is thought to be a sun dial.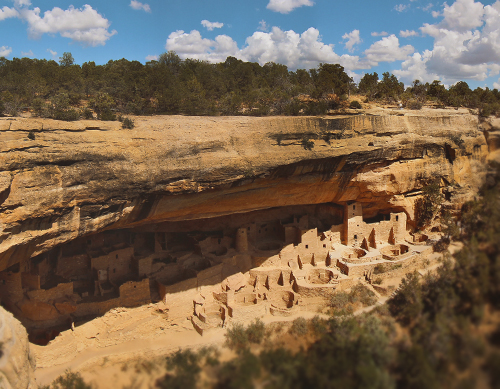 At last, we made it to the big city.
This was a ranger guided tour, and I tried to keep up with the group but this place was just too special and stunning.  I was the slowpoke.  Taking photos and stopping to study the shapes and textures, because I've been wanting to paint a wall mural of it for the longest time.  And it was thrilling to finally be there, to walk around.
Kiva room with ventilation.
Tip: No touching.  If anyone reached out, leaned on or made a move toward the brickwork, a ranger pointed to this window and said "See those black markings?  That's what happens to sandstone when the oils from our fingers touch it."
Final look back.  We were there for an hour.  It seemed like five minutes.
On the return ride to the lodge, we drove through the southern loops of the park, past the Ute reservation, Balcony House, Soda Canyon overlook trail and a few other Far View sites.
Note:  If you have one day to see the park, I would suggest taking the morning 700 Years Tour, have lunch at Far View Terrace Cafe, and then go back to the sites that were pointed out but not stopping points on the tour.
 Spruce Tree House, Chapin Museum and Balcony House are not to be missed.
And then there are all of the hiking trails, and the West side of the park with Long House.  A stretch to fit it all into one day, here is a link to my previous post on the West side.
Back in our car as we left the park, the town of Mancos in the distance.
The park has over 5,000 archeological sites, and 600 cliff dwellings.  Never a lack of discoveries with each visit.
xoAmy
Check the website:  700 Years Tour will continue through October 25 of this year (2014)
Note: for self-guided sight seeing, some dwellings like Cliff Palace require tickets that can be purchased at the visitor's center and some ranger stations.
Here is a link to Day 1 covering parts of the West side of the park.
Here is a link to the Metate Room where we had dinner.
Here is a link to Day 2 covering the East side of the park, before our afternoon 700 Years Tour.
Note:  There are hiking trails all over the park, to petroglyphs and other sites that we didn't cover.  Follows are links and phone numbers that were helpful in planning our self-guided, ranger-only, and specialty tours:
Mesa Verde National Park Website
Park Visitor's Center Phone  970 529 5037
Mesa Verde National Park Plan Your Visit
Mesa Verde Fees and Reservations
Far View Lodge Phone:  800 449 2288
Special Tours at Recreation.gov