We never get tired of Mesa Verde National Park and feel unbelievably blessed that it's in our own back yard.  And now that we've discovered the small intimate specialty tours they offer, our annual park pass is about to have a meltdown!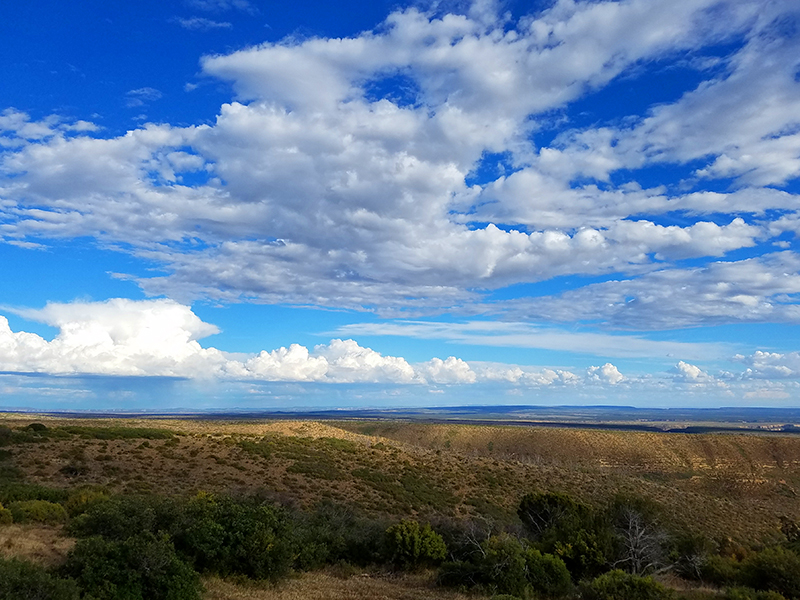 On this trip we made the amazing discovery of Square Tower House tour. This small guided hike is offered through Recreation.gov and is only available from mid-May to mid-October.  Driving around the park on the Chapin Mesa side, you are able to stop at overlooks to see most of the cliff dwellings from the Mesa Top Loop and Cliff Palace Loop.  So the day before the tour we went to see Square Tower's view to try and make out how on Earth we would hike to it.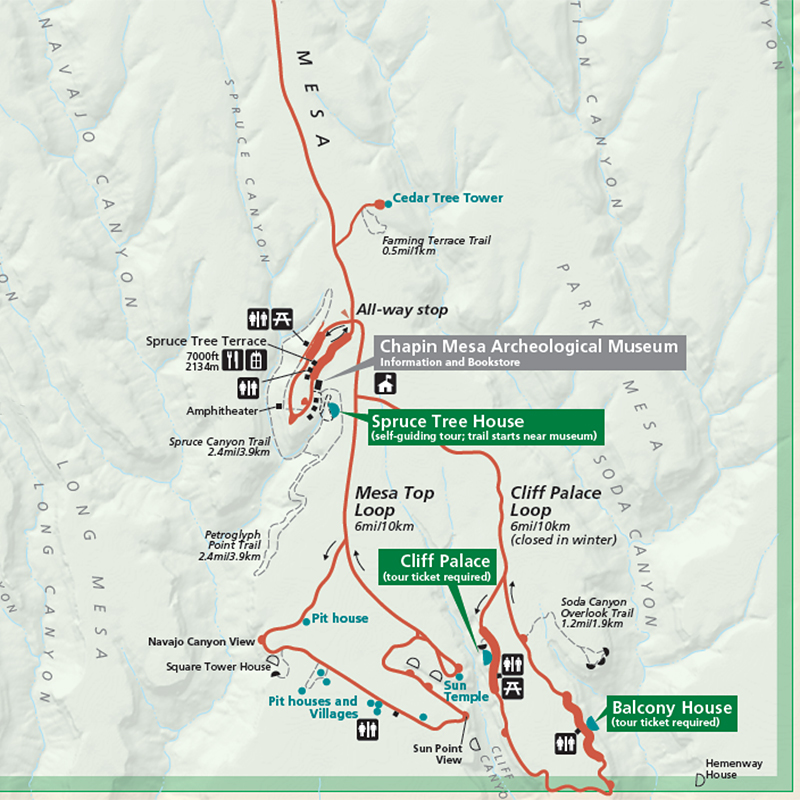 There, we had a clear bird's eye view of the dwelling, and also Navajo Canyon (see video below). From this vantage point, all we could make out were drop offs and cliff faces, and could not find the trail to the dwelling. The next day we found out and it was a bit more heart-racing than we'd imagined.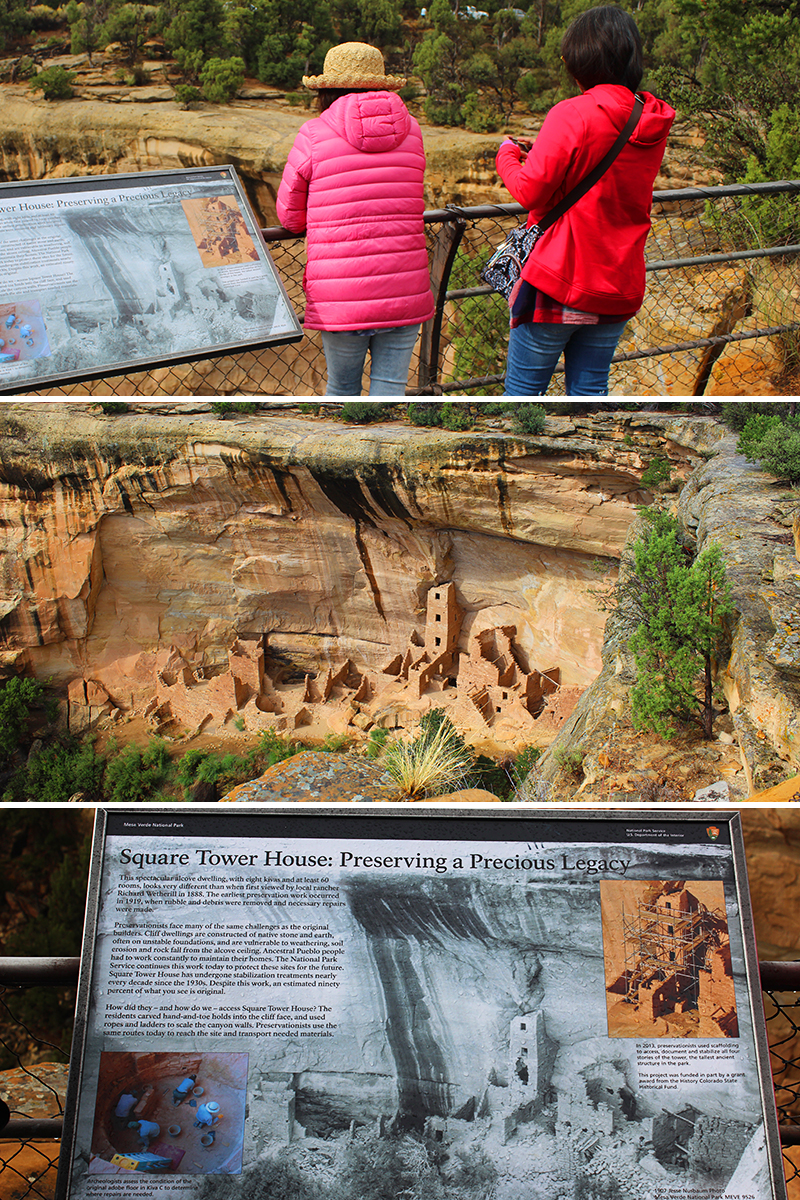 The next morning was cool and crisp.  Silence throughout the park, but for an occasional raven heralding a new day.  Our crackerjack group met at the overlook, 8 a.m. sharp.  The canyon was deep in shadows.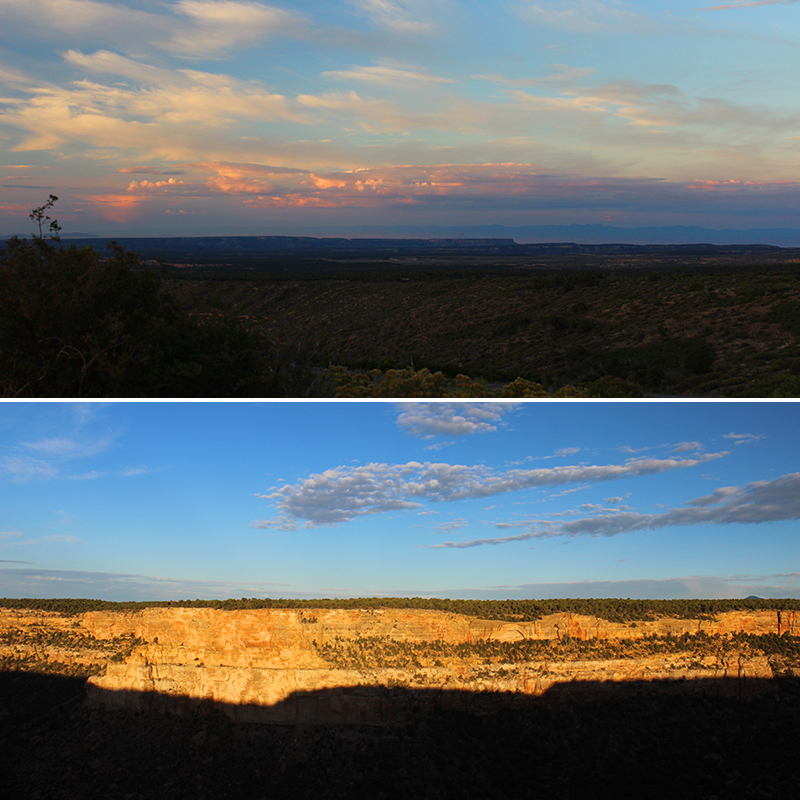 There were 7 of us, plus the ranger and 2 volunteers (1 volunteer was in training). After checking our water supply and tightening our boot straps, we started down the dirt trail to a rock ledge where the ranger gave instructions. This was going to be a 2 to 2 1/2 hour tour that would be strenuous at points, it was a 1 mile round-trip hike, and we would be descending into the canyon about 100 feet. Also we'd be climbing and shimmying around and over boulders.  We were all game and eager to get started, so off we went.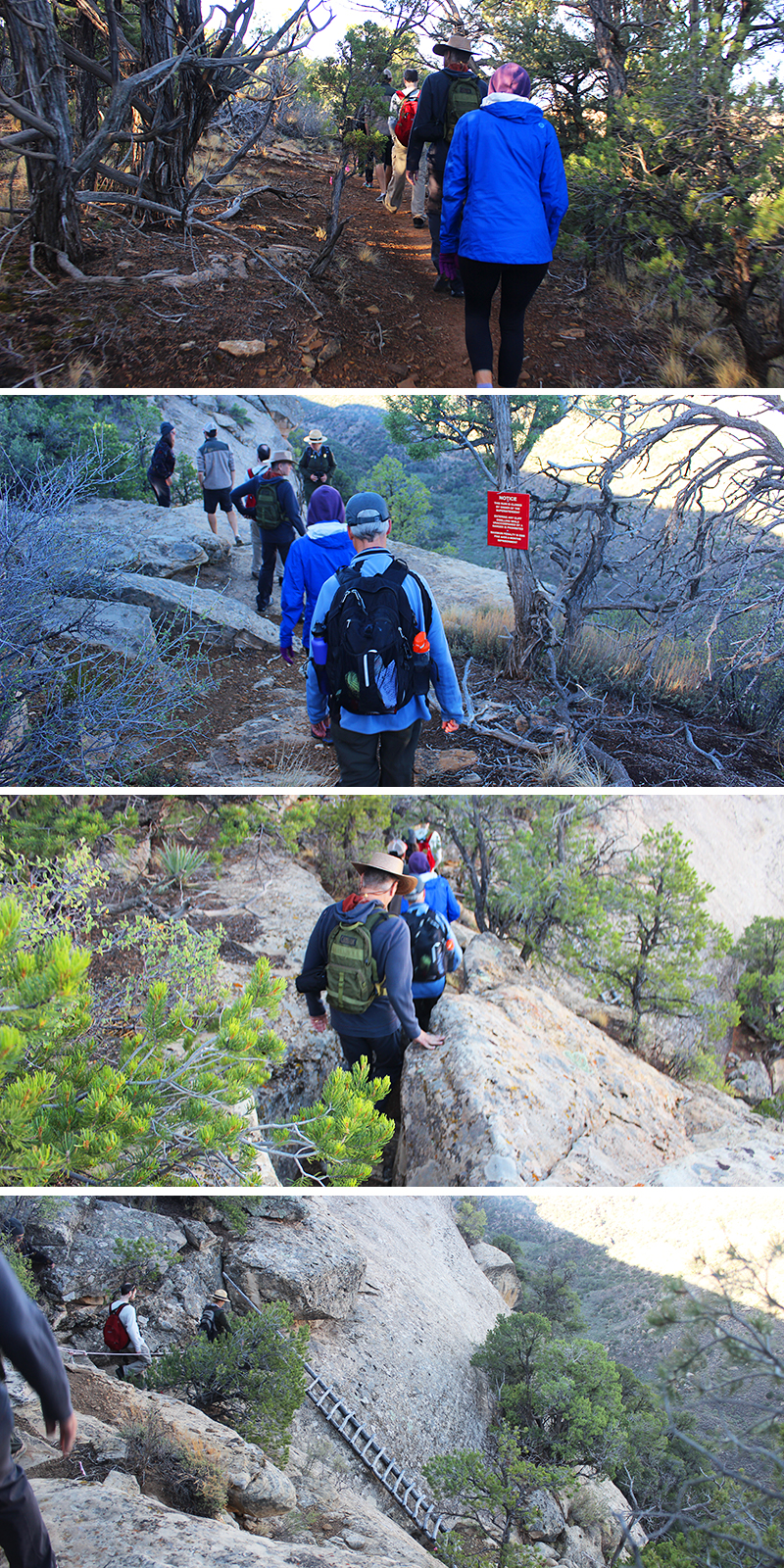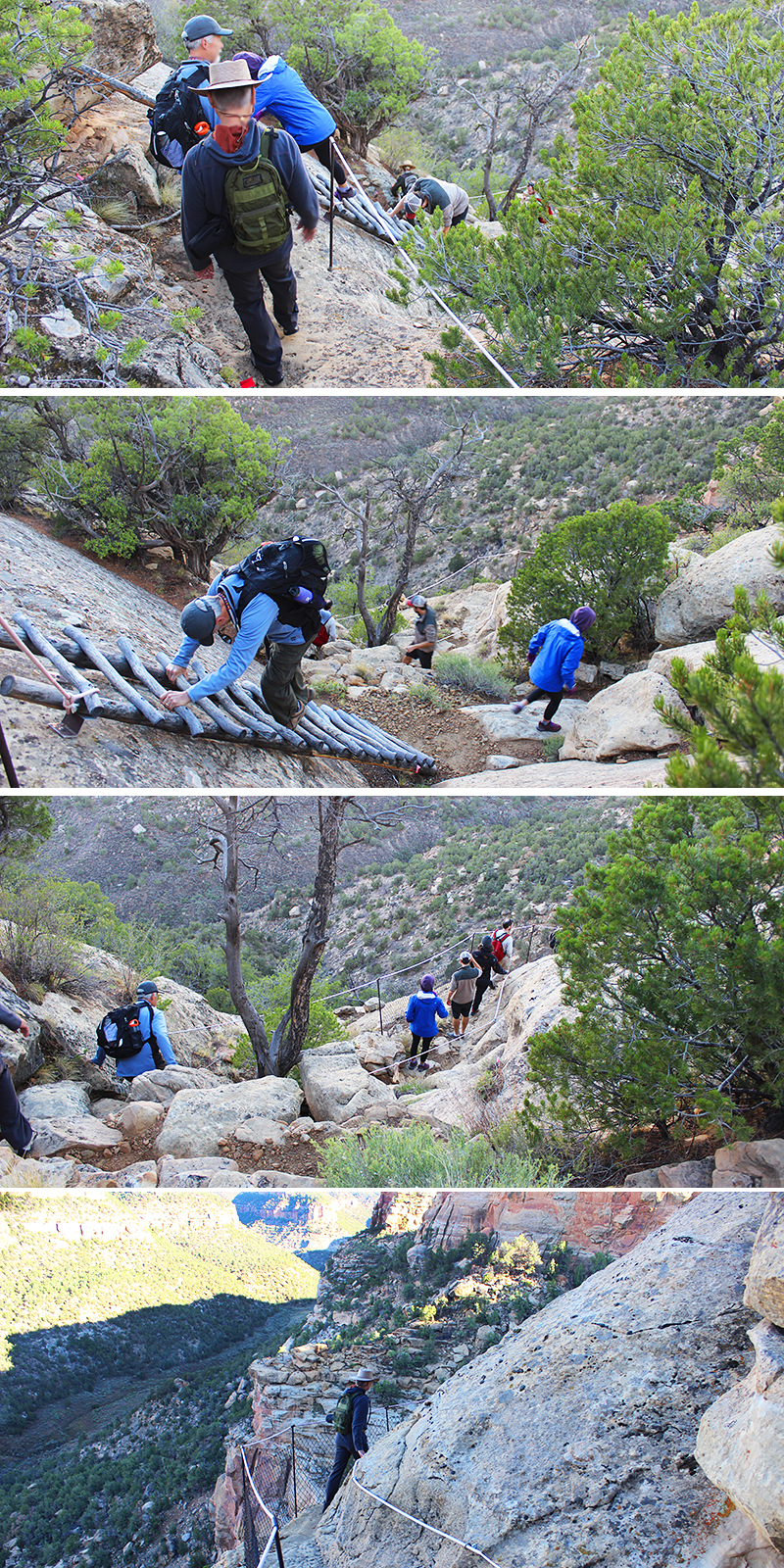 There were two ladders to maneuver (the longest being 20 feet) and the last one was a little precarious.  Here's the heartbeat acceleration moment — we climbed down carved stone steps, swung a leg over with a 20 foot drop off below to reach for the ladder, all the while using ropes to balance.  (Since taking this tour, people who know it always mention this part of the hike.  It is memorable, oh yes.)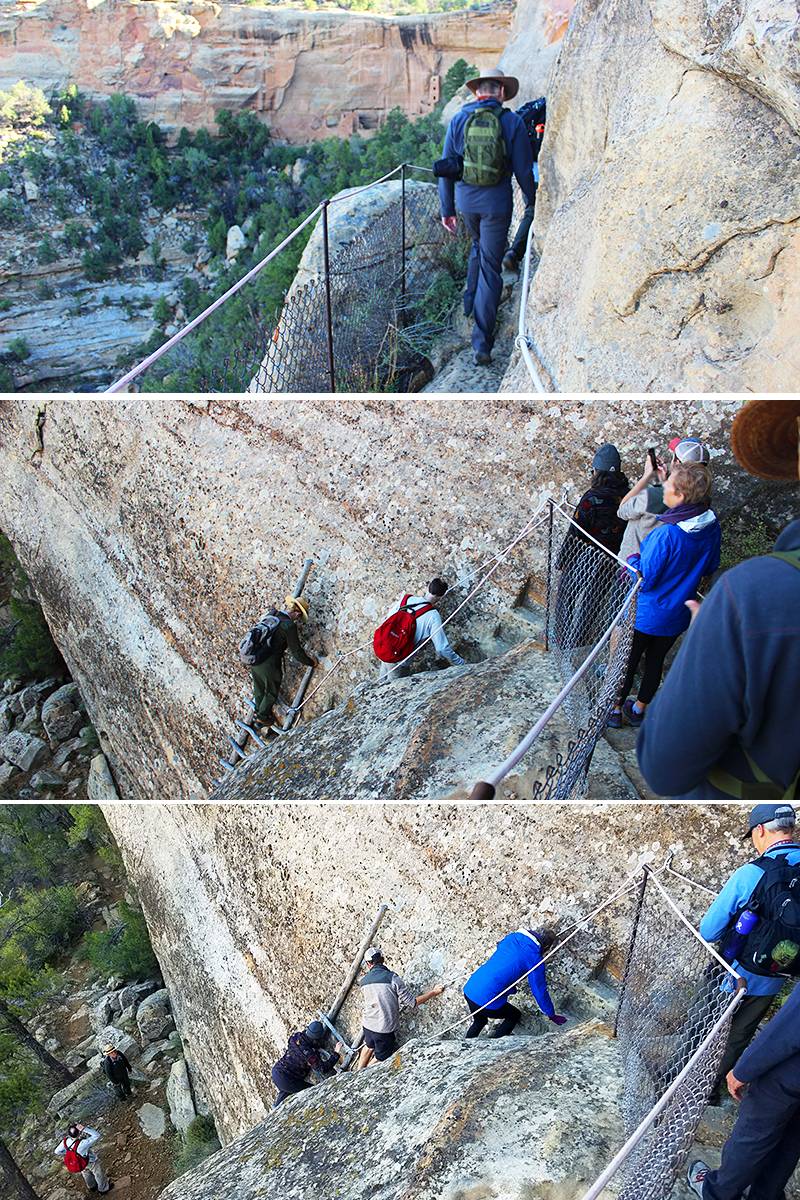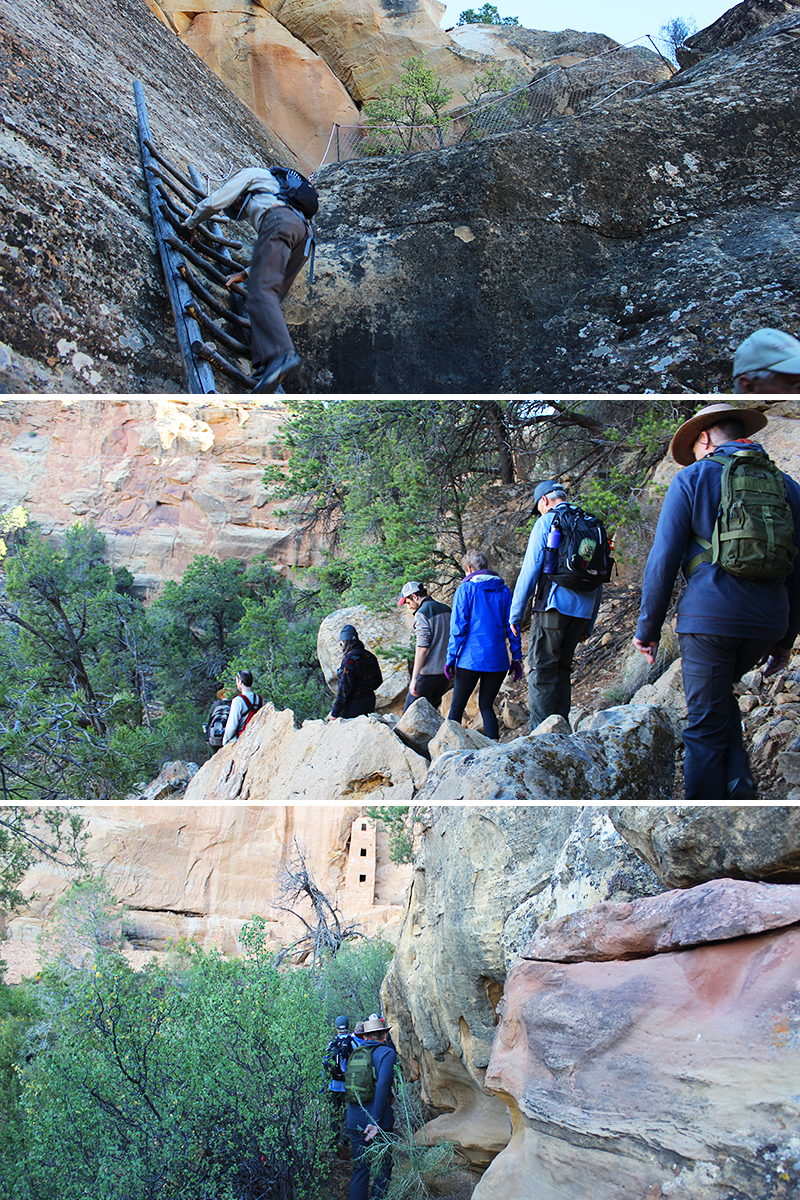 We arrived at the dwelling and walked over the far left of the alcove, looking up and to the right, we saw the overlook and where the trail passed underneath its ledge.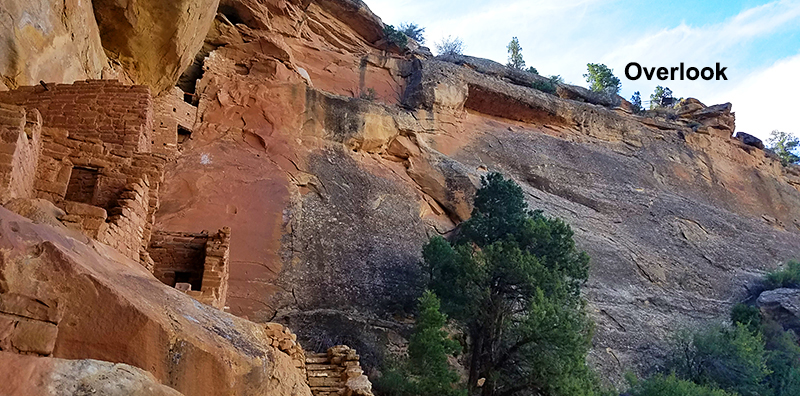 Standing there we realized that Square Tower House is like no other dwelling at the park.  Intimate within a very shallow alcove.  Most of the dwellings at the park were built into deep alcoves for protection, but here the builders were compelled to build upwards to maximize the minimal sheltered area.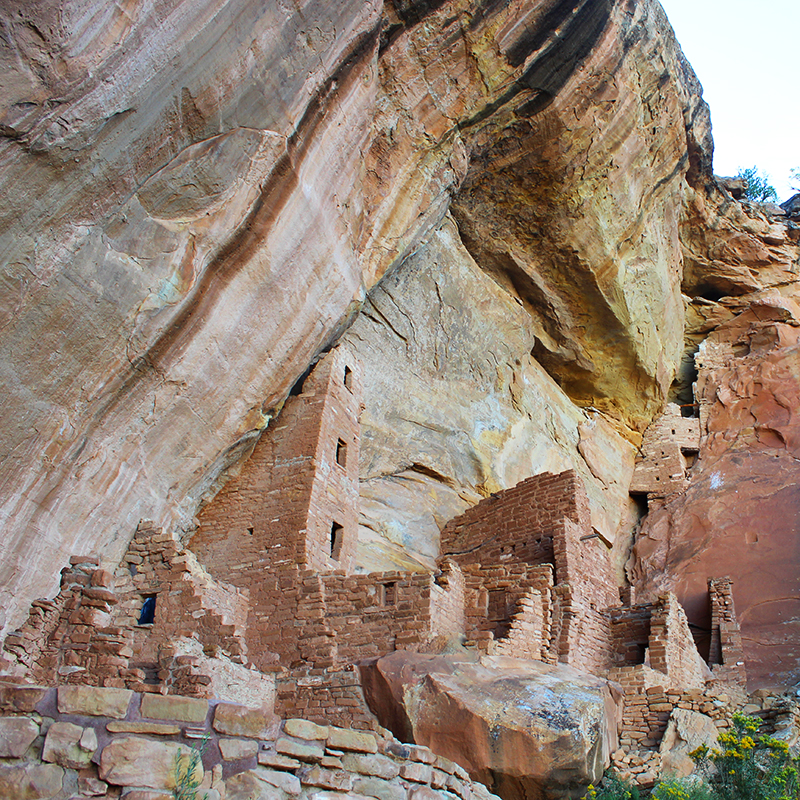 A diagram of the dwelling was passed around for us to get our bearings.  The ranger pointed out 2 faint historic inscriptions carved on a rock. One being a number 8 from the Nordenskiold excavation in 1893 (Nordenskiold managed to find, pack and ship thousands of artifacts back to his homeland in Sweden). The other inscription JW was from John Weatherill, who later helped his father with excavations. His father Richard Wetherill and friend Charles Mason, made their discovery of Mesa Verde in 1888 while looking for stray cattle.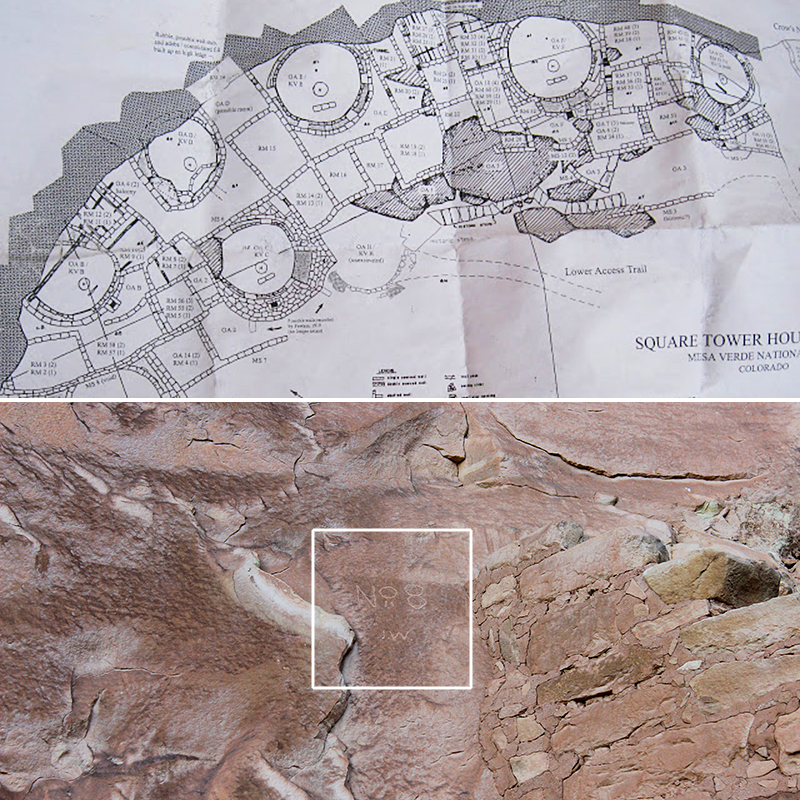 The ranger explained that this dwelling was inhabited between 1200 and 1300 AD, had 49-60 rooms, and 8 kivas. And though the dwelling is named for the tower, it was not built as a defensive structure. The 27 foot tower (the tallest structure at Mesa Verde) was actually the last part of a 3-4 tiered structure, and the people would use ladders to reach each level and enter through the roof.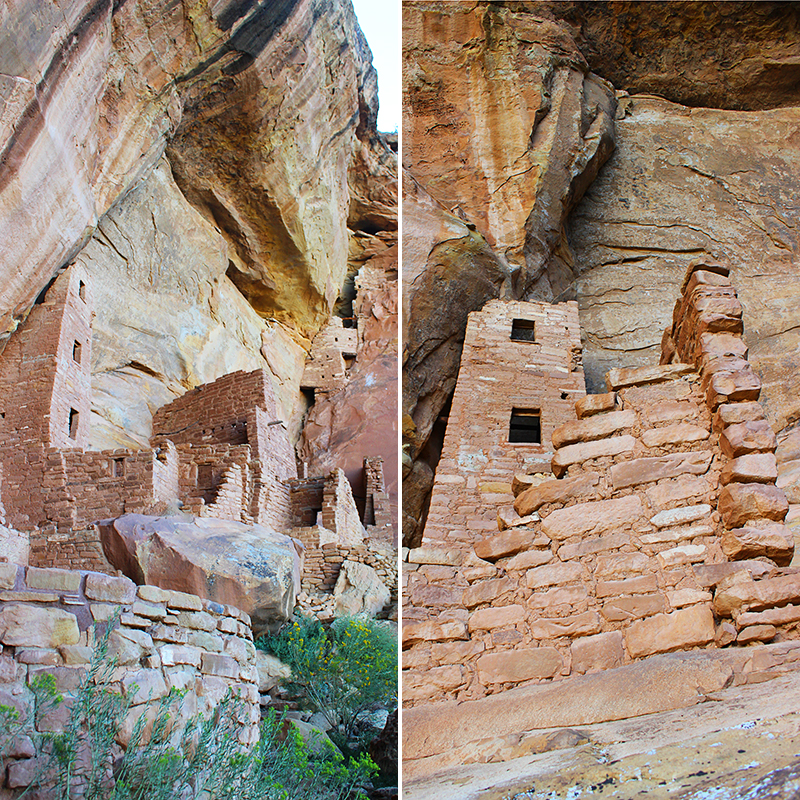 Inhabitants of the dwelling used all aspects of it, building over, around and on top of fallen boulders. They would chip and slit stones using river rocks to build blocks that were pecked/chiseled to fit, then sealed them together with clay mortar and chinking stones. The walls were then plastered and painted in banded whites and earth tones.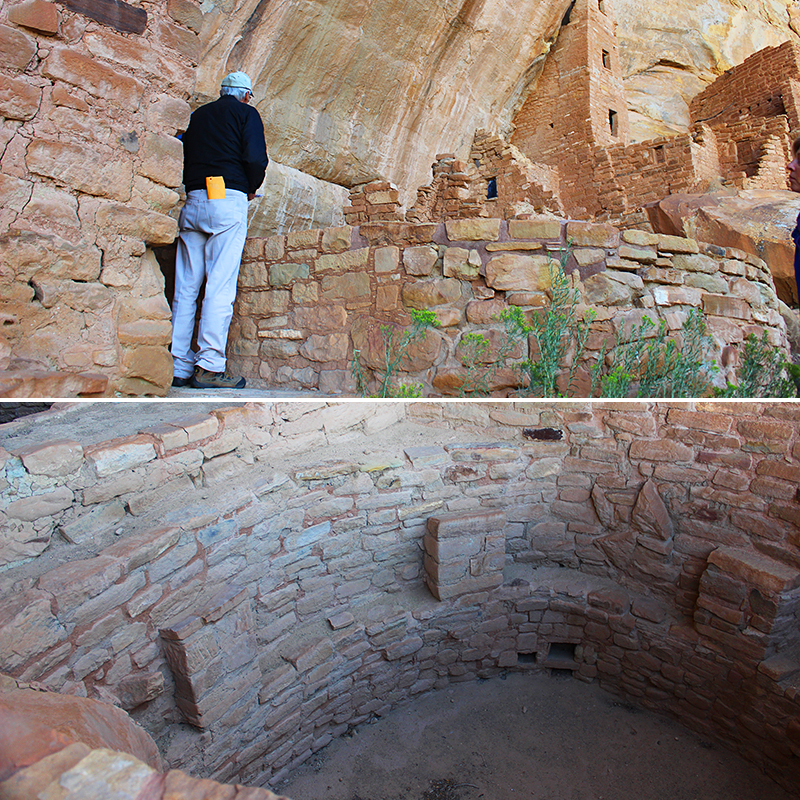 2 very unique features of Square Tower House stood out. Just to the right of the tower, an original kiva roof of clay, intact wooden beams, with its plastered walls just visible in the shadows.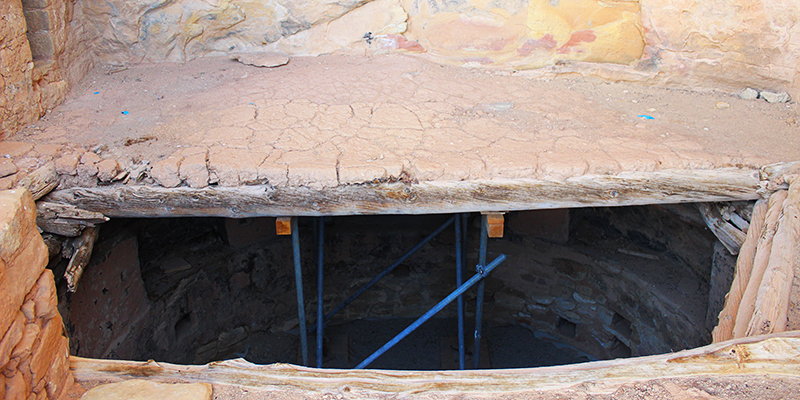 Another interesting feature was a small structure tucked high up on the far right side, called the crow's nest (pictured below).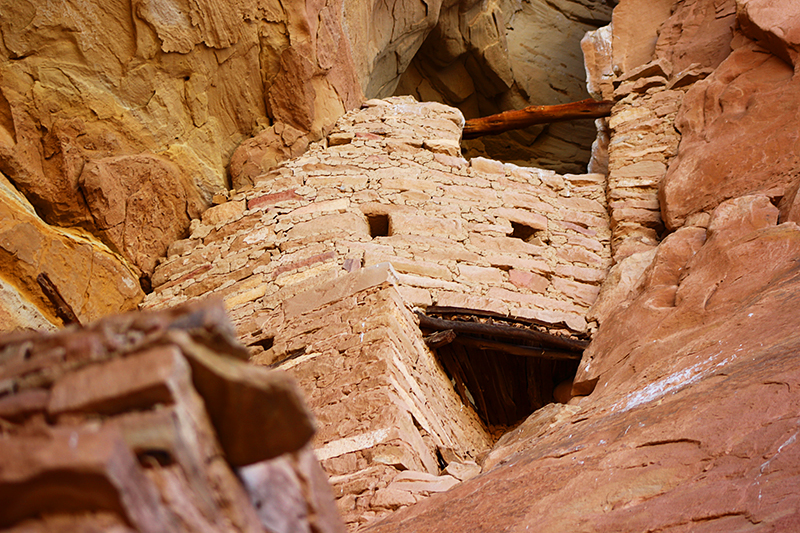 Both of these are not visible from the overlook above, so this makes for a marvelous discovery. The ranger said that the crow's nest was one of the last structures built at Mesa Verde, you had to be pretty agile to get all the way up there, and it would have been in your favor to not have a fear of heights. Turning to look outward from the dwelling, the views of Navaho Canyon were stunning.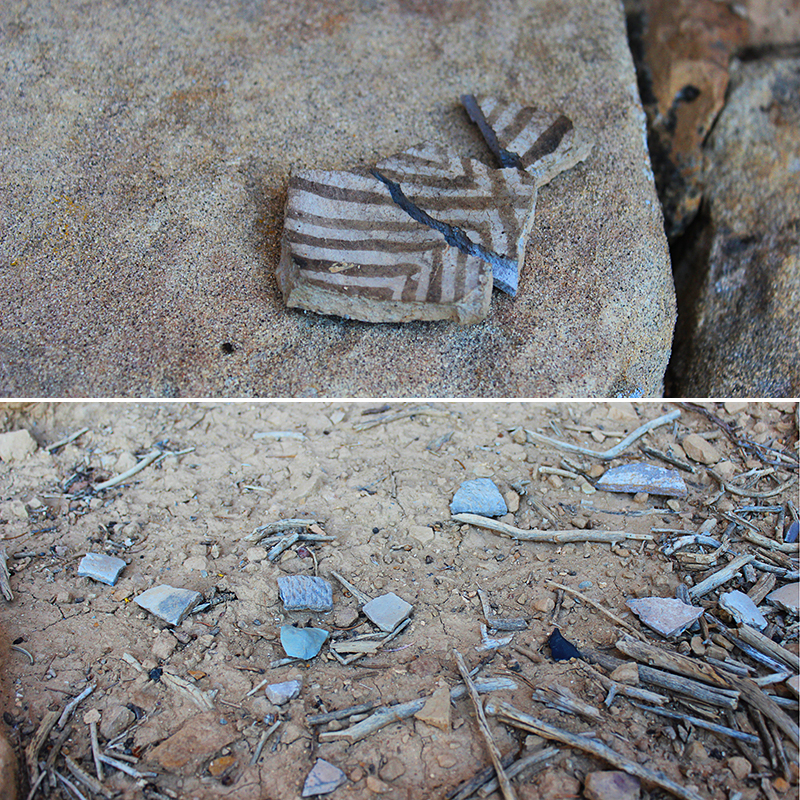 Another great aspect of the tour, aside from being able to take your time and enjoy the site, are the potsherds that you can pick-up and examine (above). In a previous article on the specialty tour of Mug House, we mentioned that it was the only one we knew of where you could hold sherds in your hands.  Here was another opportunity and our entire group stopped in their tracks to examine them.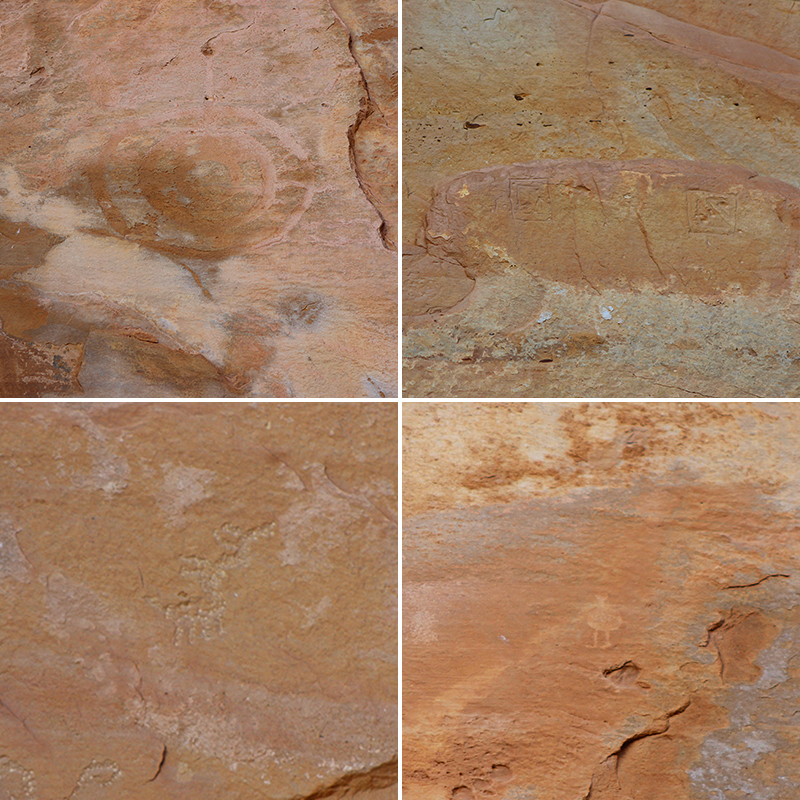 We then looked up to petroglyphs high on a rock wall at the back of the alcove. Our ranger had to help us find the markings as they have faded from erosion, but once we spotted them it was fun to talk with one another, point and speculate what they meant (above).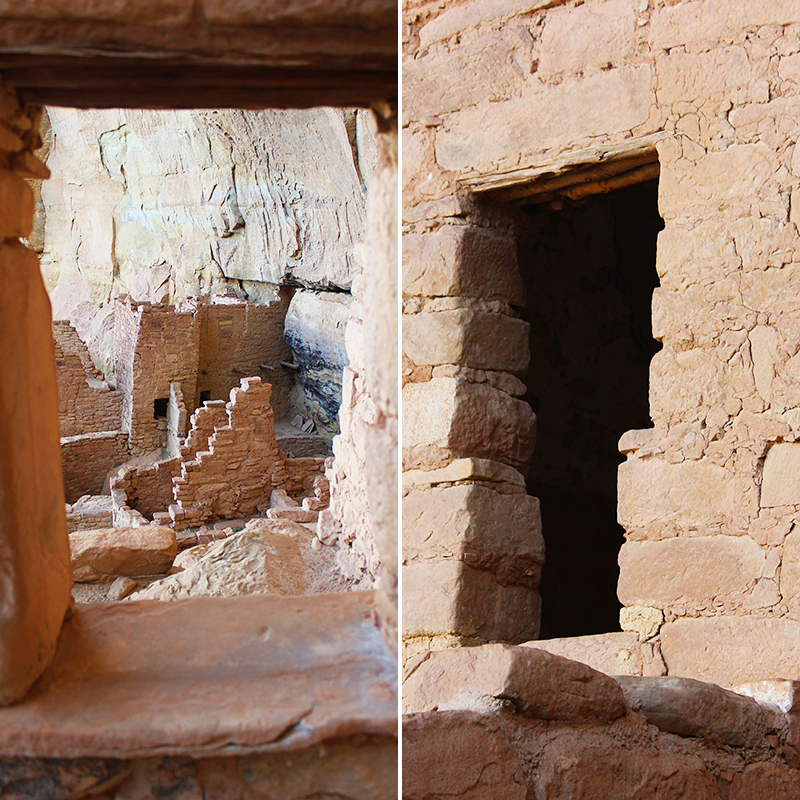 Our Q&A session was fascinating as we learned about the culture and how the ancient people lived. They were dry land farmers on the mesa above, and created check dams to capture and store water after a rain, or from a seep spring.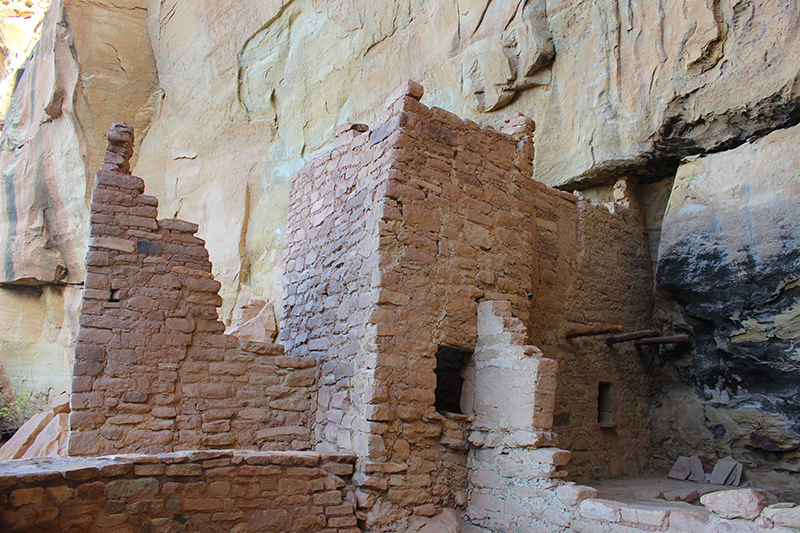 They were very in touch with nature and their environment, and a close-knit group who relied on each other extensively and worked hard to keep their community thriving.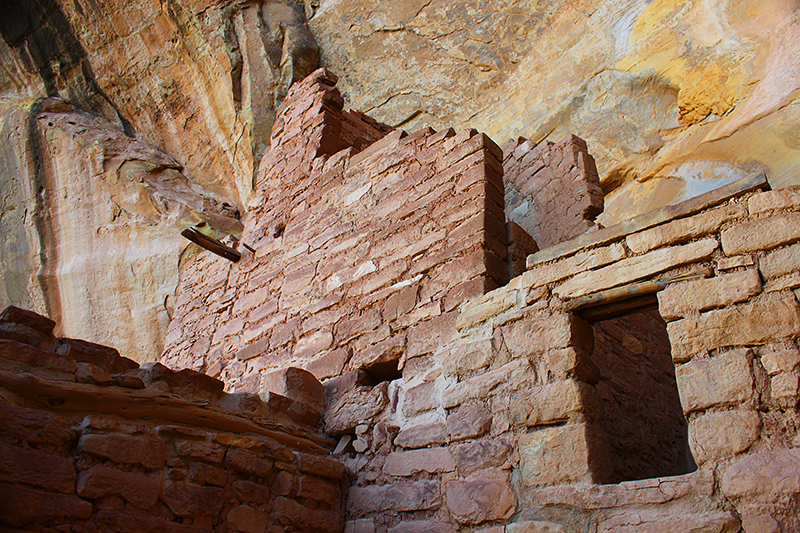 As is with these special, intimate tours we were reluctant to leave.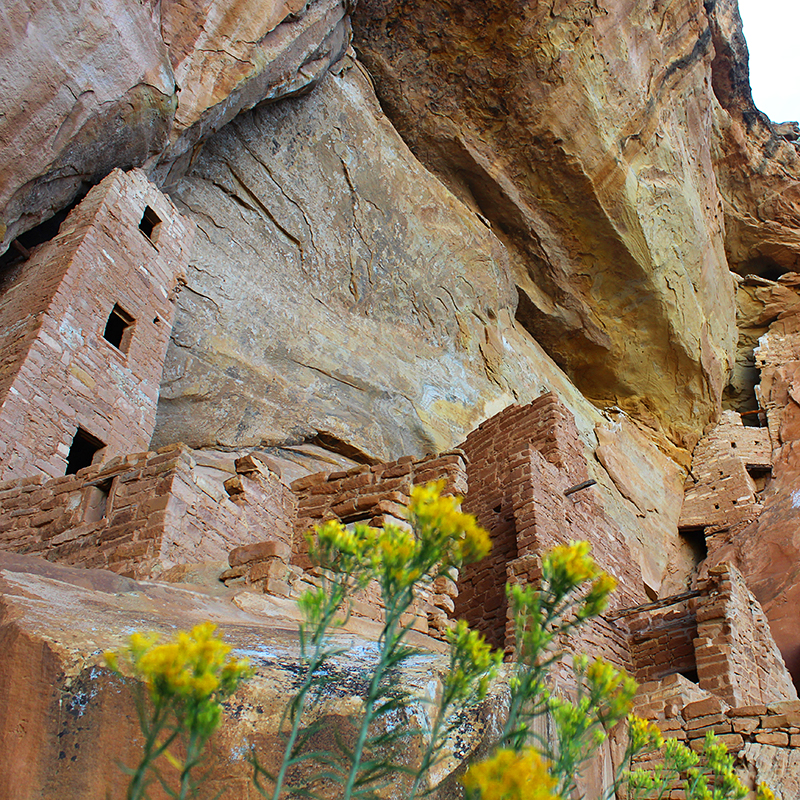 We should point out that the climb back up was equally thrilling, climbing up the ladders and climbing over boulders.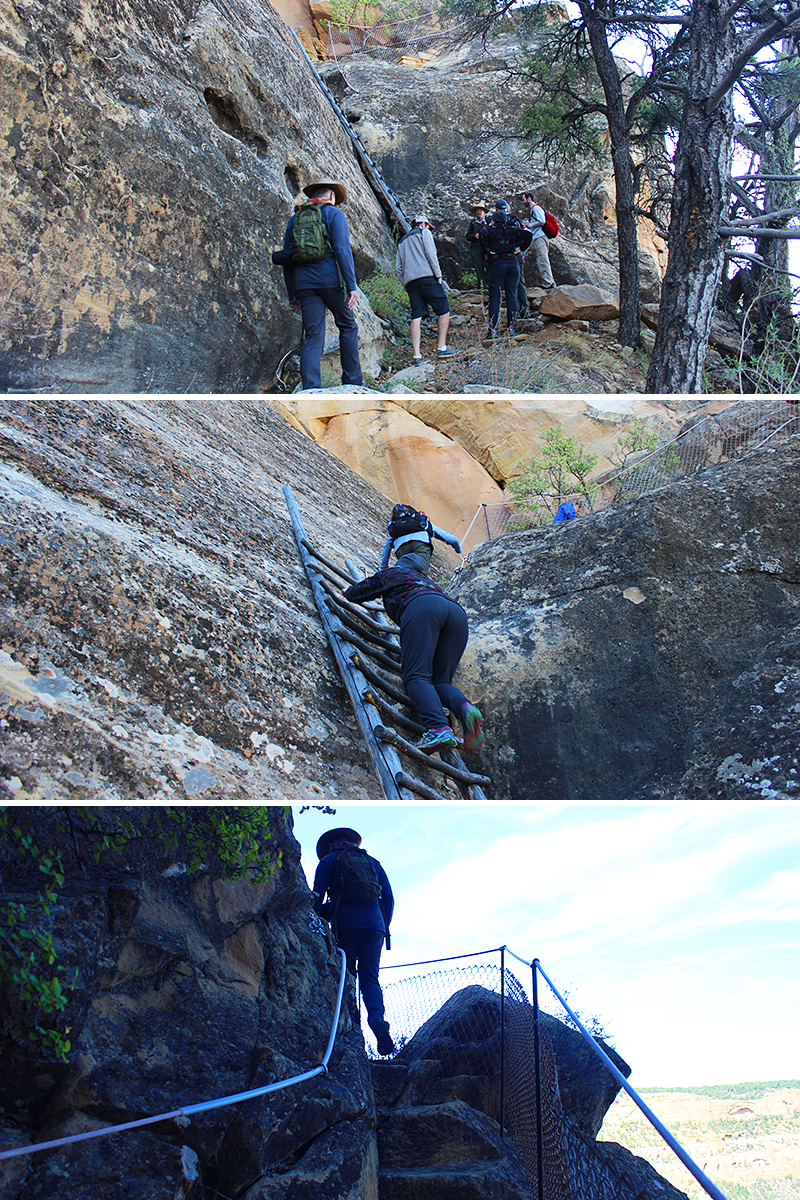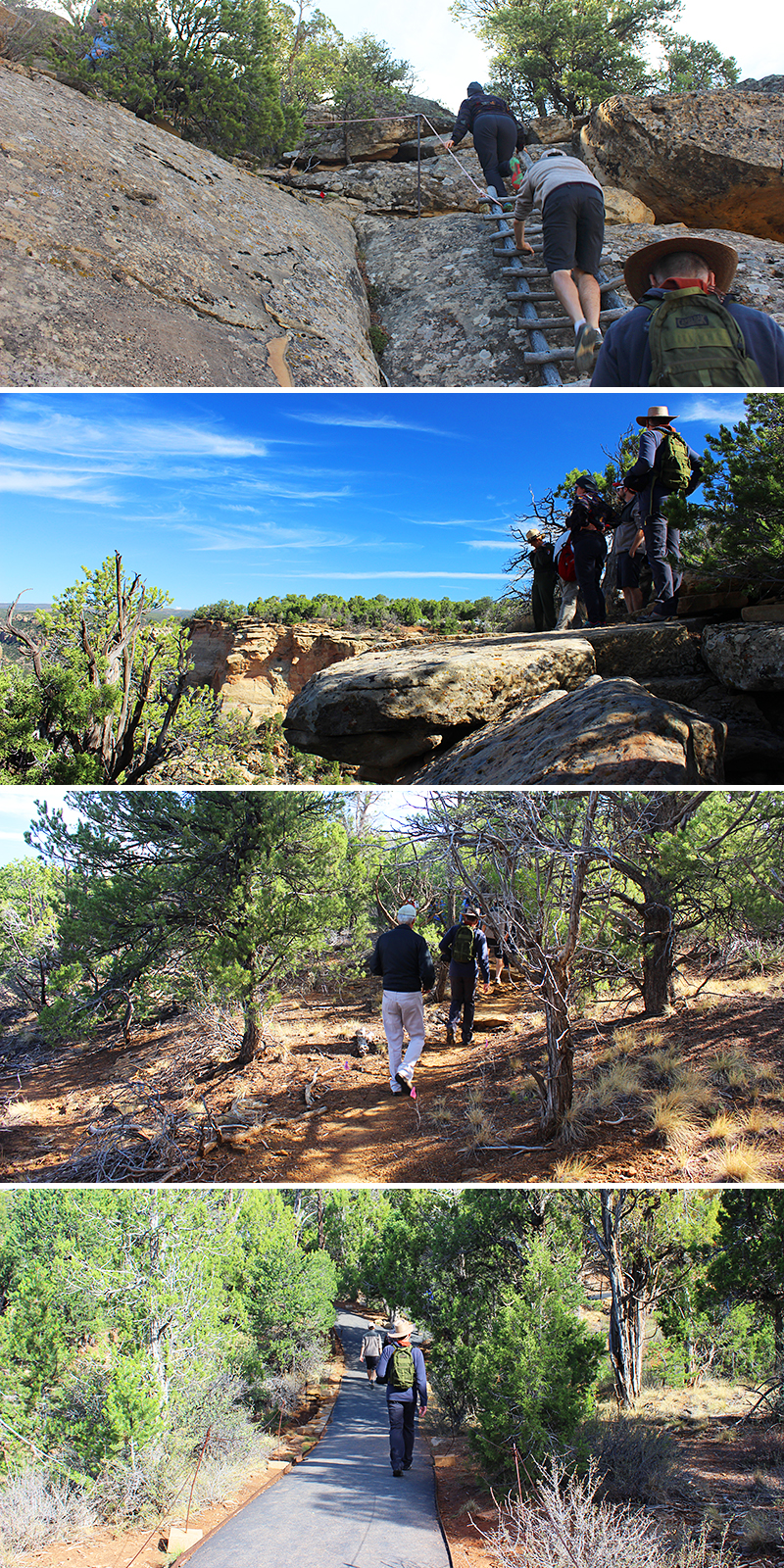 The chatter on the hike back indicated that everyone had enjoyed the tour immensely.  Our ranger and volunteers were hugely helpful in creating a picture for us to understand Square Tower and it's special features. This is hands down a must-do hike at Mesa Verde!
Backcountry hikes and tours can be reserved at www.recreation.gov.
Happy Discoveries!
Amy and Mr.D
For more discoveries, please check out some of our previous articles on Mesa Verde.
Mesa Verde Video Tour – Long House.
Balcony House Summer Solstice.
Balcony House and Spruce Tree House.
700 Year Tour and Cliff Palace.