Where can you get the best Mexican + Big Easy fusion cuisine? Johnny Sanchez of New Orleans, y'all! 
For five years we've followed their Instagram page and talked about which dishes we'd order. Or how many different tacos we could sample in one sitting. On a recent trip to the southern states, we jumped at the chance to blatantly grovel over this marvel of a menu.
Chef Miles Landrem (a NOLA native) and Chef Aaron Sanchez (from El Paso) have taken traditional Mexican foods and put a cutting-edge modern twist to them utilizing the very best ingredients and seafood that New Orleans has to offer. The menu is a happy luscious marriage of flavors with some brilliant twists to keep things frisky!
Walk in the door and you immediately smell chiles — always an excellent sign. The atmosphere is one huge open space with large colorful murals that pay homage to Chef Sanchez's family.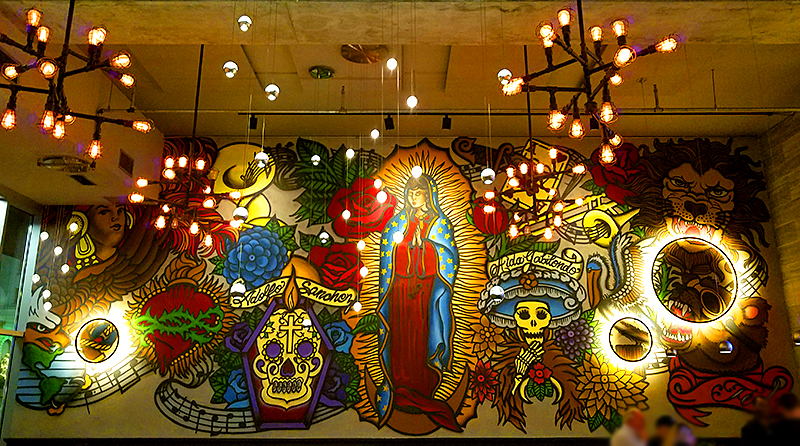 In anticipation of the meal, we'd eaten a light lunch and arrived at our table ready to chew the night away.  We started with the house made salsa roja, corn chips and fried plantains.  Smoky wonderful salsa, and as the food kept coming we began to recognize wood grilled char somehow worked into each dish. 
Drinks?  Why, yes please! The Cilantro Paloma — a cilantro, grapefruit, tres agave reposado tequila, splash of soda and black lava salt rim and also the Johnny Sánchez Margarita, cazadores blanco, triple sec, fresh lime, orange, agave, with red chile salt rim.  Talk about a tasty warm welcome to Cocktail City central. (photographed below)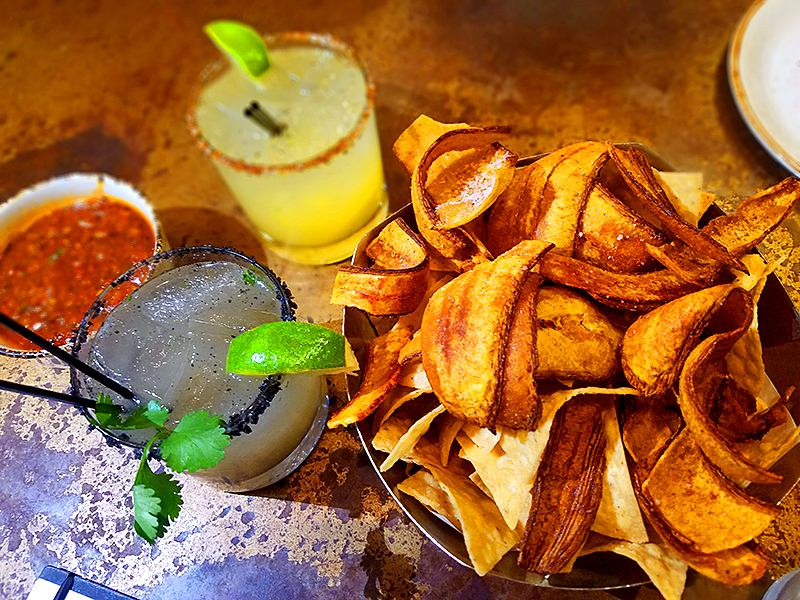 Some menu items are seasonal, so we were fortunate enough to be there for the crab tostadas appetizer – mini bites of fresh Louisiana crab with Mexican street corn, queso fresco, dusted with adobo chile powder, cilantro and scallion with a squirt of lime on a crisp corn tortilla. (photo below)
The soft shell crab tacos, so delicate with warm, homemade corn tortillas, spicy aïoli and creamy avocado spread.  The crab oh so lightly fried in masa, dusted with salt and adobo seasoning, topped off with a slaw mixture of roasted corn, pickled onion, chayote, cabbage and seasoned vinaigrette. And so colorful — a food photographer's dream.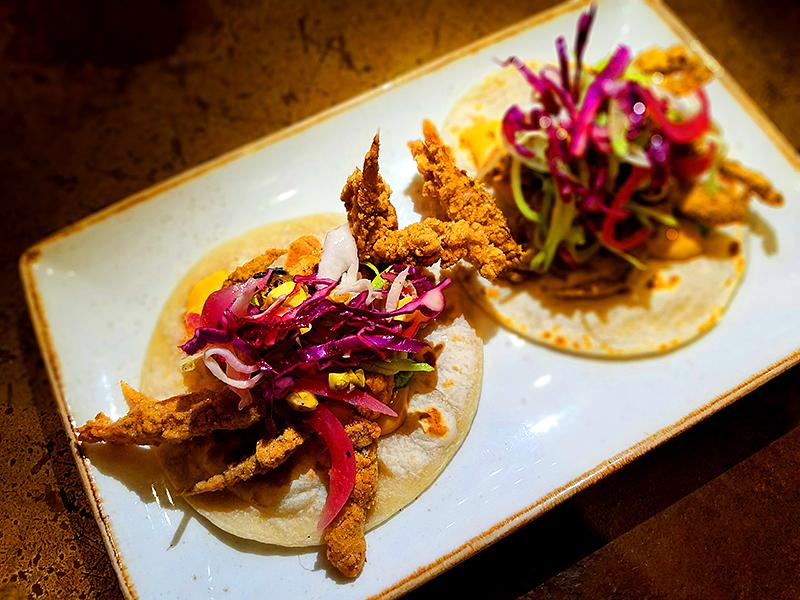 Chef Miles recommended the chilaquiles with a twist. At Johnny Sanchez they believe in using the whole hog, so instead of using tortilla chips for the crunch, fried pig ear strips are drenched in Mexican style Buffalo sauce of chiles, peanuts, chile de arbol, anchos, oil, garlic, vinegar and topped with an over easy egg. Nothing short of divine. Towards the end we were scooping up all of the sauce with the fried plantains.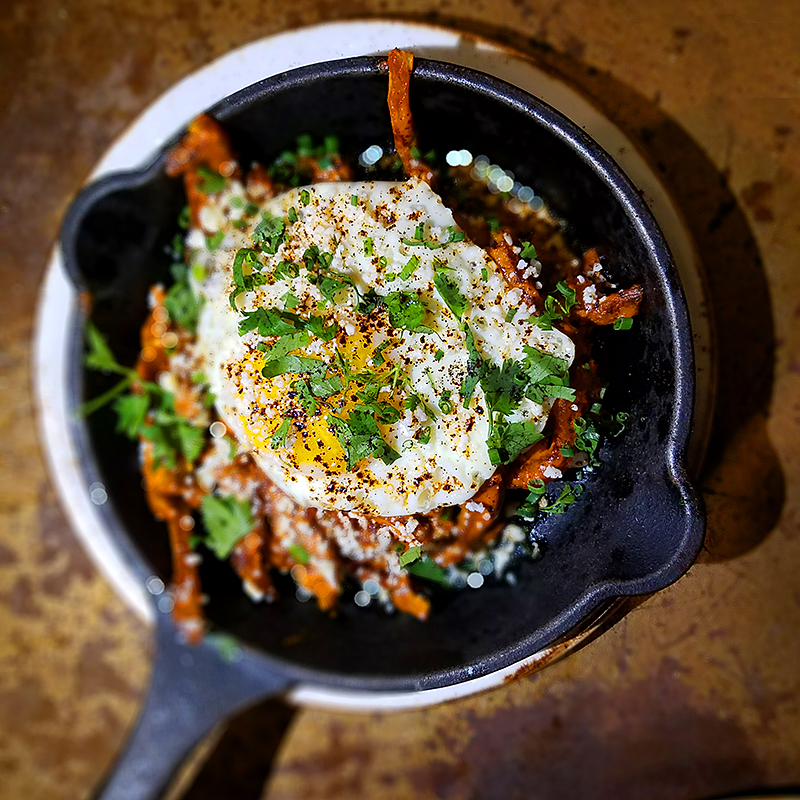 Another cocktail, anyone?  Absolutely, hows about something bright and sweet to balance the salty Chilaquiles? The Oaxacan Sunrise with cazadores blanco, passionfruit, hibiscus, toasted coconut salt rim — tropical perfection.  C'mon, look at that sunrise will ya? …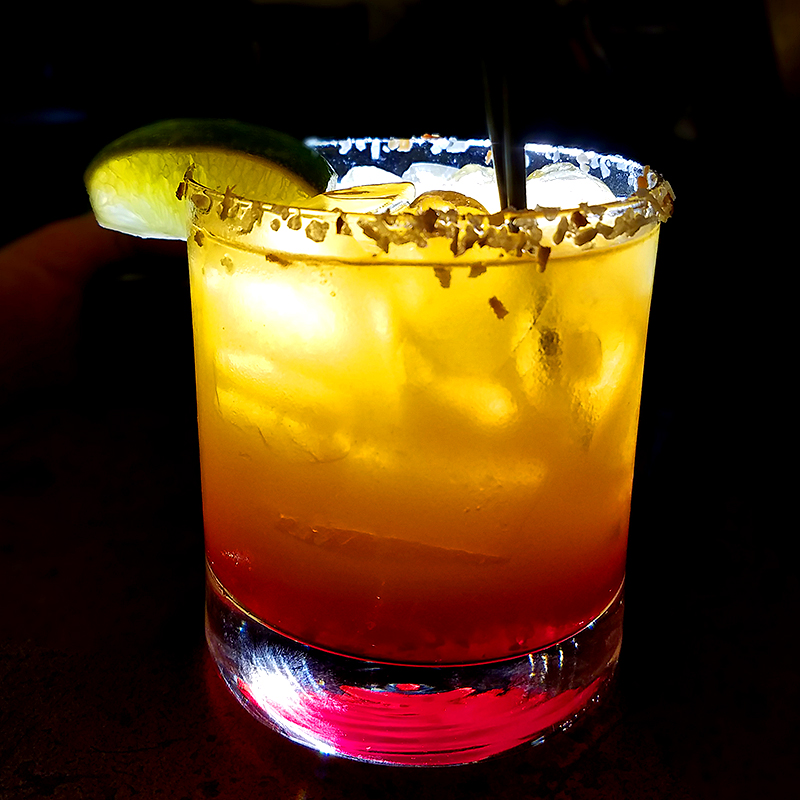 Roosters started crowing, it was amazing!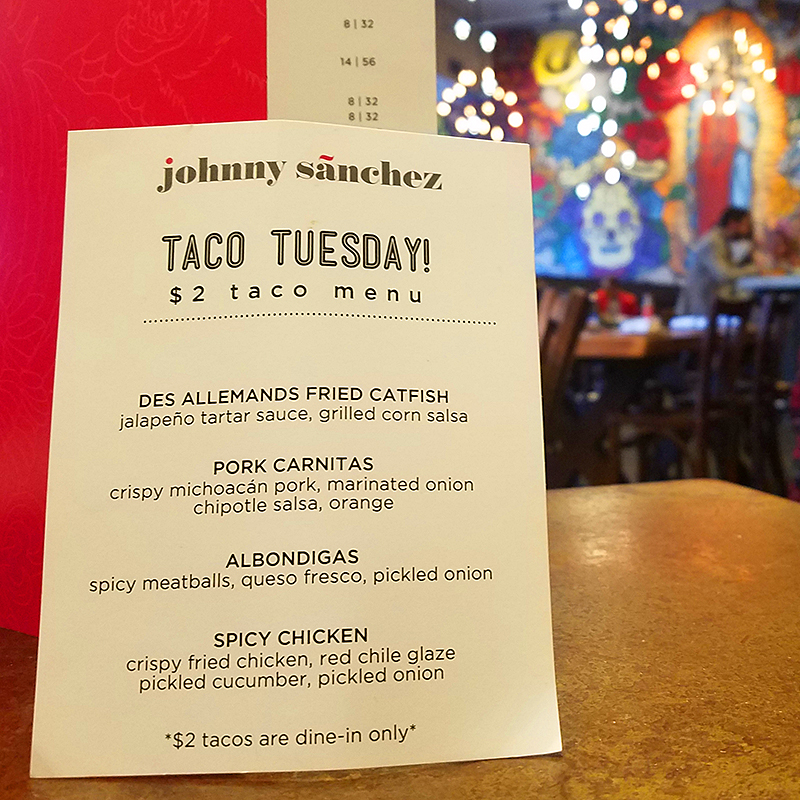 Amen to showing up on Taco Tuesday. 
We ordered a sampler of Albondigas Taco, Aaron's grandmother's recipe of tender spicy meatballs, queso fresco, pickled onion. Then a Carne Asada with wood grilled skirt steak, pickled jalapeño, guacamole, pico de gallo.  And finally the Oyster Taco with crispy P&J oysters, avocado, red pepper aïoli, and jicama-chayote slaw.
Do you see the balance they've designed with of a bit of Cajun here, spice of Mexico there, briny oyster, then red pepper?  Veeeeery, very clever.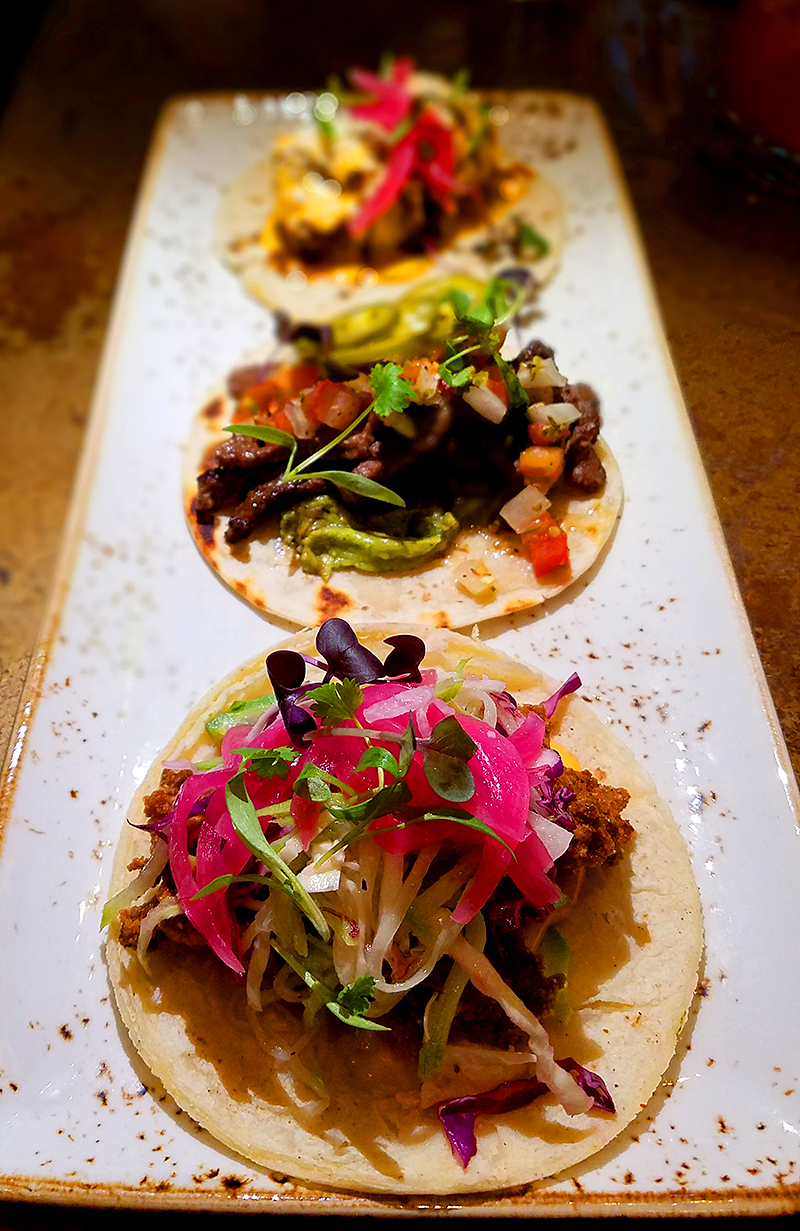 This is Cajun Mexican street food at its best so don't be shy, eat with your hands!
Most everything has a wood grilled element, a very traditional Mexican way of cooking over and open fire to add a heavenly smoke / char and yet another layer of flavor.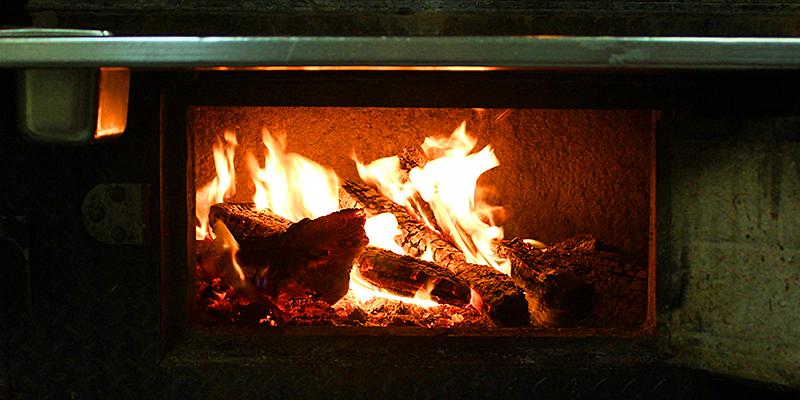 Do not leave without dessert, you cannot go wrong here. We recommend the Louisiana Citrus Chess Pie with cream cheese ice cream and Nutella schmear. A deep south simple yet decadent end to our long awaited meal. 
Johnny Sanchez is an absolute must.  From here on out, New Orleans will never be right without experiencing this gem again and again where everything on the menu is gonna be loved Bayou!
Buen Provecho!
Amy, Mr.D and The SWD Team
Cookbook online "Simple Food Big Flavor"