Every visit to Moab, Utah reveals a new discovery, and familiar places change with the seasons bringing fresh views of the stunning red rocks.
A recent finding brought us to The Needles District that is part of Canyonlands 4 Districts, all located in south-eastern Utah consuming 337,598 acres of raw desert beauty. These areas are a visitors, hikers, backpackers, cyclists, rafters and off-road enthusiast's haven.
The other 3 districts are:  Island in the Sky (most popularly visited for easily accessible and stunning views from paved pullouts and parking areas with paved walkways, also its closer proximity to Moab), The Maze and Horseshoe Canyon (both remote districts requiring planning, 4WD and self-reliance to visit).
Map courtesy of the National Parks Service.
We have written about Canyonlands The Island District and its spectacular landscape views as seen below, with sandstone drop-offs overlooking rugged terrain 1000+ feet down.  Sitting quietly on a lookout brings feelings of awe and a part of something greater than ourselves.  A beautiful humbling experience.
This time our venture took us south of Moab to The Needles.
HOW TO GET THERE:
To get to Needles, drive 40 miles south of Moab or 14 miles north of Monticello, then take UT 211 roughly 35 miles west. UT 211 ends at The Needles and is the only paved road leading in and out of the park. At first it's a tranquil and beautiful drive through farmland (watch for cows that might meander onto the road!) and then you're into the red rock canyon of Indian Creek.
The first amazing encounter just 15 miles into your drive is Newspaper Rock.
Nestled in an alcove lies one of the largest collections of petroglyphs in the country, Utah's Newspaper Rock State Historic Monument. It's truly a living museum and mesmerizing to stand there and pick out all of the markings on this unique and one of a kind wall dating back over 2000 years.
While many petroglyph sites require a long or at times strenuous hike to reach, this site is easily accessible from the paved parking lot (there is a bathroom facility) and a short walk on a hard dirt path.
Continue driving west on the 2 lane road and the canyon opens up to red rock monuments.
Driving into the park there is a visitor center with maps, water and bathrooms (Note, there are no facilities past the visitor center.) From there the paved road will end at Slickrock where you can park and take a short walk onto the rocks to take in the astonishing views.
There's also a 2.4 mile loop trail that is relatively long, taking perhaps over an hour over rocky terrain with cliff drop-offs. (Due to time, we did not walk this trail). This trip was our introductory visit to the area, and we chose to drive the entire park road to the end, get our bearings on the area, and then retrace our drive to see certain sites.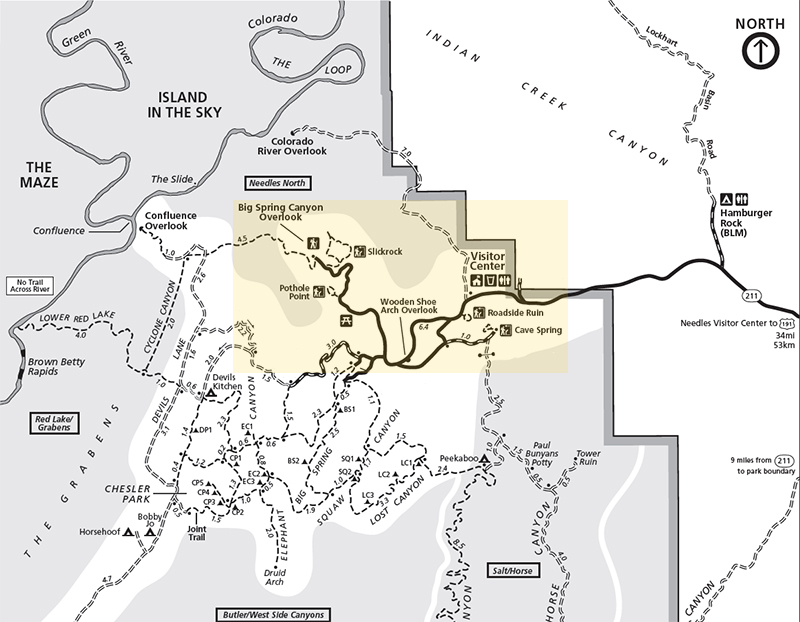 Map courtesy of the National Parks Service.
The Needles District forms the southeast corner of Canyonlands and is named because of the Cedar Mesa Sandstone's massive red and white eroded pillars and spires that dominate the area.
Off of the main park road at designated areas there are plenty of interesting things to see. Below is Pothole Point with uneven slickrock that leads to potholes in crazy, wavy rock arrangements.
There are also strange looking formations with a small cave to explore and views of The Needles in the distance. After parking, just follow the cairns (stacked rocks), but be aware that there are no set pathways over the uneven rock and loose dirt landscape.
Another interesting site on your drive is the Wooden Shoe Arch Overlook seen below, and can be viewed from a pullout, no hiking required.
Accessible off the main park road at 2 different entrances is a paved road that will lead you to Cave Spring. There is a paved parking lot and you can walk easily to the informational sign. To see the sites there is an uneven trail loop to walk. The loop in it's entirety is 0.6-mile, about 45 minutes round trip and you will climb 2 ladders. But you do not have to take this entire route to see an old historic cowboy camp from the late 1800s (through 1975) with many original items left by the cowboys, as well as Native American pictographs (painted images or symbols).
The camp was established at Cave Spring because of the reliable water source and an alcove to provide shelter. From the parking lot and after you view the informational sign, walk to the left on the loose dirt trail to reach the sites.
Continuing not too far up on the trail is a seep spring with remarkable Native American hand prints and markings in red, orange and gold on the walls (below). Notice the blackened soot marks from ancient campfires. It is estimated that the inhabitants occupied these canyons about 6,000 to 7,000 years ago.
If you choose to walk the entire loop there are 2 ladders to climb (1 short of about 5-8 feet and 1 long about 12-15 feet) to reach a rock plateau with great surrounding views. The route is marked by cairns (stacked rocks) and meanders over uneven rocky areas. It then descends into a ravine that leads to a dirt pathway, later running along an extended overhang, through a patch of bushes and then back to the parking area. Beautiful sandstone with more Native American markings can be seen along this trail. 
After getting back on the main road driving towards the visitor center, there is a roadside pullout for Roadside Ruin, where you can walk a ⅓-mile dirt and uneven rock trail loop that leads to a well preserved ancestral Puebloan-era structure (similar to dwellings at Mesa Verde, Colorado) with native plants and informational signage along the way.
Pictured below is the ancient dwelling hidden in an alcove, and can only be viewed from the trail.
After visiting The Needles District, it's an easy drive back to Hwy 191.  From there you can drive north to Moab, or south to Monticello.
All of the discoveries from this article took one day to explore.  As with any hike into an arid desert area, be sure you have plenty of water, wear a hat and sunscreen, wear hiking shoes or boots, bring food and snacks, and leave no trace behind.
The south-eastern portion of Utah never ceases to amaze us with natural beauty around every corner. There is always something new to discover!
Wishing you happy discoveries and safe travels.
Amy and Mr.D
Southwest Discovered Articles about the Moab, Utah area:
Moab's Arches National Park, Dining and Lodging Suggestions

Canyonlands and Arches National Parks information:


Southwest Discovered articles about Mesa Verde, Colorado:
Mesa Verde East Side 700 Years Tour and Cliff Palace
Mesa Verde and The Metate Room Restaurant
Mesa Verde's Spruce Tree House and Balcony House