You may have a hunch by now that we love Moab, Utah and Arches, and will take any opportunity to go back for more discoveries.  Moab, with it's funky cool downtown, great restaurants, shopping and loads of trails and outdoor activities.  Arches, one of the most beautiful national parks with iconic Southwestern red rock formations.  Even from many miles away, Moab glows red as you drive toward it.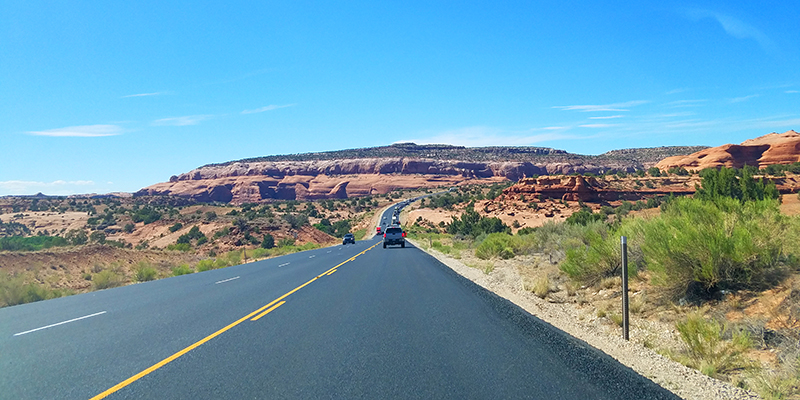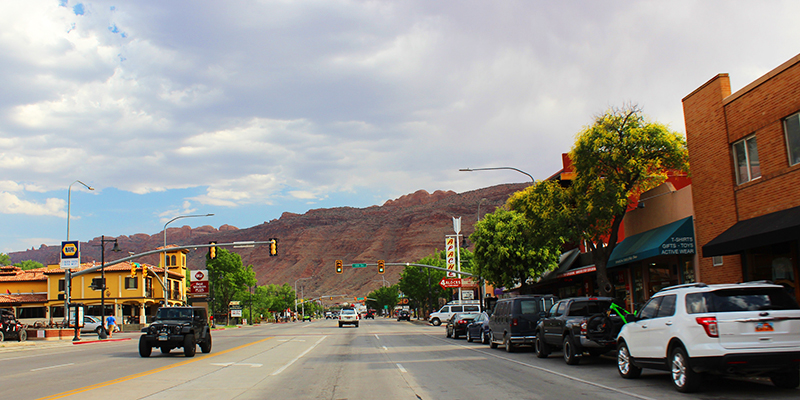 Once you've seen Arches and Delicate Arch, and taken in the tours and sites of the town, there is something nearby that is equally stunning.  Canyonlands National Park located 30-45 minutes from Moab.  A whole new otherworldly experience awaits you with unbelievably spectacular views of gouged out canyons, red rock spires, and the delicate and precarious Mesa Arch.
Below is Merrimac Butte — you will see this as you drive on UT-313 West towards Canyonlands.
After you pass the toll entrance, stop at the Island in the Sky visitor center to get maps and other essentials to make your visit enjoyable. Canyonlands National Park is divided into 3 districts, Island in the Sky, The Needles, and The Maze. Island in the Sky is the most accessible district in the park because it's close to Moab with a paved scenic drive past views of the surrounding buttes, fins and water-carved canyons.  Tips: don't forget good hiking shoes (sandals just won't do), sunscreen, a hat and plenty of water.  It's hot out there especially this time of year.
First stop right near the visitor center is Shafer Canyon Overlook as seen below where a photo tells a thousand words. Walk down the wood and natural steps until you get to the mesa where you walk right up to the edge of the red canyons. Author Edward Abbey once described Canyonlands as, "the most weird, wonderful, magical place on earth—there is nothing else like it anywhere."  We wholeheartedly agree! 
The views lure you right to the edge of the mesa top, so watch your footing and if you are afraid of heights, you might not want to get too close to the edge as there are no guardrails and it's straight down, down, down.
Seen below are more stunning views from Shafer Canyon Overlook. We're always taken-aback by the magnificence of the scenery, carved eons ago by the Colorado and Green Rivers. 
Now on to Mesa Arch …
The second stop on the 2 lane road, about 15 minutes from the visitor center, is Mesa Arch and it is a must see. A spectacular arch perched on a cliff edge, with a sliver of an opening chiseled out long ago by wind and erosion. It's a popular spot for sunrise photographers who come from across the globe to capture it. 
This is a place to meditate and contemplate the grain of sand that we are in this vast landscape.  Areas like this seem to put everything into perspective in terms of our stewardship of these lands, and how it belongs to all of us and we belong to it.
You walk a gravel/dirt path that is not too strenuous for about 50 yards.  The arch greets you as it's aperture eyes the valley below and beyond to the La Sal Mountains.  Some venture close to the arch.  For the most part we keep our distance to a safe vantage point because the opposite side is a sheer drop off.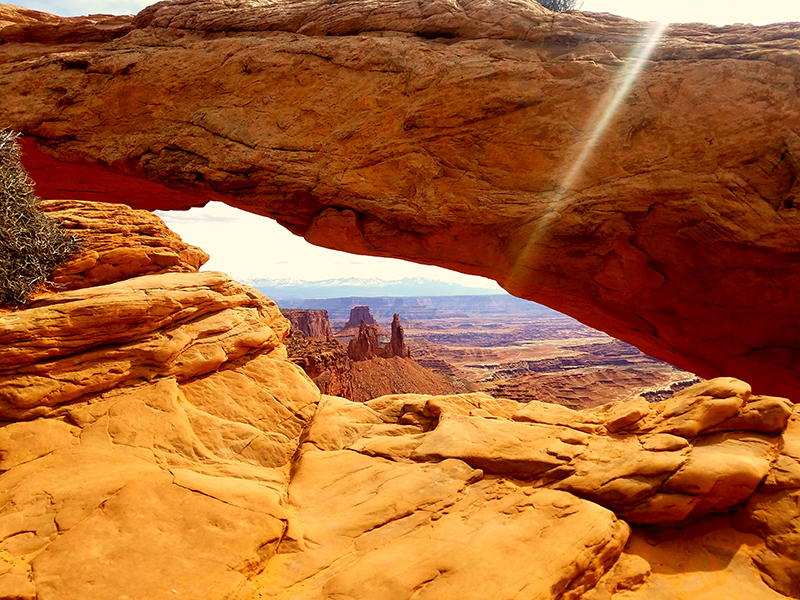 Above, a sun ray peeks over the top and onto the golden sandstone. This shot was taken around 10am.  This is an excellent area to photograph any time of day.  In late afternoon it's amazing as the sun turns the rocks into brilliant reds, oranges and ochre colors.
There are many other areas in the park with equally fabulous views worth exploring — Grand View Point, Green River Overlook, Buck Canyon Overlook, and Upheaval Dome. And almost all the big scenery in the park is accessible by car with lookout areas and minimal hiking.
Canyonlands National Park is open year-round, 24 hours a day. Each district has its own visitor center with operating hours that change with the seasons. Some facilities close in winter. The Island in the Sky Visitor Center is open daily between early March and late December.  Water is available inside the visitor center during business hours, there are restrooms and trip planning exhibits available 24 hours a day. When the visitor center is closed, there is no water available at Island in the Sky. You should be prepared with your own water supply, and there are no lodging or food facilities. There are bathrooms at site locations. Camping is on a first-come, first-served basis, and there are opportunities for more adventurous hikes within the park.
_______________
After you leave Canyonlands you will most likely want to explore more impressive scenery, and very close by is Dead Horse Point State Park.  This particular spot (seen below) with the gooseneck segment of the Colorado River is another iconic destination in Utah's red rock country.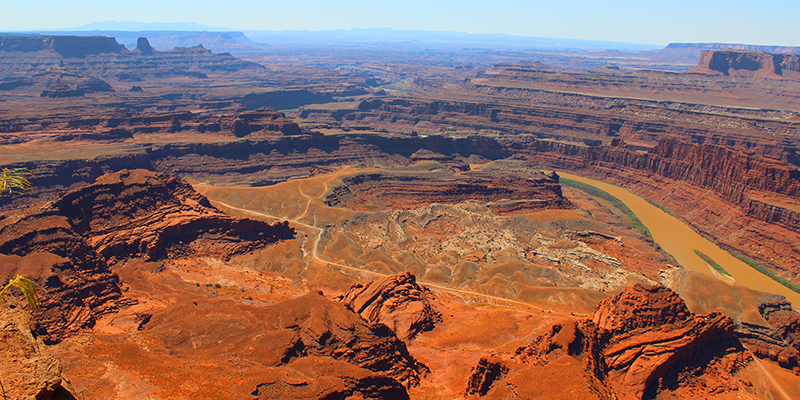 Experiencing the beauty of this place for the first time, with no idea of what the landscape holds for you around each curve in the road or hiking trail … is life changing. 
Wishing you Happy Discoveries!
Amy & Mr.D
Here is link to our tour of Moab, with dining, lodging and adventure tips
Canyonlands National Park link