Mesa Verde is beautiful anytime of the season, and this time of year its unmistakable blue silhouette with blanket of snow matches the sky.
This particular trip was for this past Thursday's annual event — the Mesa Verde National Park Holiday Open House and luminaria lighting, also traditionally called farolitos.
Each year people of the Four Corners region look forward to this evening of enchanting beauty and also because it is a rare opportunity to experience the cliff dwellings at night, since they usually close to the public at sunset. 
Driving up the curvy mesa front road, views of Montezuma County and Mancos Valley expand with the icy topped La Plata Mountains in the distance.. 
Amazing how quickly the drive lifts you up, and how this landscape never fails to inspire. 
In past years lightings have been held at different cliff dwellings, but always on the eastern Chapin Mesa side of the park as the western Weatherhill side closes in the winter.
Pictured above is golden sandstone Square Tower House on the Mesa Top Loop Road just as the sun was beginning to set.  Remember this image, and get ready to compare it to the glowing vision to come as this road leads to Cliff Palace.
Below, looking out on Navajo Canyon as the last rays of sun illuminated the rim.
A must-stop along this loop is Sun Temple, seen below.  Here you have an unobstructed view of Cliff Palace from across the vast Cliff Canyon.
Rangers and volunteers were on hand at each dwelling or site to assist the crowds in finding the best view spots and to answer questions. 
A Kodak moment for sure! …
The crew did a fantastic job setting up luminarias along the road to each site, as well as along pathways to viewing areas.
Hard to guess how many hundreds of these warm and cheery lanterns with flickering candles were placed around to guide the way.
Below, the sunset and Cliff Palace gradually falling into shadows …
When darkness set in, the lights inside the dwelling were turned on in stages until Cliff Palace was all magically lit.
A beautiful yellow-orange glow evoked what it might have looked like 800 years ago from campfires of the ancient inhabitants.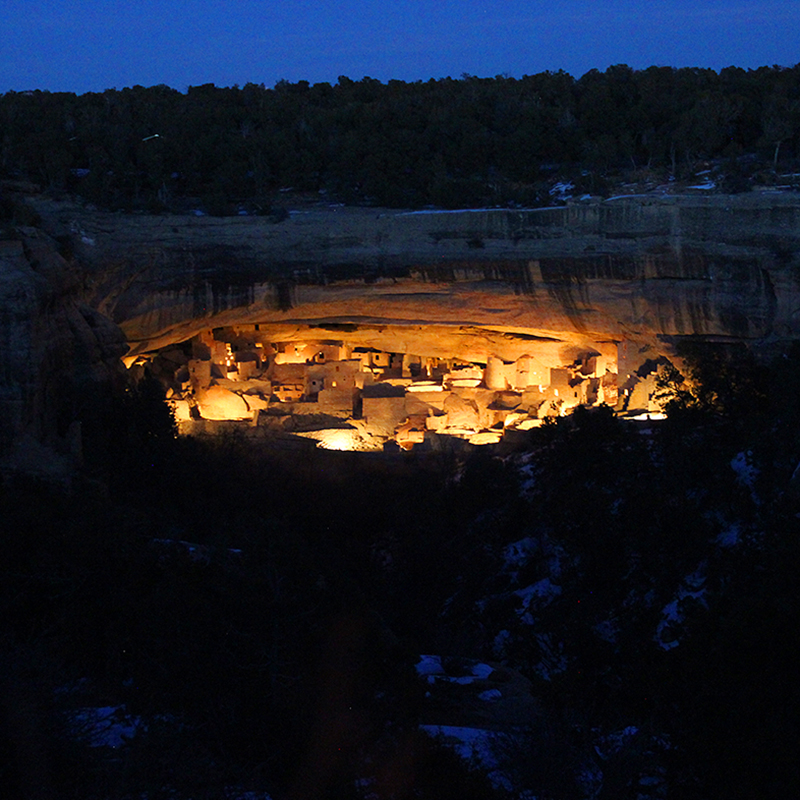 After taking it all in, the temperature dropped to below 30 and some people got back in their cars to warm up and drive back on the loop road to Square Tower House where more luminarias lit the path.
The small viewing platform was crowded, and well worth taking turns to see …
This!
Along with these two main dwellings, there were several pit houses to view as well as Sun Temple's kiva lit with luminarias.
Ready for coffee, hot chocolate, chili and live music, it was back to the center of the park to Far View Terrace where they had set up tables with complementary treats for the evening.  And Far View has a terrific gift shop for trinkets, artworks by local artists and souvenirs. 
Everyone was in great spirits having experienced this once-a-year holiday feast for the eyes that we cannot recommend enough!  
Wishing you Happy Holidays and Great Discoveries!
Amy and Mr.D
Note: Occasionally, due to weather conditions, this event has been postponed to a later date for roads to be cleared, so it's always best to check ahead before making the trip.
(map courtesy of Mesa Verde National Park)
If you enjoyed this article, please check out others on Mesa Verde:
The Beauty and Wildlife of Mesa Verde