Looking back to the discoveries of 2018, we are filled with gratitude for special moments that will stay with us forever, all of the new friends we have made, and how much we appreciate your company as you travel along with us and send tips on places to seek out.
As we wish you and yours the happiest of holidays and a loving, peaceful new year, here are a few moments from the past year that bring a smile or feeling of wonder where we stopped in our tracks to say "how marvelous" or "can this be real?"

If only we could all be as free and uninhibited every day as a child dancing full-out on stage at a small town festival. (Mancos, Colorado)
Awestruck and mouth agape at the first golden light of the summer solstice as it beamed into 700 year old Balcony House cliff dwelling.  (Mesa Verde National Park, Colorado)
Taking a small private tour of Yellow Jacket Pueblo, finding a perfect arrowhead, then returning it to it's place.  Leaving things as we found them.  (Southwestern, Colorado)
Standing at the very beginning of the Santa Fe Trail, then setting out to discover the history of the trail all the way to the Santa Fe NM Plaza.  (Franklin, Missouri)
Blast from the past on Route 66.  (Tucumcari, New Mexico)
Windows open and music off … driving through Valley of the Gods.  (Southwest Utah)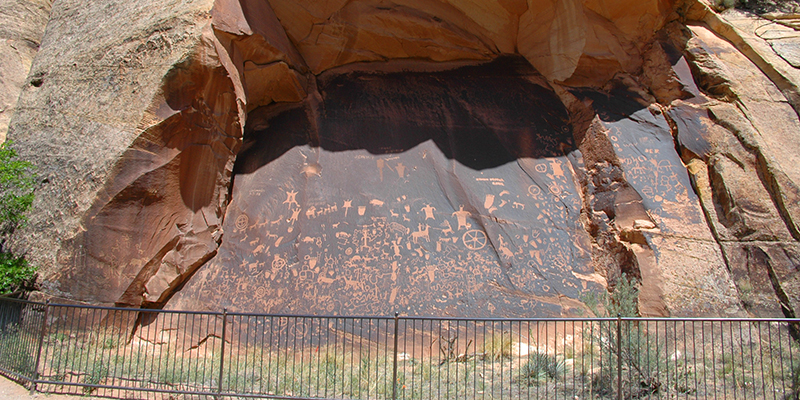 Re-visiting Newspaper Rock and imagining the ancient people telling their stories and carving into the desert varnished sandstone.  (Utah)
Tasting the foods of sustainable, mindful restaurants in the Four Corner's region where most of the ingredients are local or within a 100 mile radius of the eatery.  (El Moro, Durango, Colorado)

This moment most likely needs no explanation, but just in case … the satisfaction of looking down to your finished plate of tamales.  Any day of the year.

August and the first sight and smell of the season's chile drums rolling.
A contemplative moment at Canyonlands National Park where everything is put into perspective as to our stewardship of these lands, and how it belongs to all of us and we belong to it.  (Near Moab, Utah)
Spending a snowy night on the luminaria lined Santa Fe Plaza and strolling through the holiday light display. (Santa Fe, New Mexico)
Heading out to the middle of nowhere and taking new roads in anticipation of what is waiting to be discovered around the next bend.
xo Amy & Mr.D