We found the spot where it all began in Old Franklin, Missouri, then fascinating SFT nearby sites, explored the charming village of Arrow Rock then headed west toward Independence that is a satellite city of Kansas City.  We were particularly interested in getting to Independence, the Queen City of the Trails, to see the National Frontier Trails Museum and it was no disappointment!
The quickest way to get from central Missouri to Independence / Kansas City is a straight shot on Interstate 70.  You're there lickety split.  However, the trail parallels I-70 just to the north on MO 41/65/24, it's a far more scenic way to go, exciting because for the most part you're driving on the original route and stopping at crossing sites, and there are ruts and old historic towns along the way.
Following the National Park's Service Official Map and Guide, we departed Arrow Rock towards Marshall.  This is all lush green countryside and farmland.  A beautiful drive, with wagon wheel gates and wagon yard art here and there.
NEFF TAVERN SITE
Not far away, we stopped at the site where a stone smokehouse remains from Neff Tavern. Built in 1837 by Isaac Neff, the trail is reported to have gone right between the tavern and barn that later became a stage station.
MARSHALL, MISSOURI
15 miles west of Arrow Rock in the middle of rich farm country is the quaint town of Marshall. You are traveling very near the trail as you drive, and when MO-41 turns into Road 240 you are on the actual Santa Fe Trail.
We drove around the town, and our destination was to find wagon ruts north on Road 41 (North Main Ave) crossing over the Salt River. The next left was County Road 275, and the Weinreich Ruts were just up ahead.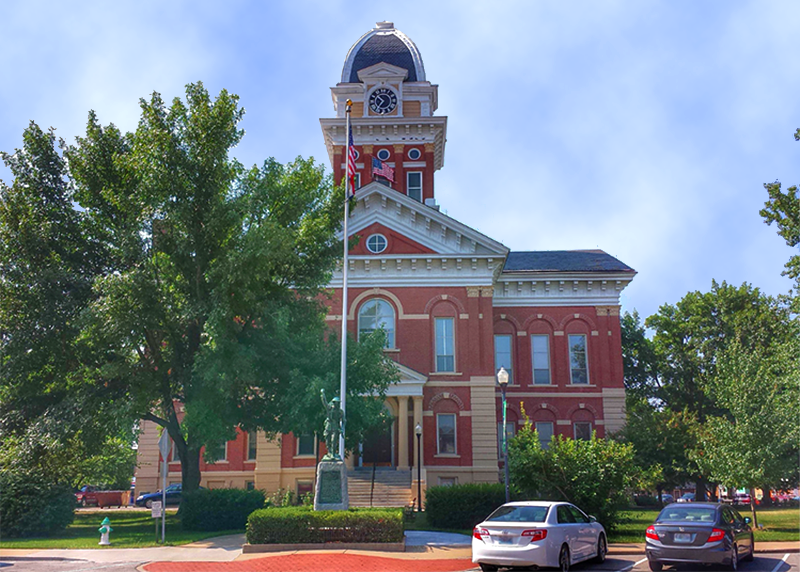 THE WEINREICH RUTS / HARVEY SPRING North of Marshall, Missouri
There are ruts and swales all around this area, and the Weinreich Ruts were our first opportunity to stop and observe remarkably well-preserved indentations.
At first we had trouble spotting them because during the summer months grass and weeds grow tall.  Also, in the last 197 years trees have grown over the path.  As we looked into the trees we were able to make out the distinct shapes of wagon ruts.
From talking with locals we learned that it's a good thing when trees grow over the trail because branches and leaves preserve and protect the ruts from weather and erosion.  We also were advised to look for variations in vegetation to distinguish exactly where the route travels through.  (Note: later this fall we will be returning to this area for another look at the ruts as the grasses will be low, and back to the Arrow Rock Ferry Landing for a better look as well).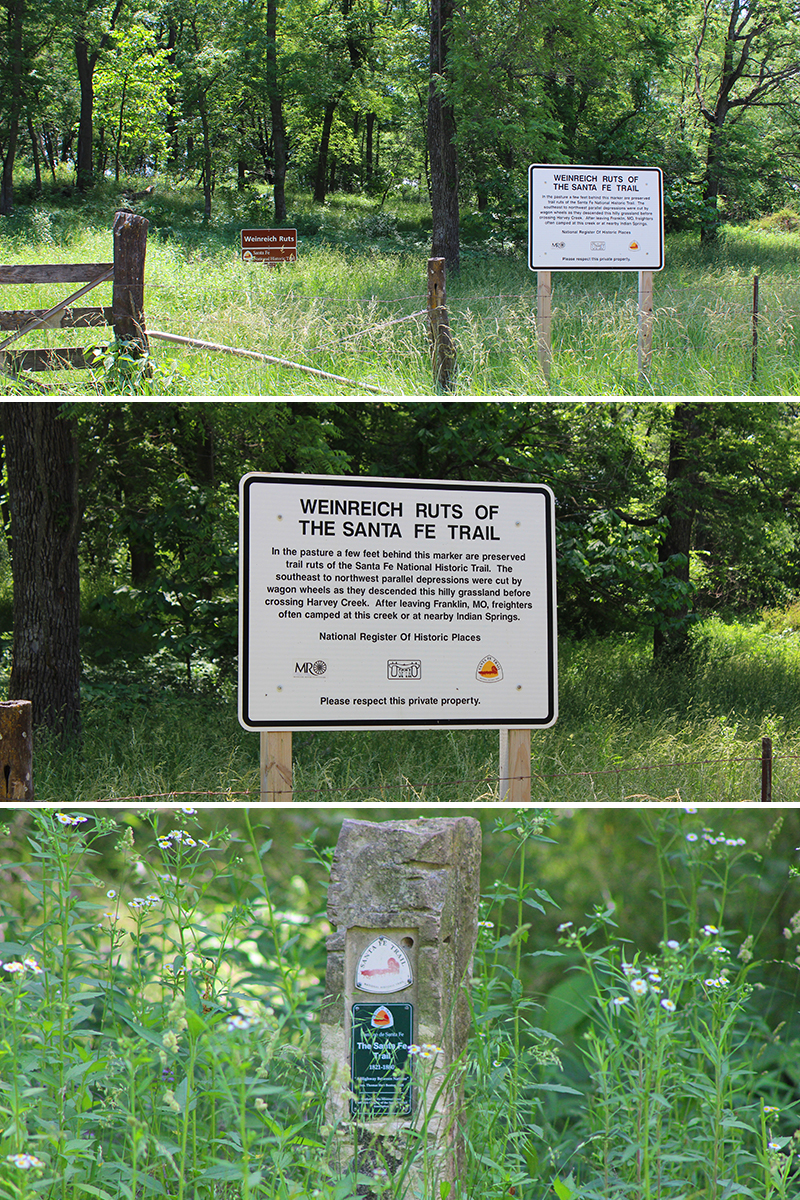 Weinreich Ruts: Reported by the Marshall Democrat-News: "The wagons of yesteryear had made many indentations on the land as this is the point where drivers spread out to descend the hilly grassland to cross Harvey Creek. When wagon wheels regularly had cut down into the hill, those fresh ruts eroded somewhat and to this day remain as reminders of nineteenth century trail travelers."
Read more about the dedication of historic posts marking the site here.
THE DIFFERENCE BETWEEN RUTS AND SWALES
Once you've seen the distinct markings of ruts and swales you can easily spot them all along the trail, from the green grassy Mid-West to the wide open prairies of Kansas, and then cutting into the deep red earth of the Southwest.
Below is a photo of what we thought existing parts of the trail would look like and what we expected to be driving on, with clearly visible dirt roads and two-track wagon ruts from beginning to end.  And while there are rare areas that look like this, we are told that they are on private undeveloped property.  And so the image below is not a good representation of what the SFT looks like today.
Most of the markings are now swales — the wide deep impressions made by thousands of travelers and mule teams.
Below is a terrific example of a swale in the southern Kansas City area, a broad groove and six-feet deep.  When areas became muddy, the wagons would move around and cut a new path along the route.  Sometimes four or more wagons ran side-by-side, carrying up to 5000 pounds of freight pulled by mules or oxen teams. The weight of the wagons, plus the multitudes of emigrants, traders and animals, left these immense marks in the land.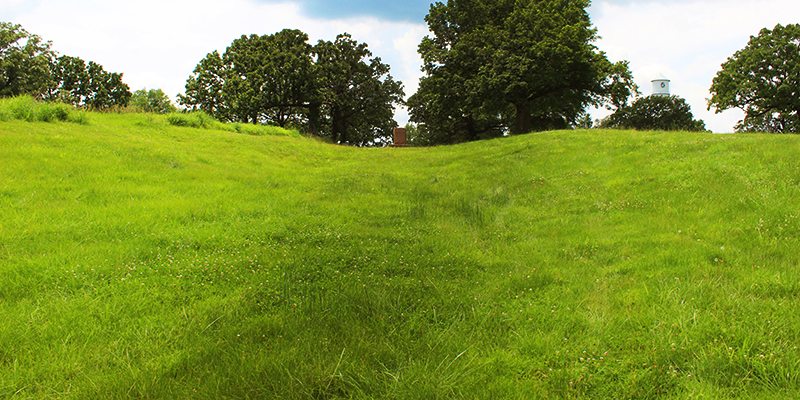 More often than not, we drove on paved parts of the trail and looked for crossing signs where the swales passed over the road.  This is why places like the Weinreich ruts and other swale sites are so special, because they are preserved — there for everyone to take in the history of wagons bound for Santa Fe.
GRAND PASS RUTS
In our rush to reach Independence (and wishing we'd had more time to explore, hence our upcoming return trips) we did not have time to stop and see the Grand Pass Ruts.  Here is info from Santa Fe Trail Research.com: A landmark on the Osage Trace, the Grand Pass begins about 3 miles west of Malta Bend. It is a terrace between the Salt Fork and the Missouri River bottoms followed by present US Highway 65. At the east edge of the village of Grand Pass is the community cemetery, which contains excellent ruts of the Santa Fe Trail. Wikipedia info.
Of note, Malta Bend is named after a steamboat that sank 178 years ago and is now being excavated by the same treasure hunters who uncovered the Arabia steamboat that is now on display in a Kansas City museum.  The Arabia is known as the Floating Wal-Mart of its day, as it was filled with 200 tons home goods, china, and supplies for pioneer families.  The Malta's cargo is expected to give further insight into common household items that would have been found during trail days. Here is a great article on the Malta from the Kansas City Star. 
TABO CREEK CROSSING
Info from Santa Fe Trail Research.com: The Tabo Creek crossing is south of the Missouri River, 8 miles east of Lexington, Missouri, and within sight of US Highway 24. As a major tributary on the south bank of the Missouri River, Tabo Creek presented an obstacle to travelers on both the Osage Trace and Santa Fe Trail routes. In 1821 a license was issued to operate a ferry across the creek. A DAR marker, now in Lexington, formerly stood on the creek bank.
LEXINGTON, MISSOURI
The drive to Lexington was again, beautiful Missouri farmland and country landscapes.
We found that Lexington embraces their Civil War history more than the SFT, and to this day there is a famous canon ball lodged into the corner column of the courthouse.  Built in 1847 is it the oldest courthouse in continuous use west of the Mississippi.  The canon ball is from The Battle of Lexington, fought in September of 1861.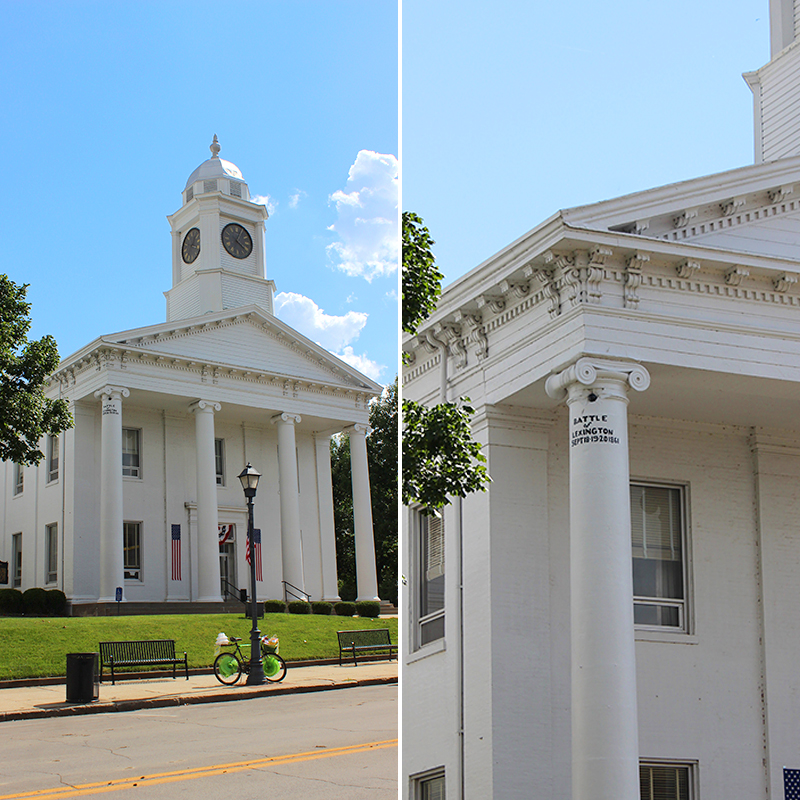 It was here that we learned about how the SFT became a military route during the Civil War, and that one of the most significant battles was fought far away in New Mexico.  (More on that to come when we reach Glorieta Pass, known as the Gettysburg of the West).
We stopped for lunch and met a cafe owner who told us that she had wagon ruts on her property "in fairly good condition and grown over with grass, but my neighbor's ruts are in pristine condition because trees have grown around them in a wooded area for protection."  Thus confirming that trees are indeed guardians of the ruts.
The trail goes directly into town, with grand houses and cobblestone streets. We stood in the middle of the road to take photos and a very nice couple who were out walking their dog asked why we were taking so many pictures and video … a.k.a snap-happy?  (Admittedly, our shutter fingers can get out of control).  We explained, "we're following the Santa Fe Trail from the beginning to end." At which point they tilted their heads inquisitively and said, "Oh, we've seen signs for it. What is it? An old cattle trail?"
Each and every time we hear this we feel a little less like American history slackers, because as we've confessed, we thought the very same thing for years. And here were two people walking and living on the trail who also thought it was a cattle trail. Within a few minutes of describing our journey, talking about that first trip in 1821, then how it became a trade and eventual military route, they became very interested about where to read more about it.  So we referred them here, and suggested they pick up brochures at one of the local museums or visitor's centers.  Did we advise that they read Blood and Thunder?  If not, we should have.
The Lexington Historical Museum was located in a church that was built in 1846 during trail days. We highly recommend this place, as they exhibit artifacts from the Pony Express, Osage Indians, lots of steamboats, Civil War and some SFT items.
Of note: the old bank building in Lexington was once robbed by the outlaw Jesse James.  In fact, the entire town has a colorful history of saloons, bordellos and gambling.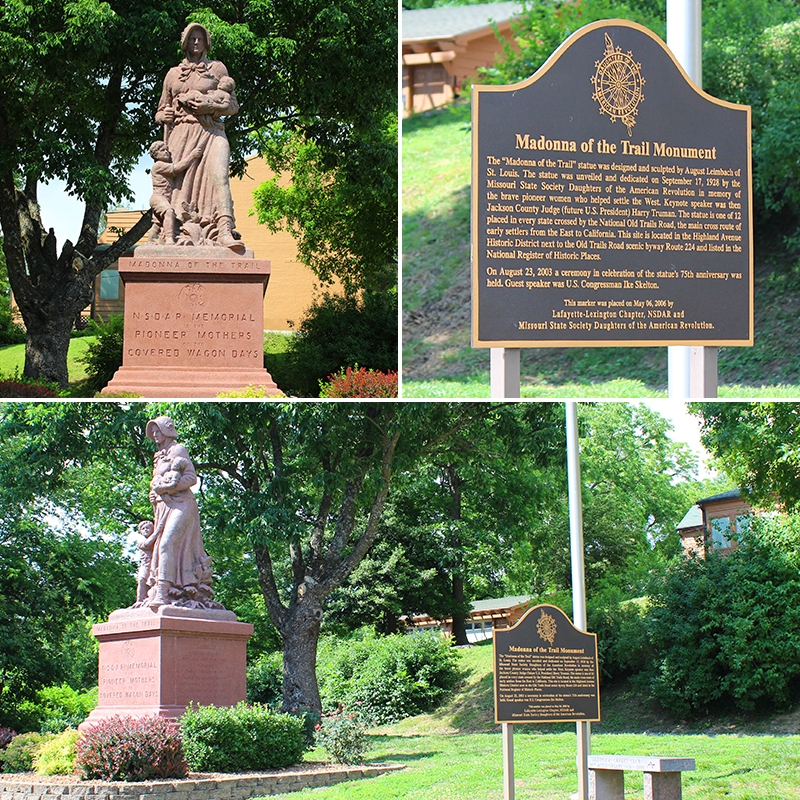 Our first Madonna Of The Trail sighting! The DAR has placed several of them along the trail to celebrate the strength and maternalism of pioneer mothers, with large statues of these women holding a rifle in one hand, her newborn child in the other, and young child grasping her skirt.  Someone pointed out to us that the artist who designed her wanted her face to show strength and also concern for her husband, as if something had gone wrong, and for her expression to convey fortitude and compassion.
Madonna of the Trail is a series of 12 identical monuments placed in twelve locations from Maryland to California, The 18-ft. tall monuments were a project of the Daughters of the American Revolution, installed in 1928-29.
Across from the Madonna is the Log House Museum that was a log home and tavern built in the 1830s. We were unfortunately not able to see it, as it was closed, but have read that it has been authentically restored.  Amazing to think of all the people through history who have walked through that door.
We'd like to note here that all along this leg of the trail, From Franklin to Kansas City, there are historic homes, ruts and significant sites galore. Please check this link to the Santa Fe Trail Association for more opportunities to make discoveries that we missed or didn't have time to explore.
Here is a great outline to scroll through for more Lexington history.
We would also like to note that starting up conversations with other people following the trail is oftentimes fascinating, as many have studied it extensively, are members of the official SFTA, or are walking reference books of knowledge.  We have yet to meet a SFT buff who doesn't have favorite rut sites to share, and here we learned about the Dodge City, Kansas ruts that we "must see, they are some of the best" and to "stop at Ralph's Ruts in Kansas, it is a favorite spot on the trail." (More to come on those!)
From the SFT research website: During the trails period, thousands of wagons rolled down the hill from the Courthouse Square and passed over the property now known as the National Frontier Trails Center in Lexington, Missouri. The large, free public spring offered emigrants a chance to water their livestock and wash with its fresh water.
FORT OSAGE 
Built in 1808 to fulfill one of the provisions of a treaty between the Osage Indians and the United States, read more about it here.
BLUE MILLS, LITTLE BLUE RIVER CROSSING
From the SFT research site: "The site of two Blue Mills is at the north end of Lentz Road in Jackson County. Remnants of the 1834 steam-powered gristmill remain, but there is nothing of the 1835 steam-powered sawmill. The Santa Fe Trail ran between the two mills. The Little Blue River was crossed by a bridge in 1834. The mills were owned by Michael Rice, Samuel C. Owens, and James and Robert Aull, all merchants and traders on the Santa Fe Trail."
INDEPENDENCE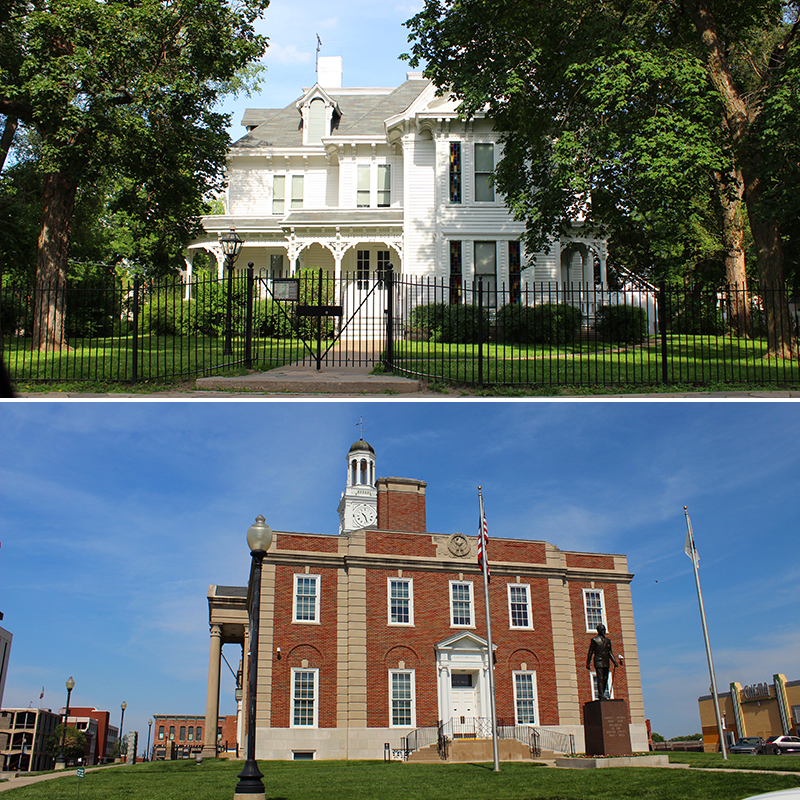 As word of successful trading on the trail spread after 1821, towns were established along the Missouri River to allow for the trail to start further west.  Steamboats carried supplies to the towns for traders and pioneers to purchase before setting out.  Here, we began to notice how closely the trail follows rivers, springs and water holes, as running out of water was a worst possible scenario for the travelers and their animals.
Independence and Kansas City were the last places America could build because Kansas was not yet a part of the United States.
In the center of town square sits the Jackson County Courthouse that has been expanded over the years but still contains bricks from the 1836 structure.  Wagon caravans used to circle around the square before heading south on Liberty Street. Above is the charming white Victorian home of Harry S. Truman, the 33rd President of the United States, that is open to tour.
Here is an engraving of the original courthouse from 1855.
Not far away, at 107 West Kansas is the Jackson County Log Courthouse from 1827.  It was moved in 1916 to it's present location.
All along our journey from Arrow Rock to Independence we were advised to "make time for the trail museum, it is something you have got to see if you're following the SFT."  So made a beeline for it.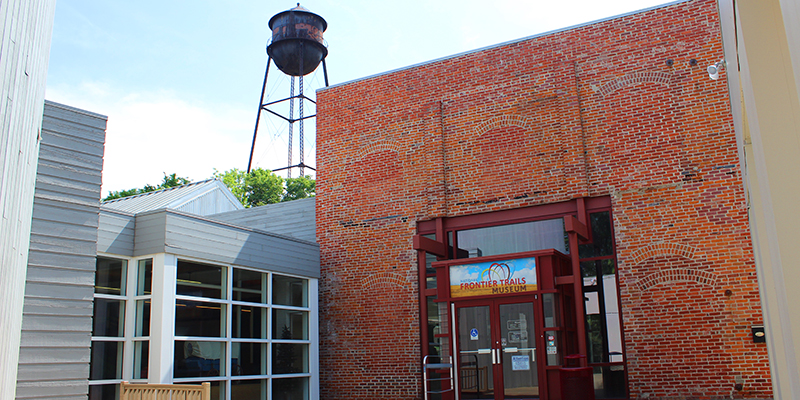 As we drove into the parking lot of the National Frontier Trails Museum we were thrilled to spot two authentic Missouri mules.  Ever heard the phrase "stubborn as a Missouri mule?" Here we learned that these animals had long been thought of as stubborn and therefore not so bright.  Wrongfully so, because they were (and are) quite intelligent and the reason for their adamant nature was self-protection.  It was explained to us that while a horse will ride until it's heart gives out, a mule knows it's limits and if injured or feeling at risk it will stop in it's tracks and not budge.  For this reason, the sturdy stubborn mule team was preferred over horses.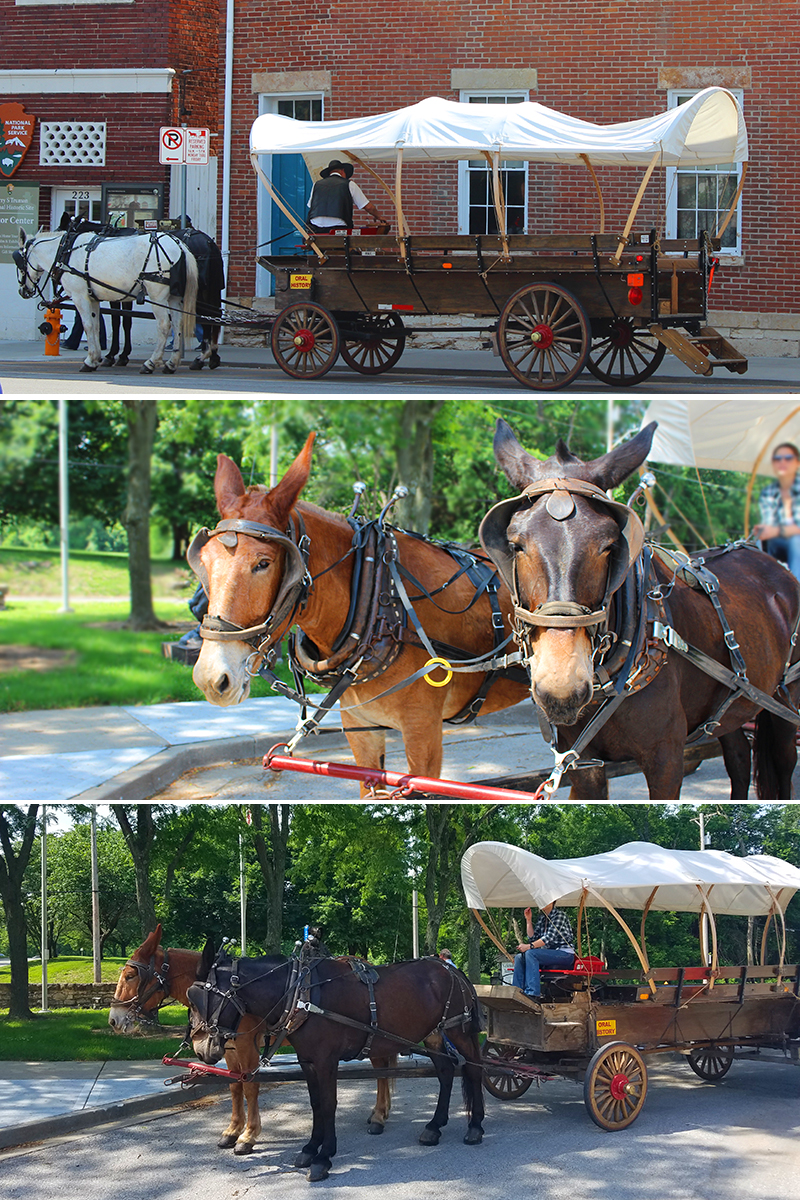 Note: During the summer months, Pioneer Trails Adventures ("More Than Just A Ride") offers free wagon rides from the town square to the museum.  They also offer historic rides from 15 minutes to an hour long, as well as full chuck wagon meals by a campfire.  Someone in town referred to them as a "rolling history class."
Something we are fact checking, and if you have any information on this we would greatly appreciate to know … how did the Missouri Mule come to be? We know that mules were introduced to Missouri in the 1820's and are a cross between a mare (female horse) and a jack (male donkey), and are thinking that the donkeys were brought to America on the SFT and then bred with horses in Missouri?  If you have info on this, please feel free to leave it in the comments, or email us via our contact page.  Thank you!
Here is a beautiful bronze statue of a Madonna Of The Trail outside the museum.
You never know who will greet you here.  It could be a business owner or trader from trail days, a famous baker who provided hard loaves for wagon trains, a pioneer woman, mountain man or the first sheriff of Jackson County.  Historical reenactors in costume met us in the lobby and were full of information.  They did not break character.  It was fabulous! (Note; reenactors are scheduled primarily for the summer months).
We learned that Independence was the "Primary Jumping-off Point" for three major trails:  The Santa Fe, Oregon, and California.
The 'Mayor of Independence' (who had a mercantile on Independence Square and his brother brought back silver and things to sell from Santa Fe) took us through interactive exhibits (kids love this place) and asked us to tally the cost of buying and stocking our wagon using the chart below.  Who knew that during the 1840s-50s that a wagon cost $85. and to multiply that by 25 to see how much it would cost today?  That's over 2K, just for the wagon and not including the cover, parts, or animals.  And what about one frying pan at $1.50 / $37.50?  Things added up!  Have a looksee …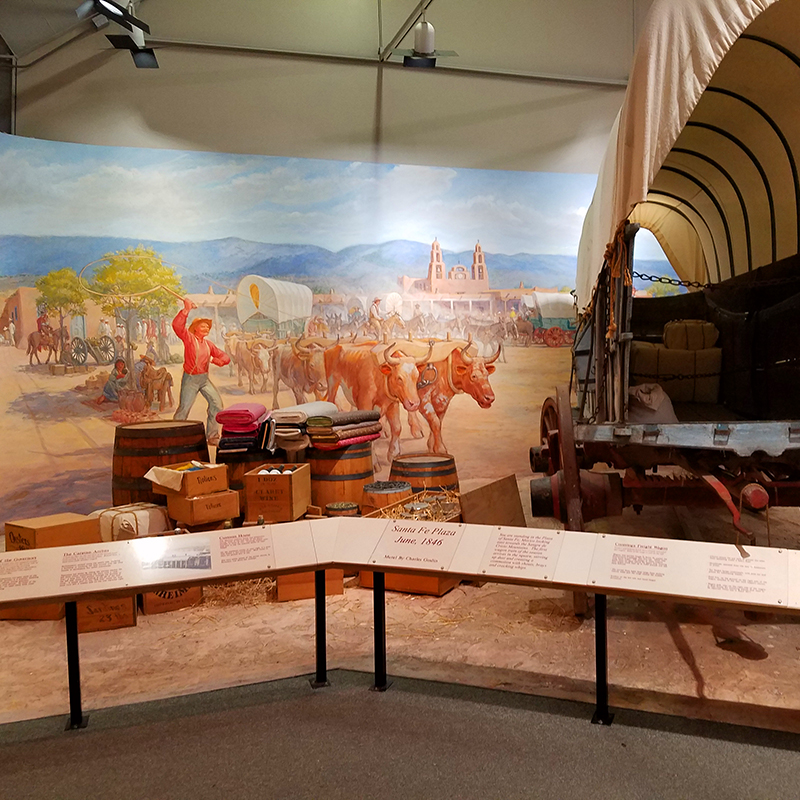 Above is the Santa Fe Room and mural of the arrival of a wagon train into the Santa Fe Plaza in June of 1846.  The wagon is an excellent replica of a freighter with items one would have traveled with on the trail.  The Oregon Trail exhibit has a fantastic Conestoga wagon replica.
Other things to look for are the journals and diaries of trail travelers, displays of things that were traded, a rare top hat made of beaver pelt, and countless other artifacts.
The museum recommends that you allow 1 1/2 hours to view the entire collection. And don't forget to stop in the gift shop where exposed brick from the original old flour mill that stood on this spot can be seen.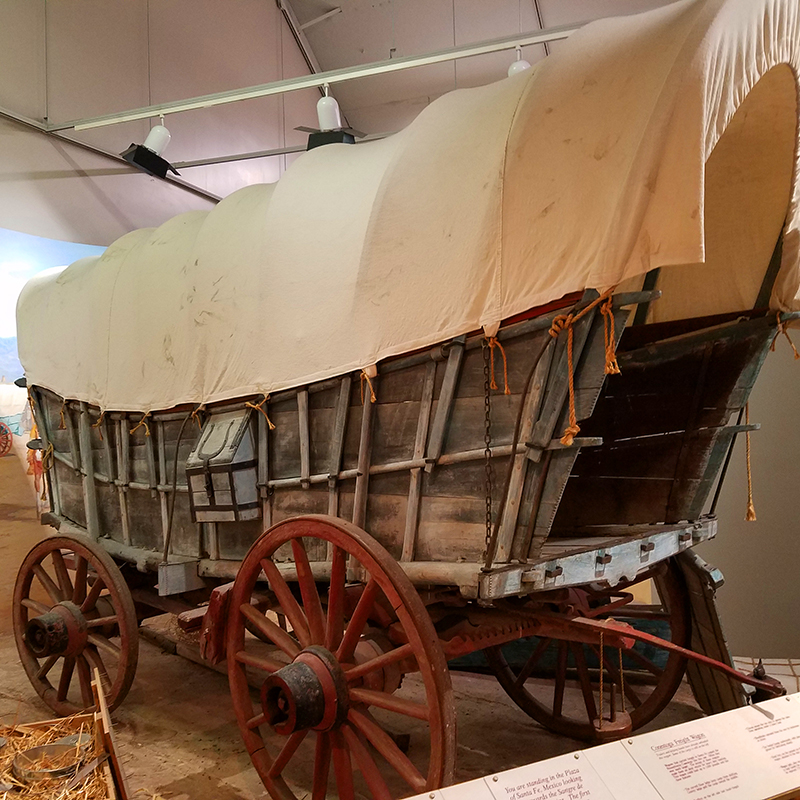 Note: Independence was a trail nerve center that we compare to today's prominent airline hubs of traffic and travel, and is filled with homes and sites to tour.  Here is a list of The Main Branch from Franklin, Missouri to the Kansas State Line to scroll through for other sites that may interest you. 
Tip: be sure to pick up brochures and info while you are visiting the museum.  The Frontier Trail Sites of Independence pamphlet is a good one, listing significant springs and sites, wagon rut areas, overlooks, landings, blacksmith shop sites, along with houses and mansions to tour.
The last question for our museum guide was "Where can we see more ruts and swales?"  We were directed to …
BINGHAM WAGGONER ESTATE AND SWALES
Located not far from the museum at 313 West Pacific in Independence, this 19-acre estate was a main short-cut route on the trail with some impressive swales on the grounds.  It is known for the influential people who lived there, including the artist George Caleb Bingham and then the Waggoner family who owned a local mill.  The main house is now a museum.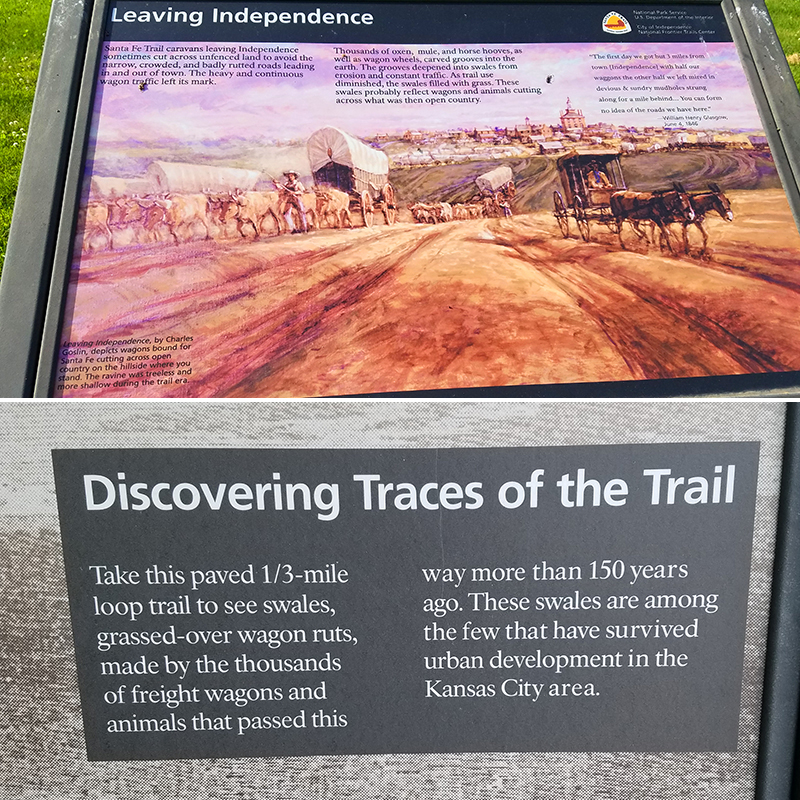 There is a paved path on the grounds and we were welcome walk right out onto the rolling swales.  Countless people passed through this area and it is remarkable that the indentations are still intact in this residential neighborhood.
We could have spent two solid weeks on this Missouri leg, touring all of the homes and tracking down significant places.
Note:  Independence was the home of Pres. Harry S. and Bess Truman and the house is open for touring.  It was built between 1867 and 1885.  The house is left much like it was when the Truman family lived there, with original furnishings and a bar of soap still rests on the kitchen sink.
Tip: whenever possible, stop at a regional museum and definitely the small town museums.  Most of their artifacts have been donated by families within a 100-mile radius and give an authentic glimpse of what life was like on different parts of this 900 mile trail.
Also, we planned to visit two native museums along the way, and Museum Hill of Santa Fe.  If anyone has suggestions of other native museums to visit along the trail, please leave them in the comments or through our contact page.  Thank you!
Next stop: Kansas City, Steamboat Arabia, and the amazing Minor Park Swales. Then off to another town that seems unchanged since the 1800s … Council Grove, Kansas and home of The Last Chance Store.
Happy Trails!
Amy & Mr.D