Last September we spent four gorgeous days in the mountain town of Flagstaff, Arizona.  A cute, historic college town with loads of foodie spots, we toured scenic roads where the air was crisp and clean, and the serene sound of wind through the pine trees was everywhere.  At one point we saw people parking along the side of the road to gather something off the forest floor.  Pinons, we were told.  Pine cones were dropping to the ground, filled with buttery pinon (pine nuts.)  We gathered up a few for ourselves, as we've always been big fans of mixing them into blue corn pancakes.  And it was on that trip that we thought of grinding them into a meal for a rich cookie batter.
This recipe makes a smooth buttery batter with added buttery nutty flavor, and a surprise smoky kick of heat by adding chipotle powder to strawberry jam.  Sandwiched together into hearts, with a finish of powdered sugar.  The perfect cookie for Valentines Day, weddings, anniversaries, or any day you have a taste for sweet treat with a little heat.  They can be made one day in advance, in fact we find that they are just as good if not better when chilled overnight in the refrigerator, in a tightly sealed container.  So good in fact that after we made this batch, we had more the next morning with a cup of hot tea.  xo Amy & Mr.D
FLAGSTAFF SANDIES WITH STRAWBERRY CHIPOTLE JAM
Sandies are delicious soft shortbread cookies.  Here, we've created miniature heart shapes sandwiched with strawberry chipotle jam and lemon zest.  Note that the dough will take 2 hours to chill, along with prep and baking time, and they require at least 1 hour to set.
Also you will need a 2-inch heart-shaped cookie cutter.
Makes: approx. 30-35
2 sticks salted butter, room temperature
3/4 cups granulated sugar
1 egg
2 tsps vanilla extract
Place the butter into the bowl of a stand-up mixer and whip until fluffy, about 4 minutes.  Add the sugar, egg and vanilla.  Whip for 8 more minutes, stopping the mixer and scraping down the sides with a spatula as needed.
3  cups all-purpose flour, plus more for rolling out the dough
1/2 cup pinon nuts, toasted* and ground*
1/2 tsp ground cinnamon
1/2 tsp ground coriander
Place the flour, ground nuts, cinnamon and coriander in a separate mixing bowl.  (The coriander adds a nice lemony spiced note.) Using your hands, mix well until the nutty meal is fully incorporated into the flour.
Turn the mixer speed to low.  Gradually add the flour mixture to the creamy mixture, 1/3 portion at a time.  When everything is blended together, remove the bowl from the mixer, cover the top tightly with plastic wrap and chill in the refrigerator for 2 hours.
1 cup smooth strawberry jam
1 tsp lemon zest, organic is best for zesting
1/4 tsp chipotle powder, plus more if desired
confectioners sugar
heart sprinkles, cake sprinkles or confectionary pearls if desired
Heat the jam to medium heat in a small saucepan.  Stir often.  Allow it to warm up to a thick soup consistency, but not to a boil.  Add the lemon zest and stir.  Add 1/4 tsp chipotle powder and taste for heat.  Continue to add 1/4 tsp at a time and taste until desired smoky heat.  Remove from stovetop and allow to completely cool.
Preheat your oven to 350 degrees (f)
Line two baking sheets with parchment paper.
After the 2 hours, place 1/3 of the cool dough onto a well-floured rolling surface.  Flour the rolling pin as well as the cookie cutter.  Roll out the dough to 1/8-inch, or a scant 1/4-inch thickness.  Cut out heart shapes and carefully, using a small spatula, place onto the baking sheet.  Continue until both pans are full, giving at least 1-inch distance between each cookie.  If you find that the dough is too soft as you cut out the shapes, take a bit of flour and knead it into the dough until they hold their shape as they are transferred to the baking sheet.  Knead the scraps and roll out for more hearts.  You will need to bake them in batches, and any unused dough should be kept chilled in the fridge as you work.
Bake for 12 – 15 minutes or until they are just browned on the edges and light brown on top.  Remove from oven and allow to rest for 4 – 5 minutes, then transfer to a baking rack to completely cool.
Repeat until all of the dough is used.
To assemble, spread a scant teaspoon of jam onto the flat under-side of a cookie.  Then sandwich another cookie on top so that the baked under-sides are facing.  Repeat for the remaining sandies.  Using a sieve, dust the tops with confectioners sugar.  Sprinkle with confectionary sprinkles if desired.  Allow them to rest and set for at least 1 hour before serving.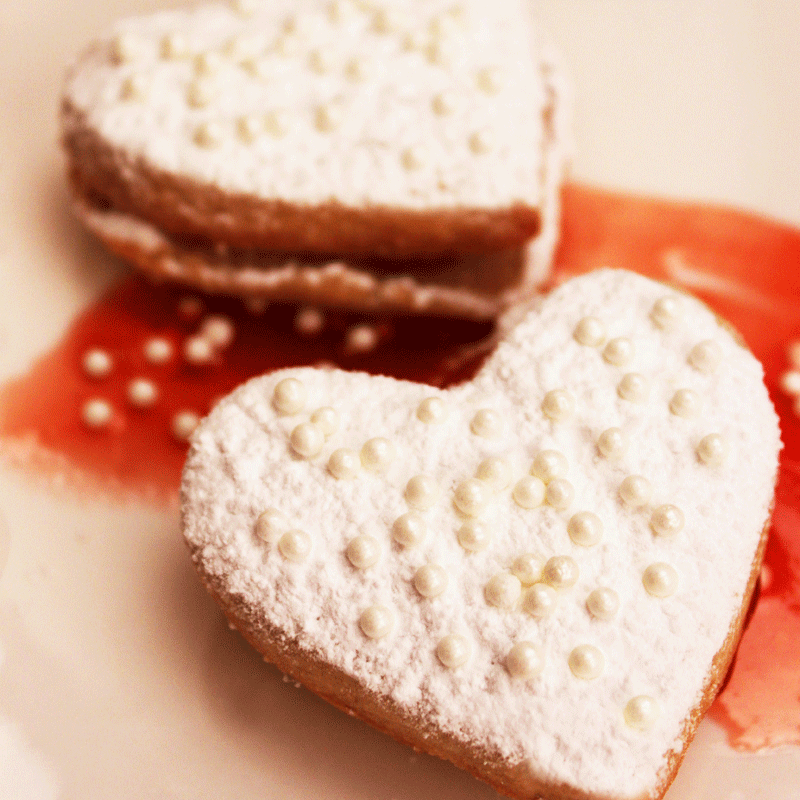 *Toasting and grinding pinion nuts:  Place the nuts in a medium skillet at medium heat.  Move them around the pan with a spatula.  The moment you smell that roasted buttery nutty aroma, take them off the heat and pour onto a dish.  They brown very quickly so keep a close watch.  When they have cooled, pour into a small food processor or coffee grinder.  Blend until it forms a soft meal, with no whole nuts.
Yum