This year we're celebrating with a great lineup of our all-time requested Southwestern inspired dishes that are sure to please.  Green Chile Angus Beef sliders, Grilled Cheese Sandwiches with Red Chile dip on the side, vegetarian poblano heathy options … something for everyone ….
Green Chile Cheeseburger Sliders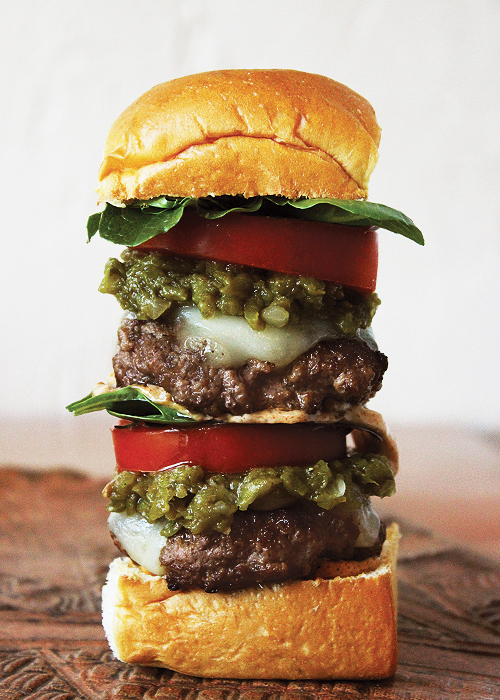 One of our all-time most popular recipes, you cannot go wrong with these Angus beef sliders with chopped green chiles, gooey melted cheese, and chipotle mayo to glue them together.  Using spring mix greens is a nice touch rather than shredded iceberg lettuce (makes 12 single-patty sliders or 6 double-patty sliders).
Get the slider recipe here.
Tomato Jalapeno Oven Roasted Salsa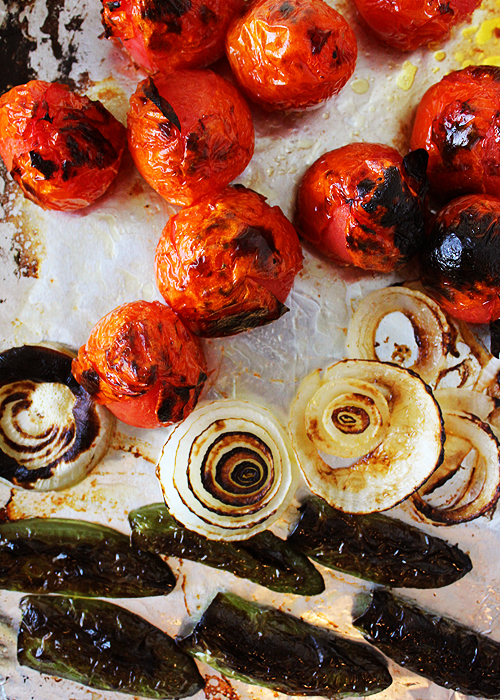 Oven roasting the ingredients and using fresh Roma tomatoes, cilantro, and lime juice, this salsa has a warm caramelized veggie flavor with tangy fresh zing.  You may want to double the recipe, it goes fast.  A nice touch is frying up your own tortilla chips. 
Get the salsa recipe here and impress the heck out of those tastebuds.
Grilled Cheese Green Chile and Ham Sandwiches with Jalapeno Cream Cheese
Pepper cheese and green chiles for a little heat with fresh jalapeno cream cheese and sliced ham layer this grilled cheese with loads of flavor.  To take it a step further, we season the butter before spreading it onto the bread.  Served as whole sandwiches or quartered into appetizer size, don't count on any leftovers! (Tip: have a look at our red chile recipe below, it's great for dipping grilled cheese)
Make some deliciously southwestern grilled cheese by clicking on the recipe here.
Crispy Baked Poblano Strips
We like to offer healthy options on our game day table and this one is so delicious and crispy that no one ever suspects they're baked.  Rather than deep fried chicken fingers or fried cheese sticks, we slice poblano chile fillets, then bread them in panko-parmesan and bake.  The poblanos are loaded with flavor, along with vitamin C and potassium.  Serve with a simple side mixture of catsup and hot sauce and you're good to go!
Bake up some tasty poblano strips here. 
Red Chile from Dried Pods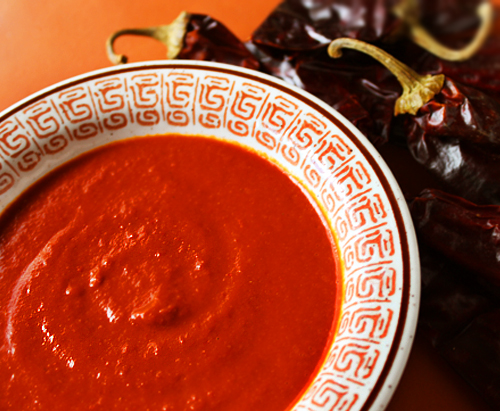 Having a bowl of red chile around is never a bad idea.  It's great for dipping grilled cheese sandwiches, poblano strips and…well…pretty much anything. Most likely someone will bring enchiladas or tamales and you've got extra chile on hand. Whipping up a soup? You've got red chile to boost the flavor.  Many moons ago when we first tasted it, we thought that kind of rich depth of flavor must require 8 hours of simmering. But no, it only takes 1/2 hour to cook and is very healthy.  
Make your own red chile with this killer recipe.
Buen Provecho and Happy Game Day!
xo Amy, Mr.D and the SWD Team