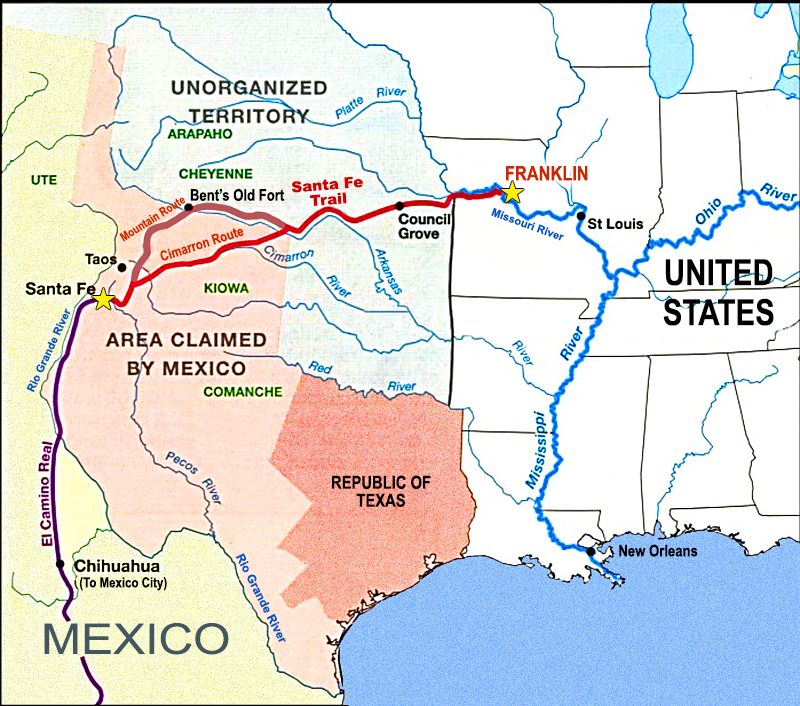 THE SANTA FE TRAIL — 1821 to 1880
The Santa Fe Trail ends, of course, in Santa Fe, New Mexico. But where did it begin and why?  After all these years of weather and erosion, towns and cities being established, highways and railroads coming through, what sites are still there to see?  Where are the best spots to find wagon ruts?  What are the most popular sites and towns along the route?  Travel along with us as we explore this iconic passage from the lush green farmlands of Missouri, continuing on through the plains and mountains of what was, during trail days, uncharted territory.
From the map above you can see that America looked very different back then.  Today as you drive along the trail you begin to notice landmarks and changes in the terrain.  You can look around and recognize why the wagon trains chose certain paths alongside water sources and how they depended on specific landmarks to keep from getting lost.  And all along the way are towns, regional museums and incredible sites to explore.
Here we will be sharing our discoveries, favorite places we'd return to again and again, stories of people we meet, and history lessons as we compile our Guide To The Santa Fe Trail.
We thought it was just an old cattle trail, and boy were we wrong …
WHERE IT ALL BEGAN  Franklin, Missouri
Located in central Missouri near the towns of Boonville and Columbia


WHY IT'S A MUST-SEE PLACE:
Led by William Becknell in the fall of 1821, the very first party to literally blaze a new trail departed from Franklin with the intention to trade horses and mules, fabrics, axes, tools and household goods with the peoples of Santa Fe.  Once sales were complete, they loaded up with exotic Mexican and Spanish goods to trade back home. And this fortuitous opportunity happened because prior to Becknell leaving on his 900+ mile trek, Mexico had just defeated the Spanish winning its independence on September 27 and lifting the Spanish ban on outside trade.  There was a great deal of money to be made for skillful traders with the stamina to maneuver such an unpredictable, uncharted journey.
Why would someone set out with a small party of only six men, by pack horse, into unknown territory with no defined route of passage and water sources?  Debt.  Becknell was a merchant and landowner who worked for the Missouri-based sons of Daniel Boone, managed and eventually purchased their saltworks operation (located very near the trailhead) and had gone into debt in his campaign to run for the Missouri Legislature.  Motivated to pay off his debtors and avoid jail time, his party left in late September of 1821 and were the first traders to arrive in Santa Fe on November 16.
Becknell returned to Missouri having made a substantial profit, paid off his debtors, then led a second round-trip by wagon for yet another hugely successful trade.  He became known as the Father of the Santa Fe Trail and his accomplishments started a rush of people headed west in search of fortune, a new life, or for adventure on this newfound trail to prosperity.
WHAT WE FOUND THERE
One could drive right by the site of Franklin, Missouri and never recognize it's great significance in American history.  That's because the town was founded in 1816 on the banks of the Missouri River in a flood plain, and later in 1827-28 the town washed away in a devastating flood. In fact, Kit Carson lived in Franklin, joined a wagon train west and returned several years later to find that the town was completely gone.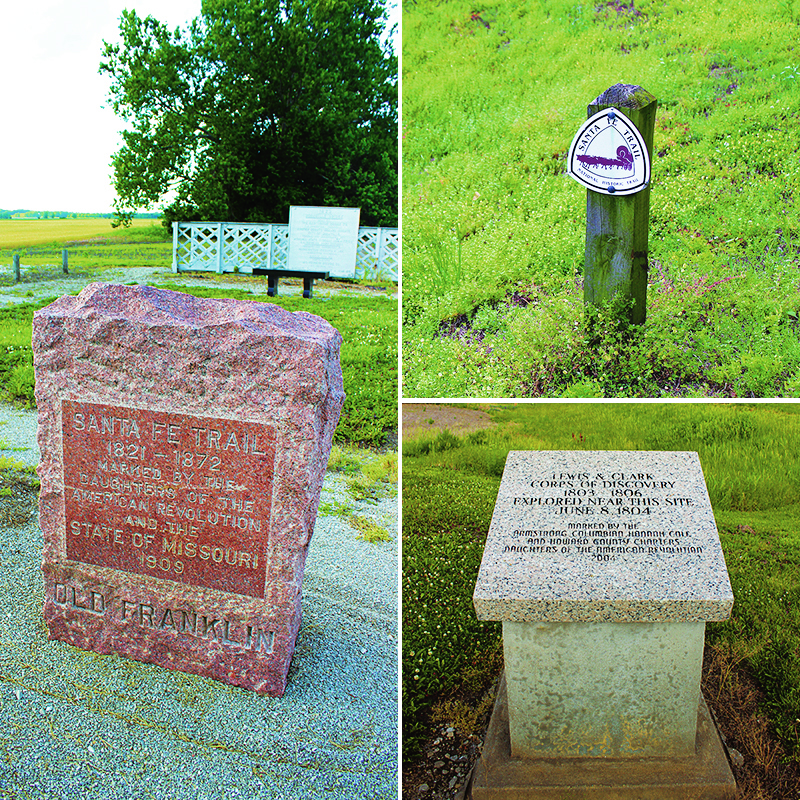 Some structures and houses were saved and taken up into the nearby hillsides to establish New Franklin (more on that in an upcoming article).  More recently, in the Great Flood of 1993, the Santa Fe Trail marker washed away, and has since been replaced as shown above.
Even though it is in the quiet countryside in an unassuming patch of low ground near the river, and not at all like the bustling destination of the trail's end on the Santa Fe plaza, this place in American history is momentous.  And you feel it when you stand on The Spot where it all began …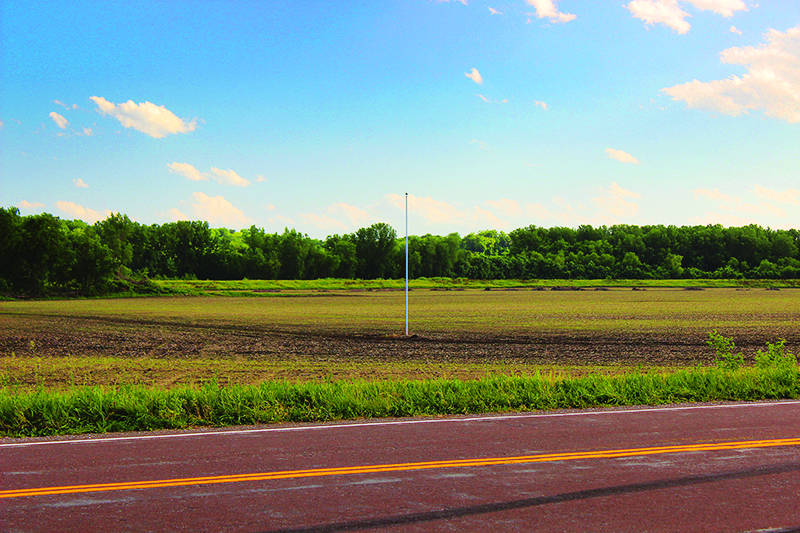 Here it is, this is it … you are standing at the trailhead!
This view is looking across the road from the markers, to an unassuming field where a flagpole marks where the town's center once was.  A flagpole that does not wash away in floods. Franklin's founders chose a beautiful location with rich soil for farming, but as you survey the land it is easy to see the close proximity of the fast-moving river and how low the ground sits in this area that eventually made it a bad spot to build a town.
This is where Becknell put an ad in the newspaper looking for men to join his expedition, where he and his party mapped out their plan and route.  This is where they headed west on pack horses into the unknown, and where so many followed after shouting "Wagons Ho!"
Want to take a drive on the original trail?  As you pull out of the parking lot onto this road, turn right heading west.  You now are officially traveling on the Santa Fe Trail's beginning.
HOW TO GET THERE

From Interstate 70, take the Boonville exit and continue north to the center of Boonville on Main Street.  Cross the Boonville bridge over the mighty Missouri River.  Quickly on your left is the turn off to MO 87.  Within a short distance you will find a gravel parking area on your right, with several stone and metal markers.  Pull into this lot, park, and look across the road to the flagpole.
The next stop on the trail from Franklin is Arrow Rock, Missouri, a village seemingly unchanged since the early 1800s, and one of the most popular destinations on the SFT.
NEARBY POINTS OF INTEREST
Always check the Official Santa Fe Trail Association and the Santa Fe Trail Research Site for nearby places, museums, visitor centers and historical societies that may interest you.
Cooper's Fort– marker and where it once stood, and an opportunity to walk on the first leg of the trail (article with directions to come)
Boone's Lick State Historic Site –  The saltworks Becknell once managed for the Boone family and eventually owned.  Parts of the saltworks mechanism are still there for viewing.  Tip: bring mosquito repellant.  In fact, much of the trail follows water sources and you will want to have it with you.
Boonville's Hotel Frederick, est. in 1905 after the trail days, however it is a must-see
Columbia, Missouri — 30 minutes east of Boonville, a large college town with ample lodging and dining options
Arrow Rock, Missouri — one of our Top 5 Must See Sites on the SFT.  Article to come!