The farm to table, organic, made-from-scratch foods movement is strong and growing in Southwestern Colorado, and as we drive one of the most breathtaking Colorado Scenic Byways, the San Juan Skyway, there are certain lunch spots we cannot pass up. The owners and staff work hard to source local ingredients, provide the freshest and healthiest menus, and we are eternally grateful to them for creating and curating the opportunity to sample the region's finest ingredients.
From Durango to Telluride, then to Mesa Verde country of Cortez, Mancos and back to Durango, the historic towns, sites, hot springs and outdoor adventures are many, and here are 4 Lunch Spots to Love along the way …

THE BUTCHER AND THE BAKER
Where:  Telluride, Colorado

Located:  In the heart of downtown Telluride on the main drag of Colorado Avenue.
Why We Love Them:  The motto on their chalkboard states "Good Food Made With Love" and Megan (The Butcher) and Cinda (The Baker) only serve foods they would make for their own families.  Community minded, they remain open in off-seasons in order to support their staff, are always on the lookout for artisan small batch products, and most everything is made in-house from ingredients within a 100 mile radius of Telluride.

No preservatives, with house roasted non-gmo meats, sausages and sustainably harvested fish, and organic local flour is used for all bakery items.  Even the packaging they use is compostable and recyclable.
Upscale casual where your order is taken at the counter and delivered to the table, this is a great place for couples, families, ski groups, girlfriend lunches, and they're dog friendly with two outdoor benches for pooch pampering.

They advise that you "Take a look at the menu and then check out the deli case" that's filled with bowls of healthy salads, pastas and mouthwatering treats like chocolate cupcakes, huge slices of carrot cake and lemon blueberry tarts.  They are known for their handmade croissants, breakfast burrito (they go through 90 dozen eggs per day), and the Wednesday special of non-gmo fried chicken with a house biscuit, braised local vegetables and glass of champagne.

They also offer a coffee bar menu, fountain sodas and a full bar with cocktails called the Bloodhound (gin, blood orange, cardamom, soda), Winter Mule (vodka, ginger beer, mint, kumquat, soda, lime), and a nice wine selection by the glass.
What We Order:  You can't go wrong with the Cubano Sandwich with layers of tender thick cut pork, salty ham, gooey swiss, house pickles and spicy dijon aioli with hand cut fries.  (Tip: ask for an extra side of the dijon aioli to dunk both the fries and sandwich — you will not regret it).

Another favorite is the House Roast Turkey Sandwich with thick sliced fresh roasted turkey, one of the most divine savory sweet house fig spreads ever concocted, soft brie cheese, crisp sliced apples, and arugula with balsamic vinaigrette with house potato chips.  Layers of flavor with every bite, and the clean organic freshness is unmistakable.  We'd drive 100 miles for this one.

Be sure to look for the soup of the day — the beet lemongrass ginger is a warm bowl of love. They are widely known for the Pho with beef broth, rice noodles, tri-tip, lime, green onion, cilantro, sprouts, and chiles.  Bonus, bottled spreads and small batch foodie items are also for sale, offering local and organic; apple butter, bread and butter pickles, three pepper jelly, and horseradish pickles for the ultimate Bloody Mary, along with other farm fresh gourmet veggies, jams and granolas.
The integrity of the owners to provide only the finest seasonal dishes and small batch products makes us fans for life.  An absolute gem and we cannot get enough of them.
Website
970.728.2899
FARM BISTRO
Where: Cortez, Colorado

Located: In the heart of downtown Cortez on Main Street
Why We Love Them:  Their motto is "Hug A Farmer" and they were the first farm to table restaurant in Cortez.  Owners Laurie and Rusty had no desire to expand their little 10-table sandwich and salad shop until the community chimed in with support and their current landlord encouraged a move to their much larger location in an historic building.
The menu then expanded from products from their own farm to 6 ranches and 30 or so farms within 75 miles of the bistro.  They could get less expensive ingredients but that's not what they're about.

Their focus is on high quality, fresh foods with a longer shelf life, and zero waste (scraps are composted or fed to their chickens).  They produce their own eggs, and one local farmer (rockstar Vic) provides organic vegetables year 'round from his greenhouses.

There is a main dining room, a small market offering local produce and small batch handmade lotions and soaps, a bar and small lounge area offering all Colorado wines, beers and spirits, and a unique happy hour of Martinis and Tapas.  The Prickly Pear Martini is made from fresh picked Tuscon prickly pear fruit that they specifically drive for, then take back to Cortez to create the most delectable, fragrant syrup.

What We Order: The local Grass Fed Burger with swiss and local bacon is one of the most flavorful and cleanest you will experience, with the perfect sear.  The spicy Harissa Grilled Chicken Sandwich with house pickles and light, soft bun is equally tasty and fresh, and if the Grilled Yak is ever on the specials board it is a Must Have.

We also love the fresh pita sandwich options, and they are known for The Chicken and the Egg Salad with chopped grilled chicken, hard boiled egg, apple, bleu cheese, and sunflower sprouts on lettuce with avocado aioli. Fresh, fresh and more fresh.  You can even smell the quality in the air when you walk in the door.

Most recently we were introduced to the crispy organic Zucchini Fritters with soft, lightly tangy goat cheese, farm fresh greens and roasted tomato vinaigrette.  Entirely farm to fork with a great crunch!  We'll be back for this one.  Heck, we'll be back as often as possible to eat our way through the entire menu.
Website
970.565.3834

ABSOLUTE BAKERY AND CAFE
Where:  Mancos, Colorado

Located:  In the heart of downtown Mancos on Main Street, 30 miles west of Durango and 20 miles east of Cortez.
Why We Love Them:  Their mottos are; "By Hand, From Scratch, With Love" and "Slow Food Is Everything Fast Food Is Not" and "Old Hippies Don't Die, They Bake." They practice slow food, completely from scratch, low heat cooking.  The deep rich red chile takes 4 days to properly prepare and will seriously change your chile lovin' life.

Ingredients are sourced from the ranchers and farmers of the beautiful Mancos Valley, everything is made from scratch, meats are all-natural with no nitrates or hormones, oftentimes foods are sweetened with local honey, and the bakery offers breads and pastries that are right up there with any New York or Los Angeles bake shop.  Heads up La Brea Bakery, brush off your rolling pins.

Family owned and operated, they make a point to sit down for a meal at the end of the day with their staff — to talk and welcome everyone into the family atmosphere.  There is no wifi and customers are encouraged to talk with one another and behave as if it's 1982.
The community family vibe is felt the moment you step in the door, and there are Love Note post-its all around with sweet, thankful mentions written by people from around the world.

New dishes must pass the "Test Kitchen" where the staff samples off-menu concoctions, begin to request certain favorites and tah-dah — it makes it onto the menu.
There are also used books for sale (we've found several favorite cookbooks there) and a Wall Of Fame with works by local artists.
What We Order:  They are known for their dessert case with pasties, variety of brownies, definitely the gluten free macaroons, and the most fragrant lavender lemonade you'll ever sip.  Soup of the Day always sells out, and the savory rich mushroom or chicken vegetable with homemade noodles will make you feel (as Amy would put it) like you're in your 40-year undefeated blue ribbon state fair bake-off champion Grandmom's kitchen after treating each other to a total spa day.  Just sayin', it's comfort food to the max.

We always make a point to walk in and immediately check the Daily Specials Board for a hearty new dish, layered sandwich, or intriguing asian feast from Chef John.  Pictured below are the Singapore Noodles, something we cross our fingers and toes that will appear on the Specials Board again and again.

We love the Build Your Own Sandwich or Wrap offering a variety of meats, cheeses and fresh fillings, on house breads or wraps (including red chile and gluten free tortillas).  This is also great for people with food allergies and intolerances who can select items that are safe for their diets, that are also delicious high quality ingredients.
A sure hit is the layered Cubano with perfectly pressed fresh house ciabatta that's crisped on the outside, with thick cut ham, bacon, swiss, house pickles, mustard, and on the side is citrus coleslaw and potato salad.  Another favorite is Chef Jeph's Spicy Bacon Pasta with roasted garlic, red pepper flakes, crisp bacon in a light lemon sauce with parmesan.
Bakery items we go back for are the Sourdough Bread, Spelt Bread and Seven Grain — and the lemon lavender cookies are also high on the list.  Did we mention the curry dishes?  Oh! … we could go on and on and on.
Website
970.533.1200
EL MORO SPIRITS AND TAVERN
Where:  Durango, Colorado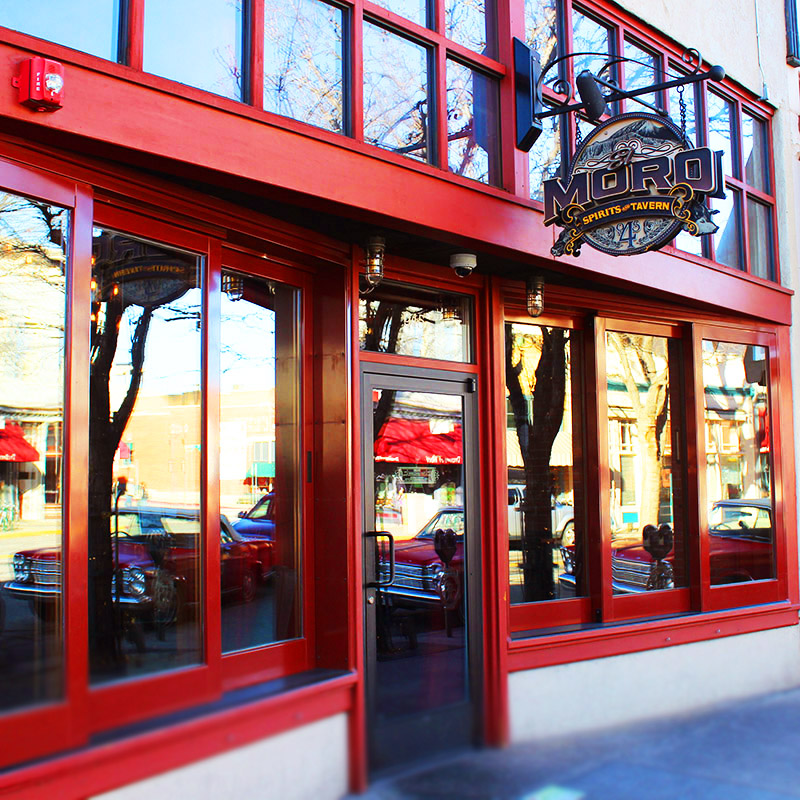 Located: In the heart of downtown Durango on Main Avenue
Why We Love Them: They are "Durango's Premiere Place For Fine Food and Drinks," where made-from-scratch and buy local is embedded in virtually everything they create.  The only canned item you might find in the pantry is tomato paste.  A quality driven menu, Chef Sean Clark has recently revamped the lunch dishes to offer more affordable items without compromising the integrity of the farm fresh ingredients.  And any exotic out-sourced products such as European cheeses are also of the highest quality.
They cure their own bacon and charcoal smoke it for the gourmet grass-fed beef El Moro Burger with local organic heirloom tomatoes.
The buns and rolls, and thick noodles for the Tagliatelle are all house made, as are the house pickles and they even make their own bitters, and tonic water for one of the freshest and most flavorful gin and tonics you will ever experience.
These are only a few of countless reasons they were recently awarded the 2018 Spirit Of Durango Award.
What We Order: We have our favorites such as the El Moro Burger, Scotch Egg, and Cubano Sandwich, (are you noticing a theme here with our love of the Cubano?) but on this last visit we were treated to a sampling that we now refer to as "Thanksgiving."  Check this out! …
Meat and Cheese Selection: charcuterie and cheeses to create your own board of one, three or five items.  Our collection … the ever favorite Tete de Moine cheese that is shaped into florets with a girolle, a Claret Cheddar, local fermented Lamb Summer Sausage, Finocchiona dry cured pork with fennel, garlic and rosemary, the 365 day aged San Danielle Prosciutto, with house bourbon peach preserves and house apple cider mustard.  A splendid sampling.

Beet Carpaccio: thin sliced fresh local beets with fresh lemon spritz, hazelnuts, organic feta, arugula, capers, and topped with the most tender sweet micro green popcorn shoots.  The crostini is house made and grilled to a crisp light char.  Clean, fresh, unforgettable.
KFC – Korean Fried Cauliflower: cauliflower florets that are tempura battered, then glazed with a semi-spicy ssamjang, on a bed of local house pickled carrot slaw.  They may be fried but the cauliflower tastes light and tender, with a nice touch of sesame seed crunch.  FYI – this is a Gluten Free, Vegetarian dish and aside from the fryer used, that may have prepared other meat items, it is also Vegan.  We are absolutely coming back for this one.
El Moro Burger: A longstanding favorite that we consider to be one of the Magnificent 7 Burgers of Durango, this is five star dining on a bun.  The local grass-fed beef is flavorful and pure tasting with no fillers, with house bacon, juicy thick heirloom tomatoes, house bbq sauce, a gooey white sharp cheddar with tobacco jalapenos and onions all on a house potato roll.  You can never ever go wrong with this burger.  Ever.
Kale and Fennel House Sausage Tagliatelle:  The noodles are thick and tender with a lovely lemon cream sauce, combined with aromatic sausage, fresh kale and local fine grated cheeses.  Please god do not take this off the menu.  And from what we've heard, some people have ordered this particular dish five days in a row.  In fact it's so delectable that we'd eaten ours and only then realized we forgot to photograph it!  But we do have video of the preparation Here.
House Andouille Sausage: grilled to the perfect snap with each bite, just like the ones we have in New Orleans.  The sausage has a bit of heat, served with savory red beans and rice, crisp house pickled okra and sauce piquant.  The variety of textures in this dish with layers of flavors and pepper heat has all the authentic and fresh notes that transport you right to the French Quarter.
The only regret we have from this tasting is that the new Pot Roast Egg Rolls were not available.  Oh well … just another reason to return!
Website
970.259.5555
Note: It's always best to call and check ahead for hours, as some businesses are seasonal, have odd hours or occasionally close for private parties.
Do you know these marvelous finds along the Skyway loop?  Or have favorite farm to table spots to share?  Leave suggestions in the comments below … we love to hear from you!
Buen Provecho!
Amy & Mr.D