Hello everybody!
It's been a while since we've hit the road and today we are walking on sunshine to begin sharing new discoveries with you again. We've just returned from a stay in Taos, New Mexico, so let's celebrate and pop the cork with a wine tour!
According to NMwine.com, the first grapes were planted in New Mexico in 1629. Today there are over 50 wineries and tasting rooms across the state. We just discovered 3 unique venues in north-central NM between Taos and Santa Fe that are definitely worth exploring. (See map at the end of this post for directions).
VIVAC (25 minutes south of Taos in Dixon, NM)
Vivac (meaning: high altitude refuge) with Internationally Awarded wines.
This is a friendly, treasured boutique winery and tasting room. Family-owned, it was established in 1998 by brothers Chris and Jesse Padberg, and their wives Michelle and Liliana. These winemakers traveled the world to meet with mentors and world-renowned wineries to learn the high standards of wine making, then opened Vivac on the family's property where the brothers grew up.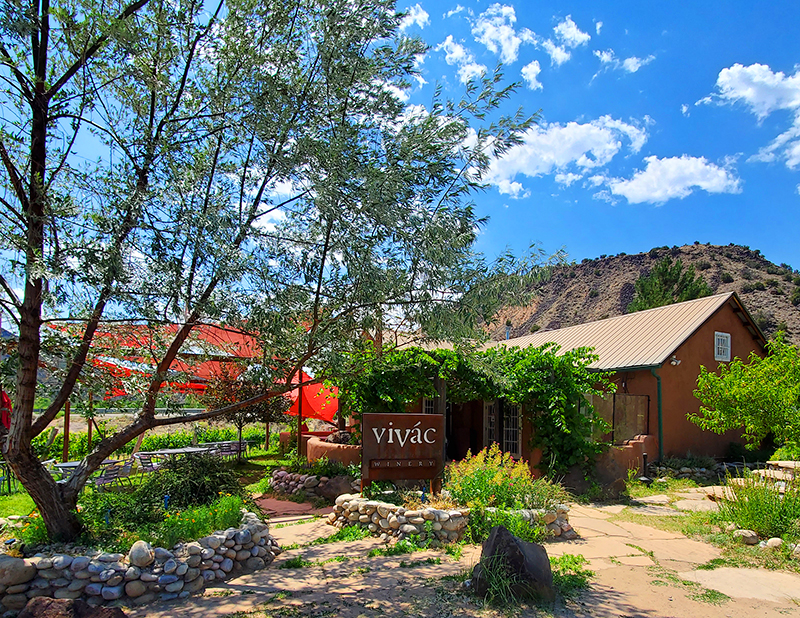 The tasting room was a cool refuge from the warm New Mexico afternoon. We found a shady spot on the covered outdoor patio and shared a flight of four wines just as a nice breeze found its way through the vineyard. So picturesque, we could reach out and touch the vines.
We fell hard for the Tempranillo (a best seller) with notes of dark berry, caramel, big red fruit, earthy, with firm tannins. We also caught a hint of leather. Vivac offers chocolate truffles and we recommend the New Mexico Red Chile paired with a glass of Tempranillo. But don't stop there – the tasting menu is extensive and you are sure to fall in love with the wines and vibe that began with the brother's mantra "let's make the best wine possible and have a good time doing it!" And that's just the feeling you get when you step onto the property.  For more info.
LA CHIRIPADA (just a few minutes east of Vivac on Hwy 75)
New Mexico's oldest winery and one of the highest elevation vineyards (at 6100 ft.) in the world. They have been voted time and again "Best Winery in New Mexico."
La Chiripada (meaning: a stroke of good luck) is a beautiful property located in the lush Rio Embudo Valley that has ideal growing conditions for grapes. Established in 1977, the tasting room is in a pristine white adobe building with an adjacent art gallery of incredible fine art ceramic pottery and sculpture.
Their signature wines are the Special Reserve Riesling, Rio Embudo Red and Rio Embudo Red Reserve. We had a tasting of 6 delicious wines and cannot get the Embudo Blanco out of our minds. A traditional apple wine made from their own orchard harvests – it's like drinking a fresh cool apple just picked from the tree, yet far more complex.
For more info.
BLACK MESA WINERY (approx. 6 miles south of Vivac in Velarde, NM on Hwy 68)
Award winning wines and also known for their mouthwatering hard ciders, the property is located on a trailhead that takes you to petroglyph sites. Bonus: they have merlot wine popsicles for your hike.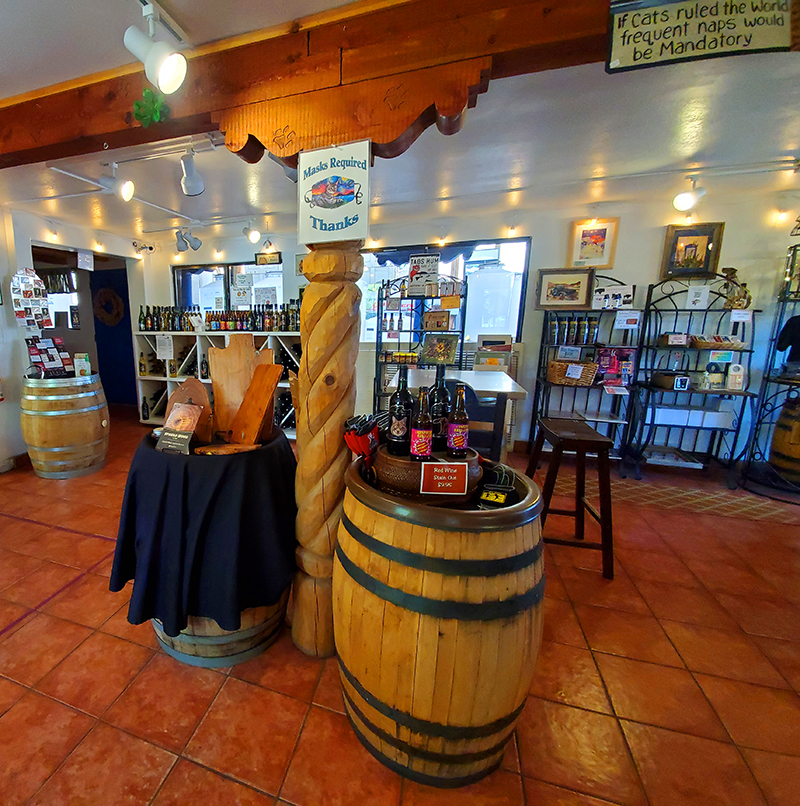 Established in 1992, the friendly, chatty staff greeted us with all sorts of details about the wines and favorite sites to see in the area.
It was late in the day and getting hot when we reached them. While the outdoor seating area under the trees was a refreshing oasis with butterflies and hummingbirds, we chose the option to sit in the climate controlled barrel room.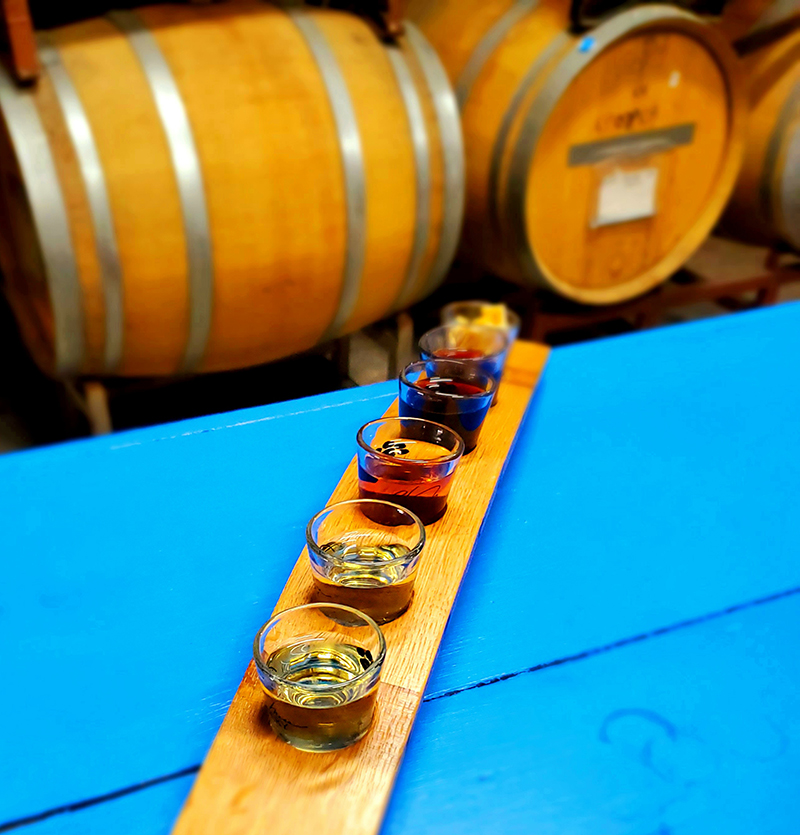 We shared a flight of 5 wines and fell for the Barbera '14 with dark cherry, vanilla and plum notes. The Tempranillo '15 with deep richness of cherry, tomato and vanilla was deliciously smooth and unique.
Directly behind the winery shop and up a gentle slope you will follow a well-marked path that loops back to the main building. On this trail you will discover many petroglyphs panels marked by a printed Kokopelli sign. This easy hike can take roughly 30 minutes round trip, and each panel has distinctive carvings. (Also behind the winery is a unique labyrinth to enjoy.)
Be sure to ask which monthly Black Mesa special has proceeds arranged for the Espanola Animal Shelter. For more info.
While staying in the Taos / Santa Fe area, take time to enjoy the scenic drive on State Road 68 that follows the Rio Grande River and visit these three delightful spots for a romantic afternoon or gathering with friends.
Safety Tip: With all wine tours and tastings it's a good idea to drink lots of water, take your time, don't wine tour on an empty stomach, and assign a designated driver before you head out for a day of great adventures.
Wishing you happy discoveries and safe travels,
Amy and Mr.D