Celebrating the Southwest — Photo Essay
September 2020
The air is crisp and the golden aspens are stunning in the San Juan Forest
northeast of Mancos, Colorado. A perfect time for a walk with your dog.
Macintosh Apples are ripe for picking this time of year.
Apple crisps and pies are on the menu!
The Mancos Farmers Market is bountiful with the fall harvest.
We're loving the red and green chiles, broccoli rabe, variety of
squashes and cherry tomatoes that look like jeweled candies.
Debe'ntsa / Hesperus Mountain is the highest summit of the La Plata Mountains
range of the Rocky Mountains of North America.  Located in San Juan National Forest
northeast of Mancos, Colorado, Hesperus is also notable as the Navajo People's
Sacred Mountain of the North, Debe'ntsa, which marks the northern
boundary of the Dinetah, their traditional homeland.
(photo taken at the Mancos Lookout / San Juan National Forest)
Snowy peaks in September. A little surprise from mother nature
as a taste of winter dusted the La Plata Mountains.
A flock of vultures hanging out, discussing what's for supper.
We've said it before and will say it a million times over, there's
nothing like a warm fire to sit around with friends on a cool evening.
We're taking every opportunity to cook over the open
fire before it gets too cold and snowy.
A Sunday drive, enjoying the wide open scenery.
Mesa Verde as a backdrop to golden brush.
The Harvest Moon is starting to arrive.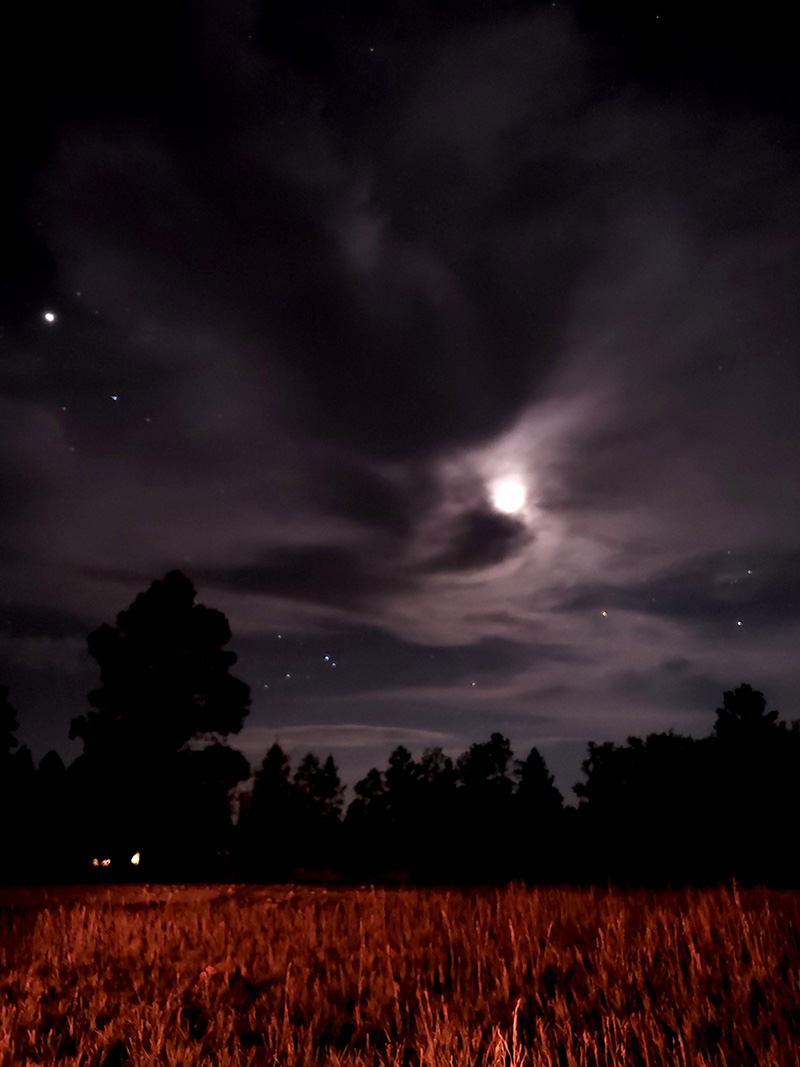 What We're Watching
Rocky Mountain PBS
The Colorado Experience – The Strater: The Hotel That Built Durango.
Turquoise Fever on Amazon Prime
Following the Otteson family of Tonopah, Nevada as they mine for
turquoise and white buffalo turquoise in the most remote area
of the US – the Great Basin Desert.
What We're Making
A bookshelf made from wooden pallets stained dark brown
to hold our cookbooks.
A fun little project. Assembling the ROKR 3D Wooden Puzzle Mechanical
Vitascope Model Kit. A working wooden movie projector.
What We're Learning
Signing Up For More Heritage Inspiration Online Cooking Classes.
(photo: courtesy of Heritage Inspirations)
Just in time for holiday cooking, here are 3 new classes
we'll be taking:
● Nov. 6th, 2020: Stacked Enchiladas & Posole
● Dec. 4, 2020: Green Chile Chicken Cheese Tamales
● Dec. 11, 2020: Red Chile Bean Tamales
Details: Chef Lois Ellen Frank and Walter Whitewater of Red Mesa Cuisine bring these Virtual Culinary Tours to Life. Chef Lois Ellen Frank, Ph.D., has spent over 25 years documenting foods and life ways of Native American tribes from the Southwest, and in 2011 received her Ph.D. from the University of New Mexico in Culinary Anthropology. Walter Whitewater was born in Pinon, Arizona and is from the Diné (Navajo) Nation. He began cooking professionally in 1992 and has been cooking ever since, now working alongside Lois and founding the Native American Catering and Food Company named Red Mesa Cuisine.
Each class is $45, and all three can be bought together as a bundle for $120. Tickets are available for sale on their website
Chef Lois' James Beard Award-Winning Cookbook
Heritage Inspirations Main Website (food and tours)
Wishing you Favorite Moments and Happy Discoveries,
Amy and Mr.D