Celebrating the Southwest — Photo Essay
June 2020
The serene Colorado River near Moab, Utah
Double O Arch
Arches National Park, Devils Garden
Turret Arch
Arches National Park, Utah
Petroglyphs and Corona Arch
A winding 20 minute drive along the Colorado River
west of Moab on Rd. 279 south
Mesa Verde on a beautiful cloudy day with
Sleeping Ute Mountain in the far right distance.
Montezuma County, Southwest Colorado
Vibrant red poppies blooming in front of the
Old Mancos Jail that was built in 1895.
Mancos, Colorado – Boyle Park
An amazing mural in progress by Brad Goodell
on the exterior wall of Fenceline Cider and Wine.
Downtown Mancos, Colorado
Close to Home
Majestic Dude Ranch horses grazing on the ranch.
Mancos, Colorado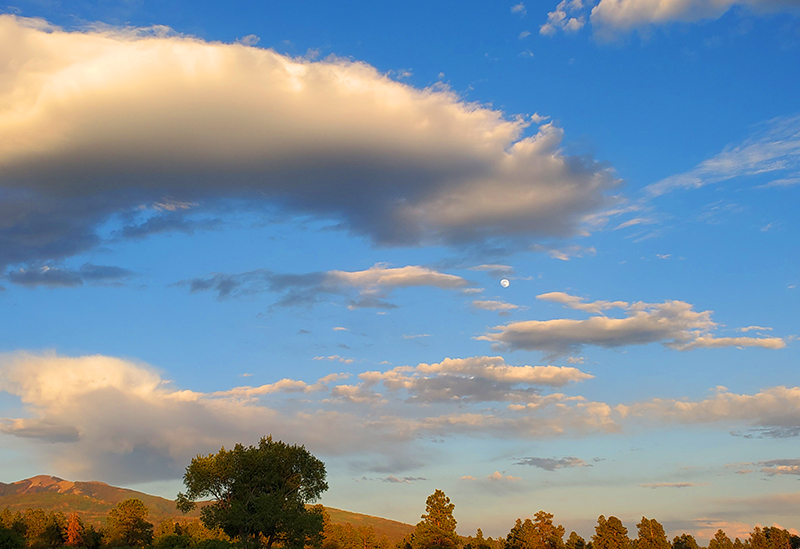 The moon peeking out behind clouds
over the La Plata Mountains.
Mancos, Colorado
A sly visitor out for an early evening stroll.
Yes, we see you!
Spending a quiet, lovely late afternoon by the pond.
What We're Roasting
Good looking variety of chiles – ready to roast!
Pictured from top left, clockwise:
Poblanos, Green Chiles, Jalapenos, Serranos
What's Going On
More than 100 locals gathered about noon Tuesday at Mancos
Boyle Park to memorialize the life of George Floyd and to protest
systemic racism. The peaceful prayer vigil was hosted by the
Mancos United Methodist Church, with Pastor Craig Paschal
presiding over the event.
Remembering
Abraham Daniel 'Abe' Saunders. His love of music, entertaining, and
telling jokes made him a Mancos icon.  The sort of guy who "never met
a stranger" and was always ready to break out his guitar and serenade
you with classic country songs.  If you knew Abe, then you knew Abe.
He will be missed.
Wishing you Favorite Moments and Happy Discoveries,
Amy and Mr.D