"When are you going to cover the Inn & Spa at Loretto?"  This is the question we've heard countless times from friends and readers who've told us it's one of the most photographed buildings in Santa Fe, if not all of New Mexico.  With a world class spa, comfy luxurious rooms and one of the most romantic restaurants in the country, the moment we pulled up to the valet our conversation turned to one question after another.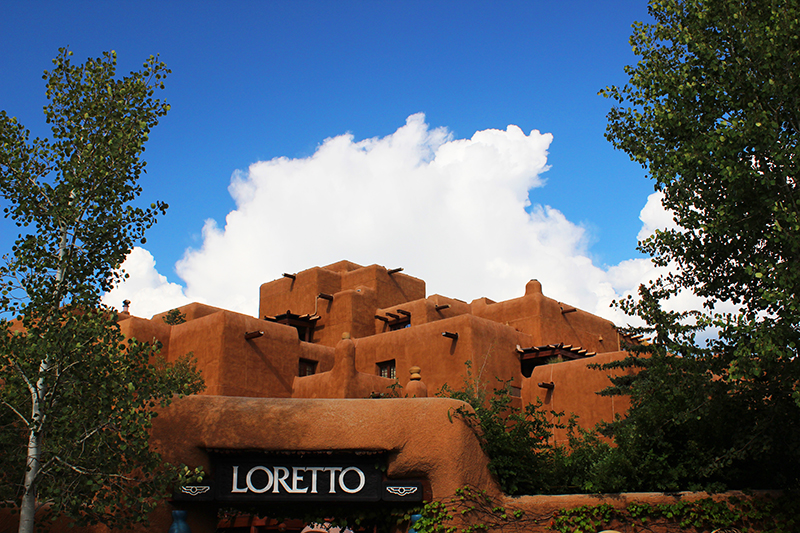 We have been looking forward to experiencing this Southwestern treasure for many moons, so isn't it a perfectly acceptable reaction to salsa our way into the main lobby?
Are all of the valet, front desk managers and staff in Santa Fe hotels this insightful about local history, sites to see, driving directions, and suggesting the best places to eat? And are they all this inquisitive and determined that you have a fantastic visit?
Is our joy complete as we enter our room with a balcony facing west to Loretto Chapel and those famous big sky Santa Fe sunsets?
Can you believe how beautiful the architecture is, inspired by Taos Pueblo?
Could this location be any more convenient!? So close to the Plaza, a skip and a hop to shopping, a fabulous restaurant scene, the galleries of Canyon Road … do we really need a car? (We barely used ours.)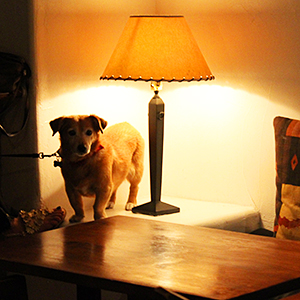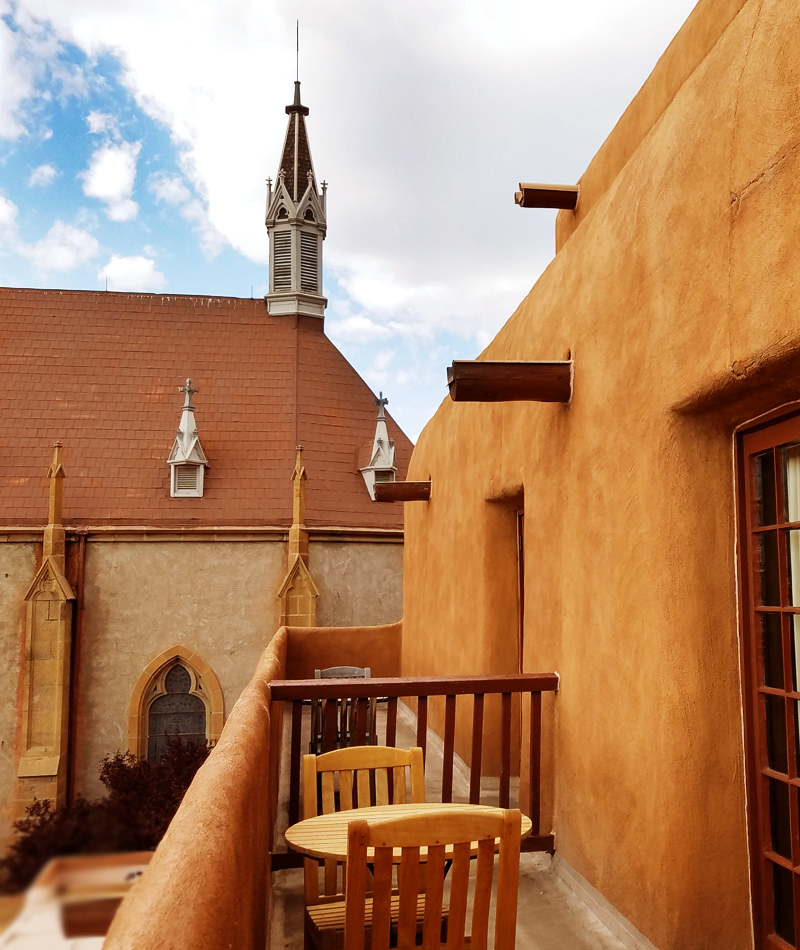 What's going on with all of the smiling tail wagging dogs? Is this the most pampered pooch place ever?  (We asked and furry creatures are more than welcome to bring their humans.)
Are all of the guests sleeping better and having sweeter dreams because of the teddy bear that comes with each room?
A gorgeous hotel with a spa and located right next to legendary Loretto Chapel with the magical spiraled staircase … hmmmm … are we beginning to see why it's one of the top wedding destinations in America?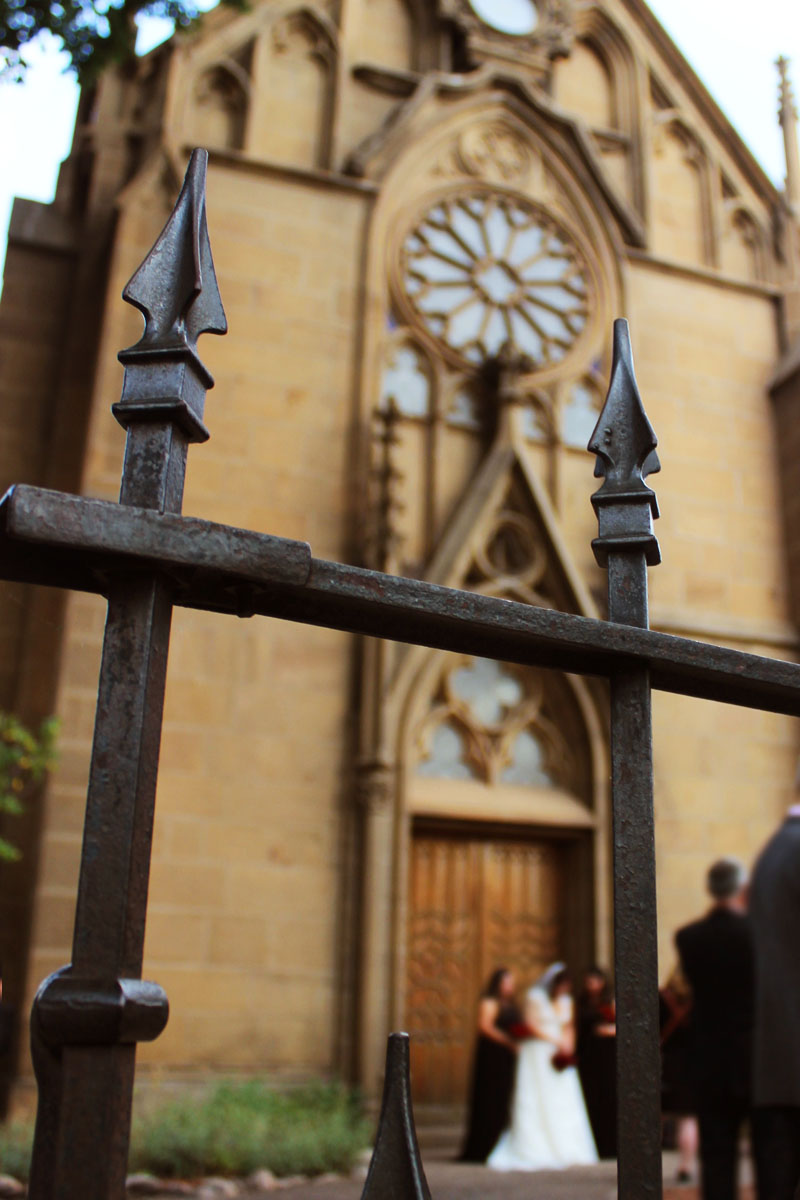 Given that the brides spend their wedding day afternoons being pampered in the spa, having the Dos Milagros massage, inhaling custom hand-crafted essential oils, and basking in other soothing treatments while reclining in Zero Gravity Chairs, who is in charge of getting them down from the ceiling after they've floated away from sheer bliss?
Is there a better way to spend the end of every evening than ordering room service, sitting on our balcony, sipping wine and listening to the chapel bells chime as the city winds down for the night? (Can't think of any)
Regarding the secret elevator to the spa … is it clothing optional? (Alas, no. Hotel policy recommends disrobing only after reaching your treatment room. Got it.)
Given that Loretto is a non-smoking hotel, do they make any exceptions? (Well, sort of. The Smoking Nun, a friendly spirited resident of the hotel, had a fondness for cigars and guests occasionally smell the smoke or get a glimpse of her.)
Now that we've had Luminaria's famous milk chocolate mousse with orange essence, crafted in the shape of a tiny adobe pueblo with a dark chocolate ladder, will we measure all future mousses by this one? (Count on it.)

Did it really take us almost a half hour to decide what to order for lunch? (It did!  Check out the unique choices here.)
Can we imagine dining here and not having the rich tortilla soup with delightful presentation of pouring the hot broth at the table? (It's a given now, gotta have it.)
Isn't it marvelous that every morning begins like a light summer Santa Fe rain shower with those dreamy soft spraying shower heads in every bathroom?

A boutique hotel, fine dining, top of the line spa, shopping, a pool, salon, rotation of artists in residence demonstrating their work, lounge and private sitting areas, bars and balconies with views, happy pups and people … are we getting the feeling that an entire vacation could be spent without ever having to leave the hotel and grounds?
Are we counting the days to our next stay? (Yes!)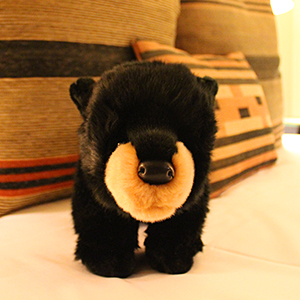 How can we possibly thank everyone at Loretto enough for one of the most Southwestern posh and friendly hotel experiences in all of New Mexico, if not the country?
Wishing you Happy Discoveries and Buen Provecho!
Amy & Mr.D
Inn and Spa at Loretto website
Sister Hotels  – El Monte Sagrado Taos and Hotel Chaco of Albuquerque
If you liked this you may also like …
The Adobe "Hotel Bel-Air' Of Albuquerque
EL Meze Of Taos Has Us Asking All Sorts Of Questions
Artsy Romantic Durango, Colorado
Artsy Romantic Taos, New Mexico