One of the oldest houses in America is located in Santa Fe, New Mexico. The De Vargas Street House was built in 1646 and the front original rooms are carefully maintained and still standing for touring.  It rests on part of the foundation of an ancient Indian Pueblo dating from around 1200 CE., and many believe the adobe is much older than the mid-1600s.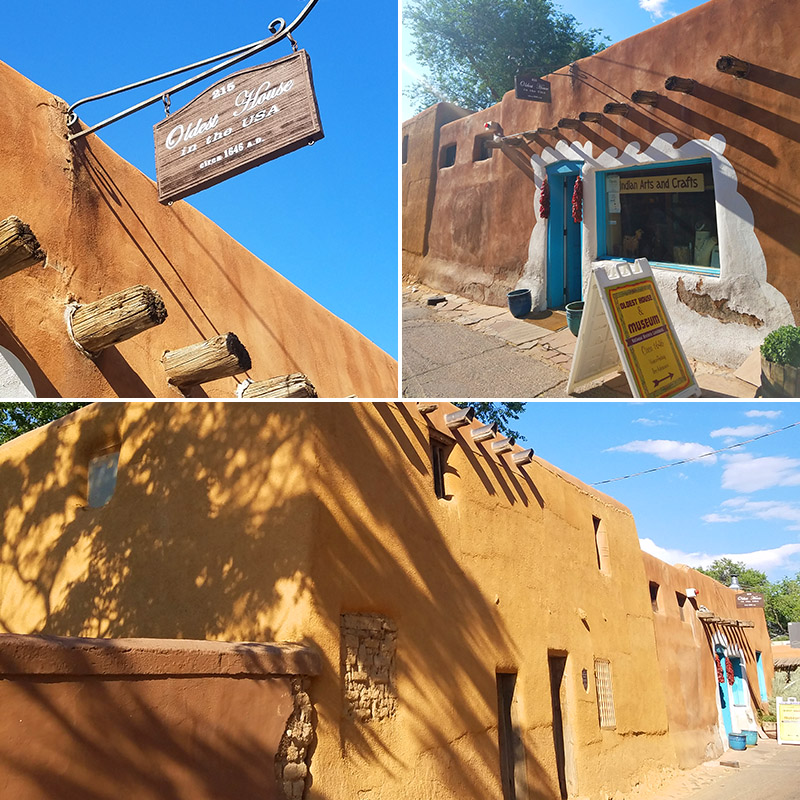 Located a short distance southeast of the Historic Santa Fe Plaza, and just off the original Old Santa Fe Trail on East De Vargas Street, it's easy to miss.  So look for an amazing landmark – the San Miguel Chapel that was built in 1628. San Miguel Chapel is known in Santa Fe simply as "The Oldest Church", as it is the oldest church in the continental United States.
Enter into the Oldest House through the gift shop in an attached structure that was built in the 1800s.  A quick left into a hallway exhibiting photographs of the house through the years might give you a little chill up the back as you think of all the people through time who have walked into this room, and now it is your moment in time to stand right there.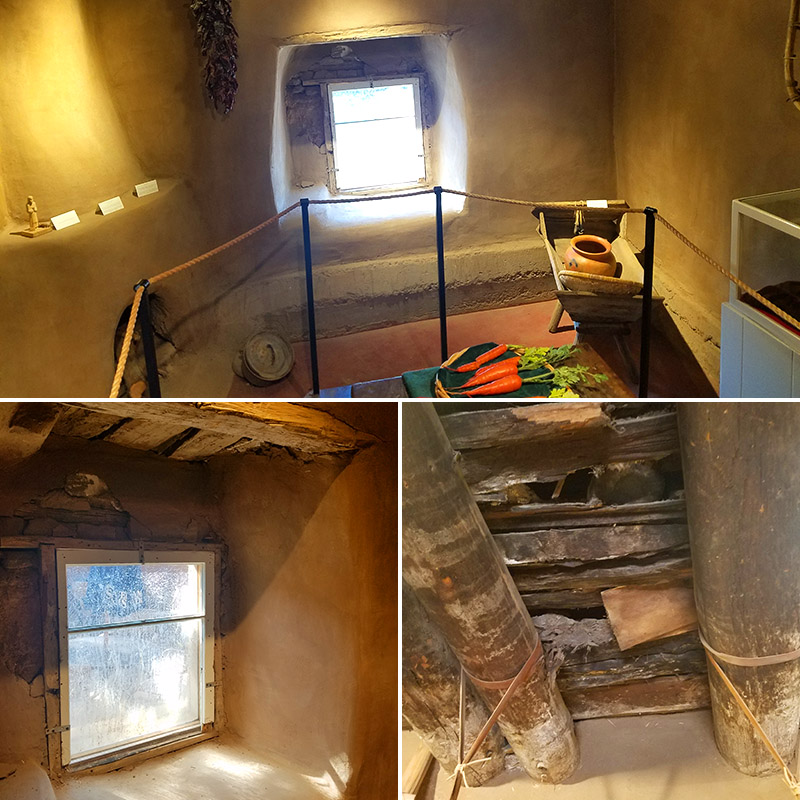 The adobe walls are thick and well-maintained.  A few artifacts and replicas are arranged around the room, giving an idea of what it might have looked like hundreds of years ago.
Peering out the window, studying the kiva fireplaces, and doors now covered in adobe brick, we searched our phones to learn that during the building of this house Sir Isaac Newton was 4 years old, Rembrandt was at the height of his painting, and the Mayflower's first voyage had sailed only 26 years earlier.  Here is a list of the 10 oldest houses in America, including Acoma and Taos Pueblos of New Mexico that will give you an idea of what the original pueblo on this site might have looked like.
There is no fee for The Oldest House, but a donation box is placed in the hallway.  We suggest that after you've taken in this extraordinary treasure that you tour the gift shop and then walk across the alley to the church.  As you stand looking toward the street, you are officially on the original route of the Santa Fe Trail leading to the trail's end on the Santa Fe Plaza.
Wishing you Great Discoveries!
Amy & Mr.D
If you liked this article you may also like …
Santa Fe, Dining in a 400 Year Old Courtyard
A Romantic Lunch in Santa Fe, the Award Winning Santacafe
Horno Cooking Class, The Feating Place (1 hour north of Santa Fe)
Santa Fe School of Cooking, Traditional New Mexican Class