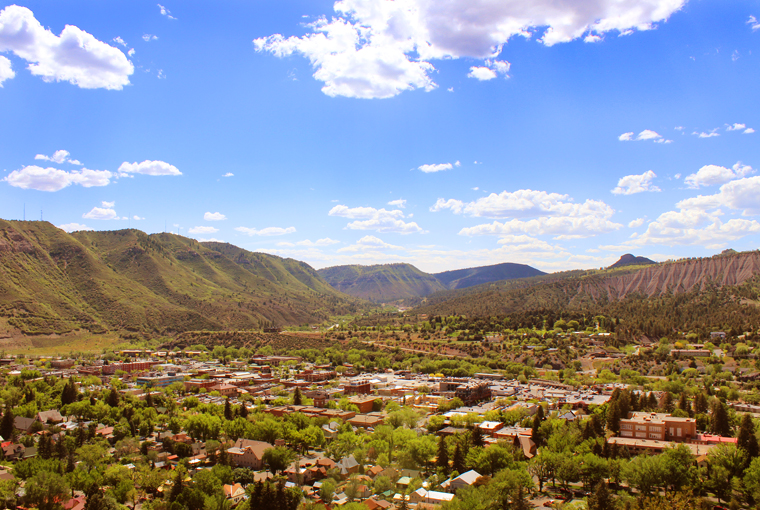 When people hear 'Durango, Colorado' they most likely think of a beautiful mountain town with wild west history, skiing, hiking, world class cycling, river rafting and kayaking, a place where Olympians train, and loads of other outdoor activities.  It is also a romantic place to fall in love, get married or honeymoon.  We meet honeymoon couples here all the time.
This charming town we call home offers so much, we had a difficult time narrowing down the list of romantic places we recommend to people planning a love-y weekend getaway, who also seek out unique art venues.
Here you have some of our very faves, from a local's perspective …
ROMANTIC PLACES TO STAY
The Strater Hotel (pictured) is an 1887 romantic Victorian landmark in the historic downtown and holds a special place in our hearts because it was the hotel we stayed at when we first discovered Durango.  Book a room facing Main Avenue, or ask for room 222 where western novelist Louis L'Amour stayed.
Rochester Hotel & Bar.  An 1892 boutique hotel. Take a spin around the neighborhood on a complimentary bicycle, have drinks in the bar, or relax and snuggle on a bench in the secret garden.
General Palmer, an 1898 Victorian hotel right next to the famous Durango train depot.  Have appetizers and drinks on the nearby Palace Restaurant patio and watch the trains arrive in late afternoon.
A Place at James Ranch is a cozy, unique house in the picturesque Animas Valley.  Enjoy the privacy, gorgeous views of the San Juan Mountains, the ranch's Harvest Grill, shopping in the market for fresh eggs and cheeses, and be sure to ask about stocking your refrigerator with organic goodies from their working ranch.
Antler's on the Creek B&B, located in a cozy canyon only 10 minutes from downtown Durango (East on Hwy 160).  Catch the sunset while soaking in the gazebo hot tub, then enjoy a gourmet three-course breakfast the next morning.
Willowtail Springs B&B, an artist's colony and nature preserve.  Book a cabin or bungalow in Mancos, Colorado (a 30-minute drive from downtown Durango — East on Hwy 160)
THE DURANGO TRAIN 
Continually voted one of the most spectacular train rides in the world, take a trip through the majestic mountains with your sweetie.  The Durango train offers a Valentine's package with a day trip to beautiful Cascade Canyon, then back to Durango for dinner at the Strater Hotel.
During spring through autumn the train takes you to the darling wild west town of Silverton, then back to Durango in time to walk the downtown and stop in for a romantic dinner …
ROMANTIC DINING
The Mahogany Grill, located in the historic Starter Hotel.  You get the sense of stepping back in time, and the dining room is grand and romantic.
Al Fresco at James Ranch, what could be better than sitting outside with your sweetheart and looking out on a serene valley while you enjoy fresh, organic, farm raised foods?  The Harvest Grill and Greens has one of the best burgers around, and sharing a cup of frozen custard is always a good idea. (Be sure to check for winter and summer hours)
Cyprus Cafe, where Mediterranean meets the mountains. Located on the 2nd Avenue in a quaint converted home.  They offer innovative, farm to table lunches and dinners.  Patio dining on a warm summer night is the setting for a perfect date night.
El Moro, "Durango's Premiere Place For Fine Food and Drinks," where made-from-scratch and buy local is embedded in virtually everything they create.  The only canned item you might find in the pantry is tomato paste.  A quality driven menu, we recommend starting with the meats and cheese board, and the cocktails menu is quite unique.
Ken and Sue's, located in the historic downtown and one of our favorite places to dine where we celebrate our special occasions. A local favorite as well, the food is outstanding and the booth tables are private and intimate.
Eolus, named after the majestic Mt. Eolus, this fine dining spot is warm and inviting, using locally sourced ingredients and specializing in signature cocktails.  A romantic venue that will warm your hearts.
Season's, Also located in the downtown and one of Durango's long-standing casual bistro settings, they offer a seasonal menu using locally sourced ingredients, and the atmosphere makes you feel right at home.
WALK THE HISTORIC DOWNTOWN
Durango is an artist's hub with many innovative and regional galleries, shops and things to do in the downtown area, so stroll hand-in-hand and enjoy them all. Stop in at the Toh-Atin Gallery of Native American and Southwest arts, lose yourselves in Karyn Gabaldon's elegant gallery of paintings and unique jewelry and ceramics, treasure hunt in the jam-packed Durango Antique Market, find artful jewelry at Diane West Jewelry & Art, treat yourselves to artisan ice creams at Cream Bean Berry, dress like the west and get a photo at Thru The Lens, stop by the funky awesome Studio & gallery co-op of local artists, be sure to stop into every photography gallery you see, or spend a couple hours making your own souvenir glass art plate or interpretation of your lovey weekend at Get Fused.
FOR THE CHOCOLATE LOVERS
Rocky Mountain Chocolates, just a few steps from The General Palmer Hotel.  The smell of chocolate lures you in from the street to an amazing array of wonderful and delicious treats. The friendly staff greets you to offer a sample of the day.  Hint hint … chocolate dipped strawberries and cherries are perfect for feeding each other.
Animas Chocolates, located downtown on Main Avenue, these signature chocolate confections are excellent and melt-in-your-mouth delicious.  On a cold winter's day, share a cup of their handcrafted hot chocolate … it will elevate your tastebuds forever.
The Chocolate Croissants at Jean Pierre Restaurant & Bakery. Right on the corner of College and Main Ave., this is a landmark place offering authentic French baked pastries.  Have a glass of wine with your baked treat and enjoy al fresco style on their sidewalk sitting area or in the French bistro dining rooms.
THE VIEW AND SUNSET ON RIM DRIVE
Drive east on College Ave., work your way up and around to the west side of Fort Lewis College until you find Rim Drive, and find a little bench for two situated perfectly for watching the sun set over Durango. You might even see a deer or two, or ten.
COUPLES SPA PAMPERING
Spaaah Shop and Day Spa, right in the heart of downtown Durango, this shop offers the full day spa experience.  The hot stone massage is divine.
PICNIC BY THE RIVER
Durango has over 40 parks to choose from.  Rotary Park has a lovely gazebo, grassy area, and picnic tables.  After your lunch, walk the scenic Animas River Trail that runs right along the river.  Pick up your picnic goodies to-go from  The Yellow Carrot,  Zia Taqueria,  Three Peaks Deli,  Nature's Oasis Gourmet Deli,  Hot Tomatoes Cafe, Bread Bakery, or pastries from Serious Delights.
DURANGO ARTS CENTER
DAC  brings significant, progressive art exhibits to our community, and supports regional artists with a variety local shows throughout the year. They also produce live theater and musical performances.  After taking in the art, walk across the street to a cozy corner table at Eno wine bar.  Order wine and tapas, and be sure to check out the current art they're exhibiting. (Most Durango dining venues support and display works of local artists.)
MESA VERDE NATIONAL PARK AND FINE DINING
Mesa Verde is the only national park dedicated to the works of man. See the magnificent cliff dwellings of the early Ancestral Pueblo people.  Take the 700 years tour where you'll sit side-by-side in the comfort of a tour bus (the right side has the best views).  Cliff Palace (pictured) is a must-see, as it's the largest dwelling Waldorf-Astoria of Mesa Verde.  The beauty and wildlife in the 81.25 sq. mile park is awe-inspiring, with 5,000 known archeological sites including 600 cliff dwellings. Later, dine at the regionally inspired Metate Room.  The entrance to Mesa Verde is 40 minutes from downtown Durango, The Metate Room Restaurant is another 30 – 40 minutes into the center of the park, with sites and cliff dwellings throughout. (check ahead for seasonal closings)
TASTINGS
Four Leaves Winery is a wonderful boutique winery near the train station. They offer a daily menu of tastings so you are sure to pick your favorite glass.  A warm and friendly place located in an historic building.  Be sure to say hi to Max, their ever watchful mascot pup.
Durango Craft Spirits & Distillery is located on the north side of downtown and is a fun little venue with unique cocktails. They've created one of the most uniquely delicious vodkas you'll ever taste, as it's made from regional grains and is called Soiled Doves after the scandalous reputation of Durango's mining history.
Eno Wine Bar Durango's premier wine bar and cocktail lounge located on Second Avenue.  They offer wine flights, bourbon, scotch, and tequila flights as well.  This is a relaxing, cozy place with a lounge menu of delicious small plates.
Romance is all about taking the time to enjoy and appreciate each other, giggle together, make discoveries, and notice the little things that make your life together so special.  We hope you have the opportunity to try some of these spots we love in and around Durango, and that they become your favorite artsy romantic places.
Buen Provecho,
Amy and Mr.D
Tip:  always call ahead or check online, as some businesses are seasonal, and exhibit schedules can change.