"When are you going to El Meze?"  This is the question we've heard many many times from friends who consider it to be one the best restaurants in the entire Southwest.  So on our recent trip to Taos, you can imagine our excitement to at long last walk into their intimate, colorful adobe restaurant.
Before our dining adventure, we had the opportunity to speak with culinary master, author and food historian, Chef Frederick Muller, and general manager Annette Kratka who is also the premiere dessert chef and art curator of the restaurant.  The two are uniquely passionate about El Meze (meaning the table or tapas style), imparting to customers the simplistic and rustic blend of art and regionally inspired food. They have created an enchanting dining fusion that highlights the Moorish or Arabic influences that are a part of, and not so readily associated with Northern New Mexican cuisine.  
The menu is of shared plates and five entrees, and we deliberated on what to choose as we wanted everything. So as we settled into our seats next to the golden kiva fireplace, having made our selection, the wine and dishes began to arrive and we immediately recognized we were in for an extraordinary treat.  At which point our banter became a series of questions …
Chile Rajas — roasted Poblano Chiles, sweet roasted red peppers, chevre, olive oil, sea salt, fresh oregano and splash of aged Spanish sherry vinegar:
Isn't it marvelous when a dish arrives and your mouth immediately waters at the sight of it?
Is this aged vinegar with creamy mild chevre the most delicate flavoring for roasted chilled peppers?
Do you think anyone will mind if we wipe the plate clean with the fresh char grilled flatbread?  (We did.)
Will we be craving this for lunch or dinner on any given day?  (Absolutely)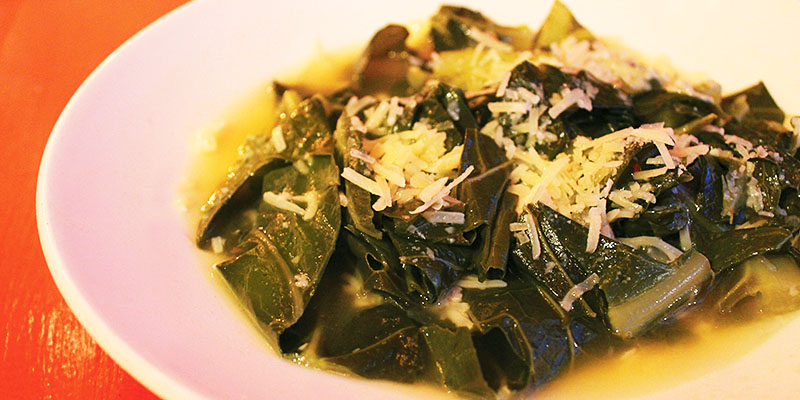 Miss Emily's Bowl Of Collard Greens, slow braised with smoked bacon and Reggiano parm
Can you remember the last time you described collards as delicate, velvety-y elegant?
Isn't it a nice touch to see this nod to chef's southern American heritage represented on his menu?
Given his training and experience, are we really surprised that these are the best collards we've ever tasted?  (sorry grandma!)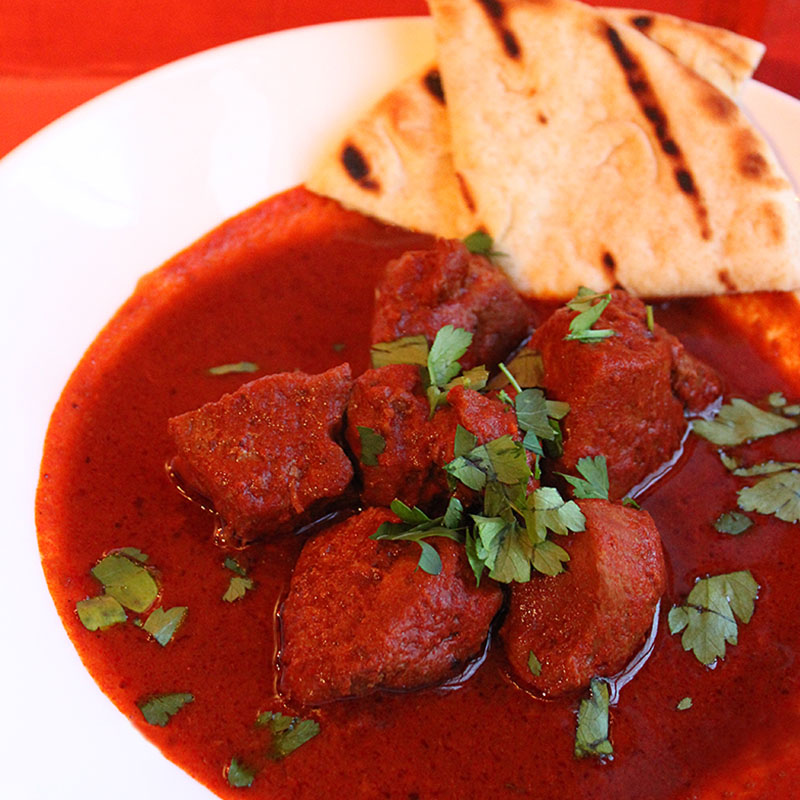 Carne Adovada with heritage pork braised in a Chimayo red chile and smoked Spanish paprika sauce.
With the look of a deep red New Mexico sunset, did our first taste of the silky, earthy chiles and tender pork leave us speechless as we savored each bite? (Indeed)
Are we nodding in unison at how difficult it is to balance red chile, that one too many pinches of seasoning can throw a dish off so easily, and this dish is perfection where the chile remains the star?
Have you noticed that the dining etiquette of leaving at least one bite left untouched on your plate doesn't apply here?
Tamale De Cardenas with heritage pork tamale swimming in a bowl of Hatch green chile, Campo de Mantaban, Tucumcari feta and fresh cilantro.
Now that we've had a brothy pool of Hatch chile with a perfect red chile pork tamale, can we imagine eating tamales any other way?
They weren't kidding when they said 'swimming in', right?
Are our minds wrapping around the fact that Chef Frederick's classic training in Europe is clearly shining through with every dish, every sauce, every element, and refined restraint of over-working the ingredients?
Isn't it sublime how the cheeses provide the saltiness?
How is it possible that the chef with a kitchen staff of two are doing all of this?
We hadn't noticed … were there salt and pepper shakers on the table?
Is it us or are a boatload of people at other tables ordering the Truchas Yerba Buena?
What exactly is that? …. (grilled whole trout with preserved lemon, mint, garlic, Moroccan butter, cilantro sauce, watercress salad and shaved fennel)
Could this be the trout dish that changes our general aversion to all trout dishes?
Is this our excuse to return and find out?
Do we really need an excuse to return?
How can we possibly thank everyone at El Meze enough for one of the best meals we've had in all of our Southwestern travels?
Buen Provecho!
Amy & Mr.D
El Meze Website, NOTE: In 2016 we learned that El Meze had closed.  Is all of Taos in mourning? (yep) Do we wish Chef Muller only the best and look forward to his next project? (youbetcha we do!)
Chef Muller's cookbook, La Comida: The Foods, Cooking, and Traditions of the Upper Rio Grande