It was one of those welcome, refreshing rainy days in southern Arizona when we visited The White Dove Of The Desert, Mission San Xavier del Bac.  Each year, more than 200,000 people come to see this beautifully preserved Spanish Mission.  For some it is a pilgrimage, others come to worship as it is an active Catholic Church, while others want to study the extraordinarily ornate artwork and intricately painted interior walls of this brilliant white mission. 
Located about 15 minutes south of downtown Tucson on the Tohono O'odham San Xavier Indian Reservation, it was built between 1783-1797 and it is the oldest European structure in Arizona.  As we oftentimes do while touring historic sites, we looked up moments in history to put a time frame into perspective.  During the mission's construction, the American Revolutionary War had just ended and George Washington was elected president, the artist Louise Elisabeth Vigee Le Brun completed 'Portrait of Marie Antoinette,' Mozart had died while finishing his Requiem, and Jane Austen had completed 'Pride and Prejudice.'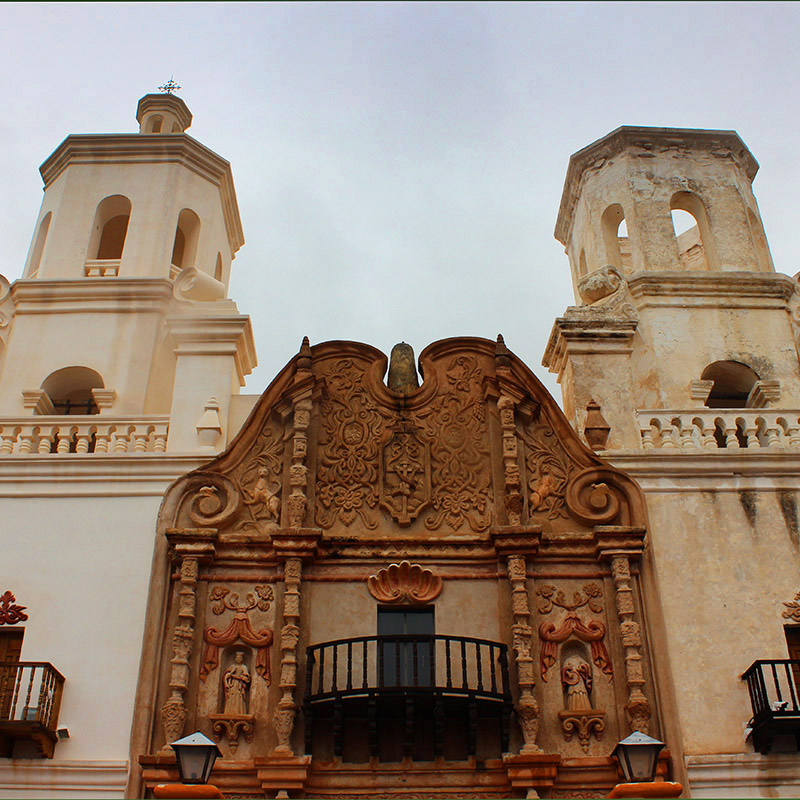 Before entering the sanctuary, we marveled at the white exterior flanking the rich, dark brown ornately decorated entrance.  Laced with intricate carvings, we were also impressed by the massive, heavy wooden doors that took some muscle to open.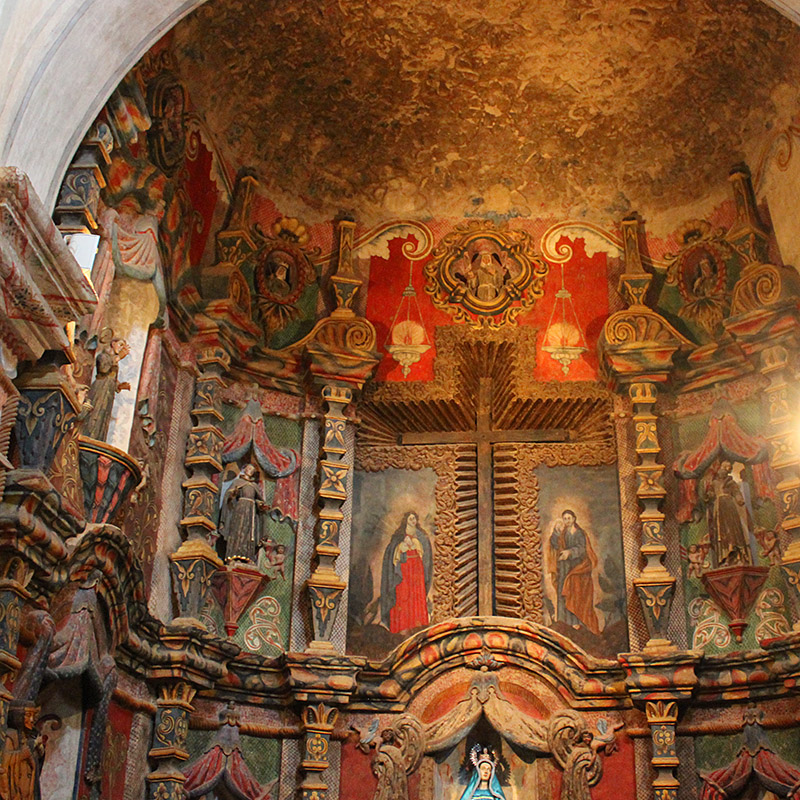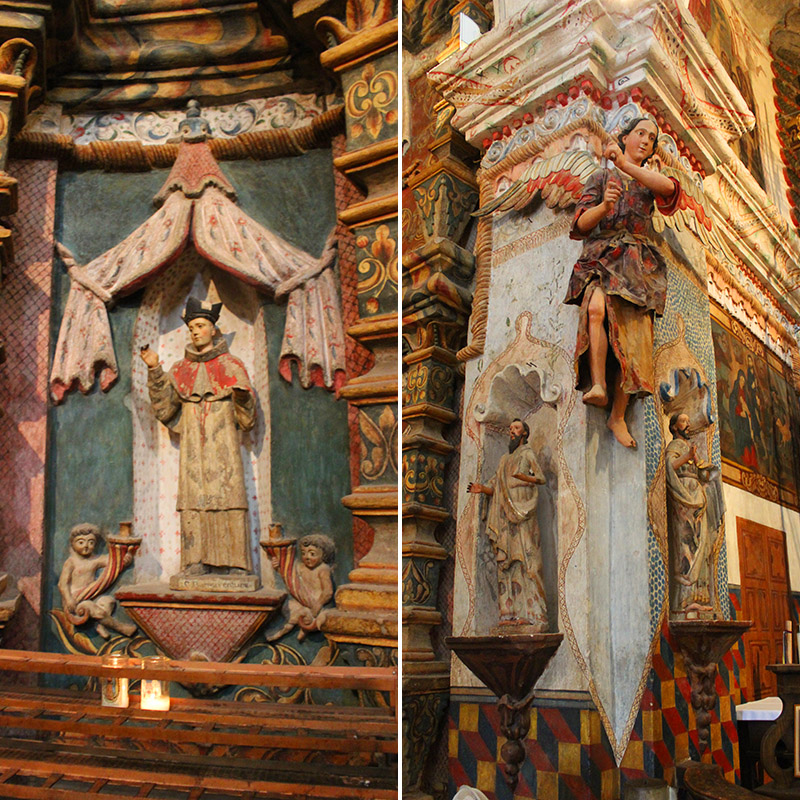 Stepping inside we immediately felt the temperature cool, as the thick walls insulate and create a peaceful quiet.  The lighting is dim, so please note that these photographs have been lightened a bit to enhance the detail.
Glancing around it is a dazzling sight, with brightly painted and carved religious imagery covering the walls and vaulted ceilings. Throughout the church are wooden statues with a folk art feel – Saint Xavier, the Virgin Mary, other Catholic saints and Native Americans. Beautiful frescoes depicting the lives of saints decorate the interior as well, with spectacular displays of Spanish and Native American artistic motifs.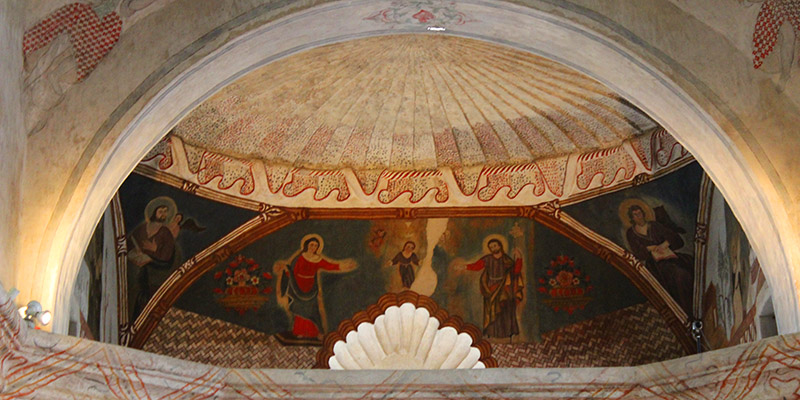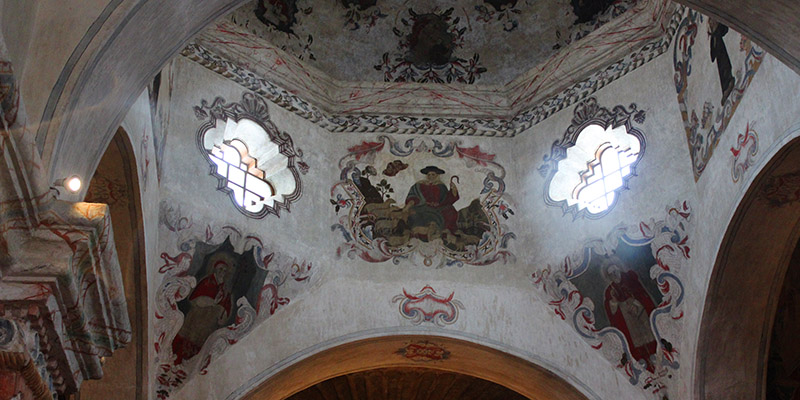 In the west transept is a reclining statue in a glass case (pictured below left.)  It was first displayed as an entombed Christ, but was later redefined as a wooden, reclining St. Francis Xavier. A sign next to the statue welcomes visitors to try to lift the head of St. Francis with two fingers, saying that only the pure at heart will be able to do so and be in God's grace.
Outside into the rain, we walked north to a small side chapel where many come to light candles and extend prayers.  This time we were surprised at the heat in this room from the many candles, even with the doors open. But the sereneness and sincerity of this chapel is evident, and you can almost feel the heart and soul of the prayers that have been offered.
The Mission was declared a National Historic Landmark in 1960, and unlike the other Spanish missions in Arizona, San Xavier is still actively run by Franciscans, and serves the Native community by which it was built.
There is a museum and gift shop, and outside near the parking lot are Native Americans offering fry bread and other gifts for purchase.
The history, art, and culture of this church alone is worth the visit, but the peacefulness and knowing that this is truly a special place is something you must experience when in the Tucson area. 
Wishing you Happy Discoveries!
Amy and Mr.D