Everything you love about buffalo hot wings in a hand held cone. We serve these crispy corn tortilla Buffalo Cones every game day.  They're easy to make, a lot less messy than wings, with all the flavor.  Filled with shredded chicken drenched in hot buffalo wing sauce, with bleu cheese, guacamole and ranch dip on the side.
CRISPY BUFFALO CHICKEN CONES
Makes: 25 – 30, depending on how much you fill each cone
Ingredients:
1 (5-oz) bottle hot sauce (we prefer Cholula Original for it's earthiness and mild heat so we can add cayenne as we like)
1 stick butter (1/2 cup)
cayenne pepper, a little at a time to your desired heat level
garlic powder and onion powder, if needed
3 cooked shredded and chopped chicken breasts (approx. 2 cups)
15 (5 1/2-inch) round corn soft tortillas, white corn or yellow corn
30 plain wooden toothpicks (with no cellophane, plastic or decoration)
Canola oil, for frying the tortilla cones
1 cup guacamole
1/2 cup crumbled bleu cheese
1/2 cup ranch dressing (add 1 tsp chipotle powder if desired)
Thin sliced carrot and celery sticks on the side (if you want the true wing experience)
Directions:
First make the chicken filling by heating up the hot sauce and butter in a medium saucepan to medium high.  Use a spoon to taste for heat and add cayenne, a pinch at a time, to your desired kick level.  Depending on your brand of hot sauce, you may want to add a dash of garlic and onion powder for even more flavor.  Stir until silky consistency and hot.  Add the shredded chopped chicken and stir to coat and heat through.  Cover with lid, remove from heat and set aside.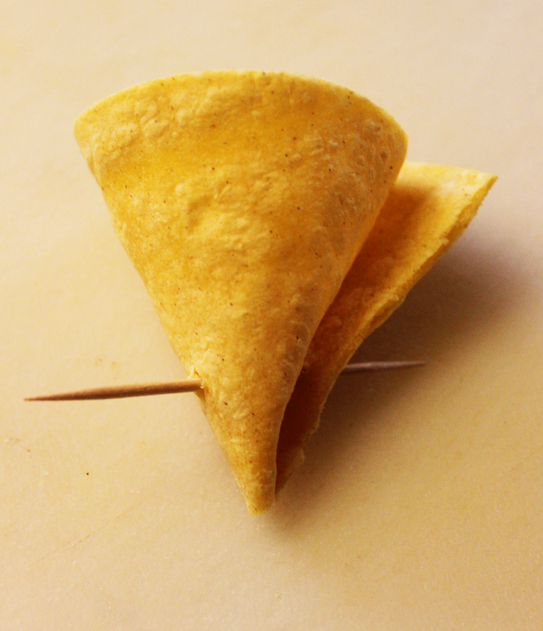 Now for the tortilla cones.  Warm a large skillet to medium heat.  Cut the corn tortillas in half (you now have 30 pieces). Place 2 tortillas in the pan and warm them for about 15 seconds per side.  This process makes them more pliable to roll into cones. We find it easier if you have the cut side facing you. Roll into cones with the rounded side at the top, tightly rolling the bottom so there is no opening.  Pierce though the center with a toothpick, making sure you get the end flap to hold in place.  Repeat for the remaining cones until you have 30.  (Note: you may be tempted to microwave them but they become too flimsy soft and won't roll properly.)
In the same skillet, add enough canola oil to 3/4-inch depth.  Bring it to medium high heat. Test the oil by placing a small piece of tortilla into the pan.  When it sizzles all around the edges and doesn't burn, the oil is ready.  Using metal tongs, fry each cone until golden brown and crispy, placing them on one side for a few minutes then turning over to fry the other side (they fry quickly, so be watchful).  By lightly squeezing the cones at the top with the tongs when you first put them into the oil, they will keep their shape and not fry flat. Once crispy, place on paper towels to drain.  Sprinkle with a little salt if you desire. Repeat with remaining cones.
To assemble, take a cone, remove the toothpick and use a small spoon to pack it well with the chicken mixture.  Top with a dab of guacamole and place on a warm serving platter. Repeat for the remaining cones.  Serve with bleu cheese crumbles and ranch drizzled over all, or place the platter on the buffet with bowls to the side of guacamole, bleu cheese, ranch, and sticks of carrots and celery.
Buen Provecho!
xo Amy & Mr.D
Yum