When my mom and pop said they were coming to visit, I asked them to plan for late September.  Because that's my favorite time to take the train from Durango, up into the mountains, to the little picturesque town of Silverton.  Durango's trees are typically just beginning to turn, Silverton is in full golden aspen splendor, and the air is cool but not yet freezing cold.
I booked our tickets for September 23rd, and after that when the trains whistled past my house I crossed my fingers that Mother Nature would keep the fall palette schedule up, and hold off on any early snow or cold blast.
It turned out to be an absolutely perfect, unforgettable day.
The Alamosa Parlor Car built in 1881, was the caboose and our car.  I noticed from the enthusiastic chit chat going on that no matter the age, we were all excited kids waiting to hear the whistle and feel that first jolt when the engine pulls forward and you're on your way.
Barely out of the Durango city limits and gaining altitude, the views began to look like this.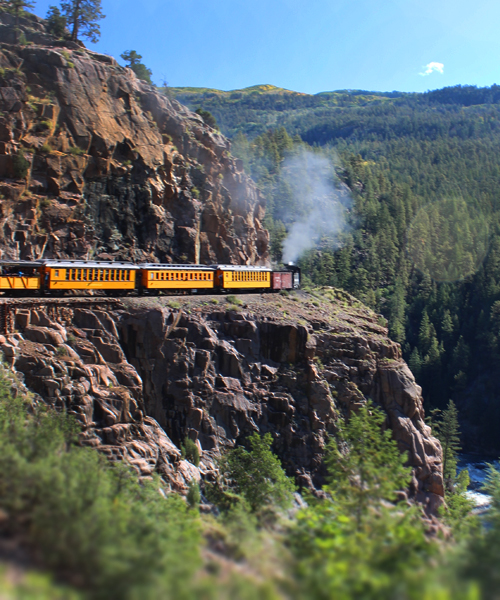 A nice thing about being in the last car– you can stand on the rear viewing platform, lean around forward for photos like this…….
……and take wide open shots from the back.
The tracks followed along the Animas River for most of the trip.
And then it was autumn.
At an elevation of 9300 feet, you might find yourself short of breath as you walk the town.  So we rented a golf cart to cruise around, because we wanted to see as much as possible.
Downtown Silverton.  Their mines used to produce tons of silver, hence the name.  Charming old west.  Like walking (or riding a golf cart) back in time.
Lots of places to lunch, we chose Thee Pitts Again Southern Mesquite BBQ.
Pulled pork sundae, perfectly bbq smoked tender chicken, pulled pork sandwich, and the biggest crunchiest onion rings we'd ever had in all our born days.  That was a feast.  'I'd Order That' again, any and all of them.
The air was crystal clear, and just cool enough for our light jackets.
A typical Silverton home stocked for winter.
Next time we'll do some shopping.  This little town was filled with gift shops, candy and fudge, mineral and train shops, jewelry and art galleries.  And saloons, but that's a given.
Some people on the train were in costume.  I'm guessing they were tour guides from other cars.  Doesn't this look like it was taken in the late 1800's?
After an hour and half, it was back to the depot for the return trip to Durango.  A second chance for photos that might have whizzed by the first time.  And then to set the camera down, to sit and talk.  Much of the beauty of this trip was that no one was driving or navigating.  Everyone could relax, point, ooooh and aaaaah at the scenery.  And be together.
My parents said that they didn't expect the three and a half hour ride to feel like only an hour or so.  I agree.  It would be a challenge to sit through two epic long movies in one day, but on this ride you're in the movie.  One breathtaking moment after another.
I like to think of this as the beginning of a family tradition.
xoAmy
Here are a few links:
Check their schedules and packages.  During the winter months, the train offers winter wonderland trips as far as Cascade but cannot access Silverton due to snow and ice.  They also have Polar Express, Great Pumpkin and specialty themed trips year round.
Silverton Golf Cart Rentals  phone 936 697 9032
Thee Pitts Again Southern Mesquite BBQ