We are just back from an unplanned road trip from Durango to Scottsdale / Phoenix. What a fantastic week of spontaneous discoveries!  Our normal trips are 75% planned with reservations booked, and then 25% "Hey, that looks cool!  Let's stop here!"  On this trip we made only two reservations for lodging.  The rest was a journey of being in the moment, taking new roads and loving the freedom of waking up and deciding what to do each day.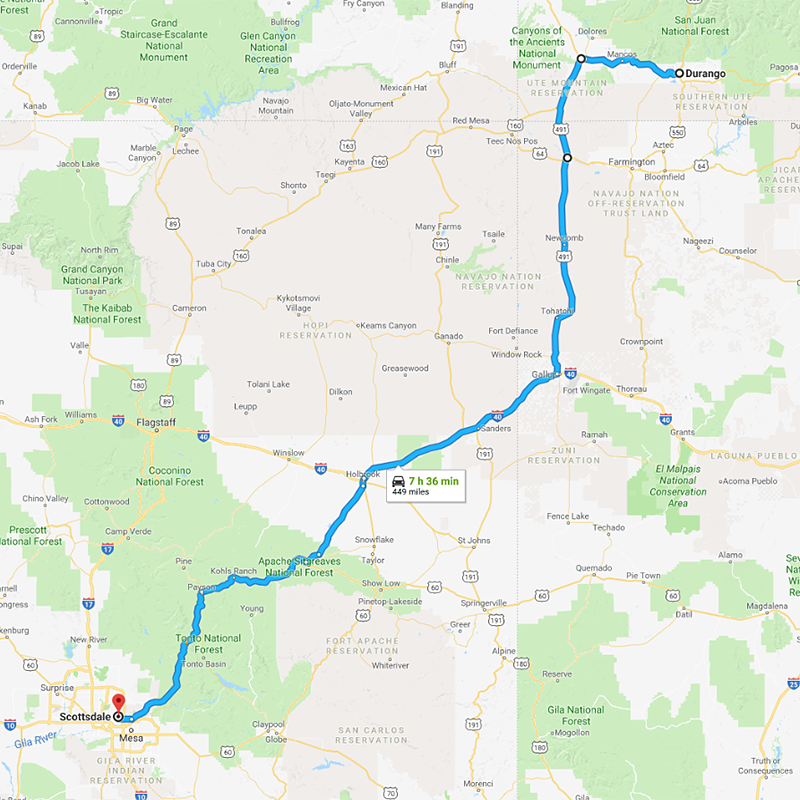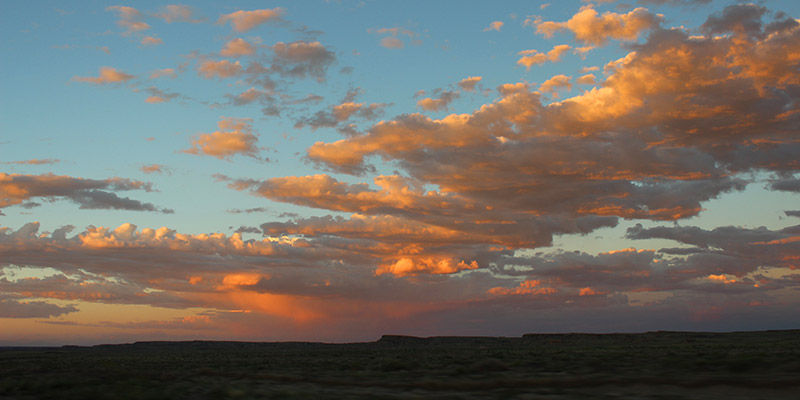 STOPPING ALONG THE WAY
Our route took us south through Shiprock, New Mexico, to Gallup and westward on I-40 (old Route 66) to Holbrook, Arizona.  Along the way we stopped to take landscape photographs because the area through the Navajo Nation is a place of magnificent, remote beauty with buttes, monadnocks, mesas and wide open skies.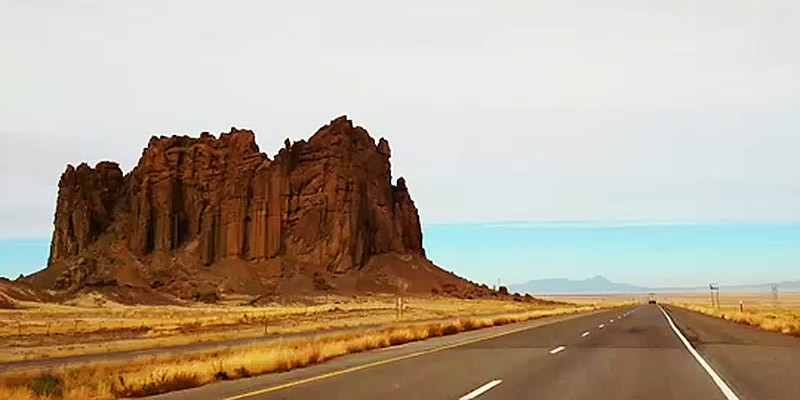 (monadnock in the Shiprock area)
Do you ever drive past a nostalgic, artsy or quirky looking place and think "next time we'll stop?"   This time was next time.  The southwest is full of trading posts and shops that offer souvenirs, local art, items specific to their region, and a boatload of trinkets (some imported so look for tags if you're wanting authentic local merchandise.)  On our stretch along The Mother Road, there were many.  One of our favorites was the Geronimo Trading Post just 7 miles west of Holbrook. Located close to Petrified Forest National Park — if you're looking for petrified wood side or coffee tables, huge chunks for your garden, carved petrified wood chairs or small keychains, inlaid jewelry and souvenirs, they have it all.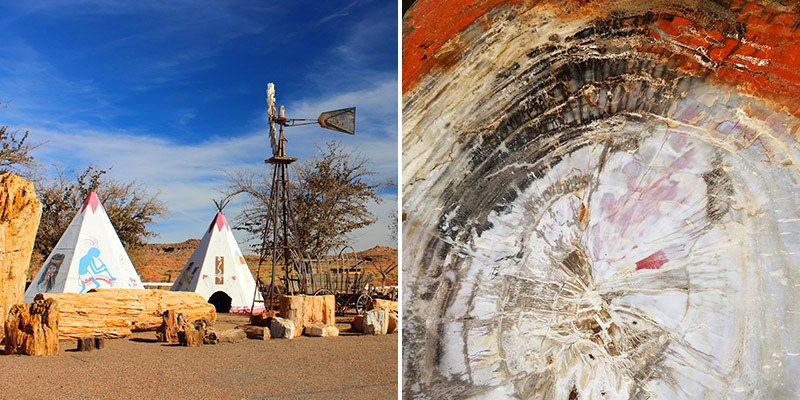 It's also not a bad idea to purchase original art by local artists.  Many families in the area make their livelihoods from their pottery, paintings, inlaid knives, leather works and countless other art forms.
11 miles down the road in Joseph City was the legendary Jackrabbit Trading Post.  They've been there since 1949 when route 66 was in it's heyday with millions traveling through before the highways bypassed them.  We highly recommend the Arizona-made prickly pear jellies at the Jackrabbit that taste like strawberry, watermelon and flowers.
LA POSADA HOTEL, WINSLOW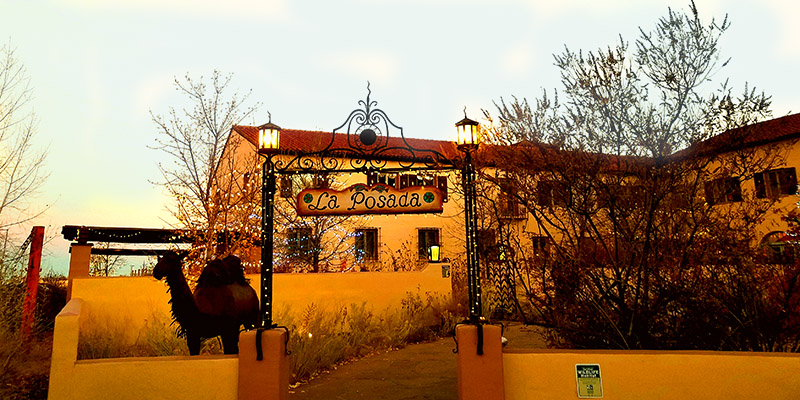 We'd stopped in last year to eat at the Turquoise Room and vowed that if we ever found ourselves anywhere near Winslow we'd stay there.  Our room was cozy with southwestern painted furniture and tiles, handwoven Zapotec rugs, and was located right off a quiet sunken garden.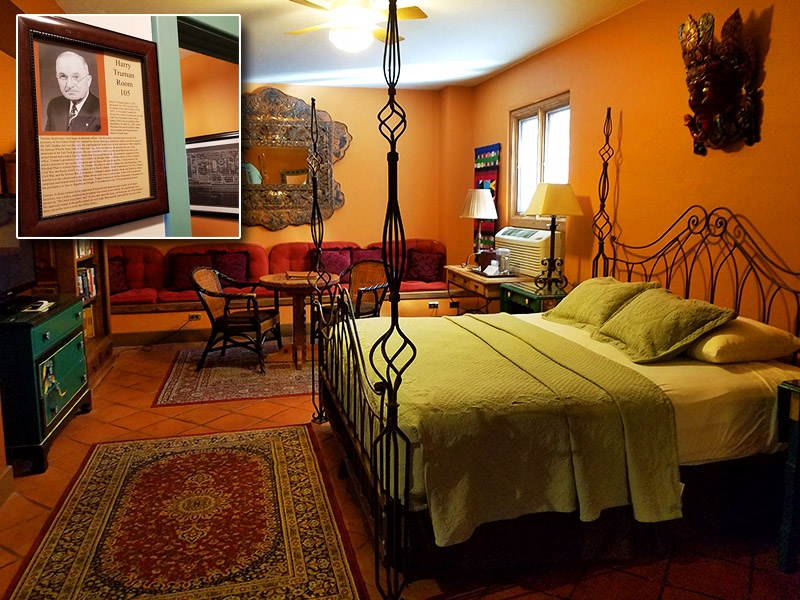 (The Harry Truman Room)
The place was bustling with guests and the staff were busy stringing lights and arranging Christmas decorations — a big project given that La Posada is 65,000 sq. feet including a ballroom.  We were so relieved that we had reservations.  Even though we were between holidays on an off-week, the place was fully booked.
When at La Posada the thing to do is meander.  The Turquoise Room is one of Arizona's finest restaurants with a James Beard nominated chef, John Sharpe.  Around every turn of the sprawling hotel and grounds is a unique detail of the Spanish Revival architecture, a sweet garden bench, a lobby with games, chess set, antiques, a piano in the ballroom, huge gift shop (great place to buy Mexican punched tin mirrors, milagros and books), and there is also a museum of owner Tina Mion's macabre paintings, including Stop Action Reaction, a painting of first lady Jaqueline Kennedy that was acquired by the Smithsonian's National Portrait Gallery.
We suggest making reservations as far in advance as possible, and to ask for a room with a balcony or patio. The Harry Truman room is large with a sitting area (no balcony), and the Howard Hughes Room is the most requested.
An also must-do in Winslow is to see The Corner.  Yep, that corner….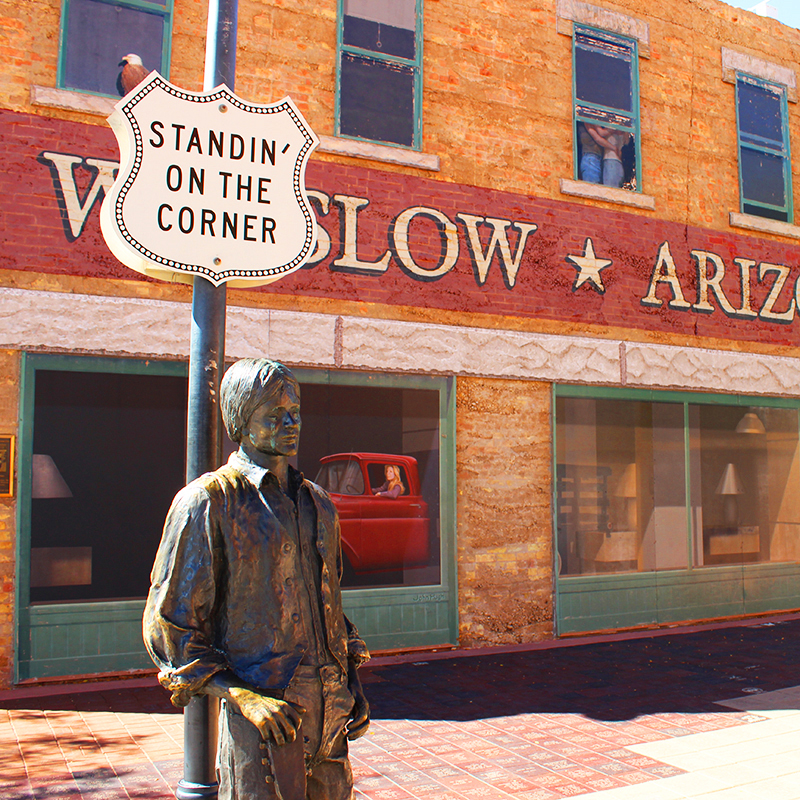 ON THE DRIVE TO SCOTTSDALE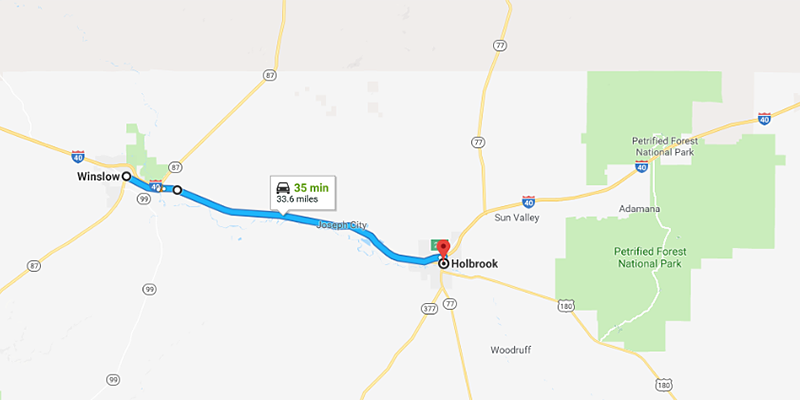 We normally would have left Winslow and driven west to Flagstaff, then south through Sedona to Phoenix.  This time we back-tracked east, 30 miles to the small town of Holbrook.  As we looked from the highway out to the town Mr.D spotted a group of white teepees along the railroad tracks.  We thought it might be a campsite or a boy scouts retreat spot.  Turns out it was the Wigwam Motel that inspired Sally's Cozy Cone Motel in the Pixar movie Cars.
What a cute discovery!  We asked to see one of the rooms and while it was tiny, they were able to fit two beds, a small writing desk, small lamps and headboards (all from the original bedroom set), a TV and air conditioner, and teeny tiny bathroom with mirror tilted down from the cone shape of the teepee.  The round room was such a novelty and we couldn't help thinking of all the people who had stayed there through the years and how amazing it is that they're still busy and thriving.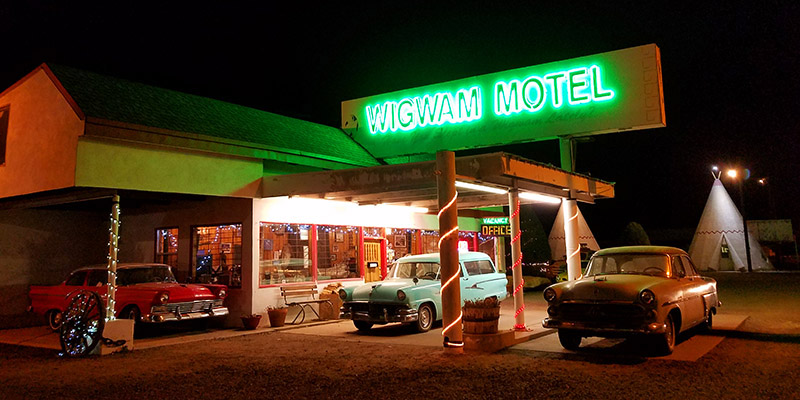 There are 15 teepee rooms.  1 Bed are $69 per night.  2 Beds are $76. We were told by the manager that they are generally completely booked, particularly in the summer when people travel Route 66 and Mother Road tours come through. Reservations are recommended.
In our on-going mission to never eat at a fast food franchise while traveling, we found a Holbrook mom-n-pop diner called Tom & Suzie's that's located in an old Pizza Hut building.  They're known for no-frills American and Mexican food, breakfast omelets and chocolate cream pie.  The BLT was terrific.
FYI — On the trip back we stopped for dinner in Holbrook and had a craving for Italian. After checking online reviews we found one of those highly rated cafes located in a strip mall that hadn't changed in over 25 years, complete with plastic covered table cloths and original decor.  Mesa Restaurante Italiana.  For an out-of-the-way small town, this was a find.  You won't get Mario Batali artfully stacked plating or Lidia Bastainich dishes, but you will get an eggplant parmesan made with fresh eggplant, not oily at all and smothered in a rich savory red sauce and melted cheeses.  They're also known for their garlic bread, pizzas and pasta dishes.  Such friendly service, we read a review that last year a man had eaten there on his way to Vegas and left his golf hat behind.  The next year, per his annual trip, he stopped at Mesa Italiana and his hat was waiting for him.  This place is also a local's favorite.
Southward to Scottsdale, we past through Globe, Arizona — the home of the famous (now closed) Sleeping Beauty Turquoise Mine —  and made a few notes of places to see on the return trip.
One of the biggest surprise discoveries was the drive on Hwy 60 between Show Low and Globe.  The road twisted and turned through mountains and national forests, and then to the Salt River Canyon Scenic Drive with views 1000 feet deep to the river below.  It was like another Grand Canyon!  Breathtaking … we stopped at almost every overlook.
SCOTTSDALE AND PHOENIX
We're not really into golf, and most people we asked about the golfing mecca that is Scottsdale / Phoenix knew every course and clubhouse.  So, before we left on our adventure we asked around about other must-see places, and then we winged it.
Butterfly, Mr.D's sister, very kindly offered her Scottsdale time share for our stay. On the first morning, we found a brochure in the lobby for a butterfly conservatory with over 3000 flutterbys floating and flittering through the plants and trees that make for a botanical garden butterfly buffet.  If you want to start your day in a place of sheer happiness, this is it. So we went to this wonderland in Butterfly's honor.  (Winging it, get it? :- )
It's important to watch your step, they're all over the place.  If you want them to land on you, wear light colored clothing.  And yes they will land on you, brush by your face, check out your jewelry.  One gentleman had a shiny earring that caught the attention of a large white speckled butterfly that perched on his ear for ten or so minutes.  Then it landed on his arm, circled around and landed on his ear again.  He may now be a Youtube sensation, as it was quite a hilarious moment — his reaction was delightful and curious and a dozen or more people filmed him with his new BFF.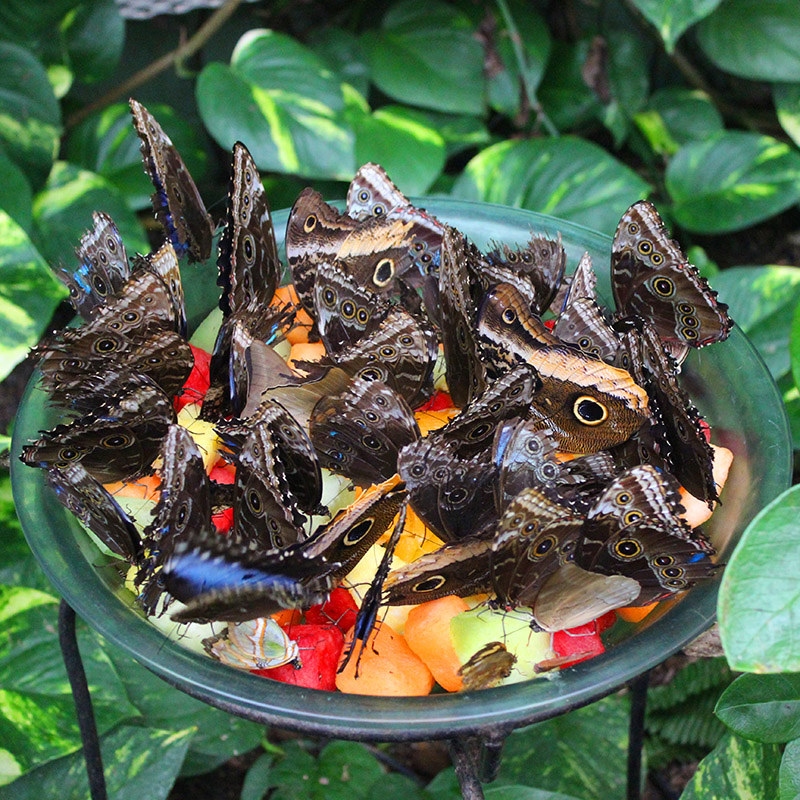 You learn something new every day — these butterflies were taking a snack break of cantaloupe, watermelon and pineapple.  Who knew, they like fruit?  It seemed to be a favorite spot with a kaleidoscope of flutterbys swarming above and diving in for a seat at the bowl.
We were there for two hours — it seemed like 20 minutes.  Be sure to watch their 3D movie before you enter the conservatory — the filmmakers did a great job and most everyone in the theater reached out to touch one of the hundreds of butterflies seeming to hover right in front of your face.  Also of note, admission is not inexpensive at approx. $25 per person.
OLD TOWN SCOTTSDALE
This is a charming area to walk outdoors, pop into any gallery that catches your eye, shop for fancy schmancy cowboy boots, and follow your nose to one of the many restaurants, bakeries and malt shops.  Late November, it was 75 – 80 degrees and we wanted to be and dine outside as much as possible.
Again, no plans allowed, so we walked by a large white mission church and noticed a restaurant next door with an outdoor patio.
THE MISSION OLD TOWN SCOTTSDALE RESTAURANT
We chose well, this was a stellar discovery and we later learned that The Mission is a favorite for modern latin cuisine.  They are widely known for tableside guacamole and we highly recommend it, with only the freshest ingredients custom blended to your taste.  So good in fact that a couple at a nearby table had discovered it two nights before and returned that day to have one more wow-guac experience before catching their flight home.
We had the Crispy Rock Shrimp Tortillas — lightly beer batter tempura fried with hand pressed tortillas and a spicy rocotto crema.  The Tecate Creekstone Skirt Steak Tortillas were perfectly marinated and grilled, with a smoky morita salsa, avocado, lime and cotija.  Everything was of the finest quality.  Of note, the portion sizes were small so if the guac hasn't filled you up, you might want to order a fourth tortilla.
The margaritas were divine.  We tried the Blood Orange and it was smooth, not too sweet and the citrus went nicely with our savory spicy meal.  Another favorite — the Cucumber Jalapeno.  Next time we've made a note to try the grilled street corn, short rib barbacoa tortillas and chicken chorizo torta.
It was also mentioned to us by several patrons that the dinner menu is exquisite, and the indoor seating is dimly lit and a favorite romantic place for honeymooners and special occasion dates.
FASHION SQUARE FOR SERIOUS SHOPPING
This endless mall caught Amy's attention when we drove by and it seemed to go on forever.  Through a quick google search we learned that it's the largest shopping mall in the American Southwest with over 2 million sq. feet of retail space.  Amy sought out a few favorite stores in a search for Christmas gifts, and of course kitchen gadgets.
SCOTTSDALE WATERFRONT
In the meantime, because for Mr.D being in a mall ranks right up there with spending an afternoon eating organ meats, he checked out the Scottsdale Waterfront.  Located between the mall and Old Town Scottsdale, there is a lovely river walk with shops and restaurants on each side.  Lit for the holidays, they also had an art installation and this year was Prismatica — with a large bright sculpture hovering over the water creating a mirror image reflection.  There were also giant interactive prisms for viewers to spin and watch the colors flash, all along the river walk.
REAL DEAL MEXICAN FOOD – FRANK AND LUPE'S
Another spontaneous discovery came about when we had a taste for authentic home style Mexican food, and because it was a warm autumn night we were on the lookout for another outdoor patio.  Frank and Lupes "The Best Mexican Food In Old Scottsdale" fit the bill.  Our friends Dollie and De Potter (Arizona snowbirds) mentioned this mom-n-pop place before our trip and as we wandered around looking at art galleries, we stumbled upon it.
For 25 years they've served authentic Mexican from their family's tried and true recipes.  Getting to the patio was a discovery in itself.  The front dining room staff pointed us to the parking lot, then to the back of the building where there was an outdoor lounge, and then a doorway and tiny alley entrance to the enclosed secret patio complete with bar shack and palm trees.
Charming.  Intimate. Festive.  Packed by 5pm and felt like a friendly neighborhood landmark.  We knew it was going to be fantastic when they brought fresh salsa with house made fried tortilla chips.  We loved the cheese enchiladas topped with chicken and one of the best, richest, classic savory-sweet mole sauces we've ever had.  We'd also go back for the well-seasoned steak fajitas with perfect Mexican rice.  Another great discovery!

DESERT BOTANICAL GARDENS AND GERTRUDE'S RESTAURANT – PHOENIX
One day around mid-afternoon, we looked up to the sky and saw a layer of clouds that looked to be at the right altitude for one of those amazing color blasted Southwestern sunsets.  Then we remembered that Dollie had also mentioned there was a beautiful botanical garden in the area.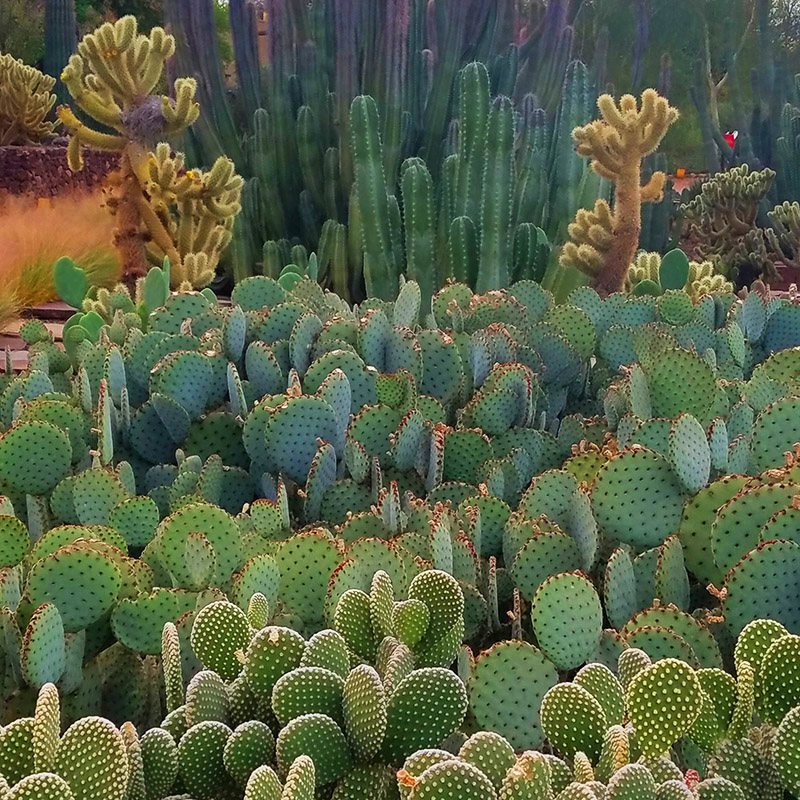 We drove 10 minutes to eastern Phoenix and as we walked to the garden's entrance we were immediately struck by not only how well manicured and yet wild the gardens were designed, but the desert plants were of all shapes and sizes and textures.
This was an amazing discovery that we could go back to every day and find something new and beautiful.  140 acres, tens of thousands of plants, cacti, yucca, agave, many rare and endangered species, all in a meditative design of pathways leading from one exhibit to the next.  As the sun began to set we were in an area of saguaro cacti when the sky turned technicolor.  In that area we were on a hilltop with a perfect view through the giant cacti, and lots of people began to show up for photos so we assumed we'd found the best spot for sunset shots.
Above … these were the colors overhead when we sat at the outdoor circular dining room of the garden's restaurant, Gertrude's.  They offer a fantastic seasonal farm to table menu that is constantly changing.  We were craving a light supper and ordered from the small plates side dishes.  Everything was delicious, upscale, and mainly regional with duck enchiladas, green chile hummus and elevated stuffed frybread.  Have a peek at the scrumptious menu here.
RETURN TRIP THROUGH GLOBE ARIZONA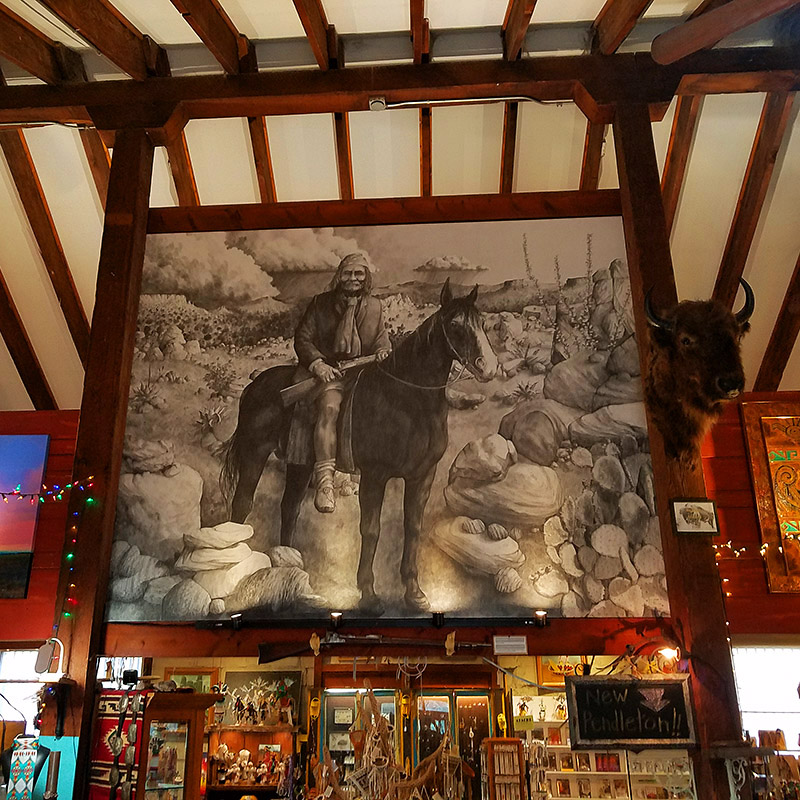 On our drive to Scottsdale we'd noticed a huge historic building in Globe surrounded with brightly colored pottery and sculptures.  In the spirit of "That looks cool!  Let's stop here!" we discovered The Pickle Barrel Trading Post — 8,000 sq. feet of artifacts, brand name goods, original artwork and thousands of gifts and souvenirs.  They also have a jewelry case with gorgeous pieces made with Sleeping Beauty turquoise — that stunning sky blue color from the local mine that is now closed.  One delicate, miniature squash blossom necklace caught Amy's eye.
The place was jam packed with southwestern home decor, wall art, candles, buckskin coverings, garden sculpture, books, jewelry, paintings, you name it.
Near the front door we looked up to an approx. 8 x 8 foot lead pencil Frank Balaam drawing of Geronimo.  The owners told us that this intricate artwork took the artist only 6 weeks to complete.  A mighty impressive tribute to the Apache leader.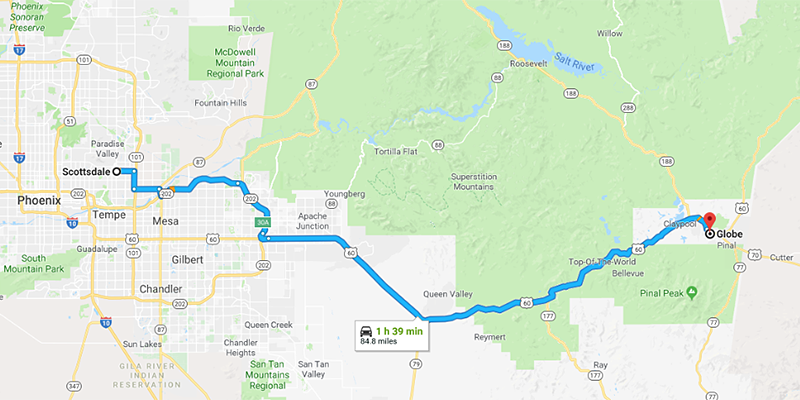 BESH BE GOWAH RUINS, GLOBE AZ
There are two ruins sites we know of in Globe.  One is the Tonto National Monument with cliff dwellings, and the other is the city-run Besh Ba Goweh with ruins of the ancient Salado people who built it over 800 years ago.  The latter is only 1 mile from central Globe, and was a fascinating discovery.  Along with the return drive through the canyons, this was a highlight of the trip home.
Easily accessible, we pulled into the parking lot and the ruins were right there, along with the museum. No hiking, no stairs or climbing ladders.
Walking through the restored walls and structures, we immediately noticed that they were built from local stones, not the light sandstone from dwellings like Mesa Verde and Hovenweep.  The largest structure was open to explore, with metate stones and artifacts to set the scene for what it might have looked like long ago.
There was also a wonderful museum with well informed staff, an excellent introductory film, and exhibits with pottery, baskets and other artifacts of their tools and artistry.
From iconic beauty, nostalgic roadside attractions, gorgeous desert landscapes and gardens, small town charming finds, enjoying mom-n-pop and upscale dining discoveries, new roads and canyons, wide open skies, all from in-the-moment road tripping and meandering.
Wishing you Spontaneous Happy Discoveries!
Amy & Mr.D
P.S. What did we miss?  If you have any must-see discoveries for our next trip and tips for our readers please leave them in the comments below.  Thanks!