It was the last day of our whirlwind trip through Arizona, traveling east on I-40 from Flagstaff, headed for Durango.  We'd put 1700 miles on the car and were ready to be home, unpack and sleep in our own bed.  Then we saw signs for Winslow, and guess what we did?  That's right, add us to the list of everyone who starts singing   The Song about The Corner,  You just have to.  There's no avoiding it.  Then it becomes a "Hey stop here!" moment.
What a great discovery, to finally experience the Standin' On The Corner Park (see previous article with photos here) with statue in honor of Glenn Frey, and the cleverly painted mural with reflection of the flatbed Ford parked on the street.  We took photos and talked with Eagles fans who had come from all over the world.
Then our stomachs began to growl and we searched restaurant reviews on our phones for a lunch discovery.  One look at The Turquoise Room and we hopped in the car for another adventure.
Located in the newly restored, sixty-five thousand square foot masterpiece La Posada Hotel, it is upscale-casual and very friendly.
First, a bit of history.  The hotel is enormous, as it was built in the late 1920s for the rail passengers passing through from Los Angeles to Chicago when Winslow was the hub of the Santa Fe Railway system.  Built by the Harvey Family, it was designed to be the finest in the Southwest, with museum quality furniture, rooms facing the gardens, and accommodations that guests such as President Roosevelt, John Wayne, Clark Gable, Dorothy Lamour, and Charles Lindbergh were accustomed to.  While walking through sitting room after grand hallway, one after another, and then
into the dining room, one would never have guessed that this spectacular Spanish Mission Revival opus was once in such disrepair that it was scheduled to be demolished.  Situated along Route 66, the town was by-passed when the highways came through and the hotel was abandoned and closed for forty years.  In 1997 it was bought and restored by Allan Affeldt and artist Tina Mion.  There is a guide and map displaying before and after photos of the restoration, and what a colossal labor of love this has been.
In 2000, Chef John Sharpe and his wife Patricia opened The Turquoise Room and named it after the private dining car on the 1936 Super Chief train.  In it's glory days, it was the last of the Harvey Houses where the famous Harvey Girls served customers in their white ruffled aprons.
With long turquoise beamed ceiling, custom glass chandeliers, hand-carved furnishings, bright yellow walls and smooth terracotta floors — it is stunning.   Chef Sharpe is a James Beard award-winner and member of the slow foods movement.  His beautifully presented menu is a contemporary celebration of regional Southwestern dishes.  Ingredients are sourced locally and are a tribute to the Native American people of America.
We dined on free-range lamb posole with roasted corn, jalapenos, tortillas and house baked glazed cornbread.  Then split a perfectly seasoned charbroiled burger with house bar-b-que sauce and fresh caesar salad with roasted peppers, spicy dressing and pepitas.  Everything was memorable and perfection.
Next time we have our eye on the stuffed squash blossoms, piki bread with Hopi hummus, crispy pork carnitas, or the Wild Wild Platter of fried quail, orange Oaxaca sauce, farm-raised elk medallion, with black currant sauce, a green chile and cheese tamale toped with bison, white tail venison, wild boar chili and a side of fresh vegetables.
The Turquoise Room also has an excellent wine list, a full bar, and an adjacent martini lounge.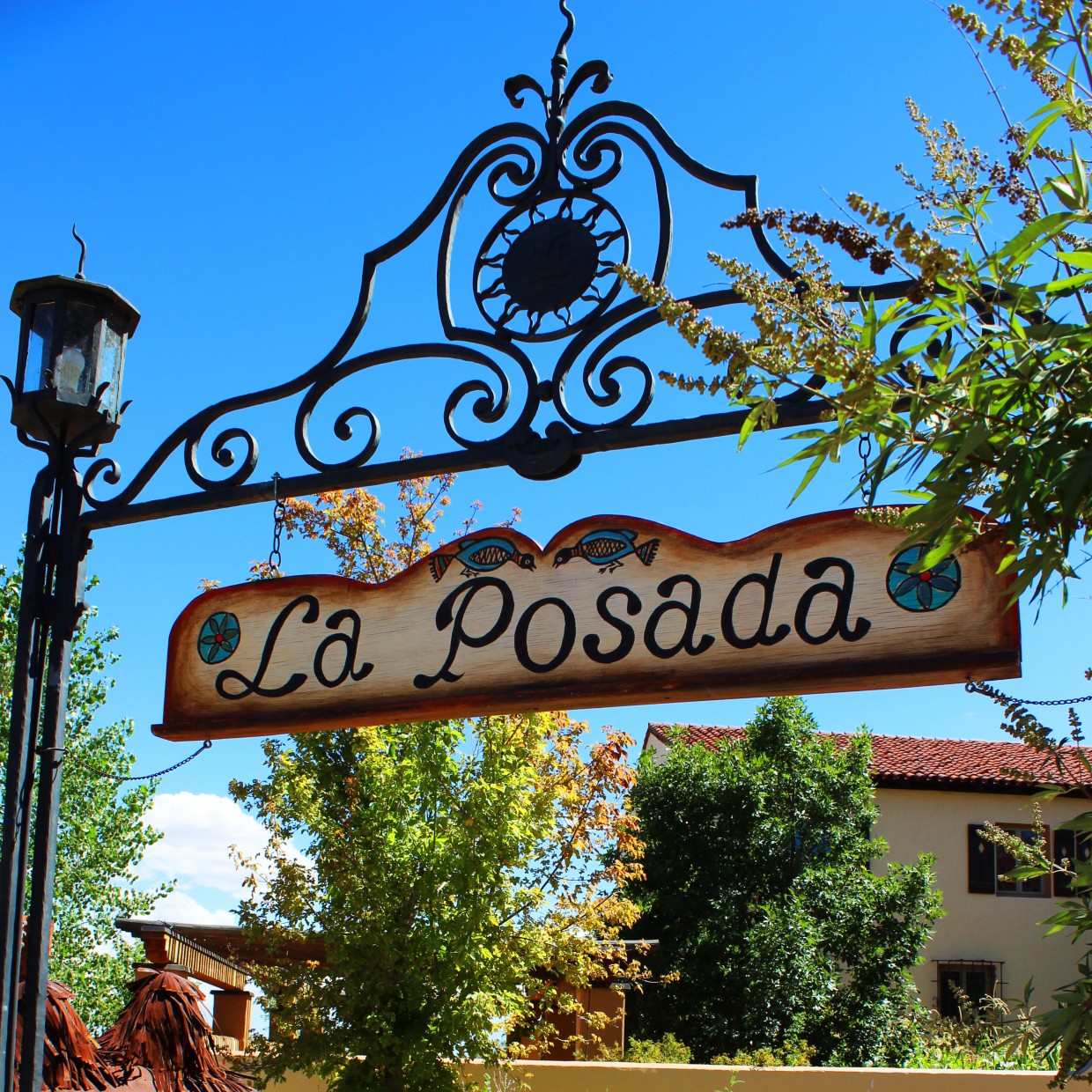 Amtrak trains still come to Winslow and passengers stay overnight at the hotel.  At night they order gourmet box lunches from the Turquoise Room with meals such as prime rib, smoked salmon with spring greens, and turkey cobb salads, all ready for pick up at 7 am before they board the train and continue on their travels.
Today La Posada is a hotel, residence, private museum of owner Mion's artworks, and The Turquoise Room is recognized as one of the Top 3 Restaurants in the United States by Conde Nast Traveler, as well as numerous other awards.  During our visit, we met members of a Canadian motorcycle club who were riding from coast to coast.  They mentioned that La Posada was their favorite stop along the way, and that they booked rooms more than a year in advance.  Since then we've mentioned our discovery to friends who also love this place, and recommend booking your stay as far in advance as possible.
A discovery found on a whim is now at the top of our list of places to travel back to and 'take it easy.'
Buen Provecho and Great Discoveries!
Amy & Mr.D
Here is a link to The Turquoise Room
Here is a link to La Posada
Here is a link to the Winslow Amtrak Station
You may also like: Standin' On A Corner in Winslow Arizona