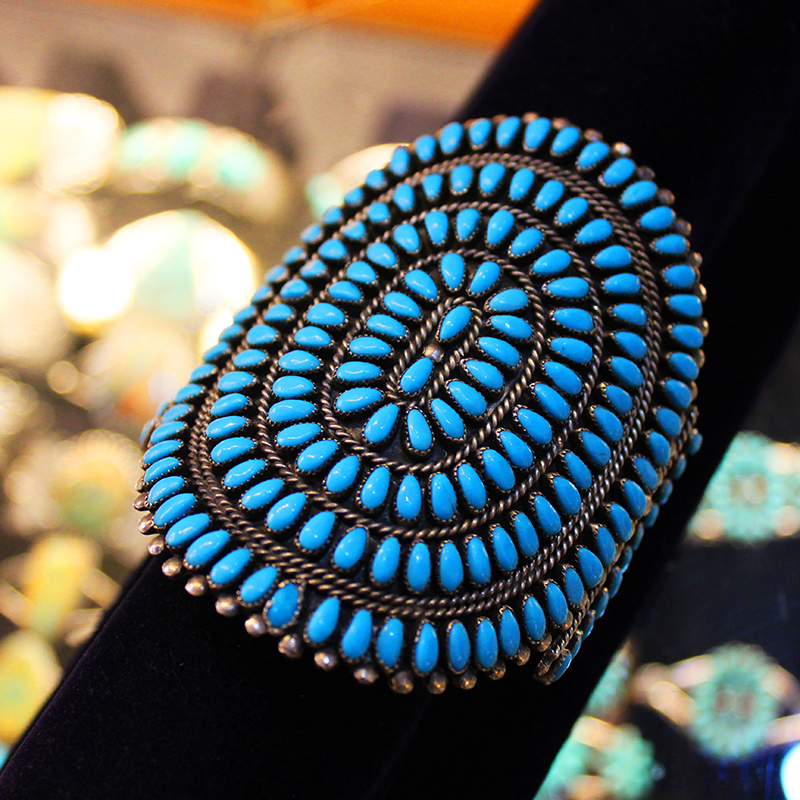 We have yet to go one day without spotting someone wearing turquoise.  From rings and bracelets, to squash blossom necklaces and concho belts — for Southwesterners, wearing turquoise is as natural as putting on your shoes each morning.
When we first began this article, we intended to discover how to identify all the different types of turquoise mined in the Southwest.  After talking with friends who collect, they suggested that we concentrate on just one type, otherwise we'd be 6 months into our research and still taking notes.  The world of turquoise is vast!
This week we spent an afternoon at Cowgirls jewelry store in Durango, Colorado to learn about Sleeping Beauty turquoise — the highly sought after sky and robin's egg blue type.  We also discovered why it's important to buy from an experienced broker or dealer.
Sleeping Beauty can be so seamlessly pure blue, with little to no matrix (organic spots and veining/ lines) that we thought the name came from it's dreamy 'sparkle princess' qualities.  Turns out it does, because the profile of the mountain where the mine is located in Globe, Arizona resembles the fairytale sleeping princess holding a rose as she waits for her prince to wake her with a kiss.
The mine, that is now closed, produced copper as well.  This is why it has that bright blue consistent standard of color, and is only found near copper deposits.  The introduction of zinc, phosphorus, aluminum, weather and other elements create the different blues and greens of turquoise, similar to how the soil and climate of a vineyard gives each grape unique flavors and notes.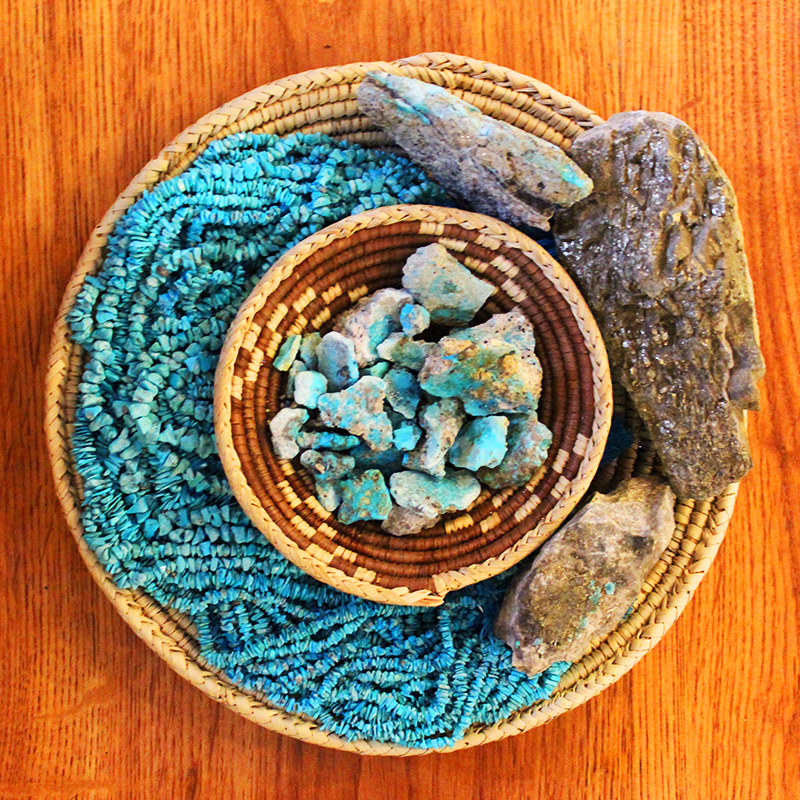 Cowgirl shop manager (and fountain of information on all things gemstone) Debbie found these pieces at the mine while on a buying trip with shop owner Bill Ridgeway who is an international turquoise broker.  In the center are chips.  The large chunk at the top is a perfect example of Sleeping Beauty as it is found in granite, it's host stone.  To the right, a big hunk of pyrite, and below are small pieces of turquoise just beginning to form.  The necklaces are natural turquoise.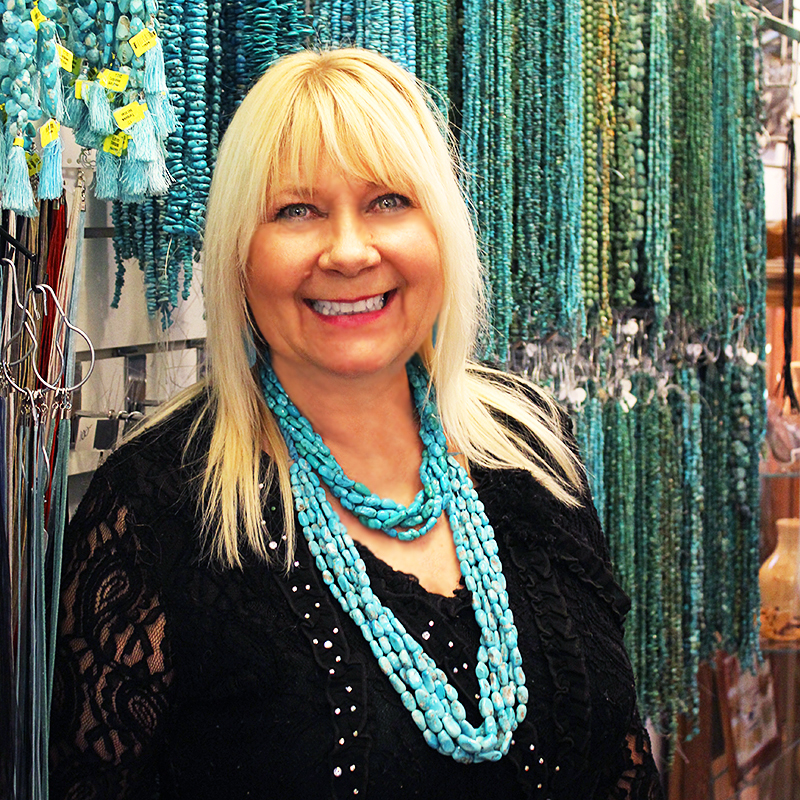 While we were admiring the strands she was wearing, she pointed out that the top ones were darker than the bottom.  This is because the lower collection are just out of the box, while the others have been worn, touched, exposed to oils from the skin and hand lotions.  This is one way to identify uncoated natural turquoise … it will turn a bit with wear.
(detail of raw Sleeping Beauty chip)
Another reason Sleeping Beauty is so sought after is that so much of it is soft and oftentimes chalky, and only about 4% of these blue beauties are hard enough for artisans to work with, cut and set into jewelry.  The rest is stabilized by adhering it with many different techniques and clear epoxy, and is reflected in the reduced price.
Here is a stellar 6-inch diameter bracelet from the northern Arizona Kingman mine.  A rich teal-green with lots of matrix, The Kingman also produces blue turquoise, although the veining is different from Sleeping Beauty.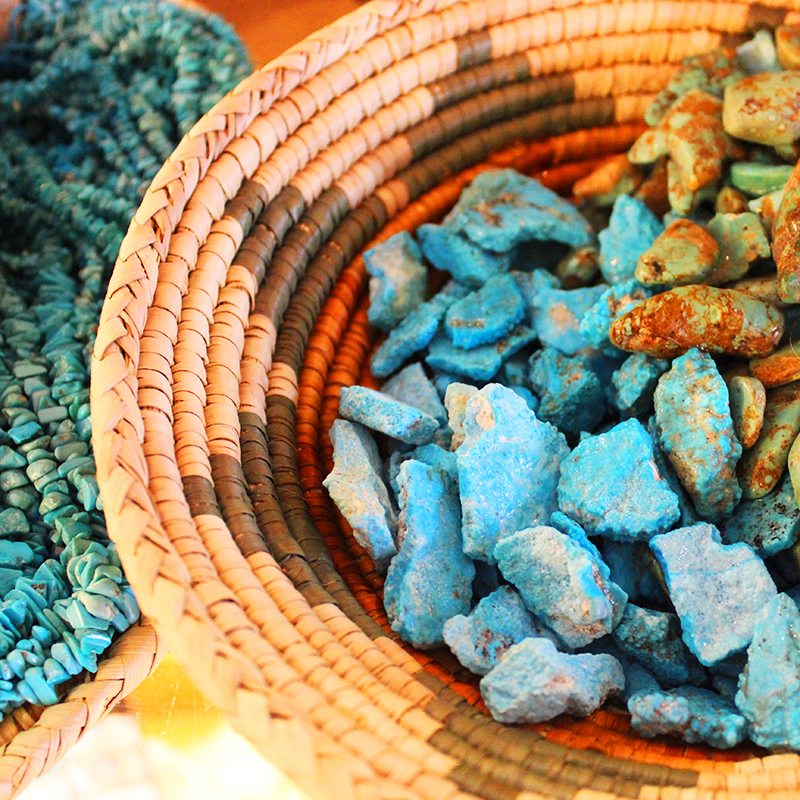 Here we have a basket of raw Kingman chips, both blue and green.  They look very similar to Sleeping Beauty, in fact this mine recently discovered a new pocket of sky blue.   So now that Sleeping Beauty is closed, Kingman are becoming highly sought after.
We also learned that turquoise of all qualities and colors come from around the world.  The name itself is derived from the French turques for Turks, when 17th century Turkish traders brought it to Europe.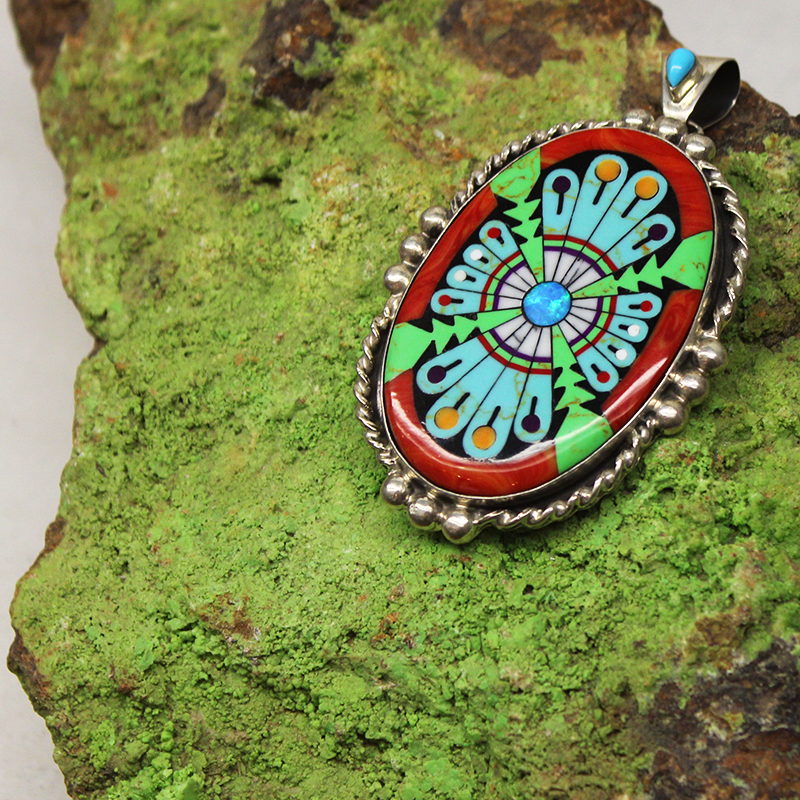 This is a green gemstone from Australia that resembles turquoise with veining.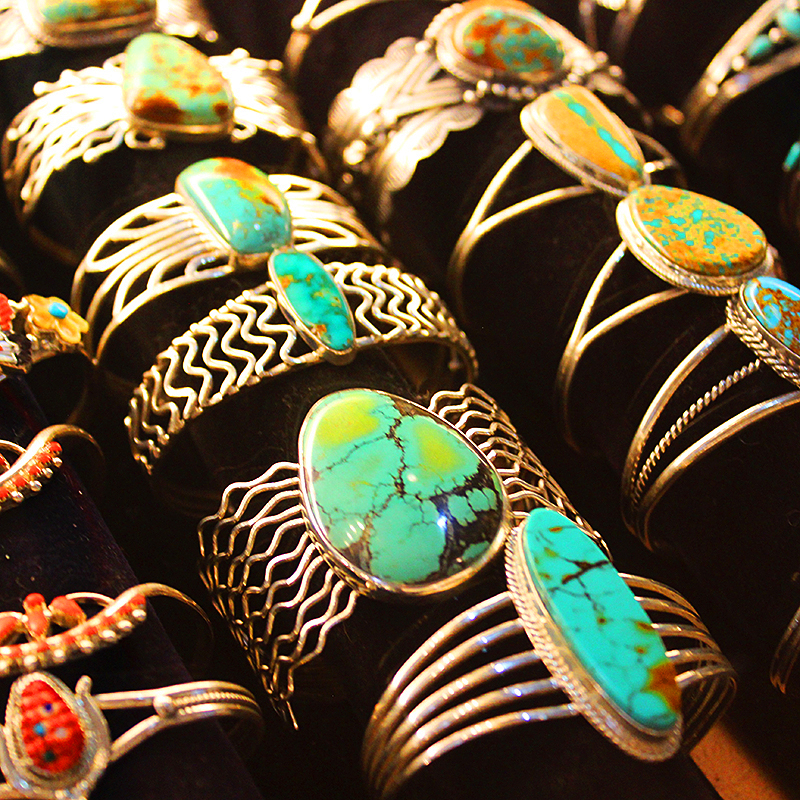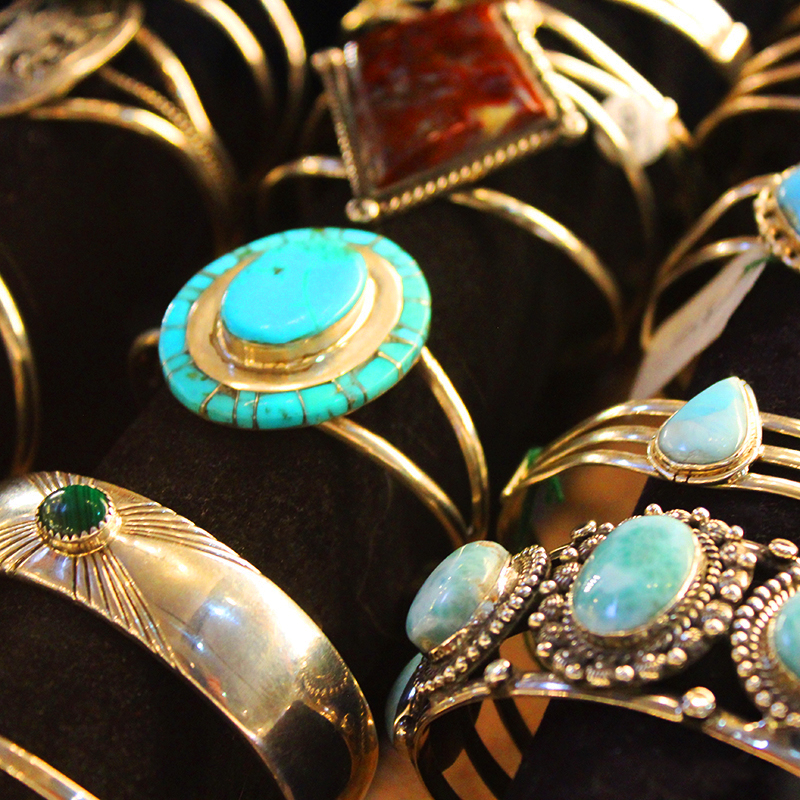 So how do we tell the difference?  Your best bet is to ask around and talk with different stores and dealers who buy directly from the mines.  Places like Cowgirls.  They carry gorgeous Southwest and quality pieces from around the world, and they know all about the origins.  And if there is ever a question, an instance such as a vintage piece that looks like Sleeping Beauty with no known history, even with their keen eyes they will tell you "it most likely is but we are not 100% sure."
We always have a great time leaning over their glass counters to see what new treasures have arrived.  Thank you Debbie for our Turquoise 101 lesson!
xo Amy & Mr.D
Cowgirls is located right next to the Durango train depot, in front of The Palace Restaurant.
Sorry, they just can't be bothered with a website!