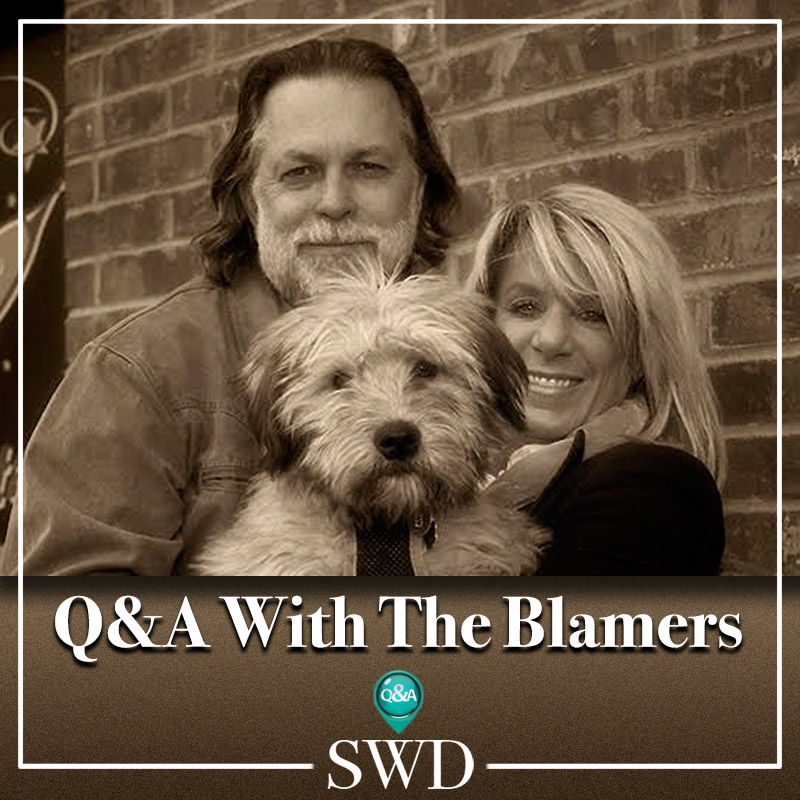 These soulmates have made the Southwest their home for eight years at their luxury ranch southeast of Santa Fe next to the gorgeous Santa Fe National Forest.  There they embrace and love the life of wide open spaces and incredible New Mexican skies.  After years of living in New York and working in advertising and fashion/retail, you will most likely find Linda creating new fabulous recipes or cycling through scenic byways and canyon trails (when not working on their consulting business).  At this very moment, odds are Steve is taste testing everything for Linda, whipping up his famous shishito mezcal margaritas, and planning upscale wedding/family reunion events at Blame Her Ranch. We are pleased to introduce this darling couple (and Wonder Dog, Finn) who have found their forever home in the Southwest … Linda and Steve Blamer ….
SWD Guest Q&A
SWD:  Are you originally from the Southwest?  If not what brought you here?
Linda:  No, I grew up in Orange County, CA (in fact less than a mile from Steve), but we did meet each other in the SW at ASU.
Steve:  Linda and I actually visited Santa Fe separately, but came back when we were looking for a ranch and fell in love with the SW all over again.
SWD:  Soft tacos or crunchy?
Linda:  Soft whole wheat taco shells.  I love the healthy factor.
Steve:  On Taco Tuesday, crunchy (Linda makes a mean one), the rest of the time soft.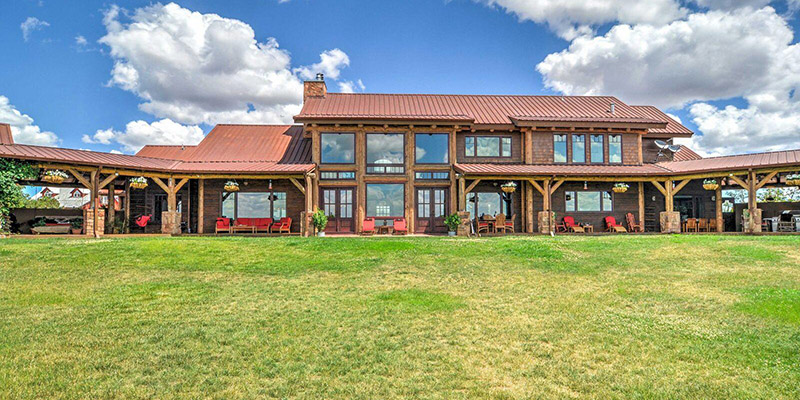 SWD:  What are your favorite adventures or getaways in the Southwest?
Linda:  Bike riding Fat Tire Bikes in the Santa Fe National Forest.  Because it is absolutely beautiful, the hardest bike ride ever and next to our ranch.
Steve:  I like Christmas Eve on Canyon Road.
SWD:  What is your favorite margarita? 
Linda:  Steve's margarita.
Steve: My margarita made with illegal mezcal, grilled shishito peppers and blood orange liqueur on top
SWD: What is your favorite Southwestern National Park?
Linda:  Santa Fe National Forest
Steve:  Santa Fe National Forest.
SWD:  Red or Green (or Christmas?)
Linda:  Christmas because the flavors blend so well together!
Steve: I like Christmas, but nothing beats Linda's mole sauce.
SWD:  What is the most satisfying aspect of what you do?
Linda:  Working together!
Steve:  Working together for sure, helping our clients navigate the advertising world, and also now offering brides our fantastic ranch for their special day.
SWD:  What is the most challenging aspect of what you do?
Linda:  Every day is new and different and I love the unexpected challenge.
Steve:  The life of a consultant is not knowing what comes next, but luckily for us that has not been a problem.
SWD:  Corn or flour tortillas?
Linda:  Corn because they are so tasty especially at Eloisa restaurant in Santa Fe where they are made with real flower pedals.
Steve:  Ditto.
SWD:  What do you absolutely refuse to eat? 
Linda:  Brussell Sprouts, my mother ruined it for me!
Steve:  Liver, but I have never had it.  In our family we were allowed to pick one thing we would not eat and liver was my choice.
SWD:  This may have just been answered, but … What are your thoughts on menudo (and no, we don't mean the boy band)?
Linda:  Know of it, but don't think it would please my palate.
Steve:  Ditto.  Yuck!
SWD:  Do you cook?  What are some favorite dishes you like to make?
Linda: That's hard one.  But, I am known for my gourmet pizzas and 12 hour beef brisket.
Steve:  Why would I want to cook when I have Linda.
SWD:  If you hypothetically moved away from the Southwest, what would you ask people to send to you in a care package?  What would you miss the most about the Southwest?
Linda:  Pasqual's in a box!  The entire menu.  I would miss running outdoors with our beautiful NM skies!
Steve:  La Risa Coconut Cream Pies (here in Ribera, NM).  I would also miss the NM skies.
SWD:  Where is your favorite Green Chile Cheeseburger?
Linda:  Never had one.  But, I would think I would go to Coyote Cafe & Cantina.
Steve: 5 Star Burger.
SWD:  Is there a place outside of the Southwest you would like to visit?  Some intriguing spot around the world?
Linda:  Lake Como, Italy.  Villa d'Este!  Hands down.
Steve:  Ditto, but Grand Wailea (Hawaii) close second.
SWD:  Is there a Southwestern destination you've been wanting to visit?
Linda:  Grand Canyon, I have never been and it is a must.
Steve:  Tombstone.
SWD:  Do you have a mantra?
Linda:  Make the most of every day, be happy and live life to the fullest.
Steve:  Be honest with yourself and always the truth, even if it hurts.
###
(Photos courtesy of Linda and Steve Blamer)