We recently had a beautiful lunch, on a perfectly sunny aqua blue sky day at Santacafe that surpassed everything we'd heard about their elegant, seasonal reputation.  (Pictured is the Daffodil Cake … we'll get to this lemony light lusciousness in a sec.)
Through the entrance corridor and into this charming, quiet courtyard with tan adobe walls and clean white painted woodwork, we immediately felt warm and welcomed.
(Pictured is the original well of the adobe complex).
Dining in an intimate, historic courtyard like this — everything instantly feels like a special occasion.  A cool breeze sauntered through, the sun sparkled on us through the trees.  We agreed there was no other place in the world we needed to be than right there.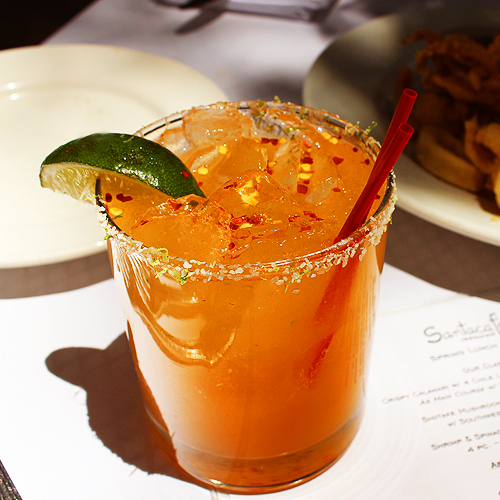 Here we have the famous Santacafe Chipotle Margarita.  A perfectly balanced cocktail with citrusy chile layered flavors and just enough heat to touch the back of your throat.  Owners Bobby Morean and Judy Ebbinghaus were kind enough to share the recipe. You must try this! …
Salt and Lime zest the rim
1 1/2 oz. Silver Tequila
1/2 oz. Triple Sec
Splash Pineapple Juice
2 oz. fresh Lemon/Lime juice mixed
Chipotle Puree (per your desired heat)
Garnish with Chile Flakes
Amuse bouche of fresh green goddess lobster salad with arugula on homemade tortilla crisp.  Briny chilled sweet chunks of lobster with a crunch.  Divine.  And a lovely light start to the decadence we knew was coming.
The best calamari … in landlocked Santa Fe? Yep.  Light, crispy, fresh.  Not greasy at all.  Inkcredible!  (so, so sorry, couldn't resist). No squiddin' around …
… served with signature 4 Chile Lime Dipping Sauce, a delicate blend with spearmint and chiles.  This sauce and Judy's house made catsup are so often requested that they've bottled them both and are available on the merchandise page.
All of the breads and crackers are fresh baked in-house.  This is Santa Fe after all, and red chile baked goods are a'plenty.  This kicked up cracker is exceptional and we recommend slathering it in farm fresh butter.
We looked over the menu for twenty minutes (having previously checked it online many times) and still just could not make up our minds! We wanted to devour it all.  So we asked our server Allison to recommend something decadent.  Because Santacafe knows how to fire up the heavenly. Without missing a beat she suggested the Blue Corn Chicken Confit Enchiladas with Red and Green Chile, Asadero Cheese and Calabacitas.
Rich deep red chile from Chimayo, and savory herby Hatch green chile.  Red and Green, the most important question in the state of New Mexico. Don't bother to choose.  Ask for Christmas and you'll get both.  And that friends is a perfect world.
Tender chicken breast and julienned zucchini, peppers with fresh corn.  Creamy melted cheese.  We revolved the plate around like a carousel sharing perfect bite after bite.  (Allison, you were so right … lush mouthwatering delicious.)
Hmmmm? What could make this day even more perfect?  A New Mexico welcome we've come to love —  the Green Chile Cheeseburger of course!   With thick sharp melted cheddar on house brioche bun, perfectly buttered and toasted.  Mr.D said that the chiles were an herb-y delicious medium heat, and Judy's Catsup with guava, apricot and molasses really sent it over the top.  This is a burger to crave.  You know, just re-live it again and again.  Something we really wouldn't mind taste testing for the rest of our lives …
… with a side of crunchy not-too-salty Rosemary Potato Chips.
Just when we thought we'd made up our minds about the "Pie or Cake?" question, very much like the Red or Green?  This blissed out creamy sweetness sent us over to the cake side.  Ready for this?  It's a marbled angel food and chiffon cake with lemon mousse, creme Chantilly and fresh berries.  Think you're too full for dessert? … this will change your mind.  Light and moist with vanilla, then lemon, then tangy lemon sauce and bite of sweet ripe berry… O sweet mystery of life.  We found you.
This is the main indoor dining room with clean SW minimalist design.
Later on our tour of the indoor adobe rooms, while feeling every cell in our bodies humming "I've got yummy yummy yummy in my tummy tummy tummy" (because that's what Santacafe does to you), we learned that this was the Padre Gallegos House, built between 1852 and 1862.  Original owner Jose Manuel Gallegos was a 'colorful and controversial character' who was a priest, defrocked, then became a politician.  This is one of those places when you know pretty much every notable figure from the founding families of Santa Fe and the old west has walked these thick-walled rooms, and glanced up at the same brilliant sky in the courtyard.
The property has two wells.  The one in the courtyard and this one (above) that was built inside the home 'to ensure safety of the water supply.'  Located in the bar area, it is forty feet deep.
Located just two blocks from the main historic plaza, hidden down an unassuming corridor, all of your worries go away in this space where once discovered becomes a favorite on the "Santa Fe Highlights" must-do list.
Chosen as New Mexico's Most Romanic Restaurant in Every State, GMA's Most Memorable Food Moments, featured on Food Network's Giada's Weekend Getaway, and recipient of numerous awards, we go back again whenever possible.
Many thanks to Bobby, Judy, the chefs, kitchen and wait staff for a perfectly lovely experience.  A favorite Santa Fe Experience to be sure!
xoAmy and Mr. D
Note:  Menus are seasonal, dishes will change throughout the year.  (Please God that the Daffodil Cake stays forever.)