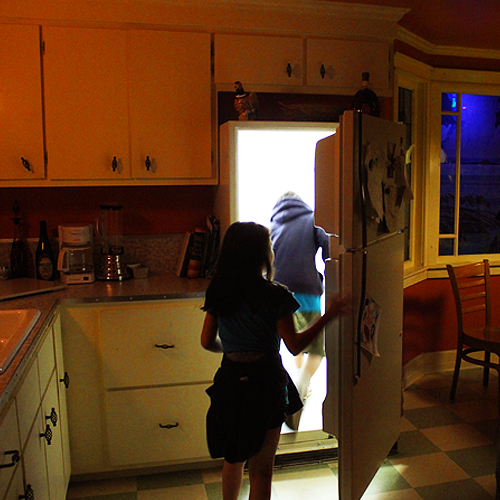 We took a seat in the living room to get a feel for where we were and where to begin, then glanced into the kitchen and saw a group of kids open the refrigerator door and walk on through.
A little boy ran through the fireplace, into a glow of neon pink and purple, then back again.  Eyes wide with wonder and "what's next?!" expression.  Adults of all ages crawled through as well, with the very same look as the child.
Playing on the TV … a quantum arm wrestling competition and family videos from the year 2020.   And in the seemingly normal dining room of this old victorian house …
… something marvelously strange had happened there.
This was our introduction to Meow Wolf, the House of Eternal Return … the most interactive trip of an art installation ever.  An opportunity to walk through the genius minds of over 100 multi-media artists and mad scientist technicians who created this 20,000 square foot mind-bending fun house where you are invited to touch everything.  Polar opposite of a museum where stepping within two feet of an artwork gets an 'ahem' by a guard.
As far as Mr.D and I can tell, there are two ways of navigating this, as there are no maps or guide books.  One, accept and enjoy the ride.  Open your mind, let the art consume you and change your perception of time and space.  Or, in addition to all of that, there is a story here about the fictional Selig family who lived here (or maybe still live here?)  It's a mystery with clues throughout the house to uncover and investigate what might have happened to them.
Open any drawer, go through old newspapers on the dining room table, pop a different family DVD into the player, open cabinets, flip through photo albums and science project notes, open and read computer files, open closet doors… and be sure to really look all around because this house is full of worm holes that lead to ….
… other worlds … this one with a huge glowing percussion instrument dinosaur skeleton.  Nearby, wrapping your arms around a neon bejeweled stalagmite is another way of interacting with sound.
One moment you're in the children's bedroom looking through toy bins, books and journals.  The beds are unmade, it's as if they were just there …
… then you walk into what we can only attempt to describe as the enormous Undersea Forest Cavernous Treehouse Room with glowing mushroom art bongos, an old bus that sits up-ended so you can climb in, recline and look straight up to the abstract images flashing on the front windshield … and so much more we hardly know what or how to describe.  There are over 200 hours of interactive content within the house and other worlds.
Our photos are in no particular order of guiding you through, because we honestly can't remember how we got from place to place.  It's that intricate … discovering these psychedelic environments where you're not just looking at the art.  You're in it.
Some worlds are vast, while sometimes you walk down a narrow hallway, accidentally brush a blank fabric wall and something visually amazing happens.
Whenever you see one of these, press your hand into it to see where it leads.
Black and White Kitchen … a favorite place to have a seat at the table and take photos.  In fact phones were out and people were texting their experiences like crazy.
We spent a lot of time here … we call it the Laser Harp Room where, yes! strumming and plucking the light beams made far out tones and sound effects.  Like playing the air.
In this TED Talk one of their founders, Vince Kadlubek, describes the beginnings of Meow Wolf as an open door collective for everyone, by a group of Santa Fe artists who just wanted to express themselves.  Art for art's sake.  The house became a reality when Santa Fe resident and Game of Thrones author George R.R. Martin (their hero) met with the artists, liked the idea and invested in the project.
Kadlubek describes people leaving the installation as 'blissed out.'  That's absolutely the vibe we felt.  Like we'd walked out of a delightfully bizarre dream … and while you're in a dream you suspend disbelief and anything is plausible, right?
A few notes:
You'll get farther into the art with sensible shoes because some climbing is involved (if you choose that route), and at some point the living room carpeting morphs into an ocean floor.
Look for hidden benches and sitting areas … it's fun to sit back and watch other people enter a world.
Plan to be there no less that three hours so you can take your time.  If you've got half or a whole day, even better to lose yourself in what Mr.D described as "Like the Wizard of Oz.  An old home with subdued colors.  Then you open a door into techno wonder fantasy."
There's no place like … House of Eternal Return.
Happy discoveries!
Amy & Mr.D
House of Eternal Return Info and Hours
Note:  this is an evolving project where worlds change from time to time