Secluded, beautifully barren, with thousands upon thousands of hoodoos … the Bisti Badlands are one of those places in the Southwest that photographers flip for and no one ever forgets.  It is otherworldly … like walking through the most amazing sci-fi movie set ever made.
Located 3 1/2 to 4 hours northwest of Santa Fe NM, and 2 hours south of Durango CO, on Highway 371 (see map at bottom of article) Bisti sits in the high desert region of the San Juan Basin in the northwest corner of New Mexico.  4,000 acres await your exploration of the most unusual, amazing and sometimes eerily eroded rocks and clay formations from an ancient sea that created layers of sediment.
After climbing up and out of the Farmington NM river valley, the landscape changes from sandstone cliffs in the distance to a plateau where there's agriculture and green farmland.  Wide open prairies lead to Bisti. Turning east off Hwy 371 onto Road 7297, a gravel/dirt road, you travel roughly 3 miles to a parking area where you suddenly find yourself on a lunar landscape.  (Be on the lookout for roaming horses and other desert animals you will most likely see … and they have the right of way.)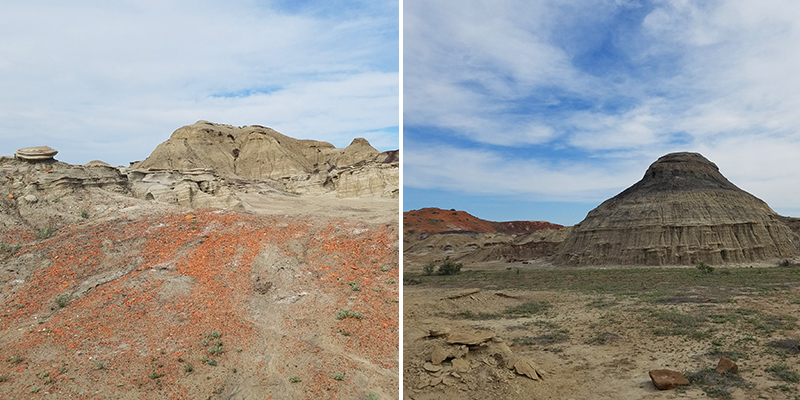 The grey-white clay hills that cover most of the wilderness are mixed with sandstone. Deposits of coal, silt, shale and mudstone are also embedded adding the coloration to create strangely beautiful hoodoos, arches, delicate ridges, fins, ravines, and slot canyons. Even petrified wood pieces and stumps are scattered around the surface.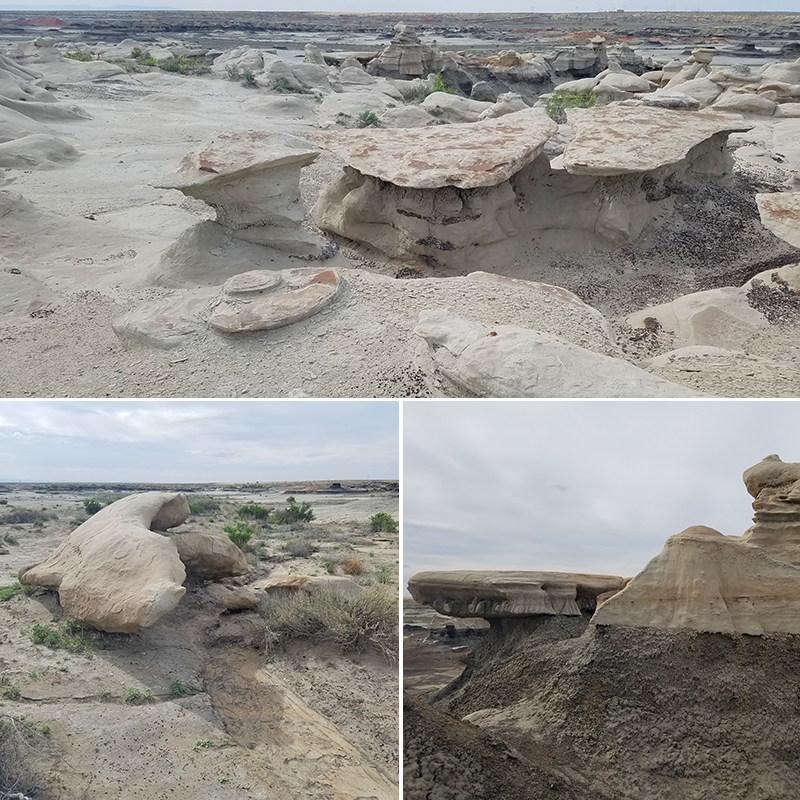 Texture and minimalist colors abound, in this wild and crazy scenery. With just about every shade of grey you can imagine.
There are no designated trails, so best to keep your bearings as you walk along the ravines and the valley floor. Because soon you are out of view of the road, as you are lulled into something like walking on the bottom of an ocean floor, where every twist and turn brings a whole new wild and weird set of natural sculpture, and it can be a challenge to find landmarks.  Also, much of the surfaces are unstable, as the layers are often loosened rocks that are crumbling, so watch your step!
Bisti is the most accessible and varied area of badlands and hoodoos in Northern New Mexico. Miles of remote desert offer some of the most surreal scenery to photograph, hike and explore.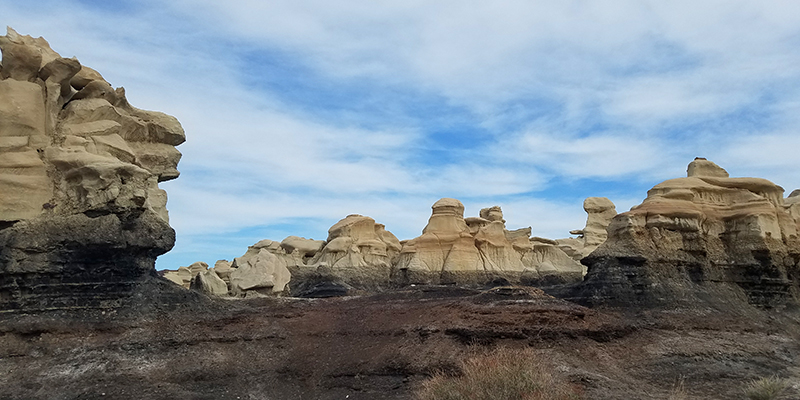 The wilderness is free and open year round, though spring and fall are recommended due to the climate. The high desert can get very cold in the winter, and very hot in summer. Camping is allowed, though there are no campgrounds or amenities. All mechanical forms of transportation (including bikes) are prohibited.  There are no rest stop or water facilities.
So let your imagination run wild as you hike and explore.  We made out images and pointed to each other, "Hey did you see that one, looks just like a Dachshund's face and nose chasing after a treat on the next hill."  "Hey, that one looks like a line of people wearing capes."  "Look! it's a thousand flat-top mushrooms."
It is also a meditative experience.  A place to get lost in your thoughts.  Quiet, but for the strong winds at times.
We explored only a few square miles of the Bisti planet and plan to return many MANY more times.  Because each slot canyon, each turn reveals more wonder and astonishing terrain … right there to discover.
Happy Discoveries!
Amy and Mr.D