For years Amy has talked about a beautiful lodge that sits 20 feet from the rim of the Grand Canyon, with a restaurant that has huge picture windows that frame the views.   A place where you can sit and relax, gaze out to one of the Seven Natural Wonders of the World, and how romantic that would be.  At long last a bucket list dream fulfilled  …  dining at El Tovar!
When it opened in 1905 it was considered to be the most elegant hotel west of the Mississippi.  Designed by architect for the Santa Fe Railway, Charles Whittlesey, the style is a wonderful mishmash of rustic European hunting lodge or Swiss Chalet with dark brown varnished log construction, arts and crafts style furniture, with Native American murals and Southwest inspired decor.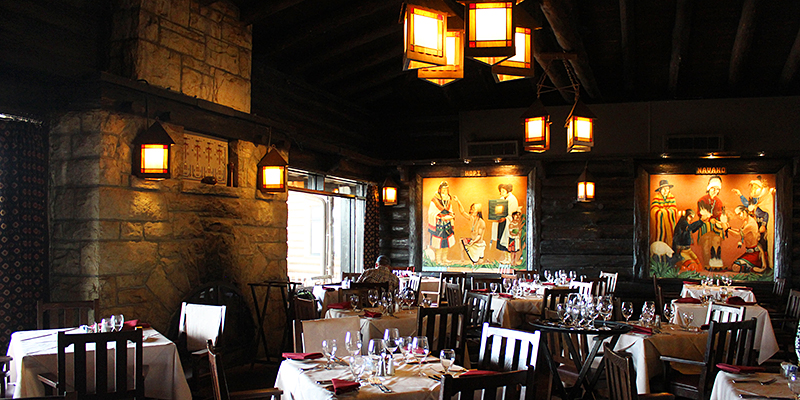 This is the main dining area with the fireplace made of native stone, flanked by large windows facing the canyon.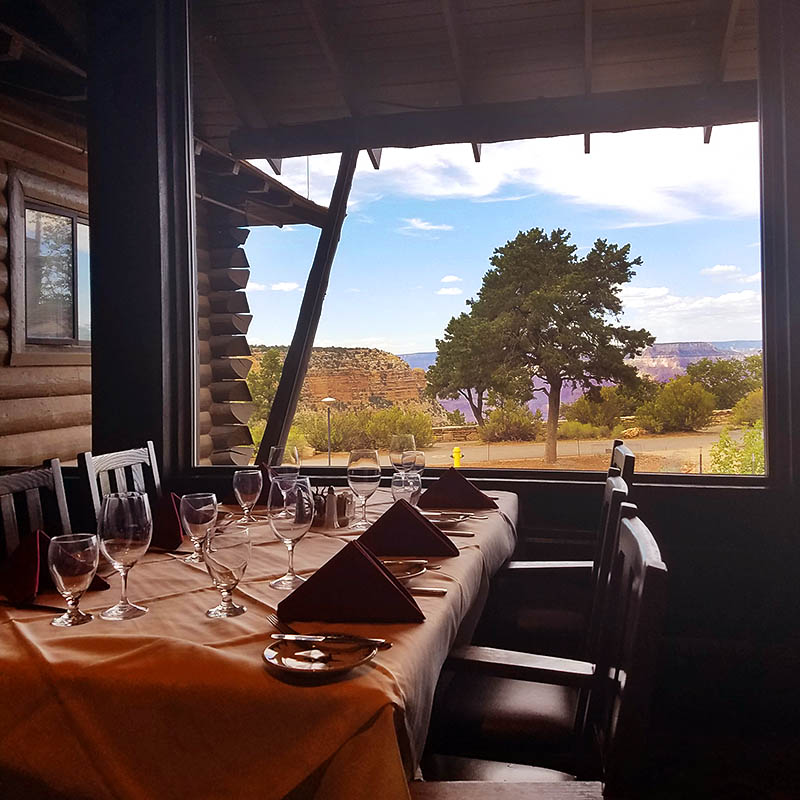 We asked to sit here, in the far back dining area that has a long wall of windows.  It was mid-day and the lunch rush had past.  We had the room all to ourselves … it was wonder-ful.  With views far more grand than the name.  We made the most of our moment and took two hours perusing the menu, ordering, and just holding hands to sit quietly and appreciate where we were.
The menu is continental with Southwestern inspiration.  They're known for the Prime Rib Hash for breakfast and Salmon Tostada for dinner.  We also recommend the Navajo Tacos with Vegetarian Chili and Arizona Ribeye Sandwich.  But we really want to emphasize …
The Dessert Blossom dessert with berries, and the Chocolate Mousse Taco, with two coffees.  After all, what would a bucket list moment like this be without pure decadence!?
Today El Tovar remains the crown jewel of the Historic National Park Lodges.  The hotel has 78 rooms and books up quickly.  The concierge recommended that if we planned to stay on our next visit, to make reservations as far in advance as possible, and dining reservations are highly recommended, also far in advance.
Wishing you Happy Travels!!
Amy & Mr.D