During the summer of 2017, we traveled the Santa Fe Trail from the Santa Fe Plaza in New Mexico to the trail head in Franklin, Missouri and back again.  When we got home to review the photos and video of all the places we'd explored, we were exhilarated from all we had learned and discovered, with a newfound understanding of how the American west came to be.  This was a trip of a lifetime … so much more than we could ever have imagined.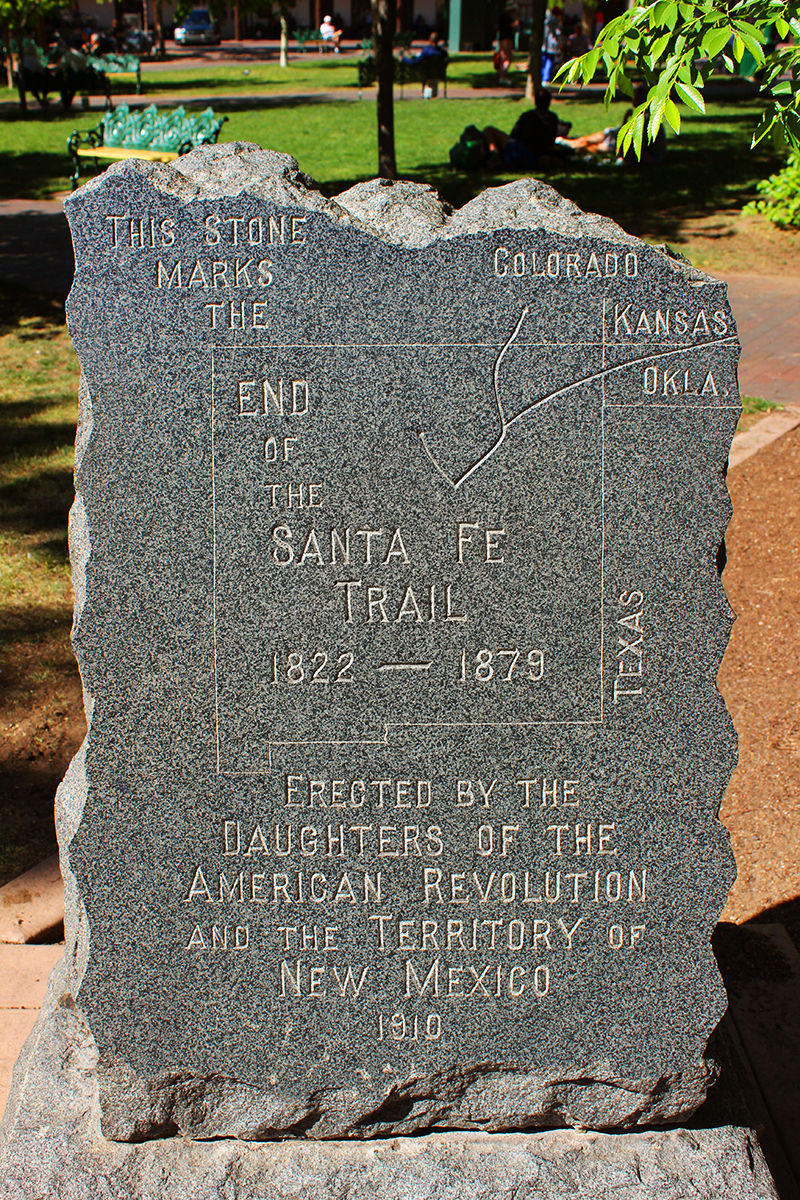 (Pictured: the marker of the trail's end on the Santa Fe Plaza)
We stood at the trail's beginning and end, stayed in small towns that embraced their heritage and seemed unchanged since the 1800s, toured an enormous adobe fort and small regional museums, outran a tornado in Kansas and avoided a summer 8-inch hail storm in New Mexico, toured an amazing museum of American Indian history and art, sought out authentic Contesoga wagons, met people who had wagon ruts on their property, others who had very mixed feelings about Manifest Destiny, and yet others who had no idea they lived on the trail and were as curious as we were as to what it was and how it evolved.  Every day was more fascinating than the next, and we will talk of this trip for the rest of our lives. 
(Pictured: a crossing sign on a remote highway where the indentations of wagon trains came in from the east, crossed this road and continued on westward.)
The idea to follow the trail came when we were planning to drive from Southwestern Colorado to Missouri to visit family.  Our typical route was to take Interstate 70 that is the fastest way through Kansas and on to central Missouri.  Then it occurred to us … we live not 4 hours from Santa Fe, the end of the trail.  Our family lives only 25 minutes from the trail's beginning in Franklin, Missouri.
"We have to explore this … but what exactly is it???" we wondered.  Oh, wait a sec.  It's a cattle trail, right?
According to the Santa Fe Trail Association, the number one misconception is that it was a cattle trail.  It was actually a route of trade and commerce between America and what was then Mexico.  It's astonishing how fast things progressed in 1821: Missouri was admitted as the 24th US state on August 10th and was the furthest US territory west of the Mississippi; on September 27, Mexico gained its independence from Spain opening up trade with America; and William Becknell, the father of the Santa Fe Trail, immediately left Franklin, Missouri for Santa Fe, Mexico arriving November 16, 1821.  Traders traveled back and forth, then it became a route for pioneers wishing to start a new life in the west.  It was also a military trail, and then in the late 1870s as the railroads came into play, so ended the Trail Days.
Another false assumption we had is pictured above.  We seriously thought the existing parts of the trail would look like dirt roads with two-tracks from the wagon ruts, and that most would have been paved over by highways by now.  Not so.  After almost two-hundred years since the trail began, most of it is now covered with grass, trees and tall weeds.  Pictured above is what it does NOT look like.
So what do you look for instead?
Swales, we were told.
What the heck are swales?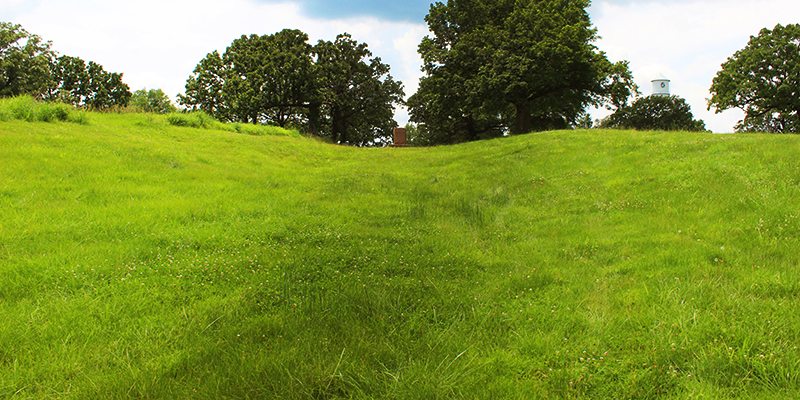 (Pictured: Minor Park swales, Kansas City, Missouri)
Ruts are two-track marks from wagons and oxen/mule teams.
Swales are deep impressions made by thousands of travelers over the years.
Here we are standing in the center of a deep, wide swale from wagon trains. Swales can be up to 20 feet wide where sometimes four wagons ran side-by-side crossing the land, carrying up to 5000 pounds of freight pulled by mules or oxen teams. The weight of the wagons, plus the multitudes of emigrants, traders and animals, left their deep mark in the land. The wagon trains were departing from Kansas City near this spot and the trail is easy to see with the wide groove in the land. Also the vegetation that grows in swales is a different color and texture than the surrounding prairie.  (We also found strawberries and wild onion plants growing from the original trail days.)
Once we found our first set of swales, we could spot them along the landscapes from lush green Missouri to the red earth desert of New Mexico.  There are countless markers for swales / ruts, and we are now official 'Rut Nuts'.

Always exciting to see one of these signs indicating when you are driving on the actual trail route.
We sought out buildings and businesses that were active during the trail days.  Here is the Cottage House Hotel of Council Grove, Kansas.  We stayed here for two days, as this little town is one of our favorite spots and is entirely a Santa Fe Trail National Historic Landmark.  Cottage House was in business and lodged many people heading west.  The town boasts over 24 sites that are easy to find and explore.
On our journey, we past several outposts and forts built to give protection to travelers along the Santa Fe Trail. Over time, the original wood and adobe buildings fell into ruins, but some were wonderfully restored. Here above, we toured Bent's Old Fort in Colorado, inhabited from 1833 to 1849, and was the only major American permanent settlement on the Santa Fe Trail between Missouri and the Mexican settlements. It was re-built by the National Parks Service to the precise blueprint and measurements of the original fort.
Another fort not to be missed is Fort Larned in Kansas, which operated from 1859 to 1878. The original sod and adobe structures decayed and were replaced with the sandstone buildings that make up the fort today. And of course, Fort Union, only a hundred and ten miles from Santa Fe, operated as a frontier post from 1851-1891. Also visible at Fort Union are an amazing network of ruts/swales from the Mountain and Cimarron Branches of the old Santa Fe Trail. (There were two routes to take on the trail, so we traveled both.)
As we reached the wide open prairies of Kansas and deserts of New Mexico, the skies appeared to be bigger.  We also were sure to check the weather each morning and evening because the SFT goes directly through America's Tornado Alley.  One morning we made a hasty getaway to outrun a twister in central Kansas.
Along the Old Santa Fe Trail at Museum Hill of Santa Fe stands "Journey's End," – a huge bronze sculpture of a mule team struggling to pull a Conestoga wagon.  It is a magnificent work of art, and once you find it you realize you are only minutes from the trail's end … just as people traveling the original route would have known when they reached this very spot.
After cataloguing thousands of photos and videos from our two+ weeks on the trail and constantly talking about our adventure, we decided to create a photo and video tour of our favorite moments and discoveries in the format of a guide book.  It's a big project and we will be sharing our progress and more tips on where to go, what to see, and stories along the way as it comes together.
Wishing you Happy Discoveries!
Amy & Mr.D
If you liked this article you may also like …
The Oldest House in Santa Fe, and the Oldest Church in the Continental United States
The Oldest Restaurant / Bar in Santa Fe