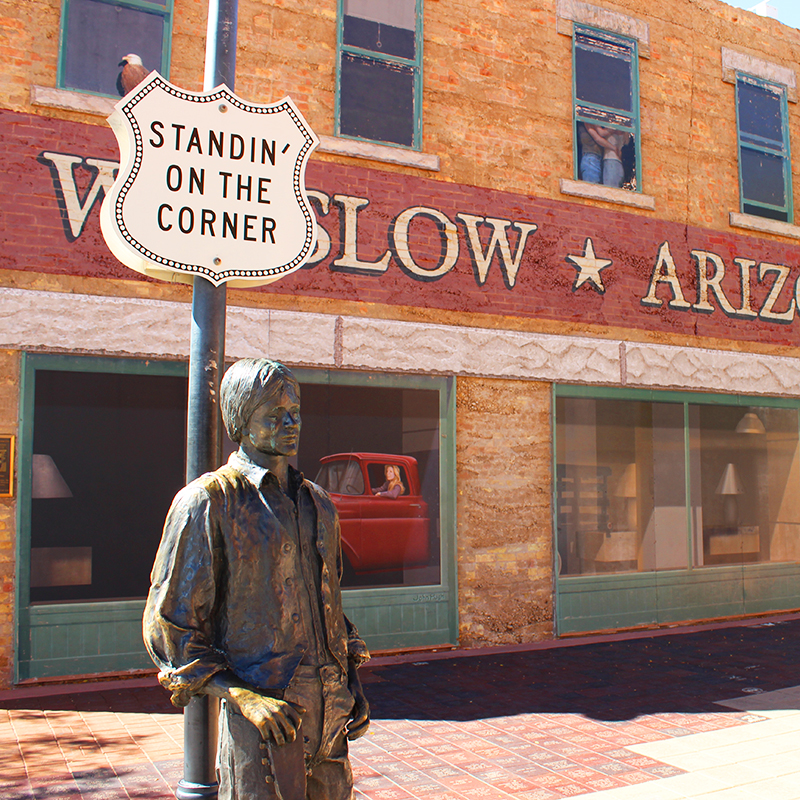 Having grown up in the Mojave Desert, Mr.D knows how it feels to drive 'on a dark desert highway with a cool wind in his hair.'  His teen years were spent listening to the Eagles, and one of his favorite albums is the Eagles Greatest Hits from 1976.
We were traveling east on I-40 with a 'peaceful easy feeling', about an hour and 'already gone' from Flagstaff, and what a fun discovery to stop at The Corner in Winslow, Arizona. Mr.D wasn't so sure if he was 'a fine sight to see,' but Amy thought so as they stood next to the statue honoring the late Glenn Frey.
Winslow is from the old Route 66 days, once thriving, went into decline as the interstate by-passed them as it did with many small towns located along the mother road, causing a definite 'heartache tonight' and for years to come.
Now a revival is taking place in Winslow. A major part is the La Posada Hotel which was saved from demolition (a former Harvey House on the Santa Fe Railroad).  Restored to it's Spanish Mission Revival glory, it reopened in 1997.  Look for an upcoming post covering La Posada and lunch in The Turquoise Room — it's amazing.   'One of these nights' in the near future we look forward to staying there.
And the second element to the revival is The Standin' on the Corner Foundation, formed to create a renaissance for Winslow. Standin' on the Corner Park opened in 1999, it is a public art installation, commemorating the song "Take It Easy", written by Jackson Browne and Glenn Frey, and most famously recorded by the Eagles.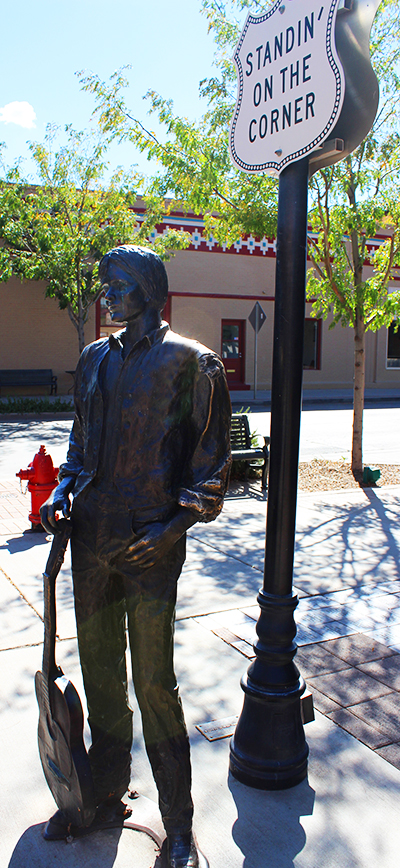 In September 2016, a statue was unveiled at the park in the likeness of Glenn Frey, who sadly passed earlier that same year. ('I wish you peace,' Glenn.)  And as you stand on the corner, look at the murals on the building directly behind the statue. They are excellently painted, full of significance to the song, as well as a flatbed Ford parked on the street. The Standin' on the Corner Foundation has done an amazing job, and we wish them continued success.
So as Glenn would say, 'we outghta' take it easy.' Take the time to stop on your travels to see the sights, 'take things to the limit' when you can, and make a discovery.
xo, Amy and Mr.D
The Annual Standin' on the Corner music festival is in September, so make plans to attend the 19th Annual fest this year.
Nearby fun sights to see from the American Southwest are: Homlovi State Park; Meteor Crater; Wigwam Motel, and the Petrified Forest National Park.