Nestled in the serene Chama River Valley, and just a little ways from the home and studio of Georgia O'Keeffe, the Abiquiu Inn, and the famous Bode's General Store in Abiquiu, New Mexico, is the quaint and charming Purple Adobe Lavender Farm.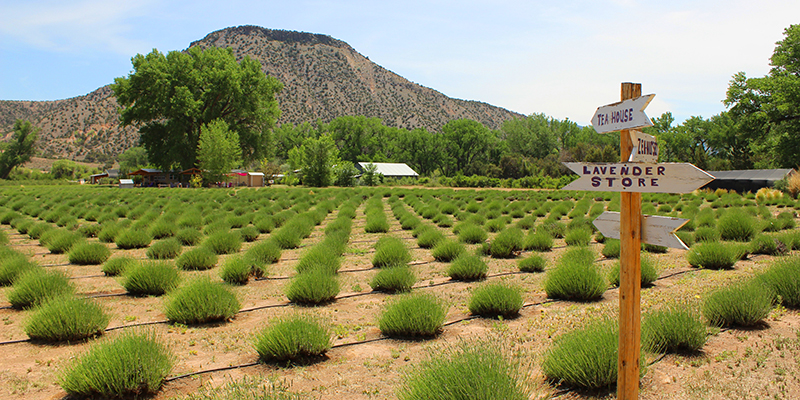 In our Southwest travels, we've always come across the farm in their off season. But this time we were in luck!  We arrived in mid-June just as the plants were about to bloom. The gift shop was open, and we could smell lavender filling the air fifteen feet from the front door.
All of their products are made with all natural ingredients right at the farm, with lavender sachets, body mists, lavender salts and sugars, soaps, lotions and testers for us to try before making a purchase.
Next, we strolled through the lavender field to the Tea House where we snacked on scrumptious treats that were gluten free – carrot cake with lavender icing and lavender sugar, and quite possibly the best lavender and blueberry scone with creamy lavender gelato we've ever tasted. We sat on their outdoor patio and relaxed in the shade, looking out to the farm and cottonwood trees lining the Chama River that so often caught O'Keeffe's eye for a painting. 
The farm was established in 2004 and they have planted over 2500 plants with 15 varieties of special lavender. The terrain with its sandy soil, high altitude, and intense sunlight makes it the perfect location to grow lavender. And at higher altitudes, it produces a finer, sweeter grade of oil that they use in their bath and body, and culinary products. The farm is dedicated to growing organically, and strives to produce the finest product to harvest and steam distill.
Soon the fields will be alive with the aroma of lavender during July and August, and there is nothing quite so wonderful as being surrounded by such an intoxicating floral and calming scent.
If you're in the Abiquiu area the 2nd week of July stop by for the Lavender in the Valley Festival.  There is no entrance fee, so just come and enjoy the lavender and grounds. Visit the gift shop, tour the fields and learn about the farm's history, and enjoy lunch or treats at the tea house. There will also be local artists and musicians at the event, as well as ongoing events around the town of Abiquiu.
They are located about 1 hour northwest of Santa Fe, between mile marker 210 & 211 on Hwy 84.  Look for the tell-tale purple flags to find them, or just follow your nose!
Wishing you Buen Provecho and Happy Discoveries!
Mr.D and Amy
Purple Adobe Lavender Farm website
The Abiquiu Inn Attractions page