One of the best things about a new culinary discovery is an experience that is not only flat-out delicious but also educational.  We've heard rave reviews of Pueblo Harvest, and now that we've had the opportunity to talk with the chef and sample the menu, we cannot recommend enough that you seek this place out on your next Albuquerque adventure.
Located in the Indian Pueblo Cultural Center where the history of the 19 New Mexican pueblos is preserved and honored, ingredients are sourced from native food suppliers as often as possible, and an agricultural business incubator program is in the works.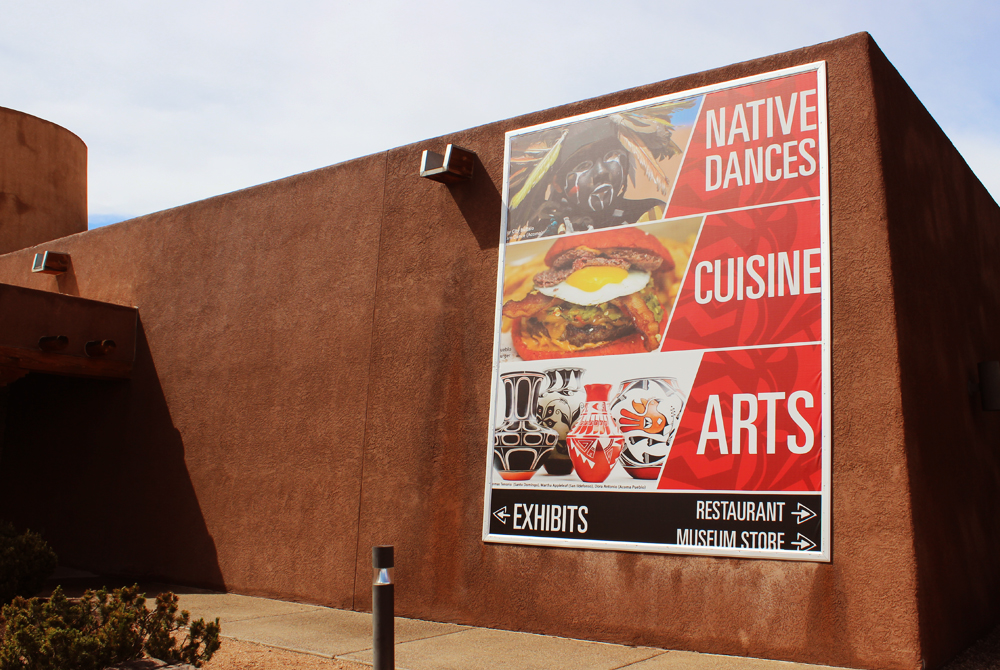 The menu is pueblo inspired with items like Bison Flank Steak, Corned Bison Sandwich, Blue Corn Chicken and Red Chile Waffles, Frybread dishes, and an Obsidian Burger with seasoned black bean patty on a house-made charcoal bun.  Everything is fresh, made-from-scratch and beautifully presented.  Many dishes, particularly the breads, are from the chefs' grandmother's recipes.
Pictured above is the Wojapi dessert from the unique and thought-provoking Pre-Contact section of the menu.  All of these items are inspired by the "indigenous diets before Europeans colonized the Americas."  Wojapi is like a thick cobbler sweetened with ripe berries.  No sugar is added and the topping is red corn maple crumble.  Not too sweet, with earthy corn notes and juicy berry flavors.  You will most likely gobble it all right then and there, but if not be sure to take the rest home because you will crave it later. (Tip: if you want a bit more sweetness, ask for a scoop of ice cream).
Also on the Pre-Contact menu — Cedar Braised Turkey, Tribal Trout with Wild Greens, and Pan-Roasted Winter Salmon with Butternut Squash Puree, Wilted Greens and Cranberry Compote (pictured above).
Coastal guests of the cafe rave about this salmon.  It's crisp on the outside and flakey tender inside.  The combination of sweet squash with tart cranberry and herb-y greens is a clever combination.
Menus change twice a year with the solstices.  Some people become attached to dishes and get a little upset with the switch-over until they discover a new brilliant, seasonal dish to fall in love with.
Here is a link to Chef Brent Moore's demo of the Tewa Taco that is a Best in the City famous frybread taco.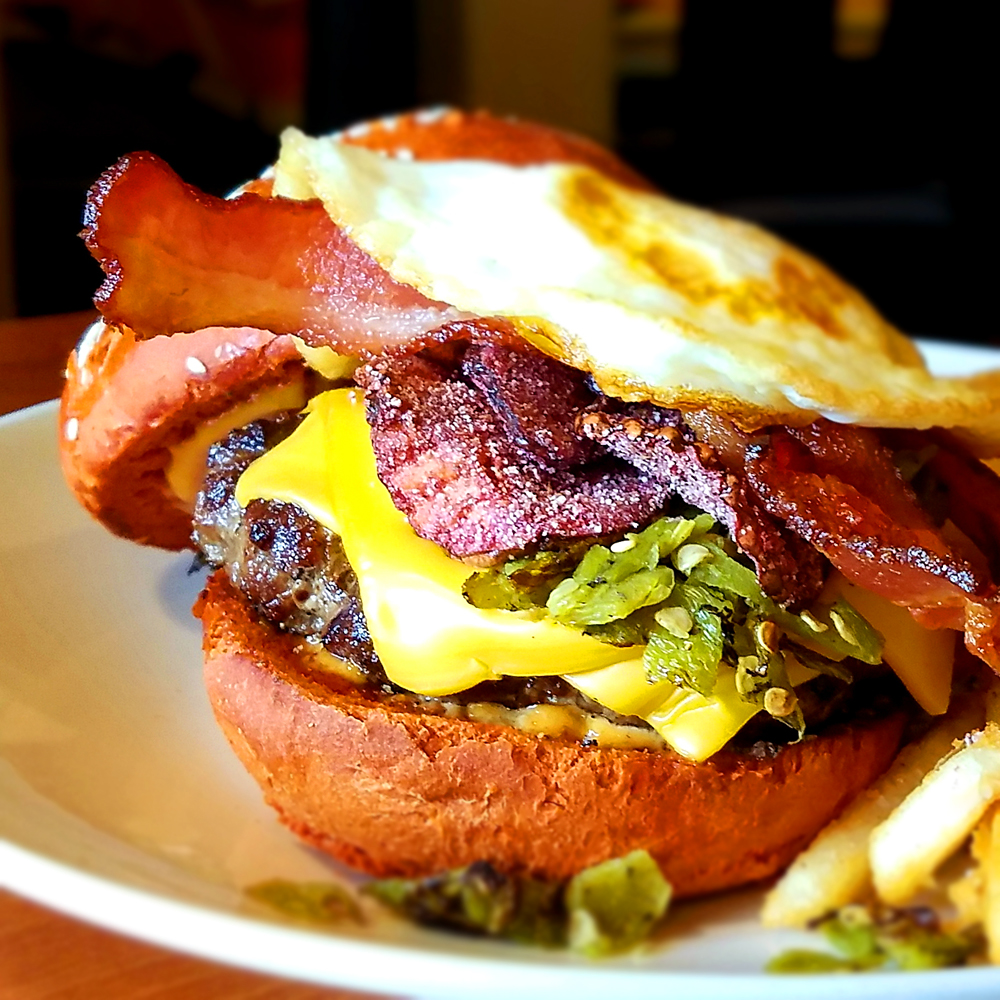 Here we have the Pueblo Burger that is featured on a huge banner at the museum entrance.  There's a reason for this colossal honor and we are going on the record — this is one of the Top 5 Burgers of the American Southwest.  Many of you know of our burger road trips, traveling the Green Chile Cheeseburger Trail, and life-long mission to sample the artisan burgers of Durango Colorado, mom-n-pop stands and highfalutin fancy burger fare.
Seriously.  Without a doubt.  The Pueblo Burger is beyond beyond.  Ready for this? …
The bun is a light but sturdy red chile house-made secret recipe masterpiece, with a tender New Mexican beef patty that is hand formed and char grilled.  The bacon is thick slab smoked and also hush hush, although we suspect there is brown sugar or some candied smokiness there?  Next is the fresh Green Chile with just a bit of heat, two slices of gooey melt-y American Cheese, with a cage-free fried egg that all mix with the chile like a big ladle-full of luscious queso dip. The chipotle mayo adds another flavor level and the kicker — Fried Kool-Aid Pickles with tangy-sweet black cherry dill.  Yep, that's right.  Look for the recipe below (of the non-fried marinated traditional style) and please leave a comment after you've become eternally hooked on them.
File this in your phone.  Make a note.  Text yourself.  Post-it in your travel to-do files … ALBUQUERQUE – MUST HAVE – PUEBLO HARVEST CAFE BURGER.
Kool-Aid Pickles Recipe courtesy of Joel (a highly qualified Kool-Aid Pickle aficionado):
1 (32 oz) jar of hamburger sliced dill pickles
2 packages Black Cherry Kool-Aid
Mix together in the jar and marinate in the fridge overnight.
Eat.  Repeat.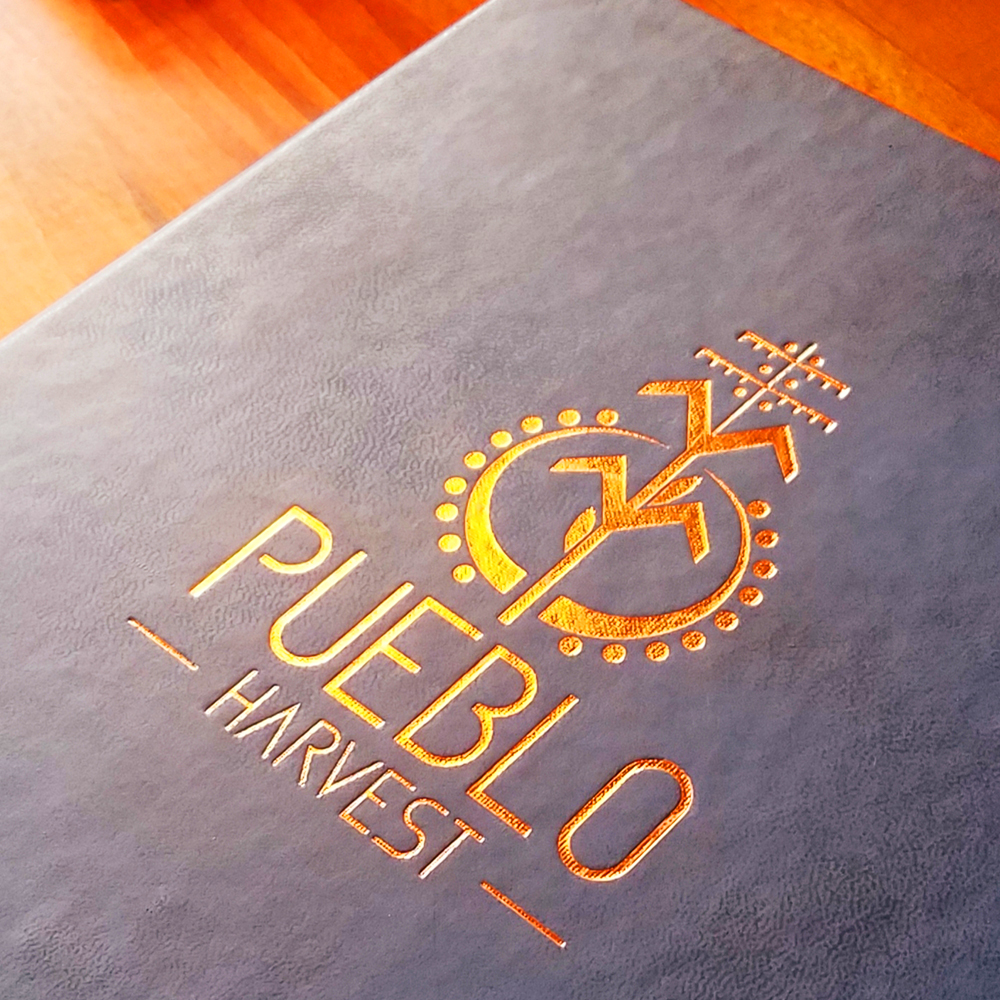 After your meal, be sure to tour the museum to learn about The Pueblo Story.  We just had the honor of walking through the exhibits with curator Rachel Moore and will be posting about that incredibly special discovery soon.
Wishing you Great Discoveries and Culinary Treasures!
Amy & Mr.D
Pueblo Harvest Cafe – About Page
Pueblo Harvest E-Newsletter Sign Up