North-central New Mexico … This 'outdoor museum'  has so many remarkable moments, we suggest that you buy a trail guide at the ranger's station to follow the numbered markers describing the significance of what you are seeing.  
Just a little North of the town of White Rock, New Mexico on Route 4, blink and you could miss it.  A dirt pull out and parking area takes you to the Tsankawi National Monument entrance.  Tsankawi prehistoric site (san-ke-wii), is a lesser known area associated with Bandolier National Monument, and is absolutely a must see.
You are on your own to explore the park on a self-guided tour.
The trail is roughly 1.5 miles long, and can take about 2 hours to complete at a leisurely pace. This is a moderate hike and involves maneuvering over rocks, climbing ladders, and shimmying through grooved pathways.
There is a minimal fee required to enter, restroom facilities are located at the entrance. Wear sturdy shoes, and as always in the arid climate, bring plenty of water (more than you anticipate you'll need ).
As you set off down the dirt pathway, take a moment for a deep breath of air to smell the juniper, piñon and sage brush. Take in your surroundings and know you are walking upon land that was inhabited back in the 15th and 16th centuries. It is beautiful and serene.
You first come to a ladder that takes you to the first plateau. After climbing up, views of the valley expand to mountains in the distance. Follow the well marked path to the amazing actual ancient trails worn deep into the soft tuff stone. Incredibly special — walking these ancient pathways. (pictured below)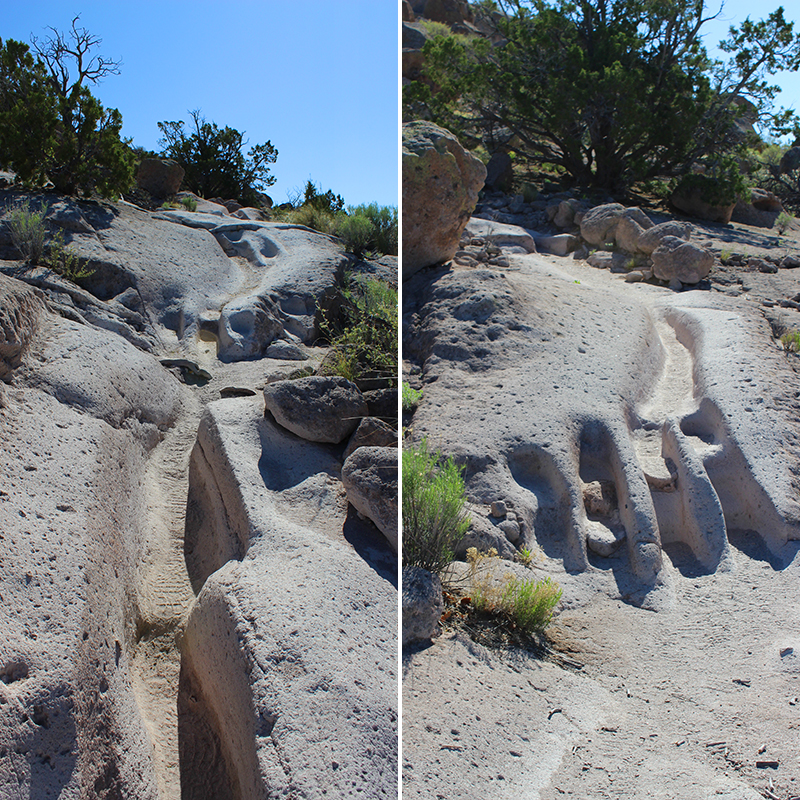 Continuing on, work your way along the paths and rocks until you reach an area taking you to the very top plateau. You can either use the ladder to access the top, or wiggle and climb through a narrow pathway. Once on top, you are rewarded with fabulous views of the Rio Grand Valley.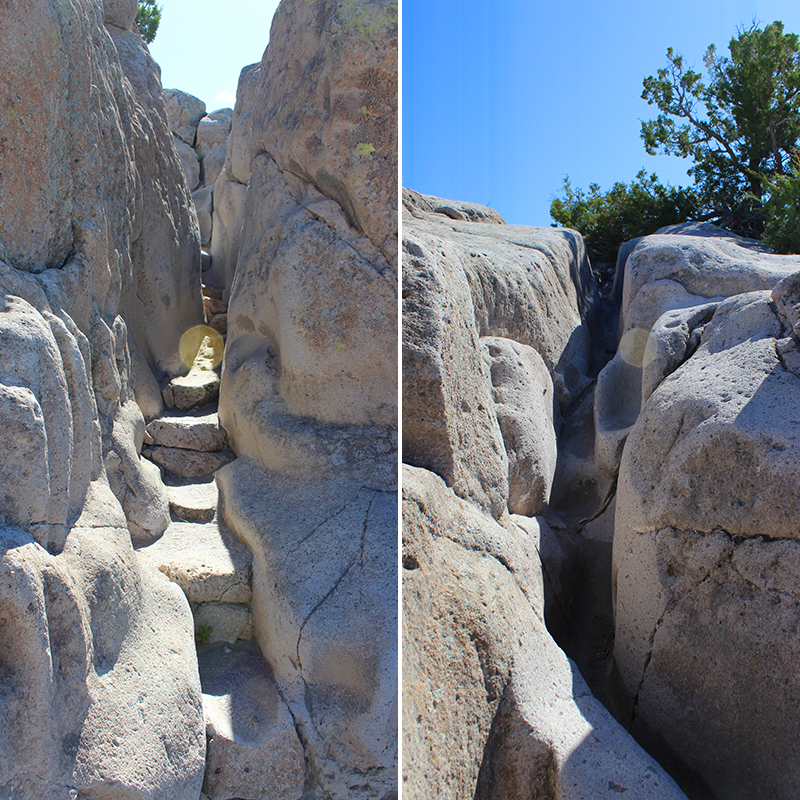 The ancient inhabitants built pueblos up on this plateau, and also cut into the cliff walls to make caves. There are sites here that have not been excavated and are now overgrown with brush.  Some of the stone work is still visible, and you can find pottery shards lying on the ground.
Note, do not take any shards that you find.  Please leave them for others to see and enjoy, and archeologists to use for research.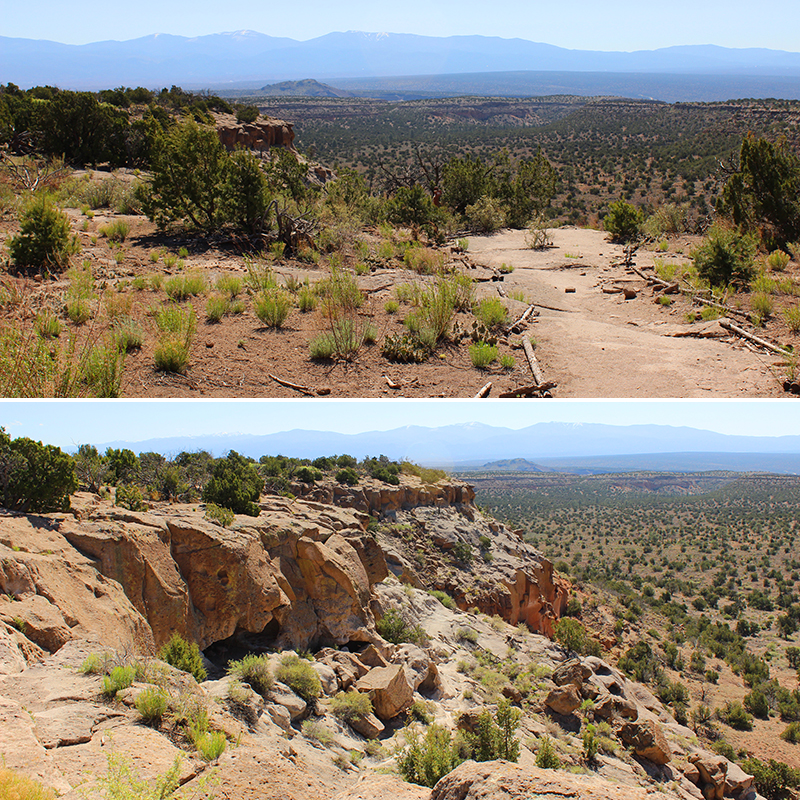 As you explore the plateau and take in the views, you eventually pick up the trail that leads you back down the same well worn pathways, and then another ladder to help you back to the lower area where the cave dwellings are located.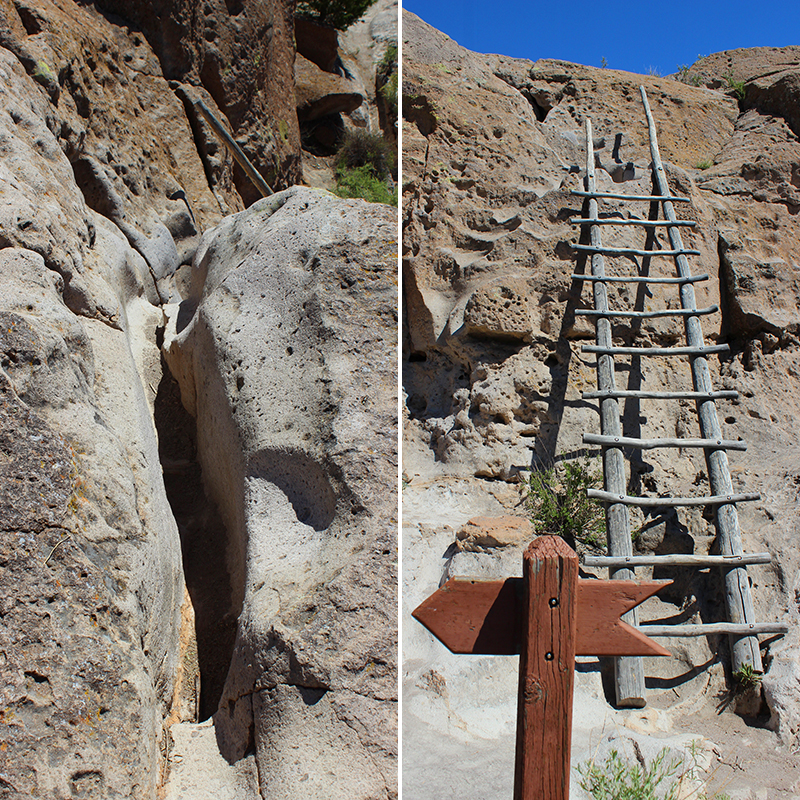 Exploring these caves is an amazing experience.  Some entrances are cut into shapes of human forms, and you can still see soot from cook fires on the ceilings.  Round holes are carved into the rock where wooden poles were once set into place to extend out where wooden structures were once built for living space.  Remarkable ingenuity.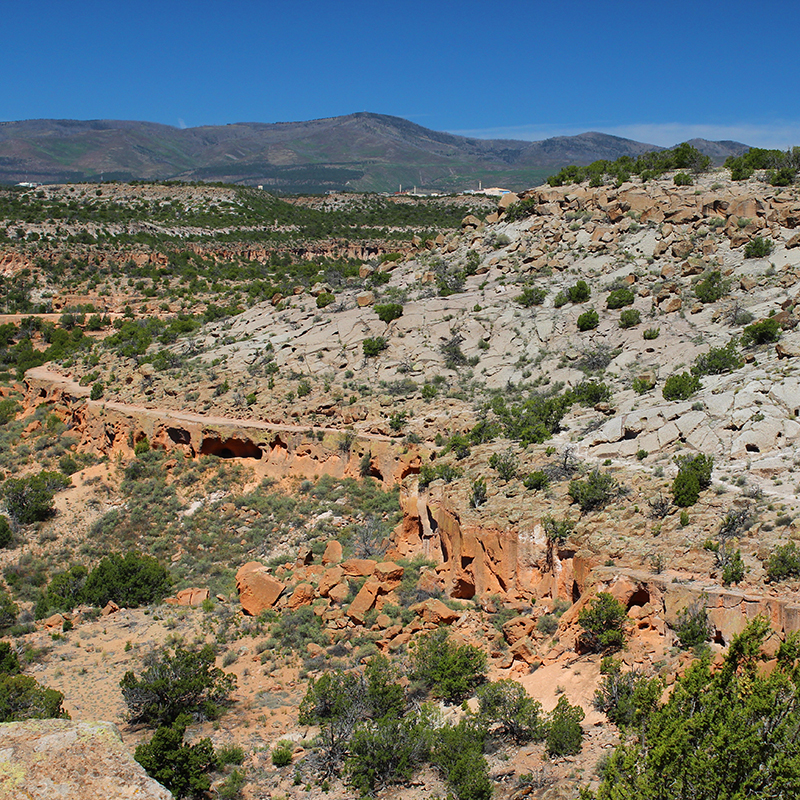 As you walk the trail heading back, be on the watch for petroglyphs etched into the rock face as well as in some caves. There are depictions of people, animals, birds and other designs.  The carvings were etched into that soft tuff stone that unfortunately erodes, making some of the designs difficult to see.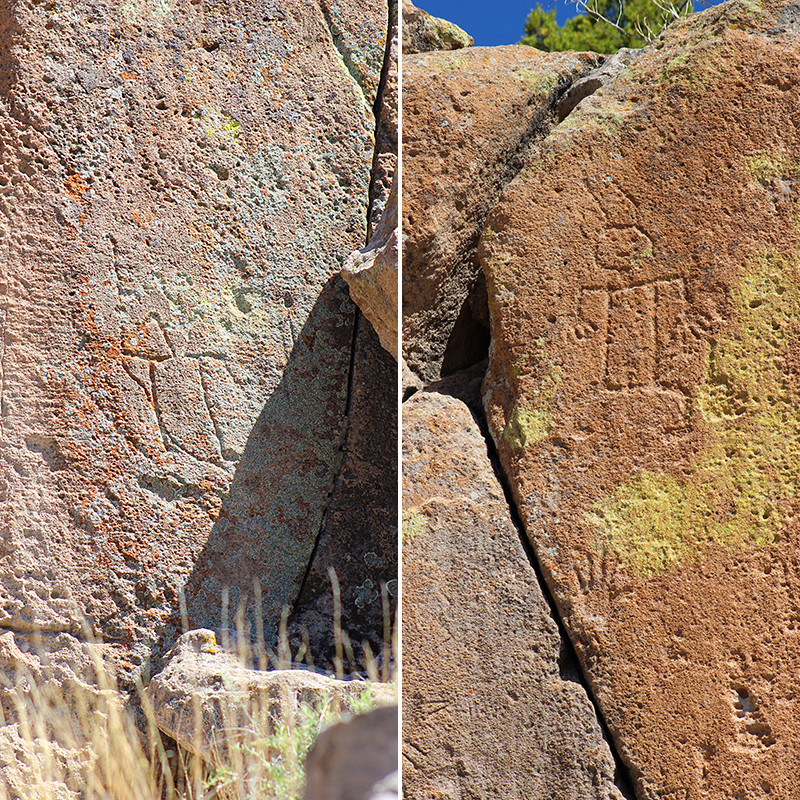 Tsankawi National Monument is an incredibly special place to visit, unique in every way.  Located 12 miles from Bandelier National Monument, 1 hour 45 min (103.5 mi) via I-25 North of Albuquerque, 52 min (40.3 mi) via NM-4 Northwest of Santa Fe, 1 hour 36 min (71.1 mi) via NM-68 South of Taos, and 4 hours (211.8 mi) via US-84 East and US-160 East of Durango, if you are in the area you must take this opportunity to walk in the footsteps of the Ancestral Puebloan people.
Happy Discoveries!
Mr.D and Amy