She's lived in the Mesa Verde area for twenty-five years now, and calls it the intersection of art and adventure.  Deeply rooted in this thriving artist's hub as President of the Creative District, on the Mancos School of The West steering committee, to name a few organizations she supports — when she's not painting, creating weavings, working with clay, cooking something fabulous, or putting together a gallery show, she's skiing, hiking with Spike (pictured), or riding her beloved horses Stargazer and Red all around the gorgeous Mancos Valley.  Referred to as artistry in motion, we are pleased to introduce Rena Wilson …
SWD Guest Q&A

SWD:  Are you originally from the Southwest?  
Rena: No, I'm originally from Grosse Pointe Park Michigan.  I came out skiing 25 years ago to Telluride and Purgatory and fell in love.
6 months later I came out on a backpacking trip, it was then I put a plan in place to move to Mancos, Colorado.
SWD:  Soft tacos or crunchy? 
Rena: Both, I like soft corn fish tacos to hold it all together and crunchy corn barbacoa tacos for the texture.
SWD:  What are your favorite adventures or getaways in the Southwest? 
Rena: My favorite adventure is riding my horses up into the mountains in the summer and going into the desert with them in the winter.
Rafting the Dolores and Animas rivers in my ducky with friends is always an adventure. Downhill and cross country skiing still a favorite.
Each day such possibilities.

SWD:  What is your favorite margarita? 
Rena: My favorite Margarita is called the Presidente, Silver Patron, Presidente Brandy, Grand Marnier, fresh lime with a salted rim on the rocks and extra lime garnish.
SWD: What is your favorite Southwestern National Park? 
Rena: They are all amazing but Mesa Verde has a spiritual connection for me.
SWD:  Red or Green (or Christmas?)  
Rena: Fire roasted hatch green for sure.
SWD:  What is the most satisfying aspect of what you do?
Rena: The Mancos Creative District, the Mancos School of the West, and curating the Gallery at "Olio" restaurant occupies most of my time.
Being involved in the arts, creating art, and supporting local artists, really makes me happy!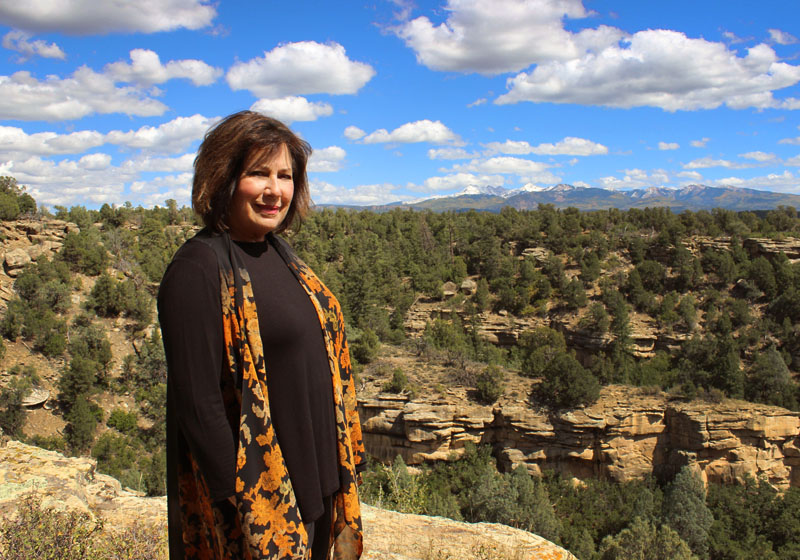 SWD:  What is the most challenging aspect of what you do?
Rena: The time involved in making it all happen.  I still need to be able to enjoy why I moved here.
SWD:  Corn or flour tortillas? 
Rena: Always corn, I try to be somewhat gluten free.
SWD:  What do you absolutely refuse to eat?  Any particular reason?
Rena: I've never liked the taste of green bell peppers, even though I love all mexican green peppers especially poblano and jalapeno, and shishitos.
SWD:  This may have just been answered, but … What are your thoughts on menudo (and no, we don't mean the boy band)?
Rena: I don't really care for the thought of menudo so I've never really tried it to be honest.
SWD:  If you hypothetically moved away from the Southwest, what would you ask people to send to you in a care package?  What would you miss the most about the Southwest?
Rena: Hatch green chiles and a bundle of sage.
Rena: Where is your favorite Green Chile Cheeseburger?
Rena: Probably James Ranch
SWD:  Is there a place outside of the Southwest you would like to visit?  Some intriguing spot around the world?
Rena: Italy, my favorite hidden spot on Lake Como, and I'm not going to share so it stays beautiful and quiet.
SWD:  Is there a Southwestern destination you've been wanting to visit?
Rena: I recently drove through Bryce Canyon, Grand Escalante Staircase, and Capital Reef, I'd definitely like to go back and explore.
SWD:  Do you have a mantra?
Rena: Live life fully each day!
###
If you liked this article you may also like…
Q&A With World Renowned Curator Of Native American Art
Q&A With A Seriously Far Out Photographer