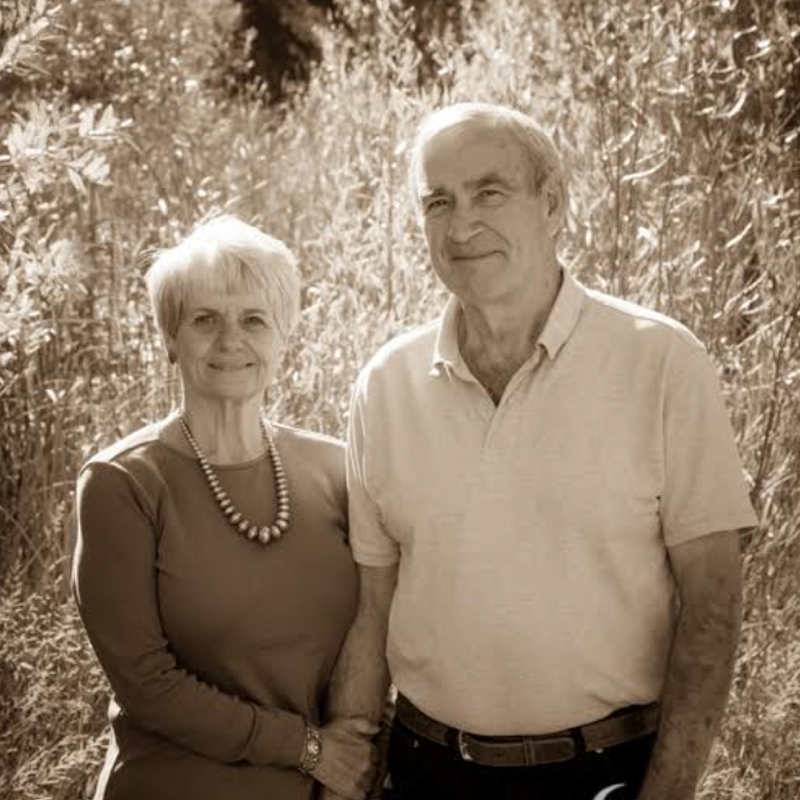 Introducing our dear friends and amazingly talented ceramists, Sandy and Nick Blaisdell.  Nick graduated from UCLA with a Master's degree in ceramics and has devoted his career to perfecting his art.  He is a master potter of over five decades and works with the intent to create "pots of lasting value that transcend time and origins."  Sandy's ceramic, metal and mixed-media beaded necklaces are highly sought after, as each clay bead is hand-built or thrown on the wheel, then individually carved and hand-dipped into the Blaisdell's custom glazes.
We have been to their studio many times and it is a ceramist's dream, with large work space and kiln room.  On days when the kiln has fired and they open it up, it's like Christmas morning revealing a huge treasure trove of skillfully crafted, intricately textured art pieces.  Their work is exhibited in numerous galleries throughout the Southwest.  So please meet these inspiring artist soulmates from Durango, Colorado for this week's guest Q&A.
SWD GUEST Q&A
SWD: Are you originally from the Southwest?  If not, what brought you to the area?
Sandy: I have lived in the Southwest my entire life. With the exception of my first three years in Denver.
Nick: Born in Bradford, PA. and raised in Southern California.  I moved to Durango in 1986 for peace of mind, the environment and the pace of life.

SWD: Soft Tacos or Crunchy?
Sandy: Crunchy because you need a fork to eat all the droppings!
Nick: Crunchy. I like the textural challenge!
SWD: What is your favorite adventure or getaway in the Southwest?
Sandy: Definitely Santa Fe. I love the architecture, galleries and the Plaza Cafe!
Nick: The slot canyons of Lake Powell.
SWD:  What is your favorite Southwestern National Park?
Sandy: My favorite place on this planet is Zion National Park.  The rock formations remind me of my younger years living in Monument Valley.
Nick: Zion
SWD: Red or Green (or Christmas)?
Sandy: Always Green…and preferably "Hatch".
Nick: Red chili at noon and green at night.
SWD: What is the most satisfying aspect of what you do?
Sandy: Spending time in the studio with my husband.  He's my inspiration and as my mentor, I can draw on his 50 years of being a ceramic artist.
Nick: Pottery: the absolute immersion, pursuit of form, texture, function, the Zen of throwing, the joy of a hand made vessel.
SWD: What is the most challenging aspect of what you do?
Sandy: Marketing.  It's easy spending endless days creating beads and designing jewelry.  Marketing is ongoing and always evolving.
Nick: Not feeling guilty about how good my life is.  Lucky Dog. Maintaining a pursuit of excellence. Always trying to find the absolutely right solution to every pot.
SWD:  Corn or flour tortillas?
Sandy: Corn….blue  being my favorite.
Nick: Corn, with fish tacos, soft or hard.
SWD: Do you cook?  What do you love to make?
Sandy: Yes.  Anything from my collection of Ina Garten cookbooks.  You can never go wrong with the "Barefoot Contessa".
Nick: When necessary.  I make a mean omelette.
SWD: What do you absolutely refuse to eat?
Sandy: Like you, SWD, organ meats!  Add anchovies and sardines to the list.
Nick: Olives
SWD:  This may have just been answered, but … What are your thoughts on menudo (and no, we don't mean the boy band)?
Sandy: Menudo falls into the same category as "mutton stew"….not on my radar!
Nick: Ditto!
SWD:  If you hypothetically moved away from the Southwest, what would you ask people to send to you in a care package?  What would you miss the most about the Southwest?
Sandy: My care package,  a case of "Durango Diner's Green Chili".  I've been eating at the Diner since 1969.  Plus a basket of artisan cheese, grass fed beef, organic veggies and fresh cut flowers from the "James Ranch"….Most of all I would miss my family, friends, the mountains and our home/studio.
Nick: Green Chile.  I would miss the terrain, red cliffs, the desert, sunsets and wind in the pines.
SWD:  Is there a Southwest destination you've been wanting to visit?
Sandy: Having lived in the Southwest for 60+ years, I have wants for "re-visits".  Another trek to the bottom of the Grand Canyon and see Havasupai Falls would be nice.  Kayak more nearby lakes…anxious for Lake Nighthorse to open, it is only five minutes from our home.
Nick: Chaco Canyon.  It's a humbling experience when I walk the ancient sites and try to imagine what lives have gone before and how they managed their daily lives, their rituals, their joys, their sufferings.
SWD:  Do you have a mantra?
Sandy:  "The trouble is, you think you have time"  Buddha
Nick: Let me live each day as though it is my last.
###

Portrait Photography by Kyla Jenkinson & Wesley Sebern of Photo Divine
[email protected]
Website
Artwork Photography by Paul Ambrose of Desert Dolphin
Website
Blaisdell Contact Info:
Gallery Listing:
La Fave Gallery – Springdale, Utah
Website 
[email protected]
Owner: Kathy La Fave
Marigold Arts – Santa Fe, New Mexico
Website
[email protected]
Owner: Bo Frazier
Art Director: Janice Griffin
Earthen Vessel Gallery – Durango, CO
Website
Owner: Valerie Schwiderski
Ago Gallery – Ouray, CO
no web site (under construction)
[email protected]
Owner: Paige Sackman
Handcrafted Interiors Art Gallery – Pagosa Springs, CO
Website
Owners: Cappy White & Monica Greene
Arborena, Mancos, CO
no web site