We are smitten with the Arizona Inn — Tucson's pink adobe boutique hotel on a fourteen acre estate, and we've nicknamed it The Tucson Valentine because it's a place to fall in love, be married, with a sense of stepping back to a simpler time,….and it's also a warm rosy pink!  A special gift for everyone, all year long.  Here are 7 reasons to love this elegant time-travel to the 1930s …
1.) THE HISTORY
We were immediately taken in by the Southwest architecture we love, and admired how well groomed and maintained everything appeared. So it was fun for us to learn about the amazing history of this spectacular inn. Built in the early 1930's by the first U.S. congresswoman in Arizona, Isabella Greenway, it remains family-owned to this day.  A philanthropist and supporter of World War I veterans, Isabella first began a Tucson furniture shop where veterans were hired to learn the craft of woodworking.  After the stock market crash of 1929 she realized that opening an inn would keep everyone employed, and the beautiful furniture by these master craftsmen are still found throughout the rooms, library and dining areas.  Several elegant, individual residences were first built to accommodate families escaping the east coast winters for long stays.  Today the inn has 92 casita style rooms, with 2 detached houses, and some of the original residences have been divided into grand suites.  A favorite snowbird spot of presidents, the Vanderbilt family, Frank Sinatra, John Wayne, Clark Gable and numerous celebrities over the decades, this is a place where elegance is forever caught in time. So much so that we felt like Bogart and Bacall running away for a romantic weekend.
2.) THE ROOMS
Pictured is a suite from one of the original residences we had the pleasure of staying in, and we were in heaven.  Rooms are spacious, and most come with a patio and fireplace.  Early guests traveled by train to reach Tucson which is why most closets are enormous to fit their large steamer trunks.  The placement of flatscreen TVs are an afterthought and at odd angles for viewing.  This is because the original design, before television was invented, was meant for guests to look out on their window views, admire the antique furnishings or gather in the living room to read and socialize.  All guest room writing desks were originally (and remain) positioned by windows for gazing out while composing letters to friends back east during the dead of winter, regaling them with things like, "Dearest Uncle Teddy, how sunny warm Tucson is, and a dip in the pool is planned for later in the day, after our tennis lesson.  Hoping you are well after the recent ice storm."  The beds are luxurious, with turndown service, full menu room service available from 6:30am to midnight, and bottled waters are replenished daily to keep guests hydrated in the arid desert climate.
3.) BREAKFAST IN THE AUDUBON BAR & OUTDOOR PATIO
What a beautiful spot to start the day, either indoors seated beneath the skylight with cheerful morning sun streaming in, or the outdoor patio looking out onto the manicured grounds with roadrunner sightings and occasional visits from butterflies or a hummingbird.  Memorable breakfasts include the tender Short Rib Benedict (pictured left) on house-made cheddar chive biscuits with cage-free poached eggs and buttery tart hollandaise that Mr.D thoroughly enjoyed, and the Vegetarian Omelette (pictured right) with asadero cheese, mushrooms, spinach and tomatoes that Amy relished with every bite. (Breakfast, lunch and dinner are served in the Audubon Bar, with live jazz piano music every night… a definite treat.)
4.) DINNER IN THE MAIN DINING ROOM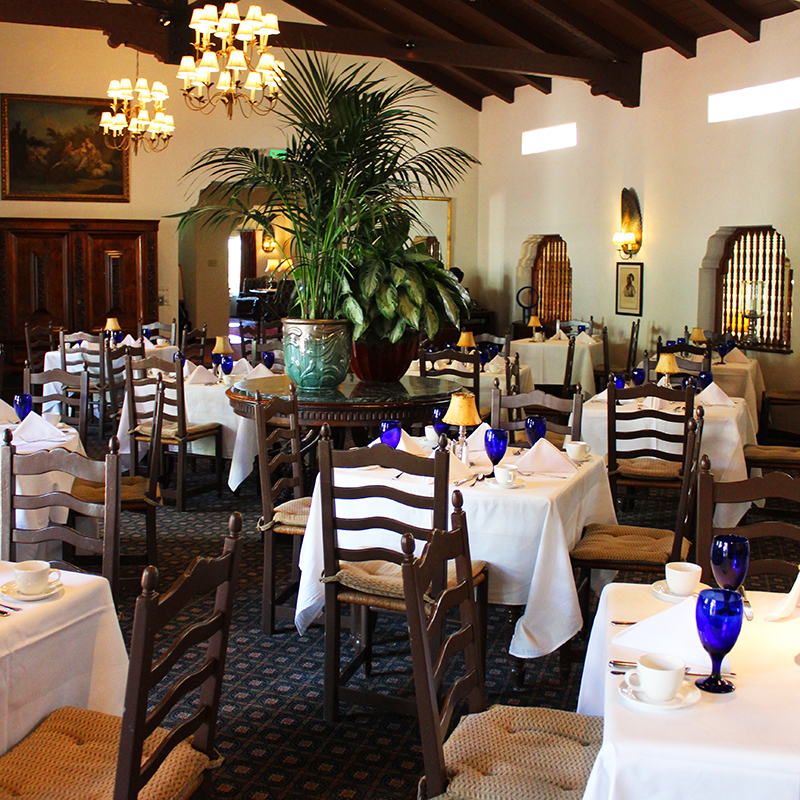 Again, walking back into 1930s elegance.  A grand room in the Spanish Colonial Revival style of the inn, with cathedral ceiling and a courtyard.  All of the tables and chairs were crafted by veterans, and the inn employs a full-time master furniture maker / woodworker to maintain the original furnishings in their on-site workshop.  A few memorable delicacies we recommend from their menu of fine dining classics with international influences include the domestic caught Calamari with Chorizo with polenta cake and mango salsa, French Onion Soup with herbed croutons and gruyere cheese, Lamb Burger with pickled onion and black garlic goat cheese, Pork Tenderloin with pecan polenta cake and vegetables with tomatillo sauce and mango salsa, and the Duck and Waffles with duck confit, Belgian waffle with cherry compote and Sriracha maple syrup.
5.) THE POOL, AND ICE CREAM BY THE POOL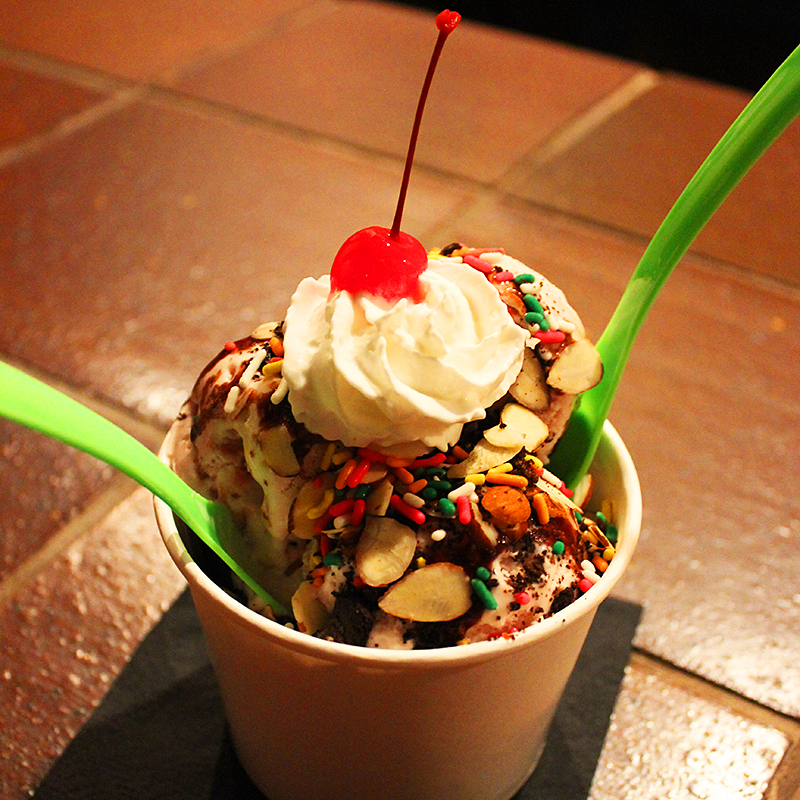 Aaaahhhh, the famous pool!  60 feet long, sparkling clear blue, surrounded by palm trees, comfy lounge chairs, all the towels you desire, and poolside tables for reading and socializing.  Heated for when night time desert temperatures cool, it is open from 6am to midnight.  From April to October a good idea is to take a stroll of the grounds after dinner and find yourself in the adjacent pool room for the full ice cream sundae bar.  Featured is a mixology of yummy treats that we concocted from the buffet, and it made us feel like kids on a first date sharing this sundae. This is the place to be after a long day of sight-seeing, tennis on the clay courts, a game of croquet, ping pong, or a ride on one of the inn's complimentary bicycles.  Also, cocktails and light fare are served poolside.
6.) THE LIBRARY
More beautiful examples of original furniture pieces, with large beamed ceiling and coffee service every morning.  A quiet, graceful place to read your morning paper, play a game of chess, a favorite place for guests to meet with friends and plan out the day.  The inn offers a complimentary DVD library, and from November to April afternoon tea is served here.  Just across from the library is the main dining room, and isn't this just the perfect spot to gather and mingle before a fabulous dinner?
7.) THE GROUNDS AND PRIVACY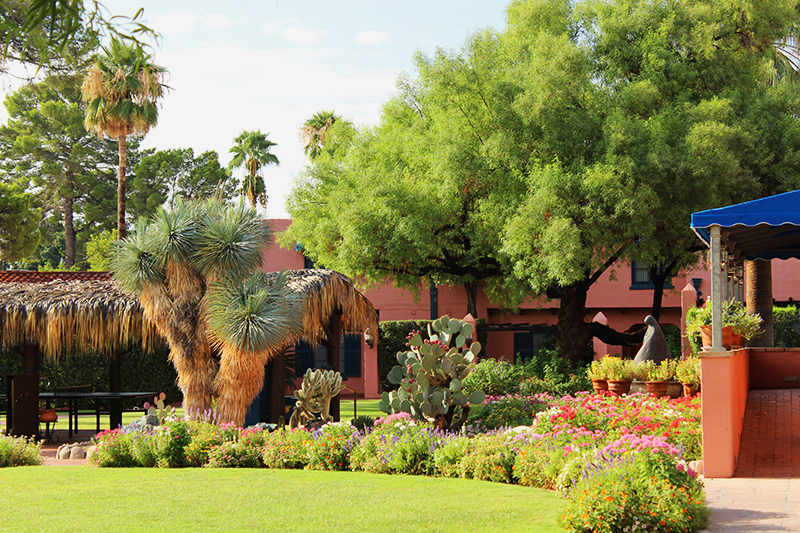 Although located mid-city near the University of Arizona, there is virtually no evidence of city noise while walking the quiet grounds.  Bunny rabbits hop around as you wander from flower garden to cactus garden to fountain.  All of the structures are a warm, rosy pink and cast a soft glow on everyone.  Gardeners use electric lawn mowers and manual clippers, so there's no worry of leaf blowers waking you up.  So soothing, private and romantic, no wonder the inn is a premiere destination for weddings. We loved our stay and kept trying to figure out how we could be adopted by the owners so we could live at the inn permanently… wouldn't that just be divine! Thank you to the wonderful staff who made our stay memorable and a joy to experience.
Such a special discovery, we cannot wait to return!
xo Amy & Mr.D
Here is a link to the Arizona Inn
Here is a link to their Photo Gallery
Here is a link to their Accommodations Page
Here is a link to their Dining Photo Gallery