Our go-to red chile recipe, this article first posted in 2014 and we can never find enough dishes to smother with this intoxicating and healthy red sauce …

Just like everyone in the Southwest, I have my own red chile sauce recipe.  To be clear, it is traditionally called 'red chile' and adding 'sauce' at the end raises an eyebrow around here … but either way you say it, it is rich, earthy and unique.  Many years ago when I first tasted it, I thought it might have a tomato base, a lot of butter and took eight hours of simmering to get that depth of flavor.  So you can imagine my surprise to find out that it's very healthy, traditionally made without butter.  Or tomato.  Only takes a half hour to cook.  And most of that time is spent simmering everything in a covered pan.
I buy my dried pods in big half-pound bags or scoop them out of bins at the market.
They're labeled as Red Chile Pods or New Mexico Red Chile Pods or Hatch Red Chile Pods.  They're brittle and break apart easily.  When you shake one the seeds inside sound like a baby rattlesnake.  They smell smoky, with a hint of fruity roasted tomato.  But more earthy.  Not peppery like black pepper makes you sneeze peppery.  And not herbie like a fresh red bell pepper.  It's hard to explain because they really are so unique.  In the photo above you can see how gorgeous that deep red is.  And they're dusty, which is why I rinse them well in cool water before cooking.
The bags and produce tags are marked:  mild, medium, hot or extra hot.  I go for mild.  Mr.D was born with some kind of heat shield on his tongue, so medium or hot for him.
This recipe is so simple.  Adapted from the one printed on the back of the Mesilla Valley Mild Pods bag, from Hatch, New Mexico.   And because everything will simmer together and then puree in a blender, there's no need to perfectly dice or mince the onion and garlic.
To prepare the chiles you just break off the stems, then crack them open and shake out the seeds.
Season with Mexican oregano, salt and ground coriander seed.
It all boils in chicken stock for 5 minutes.  Then reduce to low (that's a 2 out of 10 on my stove) … cover and simmer for 20 minutes.  Expect a wonderful aroma to fill your house.
Then it all goes into a blender with two tablespoons of butter.  I've been told that butter isn't traditional, but I like that tiny hint of creamy silkiness.   Blend for two or more minutes and then use a spatula to push it all through a sieve.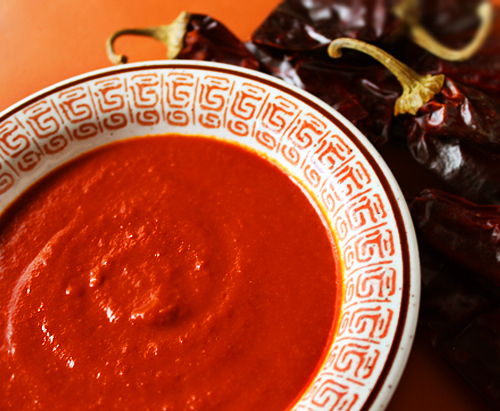 This has been blended but not sieved.  Some people love the texture.  I prefer to take the extra step and seive it for a really smooth sauce (like in the very first top photo of this post.)  Poured over pork chops, scrambled eggs, topped with shredded cheddar, diced tomato and onion … breakfast is served.  The uses for red chile are endless!
New Mexico's official state flower is the yucca.  The state bird is the roadrunner.  And the official state question is "Red or Green?"  Do you want red or green chile with your meal?  If you want both you say "I'll have Christmas."  And that's why every day is Christmas in New Mexico.
xoAmy
[gmc_recipe 939]