We love to road trip and picnic along the way.  Our gear includes everything for spontaneous al fresco dining pop-ups … we call it our mobile living room.  But one thing we haven't traveled with is a grill.  They're heavy, take up too much cargo space, and need to cool down for a long time before packing up and moving on.  And sometimes public grills aren't in great shape.  So, we found the perfect solution … a suitcase bbq grill.  It's so tiny it can fit in a backpack.  For this weekend's picnic and christening of our new toy (hooray early spring weather!), we chose to test it out with chicken kebabs.  Here's how we use it …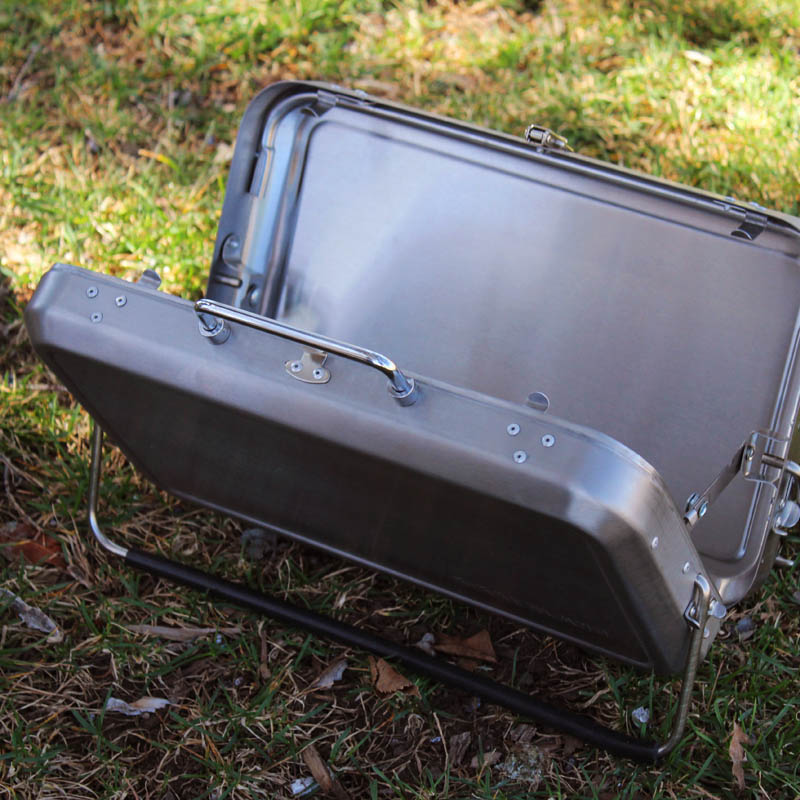 The design is genius and easy to use, everything fits together and is compact.  The container we used to transport the kebabs was bigger than the grill.
First, we lined the inside of the suitcase with aluminum foil.  This makes for easy clean-up and also keeps it from getting char marks.
Pictured is the charcoal tray filled with about 10 – 12 bricks.  Notice that we placed it lower, towards the bottom of the grill.  This allows for 4 -5 inches of space between the hot coals and when you position the top grill rack.  This is great for slow cooked almost indirect grilling.
There are two wire feet attached to the bottom of the little charcoal tray to adjust for height.  When extended the tray raises to 1-inch below the top grill rack.  This would be the way to go for burgers, steaks and direct heat.
This little baby fires up quickly.  It may be petite but cranks up the heat.  It took 10 – 15 minutes for the coals to turn gray.
With such a small grilling surface, we decided to make 8-inch long kebabs.  (See below for the recipe, it's a snap.)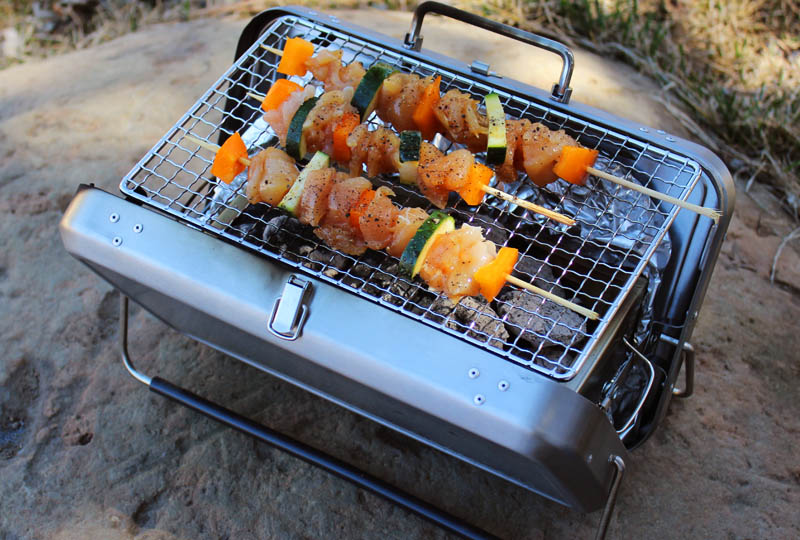 Just as the coals were ready, we put the top rack on so it wouldn't warp as the grill heated up.  It's designed to be light-weight, hence not a heavy-duty grate.
A little canola oil brushed on the grate and the party began!
Depending on how warm it is outside, cooking time is anywhere from 5 – 10 minutes or until the chicken is opaque with no pink in the center.  On this springtime cookout, a light breeze picked up and it got a little chilly out.  So Mr.D tented the kebabs with a foil dome to keep the heat in.
The kebabs were perfectly cooked and juicy.  Also on the picnic menu, we chose a selection of cheeses, meats, jams and fruits from our Vineyard Platter.
We were so happy with the results, we went to the store for steaks to grill that night.  It fit 2 petite ribeyes perfectly.  We set the charcoal tray to the higher position and grilled them 5 minutes per side for medium well.  Since then, because we're having so much fun, we've grilled chicken strips for street tacos, sliced zucchini, marinated cucumbers (like braised but even better), pineapple slices for charred salsa, and heated up our corn tortillas.
Buen Provecho and Happy Grilling!
Amy & Mr.D
Recipe for 8 Kebabs:  2 large chicken breasts, cut into bite-sized pieces.  1 zucchini and 1 bell pepper, cut into bite-sized pieces.  Thread them onto the wooden skewers that have soaked in water for at least 1/2 hour to avoid charring.  Place in a dish or container that will fit the length of your kebabs.  Drizzle with 1/8 cup olive oil, 3 Tblsp soy sauce, then dust lightly with cumin, salt and fresh ground black pepper.  Allow to marinate for a minimum of 20 minutes.  Grill 3-4 minutes, flip and grill until the chicken is no longer pink, about 3 -4 minutes longer.
If this looks like a fun addition to your picnicking and outdoor adventures, we've added the grill to our online shop in the Gadgets and Cookware section.
Important Notes:
Refer to the directions that come with the case for handling and care.
Always follow the NFPA Grilling Safety Tips
The grill dimensions are approximately 11.5 x 7 x 3 inches when closed.
We find that it stays hot for 45 minutes to 1 hour of grilling, depending on how many charcoal bricks we use.
Always allow the grill to completely cool before transporting, and dispose of the completely cooled charcoal responsibly.
Remember to check the rules and regulations of the public park, campground, National Park or area you plan to set up for grilling.
The light-weight design is perfect for hiking trips and camping for small groups.