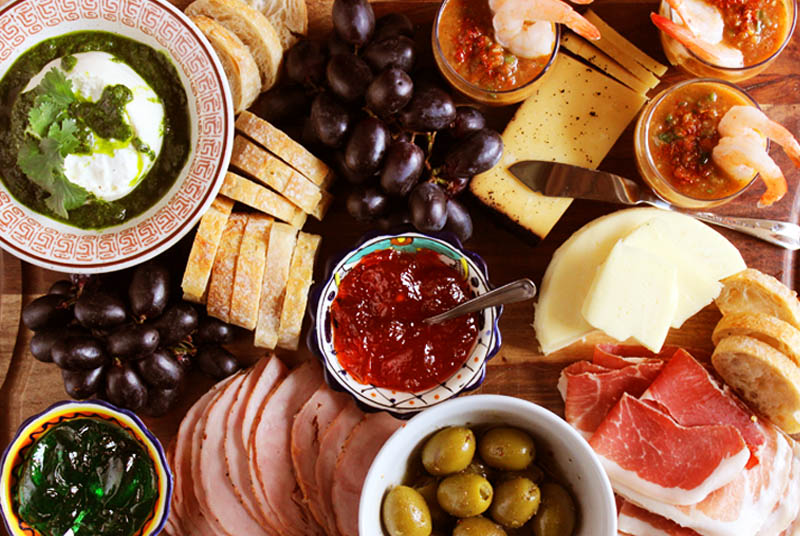 Much more than a meat and cheese platter!  Inspired by a tasting at the Black Mesa Winery and Tasting Room of Taos, New Mexico where we were introduced to the robust Tempranillo … a dark rich red Spanish wine made from black grapes … it pairs beautifully with this menu of mild cheeses and spicy chile jams, habanero ham, warm cumin seasoned olives, fresh chimichurri over creamy sweet burrata, juicy black grapes, and a few other surprises.
Perfect for an intimate happy hour with friends, and in warmer weather for picnicking.  We can make and assemble this entire board in about 30 minutes.  Here are the simple steps …
Ham:  Thin sliced Habanero Ham along with a Serrano, Prosciutto or hard garlic-y peppercorn Salami
Cheeses:  A semi-hard mild Asadero pairs beautifully with spicy red or green chile jam.  Then select a hard cheese … we love White Cheddar with a dark ground coffee and lavender rub.
Jams:  Your choice of: hot Red Chile, Green Chile, Jalapeno, Habanero Peach, or Red Chile Cherry.  Most grocery stores in the Southwest offer a great variety.
Grapes:  A vineyard platter must have grapes and we use black grapes to go with the Tempranillo
Warm Spanish Olives:  Large green pitted Spanish olives, plain or stuffed with garlic or jalapeno,  To serve warm, heat 2 Tblsps olive oil in a small sauce pan along with 1 tsp oregano, 1 tsp cumin and a pinch of red pepper flakes.  Add the olives to the pan and stir gently until just warm.  Place in a serving bowl.
6 Gazpacho Shots with Shrimp: Quick and flavorful gazpacho with 2 tail-on shrimp per over-sized shot glass (glass votive holders are the perfect size.)  You will need 12 cooked tail-on shrimp.  For the soup shots, mix in a blender:  1 cup chopped tomato or canned diced tomato, 1/2 cup chopped green chile, 1 cucumber peeled and chopped fine, 1 seeded stemmed minced jalapeno, 2 Tblsp. red wine vinegar, 3 Tblsp. olive oil, with salt and black pepper to taste.  Set blender to the lowest setting and pulse a few times, only until just mixed.  Pour into glasses with 2 shrimp per.
Mexican Crema Burrata with Chimichurri: Burrata is fresh mozzarella with a creamy center.  You can find it at most gourmet markets or make your own version using crema.  Buy a ball of fresh mozzarella and scoop out the center with a spoon (a serrated grapefruit spoon works well.)  Chop up the filling with 2 Tblsp Mexican crema and a pinch of salt and black pepper.  Scoop it back into the mozzarella ball.  Next, make the chimichurri topping …
Cilantro Chimichurri: In a blender puree:  3/4 cup lightly packed cilantro leaves, 2 chopped scallions, 1/2 clove minced fresh garlic, 2 tsp. dried oregano, pinch of red pepper flakes, 2 Tblsp red wine vinegar, and 3 Tblsp olive oil.  As you blend, check for thickness.  You may want to add a splash more vinegar and olive oil to get the 'salad dressing' consistency to pour over the burrata.  Salt and black pepper to taste.  Place the burrata in a small serving bowl, drizzle with chimichurri and pour the rest in the bowl around the creamy cheese ball.  Top with fresh cilantro.
Baked Sea Salt and Black Pepper Corn Tortilla Chips:  Corn tortilla chips are easy to make, both fried or baked.  Here is our baked version: Preheat oven to 400 degrees.  Take 8 fresh white corn tortillas, stack them and cut like a pizza, quartered.  Coat a baking sheet with a very thin layer of olive oil.  Place half of the chip triangles onto the olive oil, then flip to coat the other side.  Bake 7 – 10 minutes or until just browned on the edges.  Place on paper towels and dust lightly with sea salt and fresh ground black pepper.  Repeat for remaining chips.
Sliced baguette:  Making mini sandwiches with thin sliced baguette is also delicious.  Our favorite combination is: a dollop of red chile jam, then a folded slice of habanero ham, and a thick chunk of asadero cheese.
Wine:  A Tempranillo, and a fresh Tempranillo sangria would also be fantastic.  But really, any wine you prefer is fine … it's your party!
Buen Provecho!
Amy & Mr.D
Yum

Note:  The Black Mesa tasting room is located in Taos (north-central New Mexico), a short walk from the main plaza and across from the Harwood Museum.  The winery is located a short 45 minute drive southwest of Taos in the town of Velarde.