Chaco Canyon has long been on our bucket list of places to visit in the Southwest.  We had heard about it from many friends, and all expressed how magnificent and uniquely special the canyon was in its remote beauty. But to be honest, one of the reasons we kept putting this trip off was because you really have to want to go there. It is in an out-in-the-middle-of-nowhere desert, and then a 21 mile dirt road from the highway that washes out in rainstorms.
As you near the park, beauty is all around —  in the subtle shifts of color in the sand or in the various shades of greens in the shrubs, desert sage and grasses. And then in the rocks and cliffs, the deep reds, tans and golds, contrasted against the vast, crystal blue southwestern desert sky.
Chaco Culture National Historical Park is a United States National Historical Park hosting the densest and most exceptional concentration of pueblos in the American Southwest. Between AD 900 and 1150, Chaco was a major center of culture for the Ancient Pueblo Peoples.  Some refer to it as the Washington D.C. of it's time.
As you enter the park from the East side, the warm golden brown cliff rocks greet you.  The butte shown above is a focal point to look for and keep your bearings as you meander through the park.  You first pass the campground that is situated right next to ruins, then onto the visitor's center. Inside is a gift shop, staffed information desk where rangers help you plan your exploration, and a video is shown throughout the day in the auditorium. This is the only location where you can purchase trail guides for each of the archaeological sites.  Outside, all around the center are picnic spots and we had a lovely lunch al fresco next to the sheer cliff of a butte.
NOTE: This is the only place water is available, so make sure your water bottles are full, you have sun screen and a hat, and lip balm. It is very dry at Chaco, and one can easily get dehydrated.  We brought twice as much water as we thought we'd need and drank all of it.
After you purchase your entrance pass into the park ($20 per car), you will be able to drive on the paved 9-mile Canyon Loop to each site where there is designated parking.  Then you hike several yards (sometimes more) to explore these amazingly built dwellings. The ingenuity and craftsmanship is extraordinary. Chacoans quarried sandstone blocks and hauled timber from great distances, assembling fifteen major complexes.  
We marveled that they accomplished all of this with tools made of hard rocks, bone and wood.
Sites to tour include: Una Vida (next to Visitor Center), Hungo Pavi, Chetro Ketl, Petroglyph Trail, Pueblo Bonito, Pueblo del Arroyo, and Casa Rinconada. Take your time at each site, and though the pathways are relatively flat, around the structures can be rough and uneven. All sites are uniquely impressive, but the grande dame Pueblo Bonito is awe inspiring. This is the most important site in the canyon and a must for all visitors. The trail to and through Pueblo Bonito is 0.6 mile, roundtrip and you should allow a minimum of 45 minutes. It is graveled, and climbs several short, steep rises, but there are also some challenging sections if you want to go into the dwellings — and you should, from kiva and room to room. 
Three stories tall, with walls as thick as two feet or more. Chiseled sand stone, methodically and carefully placed, planned and constructed in stages between AD 850 to AD 1150. This was the center of the Chacoan world.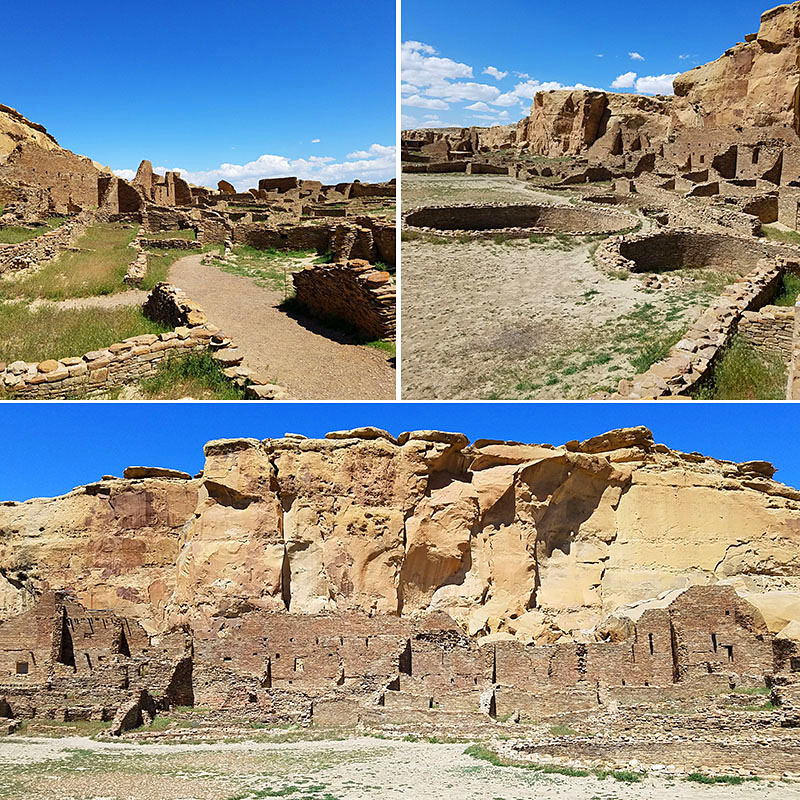 Stand in the middle of the compound and marvel at the size and scope of the work that took place. What must have life been like so long ago? The part we found amazing was walking through the actual dwellings. You enter through low narrow doors (at times we practically had to crawl on our hands and knees), and get a sense of the scale of the rooms.
The day was coming to an end, and we were captivated by the mystique and rough elegance of the dwellings and landscape. As we stopped at our last site, Casa Rinconada, we gazed across Chaco Wash to see Pueblo Bonito silhouetted against the sandstone cliffs that was 'The Center of an Ancient World.'
We'd go back in a heartbeat.  Bucket list — check!
Happy Discovering!
— Mr.D and Amy