For us, springtime means planning out road trips and new routes to travel in the Southwest, being outdoors as much as possible, adventure hikes for Mr.D, anticipation of farmer's markets and fresh produce, picnics and seeking dining venues with a view, and having friends over after a long day for happy hour.
We like to offer a nice wine and cheese board, and other times we keep things super simple.  A step up from a bag of chips and dip, and a tier down from mousse-filled pastry pouches.  This week we have a favorite, simple yet elegant appetizer, along with a light Prosecco cocktail with tequila and lime that is always a crowd pleaser.  No worries and fresh, like a mild spring day.
Homemade Cumin Tortilla Chips with Easy Guac and Shrimp
Makes 24:
For the Chips:
Corn tortilla chips are easy to make.  Here is our baked version: Preheat oven to 400 degrees.  Take 6 fresh white corn tortillas, stack them and cut like a pizza, quartered.  Coat a baking sheet with a very thin layer of olive oil.  Place half of the chip triangles onto the olive oil, then flip to coat the other side.  Dust lightly with sea salt, black pepper and cumin.  Bake 7 – 10 minutes or until just browned on the edges.  Place on paper towels,  Repeat for remaining chips.  (We also cut the tortillas into rectangles, in which case you will need 12 white corn tortillas – 2 rectangles per.)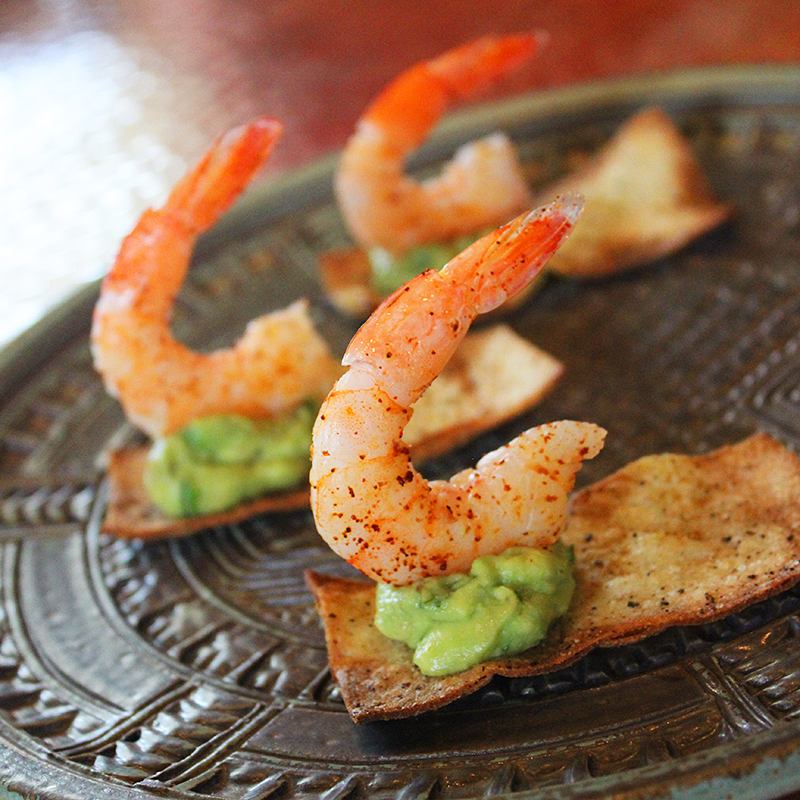 For the Guacamole:
2 Haas avocados, halved, seeded and peeled.  Mix thoroughly in a bowl with: the juice of 1 lime, 2 Tblsp fine chopped cilantro leaves, 2 tsp minced onion, 1/4 tsp salt, 1/4 tsp black pepper, 1/4 tsp cumin.
For the Shrimp:
24 tail-on shrimp, cooked.  Spray with olive oil and lightly dust with chipotle powder.
To assemble, place 1 heaping teaspoon of guacamole onto a chip.  Place the shrimp tail-up.  Serve immediately on a large platter.  (Assembling ahead of time will result in a soggy chip, so we find it best to have everything in place to put together just as guests are arriving.)

Prosecco Tequila Lime Cocktails
Recipe for 1 cocktail: 1 splash of tequila, 1 small lime wedge, fill the rest of the flute with Prosecco or champagne.
Buen Provecho!
Amy and Mr.D
Ceramics by Nick Blaisdell
Looking for a Southwestern wine and cheese board?  Check out our vineyard selection inspired by a wine tasting at Black Mesa Winery of Taos, NM.