When people first visit Santa Fe, the very first thing we suggest they do is take the Loretto Line Tour, the city's oldest touring company.  Their enthusiastic guides drive you around the historic downtown and outskirts of the city so you can get a feel for the different neighborhoods, landmarks and sites, as you sit comfortably in an open-air tram that seats about 14 – 15 passengers.
Each time we take this 8-mile tour we learn something new.  On our most recent visit to introduce Amy's sister BardBabe to The City Different, we hopped on at the La Fonda Hotel stop.  Our guide took us through the little side streets and around the main plaza.  He was full of facts and trivia and history as he pointed to churches and significant markers, and then stopped the tram along the curb of a street just off the main plaza.  He said "Note the address 901 East Palace Avenue.  Anybody know the secret about this place?"  We all shook our heads "no" and looked to the unassuming passageway leading to a courtyard.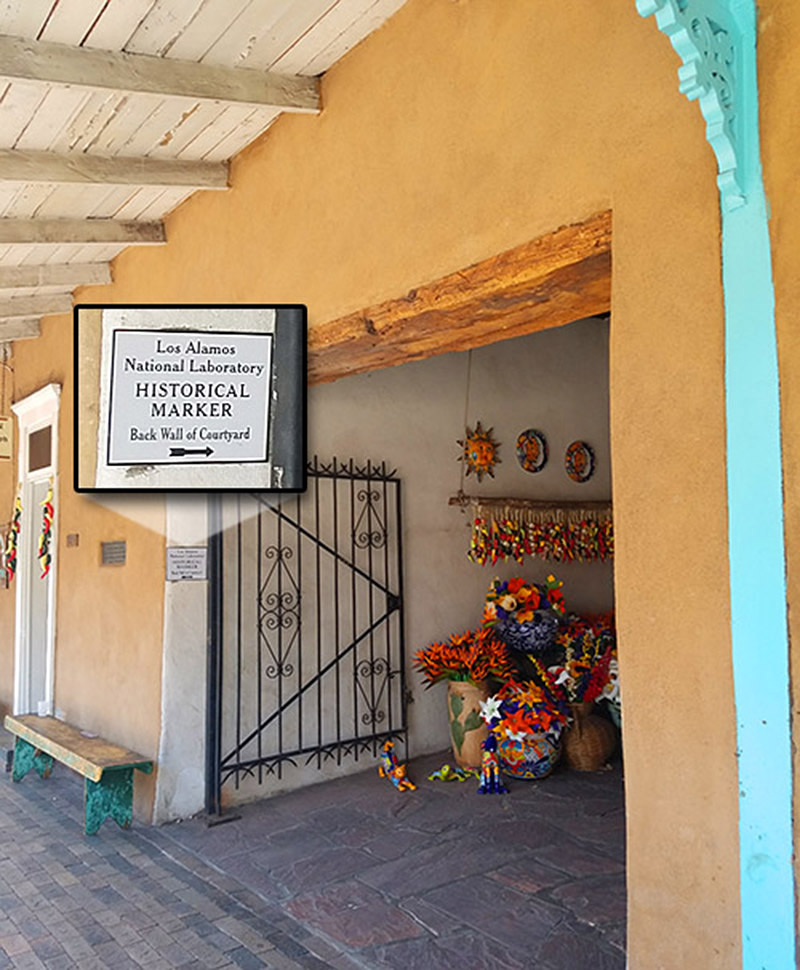 He went on to tell us that this was once the secret drop-off location for scientists and employees who worked on The Manhattan Project, along with their families.  They were taken to this spot, walked through to the back door of the courtyard and were then covertly driven to nearby Los Alamos where they were rarely permitted to leave for the duration of the project.
Another interesting tidbit — being sequestered in remote Los Alamos didn't offer many shopping options, so they ordered their clothing and most everything to set up house through the Sears Roebuck catalog.  The problem was that their lives were classified and so insulated that they could only use the 901 East Palace Avenue address.   After a while, someone at the Sears catalog mailing department noticed that dozens of catalogs were being mailed to the same address, and sent word that this was most peculiar and from then on only one catalog would be delivered.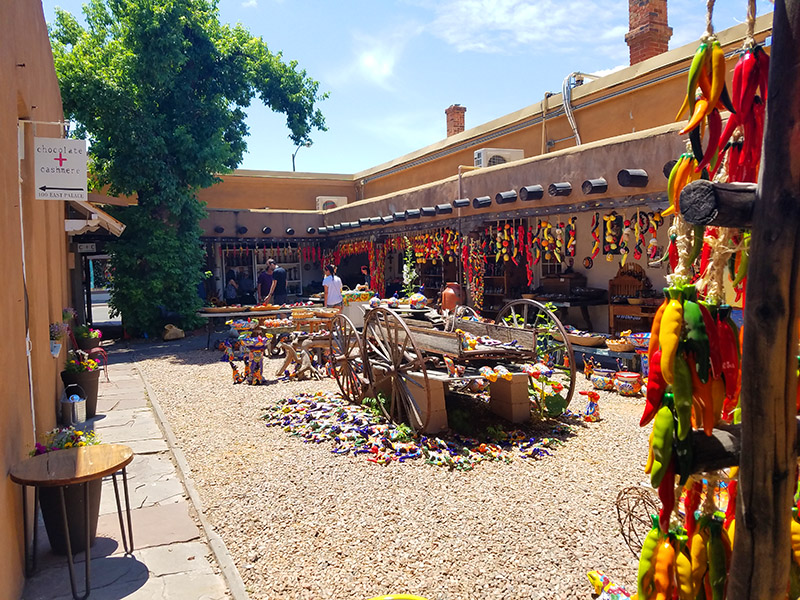 After the tour, be sure to walk the main plaza, stop in the shops, have lunch at La Plazuela inside the La Fonda Hotel, or try  The Santa Fe Bite or Cafe Pasqual, and if you stop back by the secret courtyard, on the very back wall is this plaque. 
A few places to check out while you're in the area:
Authentic Southwestern Food – The Shed Restaurant
Fine Dining in a 400 Year Old Courtyard
Wishing you Happy Discoveries!
Amy & Mr.D