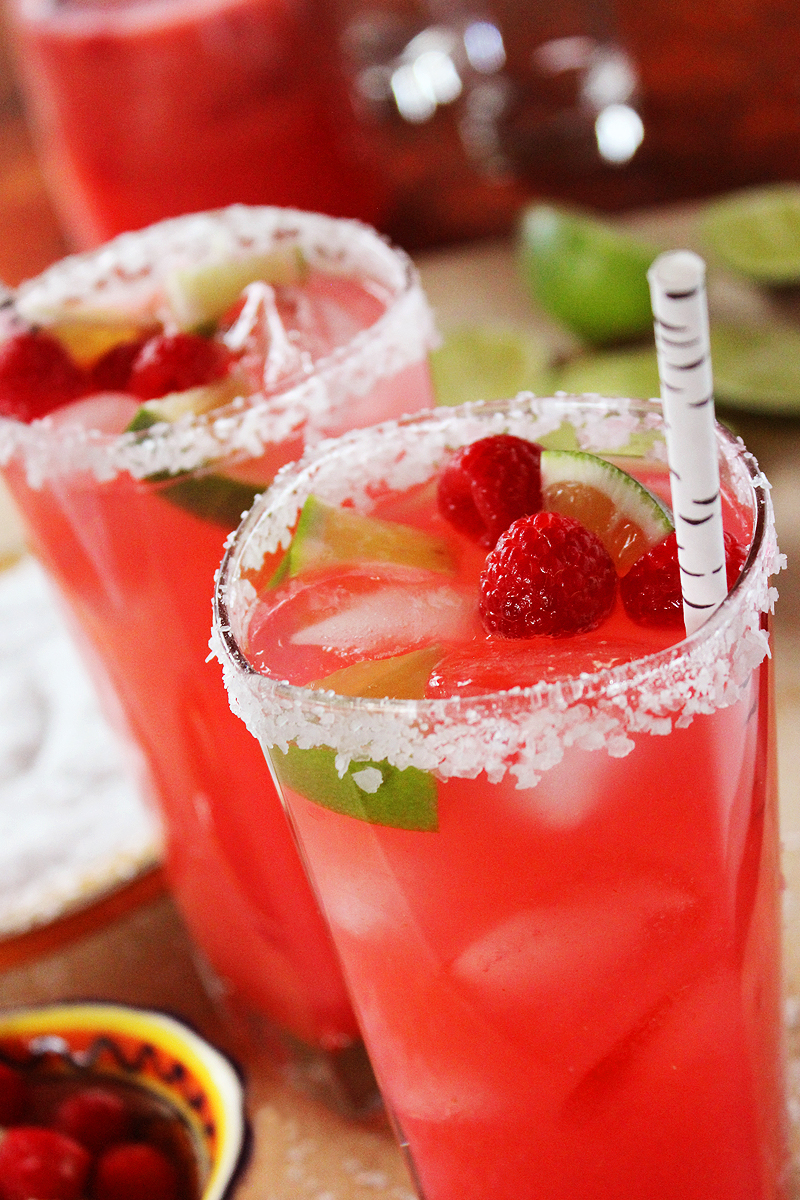 Sweet, sour and delicious, our recipe uses fresh squeezed limes, easy fresh raspberry puree, all combined with a quick simple syrup.  Tweak it for more lime or sugar … make it like you like it.  Leave out the tequila and you and the kiddos have a cool bright drink for sipping on a warm day.
RASPBERRY LIMEADE MARGARITAS
Makes 6 -8, depending on the size of your glasses.
Ingredients:
1 cup water
1/2 cup plus 2 Tblsp sugar
1 cup water
1/2 cup fresh raspberries, plus another 1/2 cup for garnish
3/4 cup lime juice (from 12 large limes) and if you're in a hurry bottled unsweetened lime juice is perfectly fine
3 more cups water
Lime wedges for garnish and for rimming the glasses
Margarita salt
Tequila, silver reposado or anejo, your choice
Directions:
Create the simple syrup by low boiling 1 cup water and sugar until the sugar dissolves.  Allow to completely cool.
Puree 1 cup water and 1/2 cup raspberries.  Sieve to remove the seeds.
In a large pitcher, combine the simple syrup, puree, lime juice and 3 cups water.  Taste for desired sour or sweetness.  Add more lime juice (1 Tblsp at a time) for a more tart mix, and more simple syrup or bottled agave syrup (1 Tblsp at a time) for sweetness.  Allow to chill in the refrigerator for at least 1 hour before serving … it gets better as it has time to infuse.  Adding a handful of sliced lime and raspberries into the pitcher is a nice touch, and because they will float to the top your guests will know the ingredients of the mix.
To mix:
Run a lime wedge along the rim of a large glass, then dip in margarita salt to coat the rim.  Fill with ice.  Pour raspberry limeade to 1-inch from the rim.  Add 1 1/2 oz tequila.  Garnish with lime wedges and raspberries.  A fresh mint sprig is also a nice touch, optional.  Serve with a straw.
Cheers!