Taco'bout the best combination ever!  We're always looking for ways to mix up our taco fillings, both savory and sweet. Today we're sharing our two most requested recipes – for dinner AND for dessert!  If you're gearing up for football this weekend or just craving a fabulous dose of hearty meets decadence, try the pulled pork with molasses baked beans complete meal in a taco.  And for dessert, try the unforgettable chocolate dipped ice cream sundae with cinnamon churros nirvana taco.
PULLED PORK AND BEANS TACO: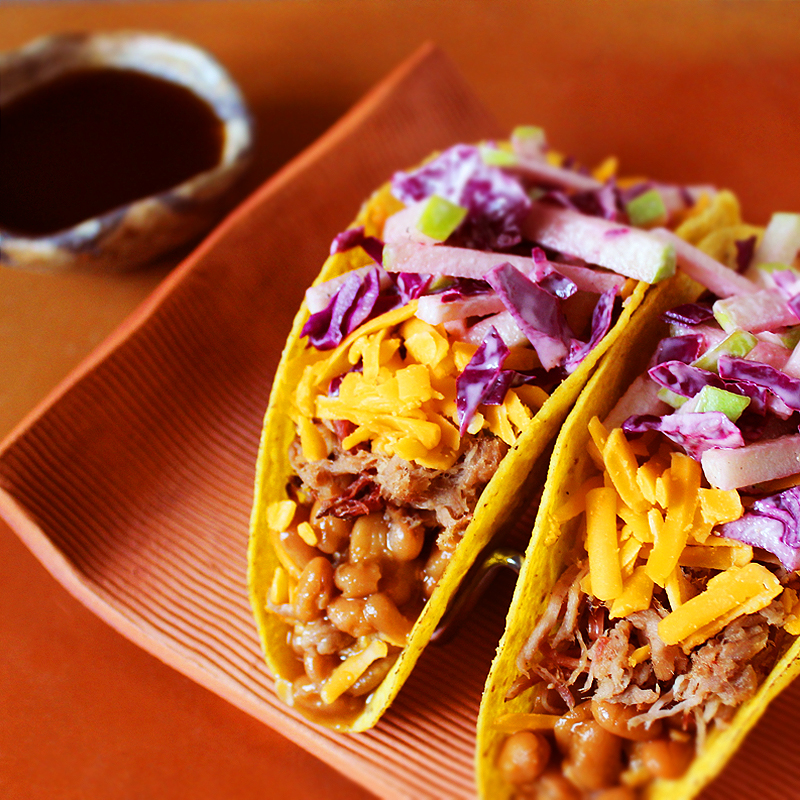 Savor these slow-cooked, pulled pork with sweet molasses baked beans, a crisp granny smith apple and cabbage slaw, and sharp cheddar cheese.  Comfort food in a crispy shell, what's not to like?!
Recipe.  Warm 4 jumbo taco shells in the oven according to box directions, or crisp your own tortillas oil.  To assemble, divide the following ingredients evenly and layer into the shells:  1/2 cup hot baked beans slightly mashed with a fork, 1/4 cup freshly grated sharp cheddar cheese, 1 1/2 cup pulled pork, 1/4 cup more grated cheddar, and top apple cabbage slaw.  Slaw recipe for 4 tacos: 1/2 cup matchstick cut granny smith apple, 1/2 cup thin sliced purple cabbage, 1 T mayo, 2 tsp fresh lemon juice, a pinch of salt and pepper.  Mix well and top each taco.  Serve with a side of your favorite bbq sauce.
CHOCOLATE DIPPED CRUNCHY TACOS WITH CHURROS: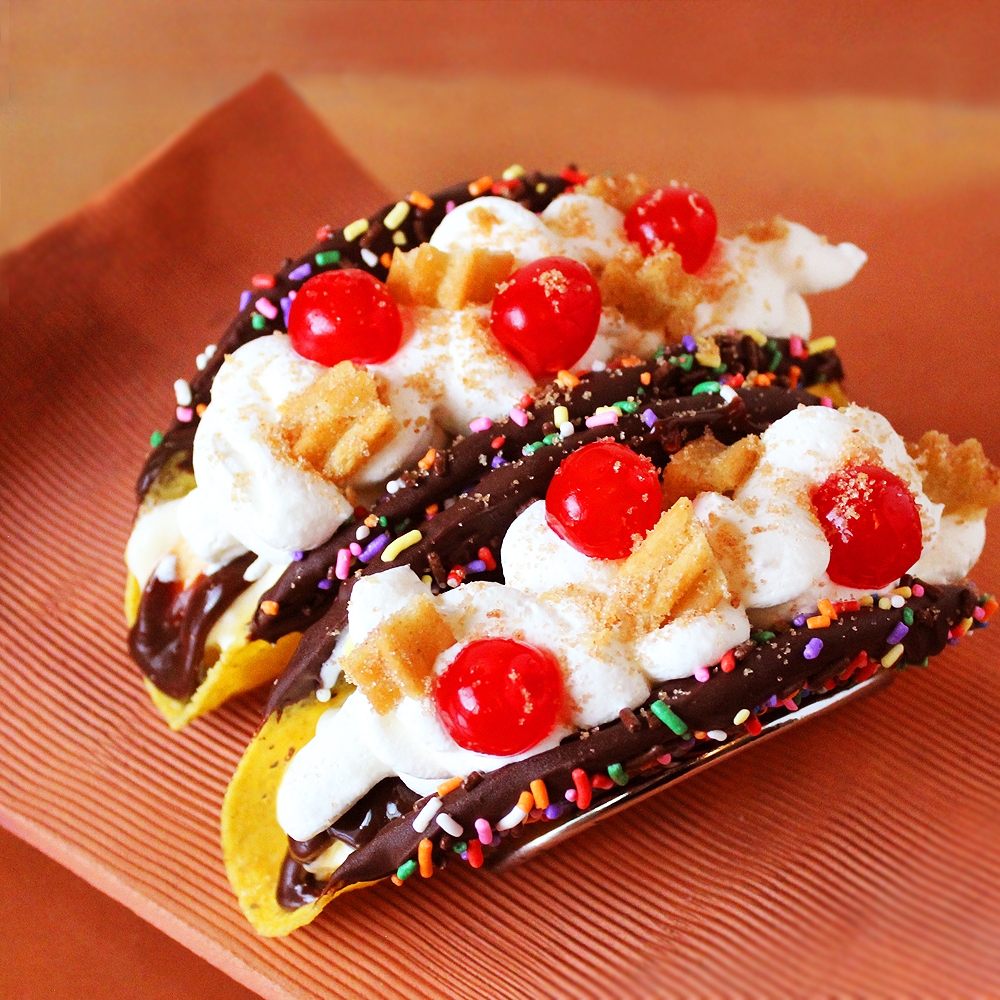 An ice cream sundae in a crispy corn tortilla…oh, sweet mystery of life…
Recipe:  Melt a medium bag of semisweet chocolate chips in a small bowl (that will fit the taco shells) by microwaving 40 seconds at a time at 50% power and stirring until just melted and creamy.  Dip the tops of crisp corn taco shells into the chocolate, and use a butter knife to evenly spread on both sides, about half way down the height of the shell.  Shake rainbow sprinkles over the chocolate.  Fill shells 3/4 full with Cinnamon or Vanilla ice cream and place in taco stands or on a baking sheet lined with wax paper.  Place in the freezer to set up for at least 30 minutes.  To assemble, top with a layer of chopped cinnamon-sugared churro pieces, drizzle of chocolate or caramel topping, lots of whipped cream, more churro pieces and three Maraschino cherries per taco.  Sprinkle with the excess cinnamon-sugar from the churros.   Serve right away and be prepared for a wonderfully messy, dripping-down-your-chin ice cream treat!
What are some of your favorite ways to reinvent the taco? We'd love to hear from you and see what you have done in the comments below!
Buen Provecho!
Amy & Mr.D