Tis the season for connecting with friends and family, holiday lunches and parties, and this past weekend was all about supporting our local artists.  We're lucky here in Durango that we live in a double-hub of artists, with Mancos and their Creative District only a short 30 minutes away.
Our artsy weekend began at the Toh Atin Gallery where master silver artist Randy Secatero was demonstrating his work.  In the video below you see the bar of copper and silver that is to become a gorgeous bracelet (as shown at the end of the video.)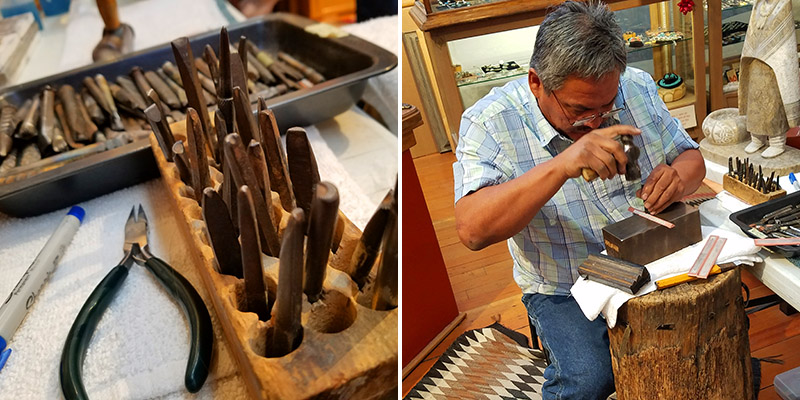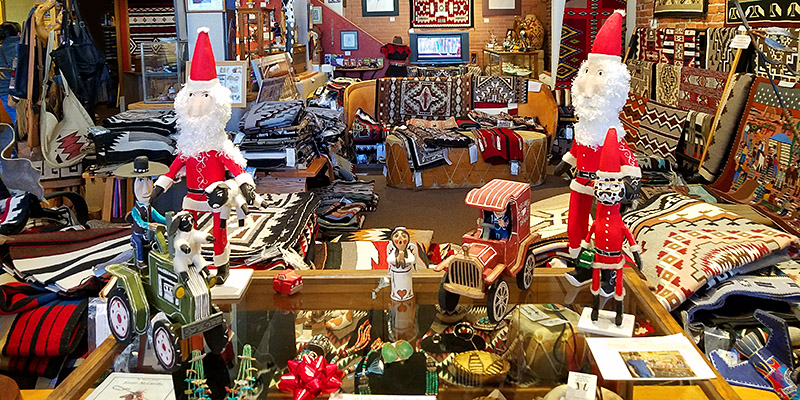 For more info on Randy and his wife Sylvana Apache's works, along with updates on Toh Atin demos and events, including personal stories about the artists and their inspiration, join their newsletter here, and scroll down to the bottom of their home page to join.
Next we were off to the Durango Art's Center for the Winter Solstice Artisan's Market … something we look forward to every December with over 40 regional artists exhibiting and selling their one-of-a-kind works.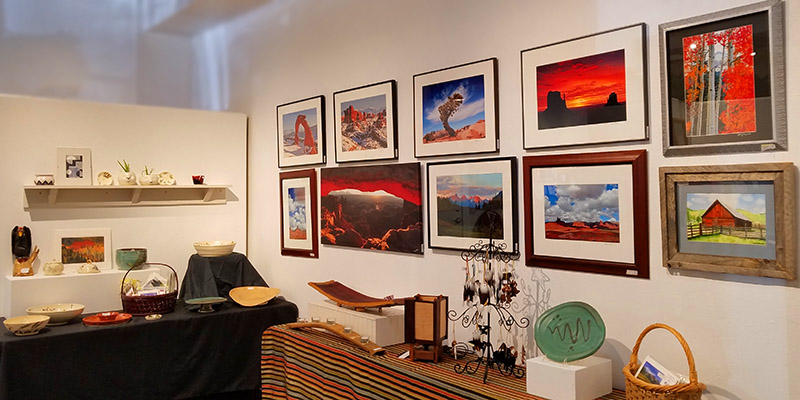 From beautiful southwestern scenes captured on film and painted on canvas …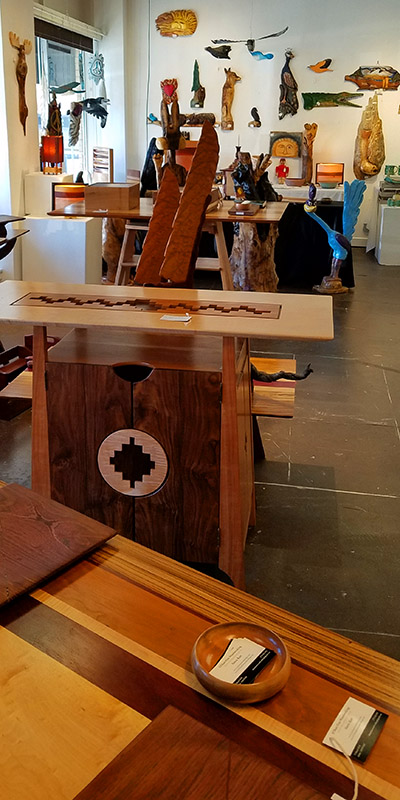 … to inlaid wood tables, sculpture and wall art …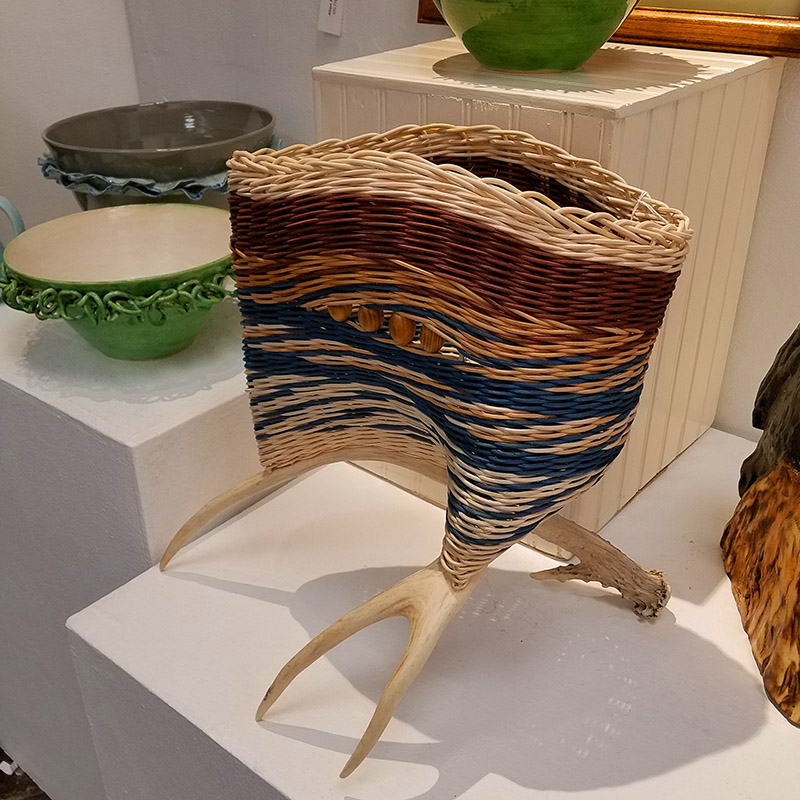 … pottery and woven art pieces …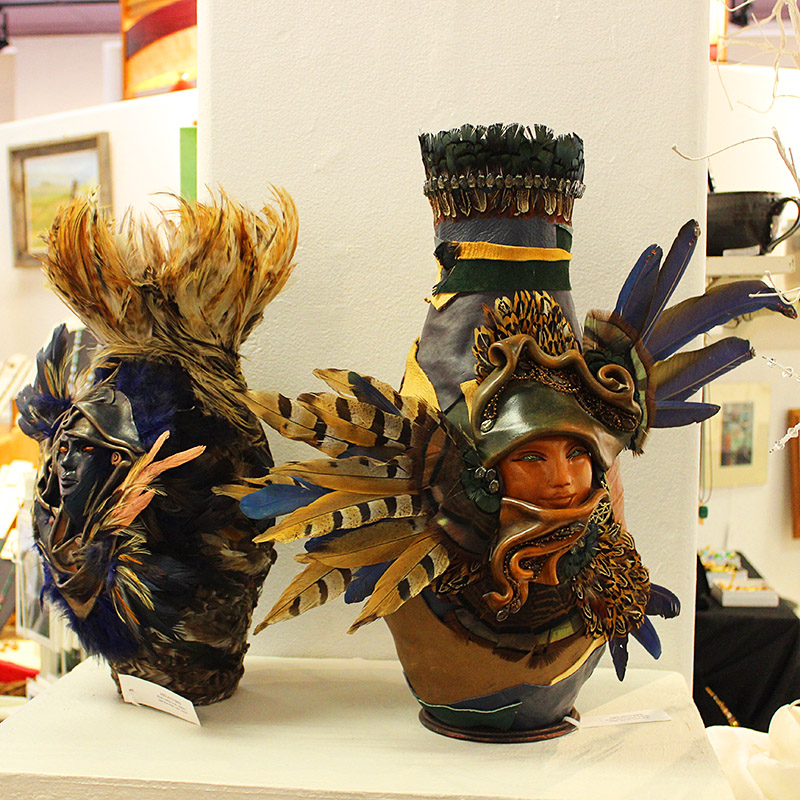 … beautiful multi-media ceramics of artistic expression …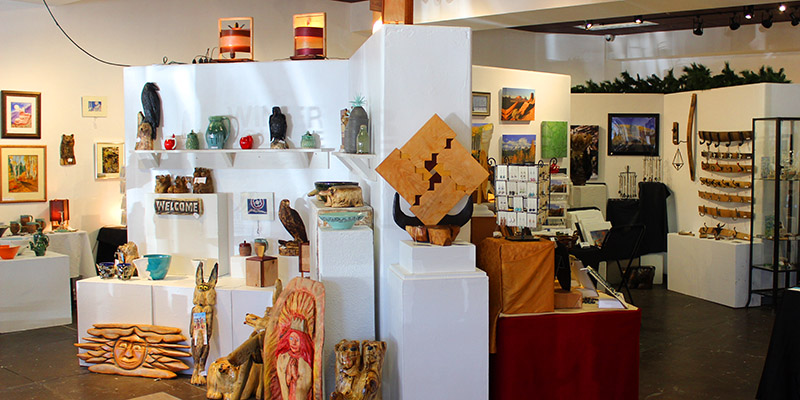 … jewelry, textiles, lamps, ornaments … you name it!  Each year we say the same thing, "This is the best one yet!"
This year they will remain open for holiday shopping until December 23rd, 2017.  If you'd like updates on current and upcoming exhibits, check out their home page.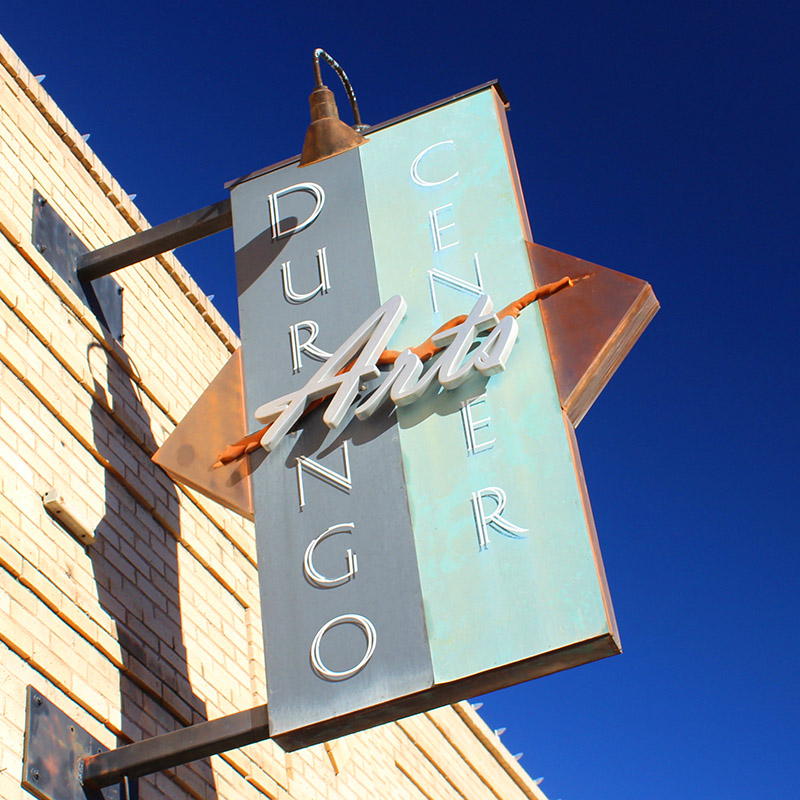 Then we traveled over to The Gateway To Mesa Verde — Mancos for their first annual Winter Holiday Arts Market with gallery hopping, pop-up exhibits and an art opening.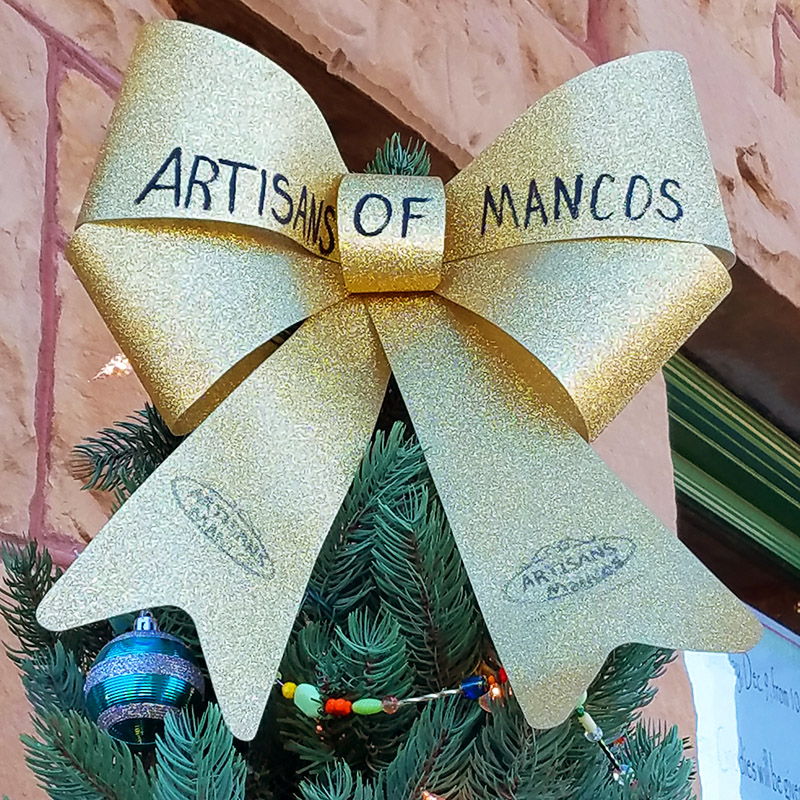 First stop, Hello Zark's graphic design studio was transformed into a Renegade pop-up group show of local artists.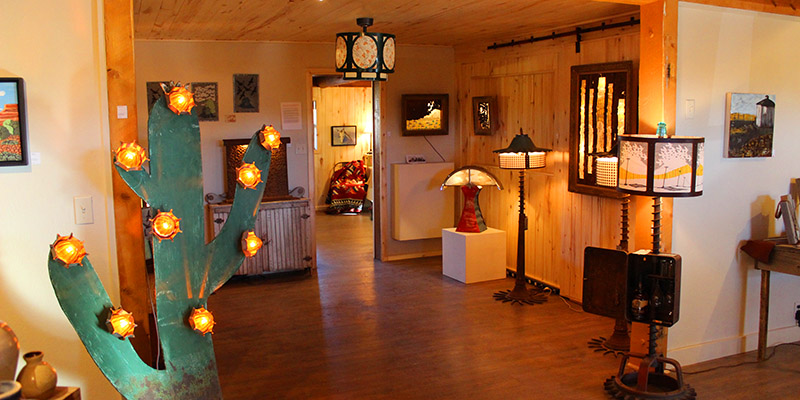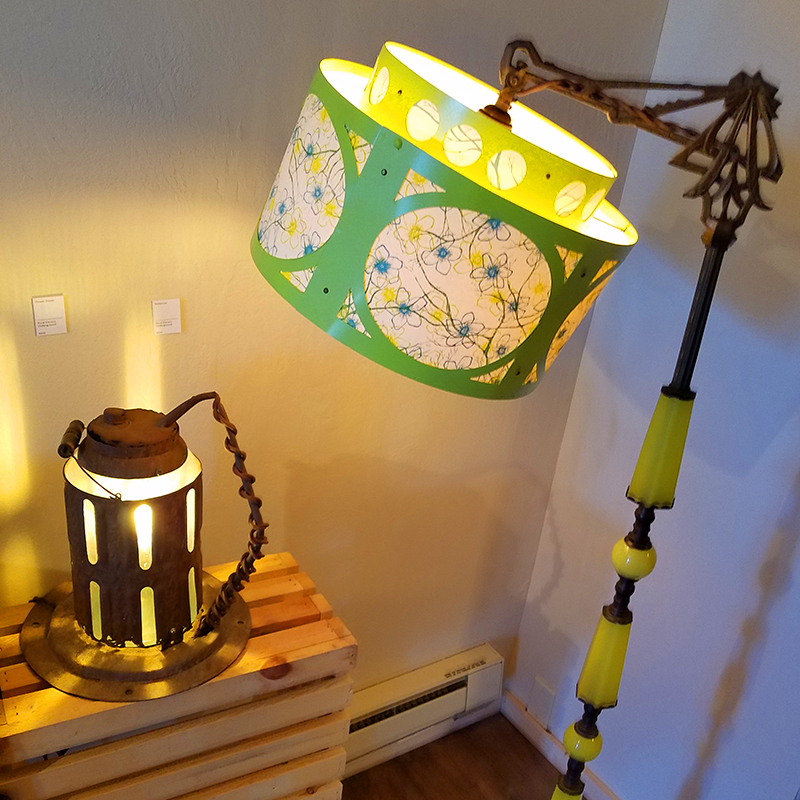 The place was aglow with Rosie Carter and David Butler's Rural Electric Underground illuminated art pieces and lamps.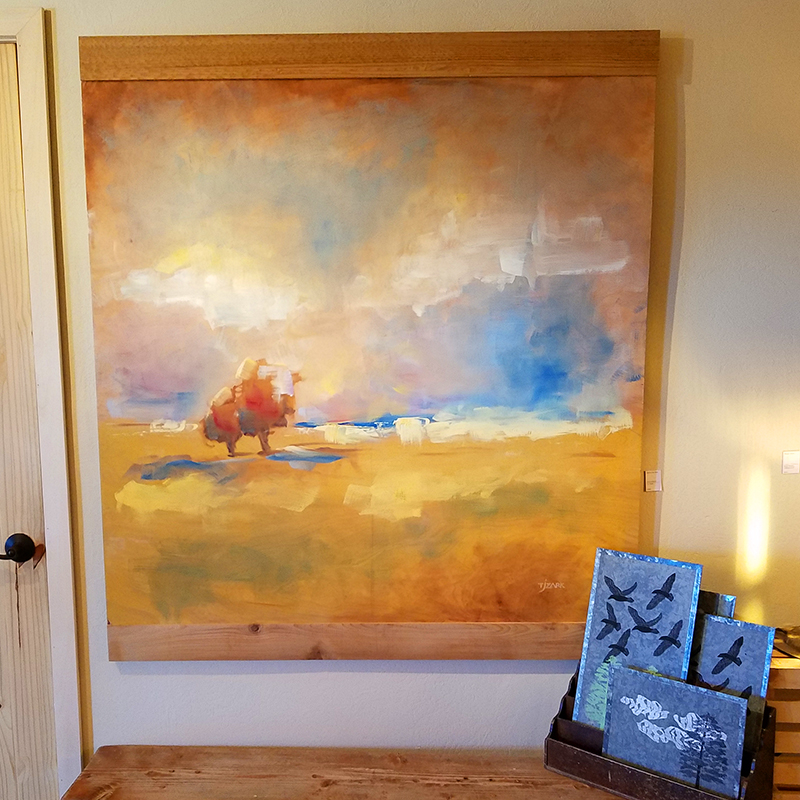 "Before the Rain" by TJ Zark
Highly textured encaustic by Carole Mehesy.
There was also a great showing of pottery, more paintings and finely crafted art forms.
For more information about the artists and pop-up shows to come, you can contact the Mancos Creative District.
A short walk around the block and we found the not to be missed Kilgore American Indian Art, and …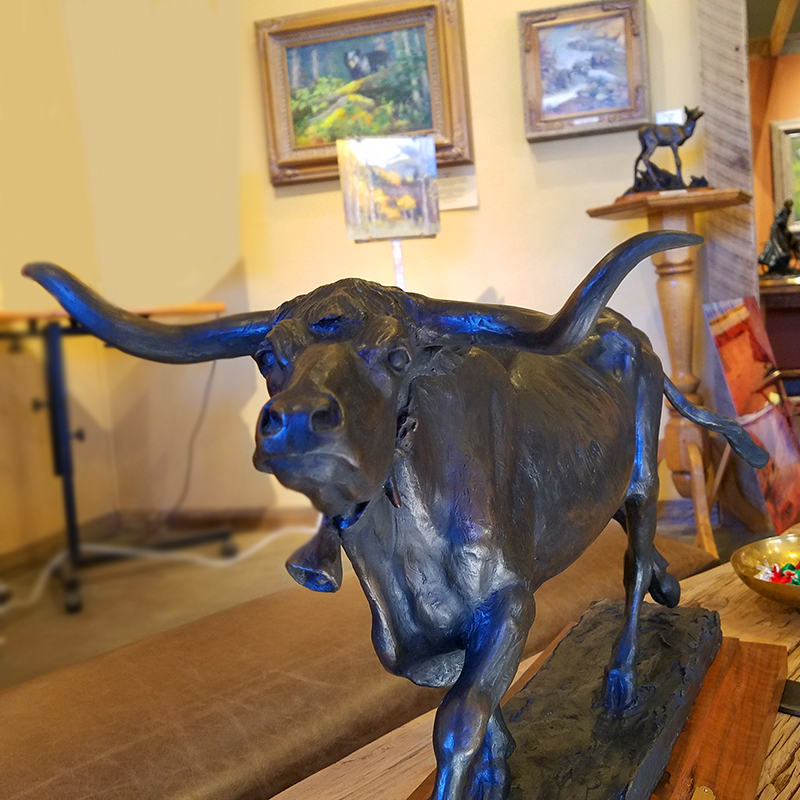 the Veryl Goodnight Gallery of fine paintings and bronze sculpture of the west.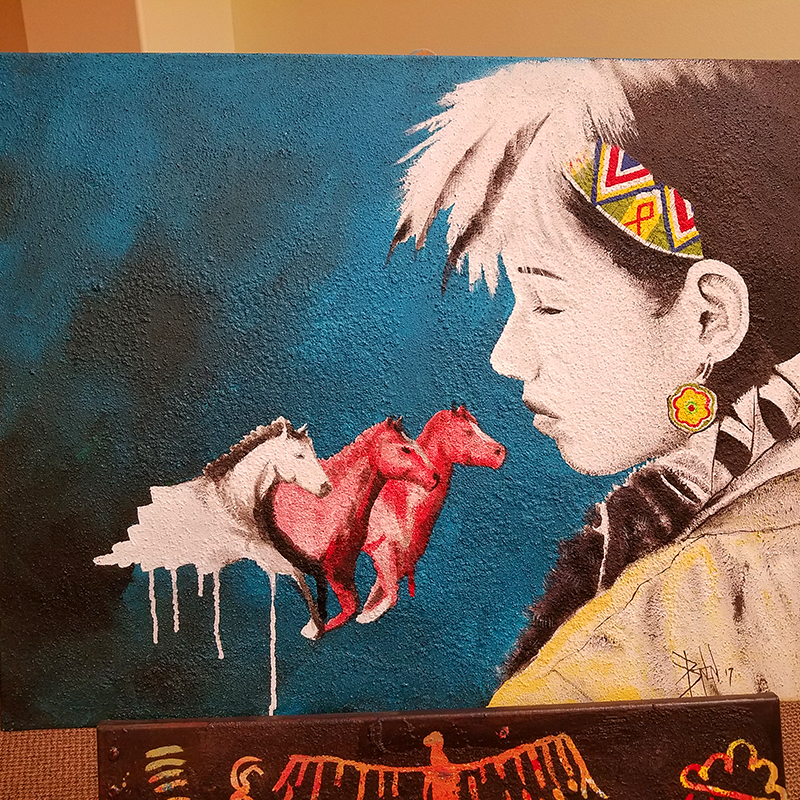 We met a new artist named Benton Yazzie who paints on sand textured canvas, along with twenty or more artists showing work at the Community Center, and the vendors of excellent homemade fudge that really set the holiday tone.  Another pop-up gallery at the local real estate Colorado Ranch and Realty was showing a group of fine art, beautifully crafted leather jackets, paintings of the local region, nature and landscapes, wool and knitted scarves and fine wood furniture.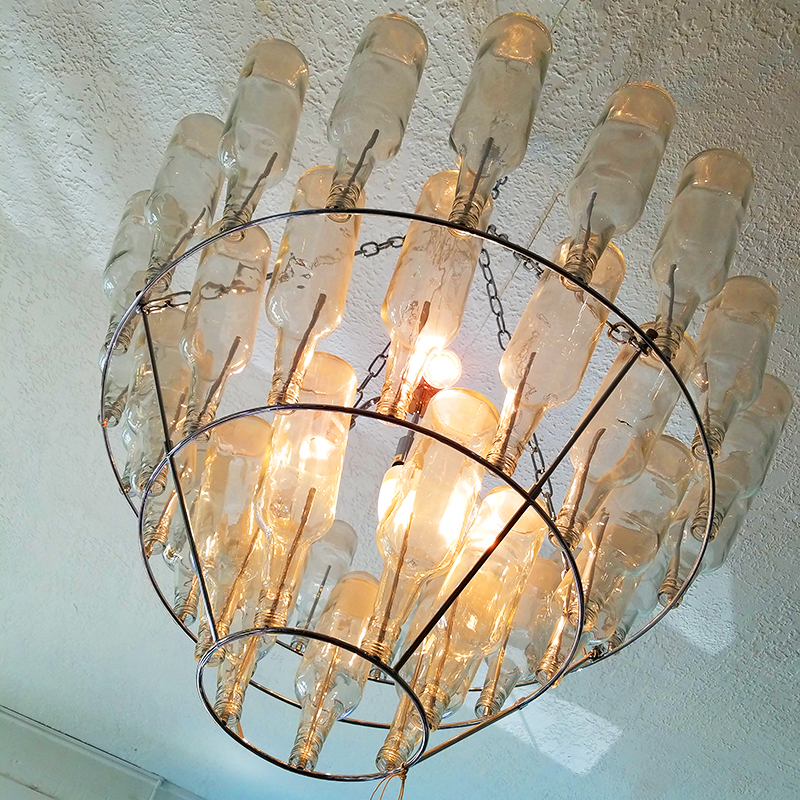 The Beehive Boutique and Spa was exhibiting local artists as well.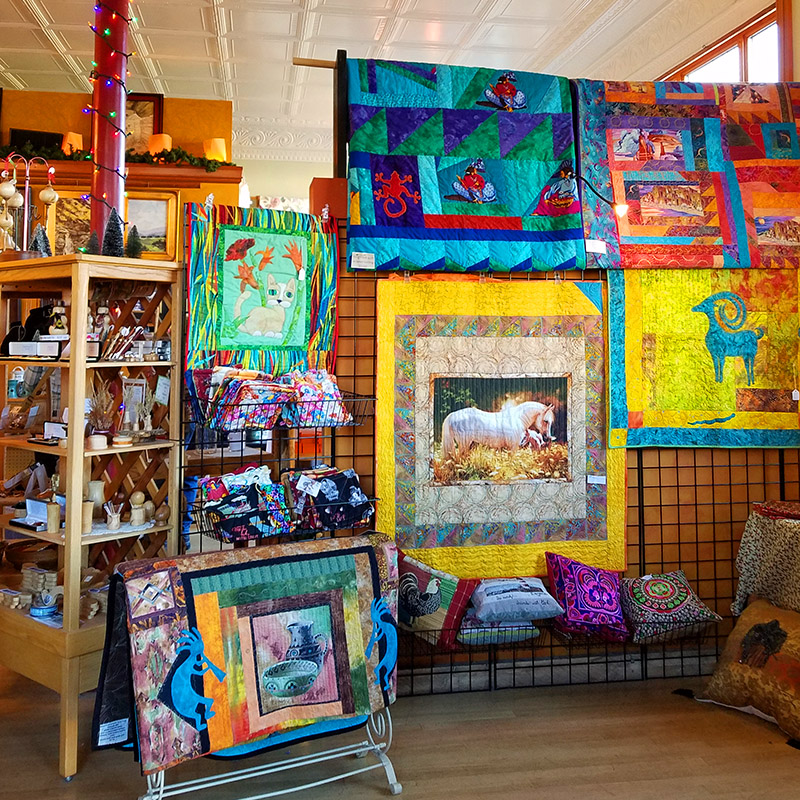 Artisans of Mancos is open year round.  An artist-run co-op, they have new works coming in weekly of woodworking, quilts, painting, jewelry, stained glass … it's a treasure trove of artful creations.  You are always sure to find that perfect gift for a special person, and for yourself!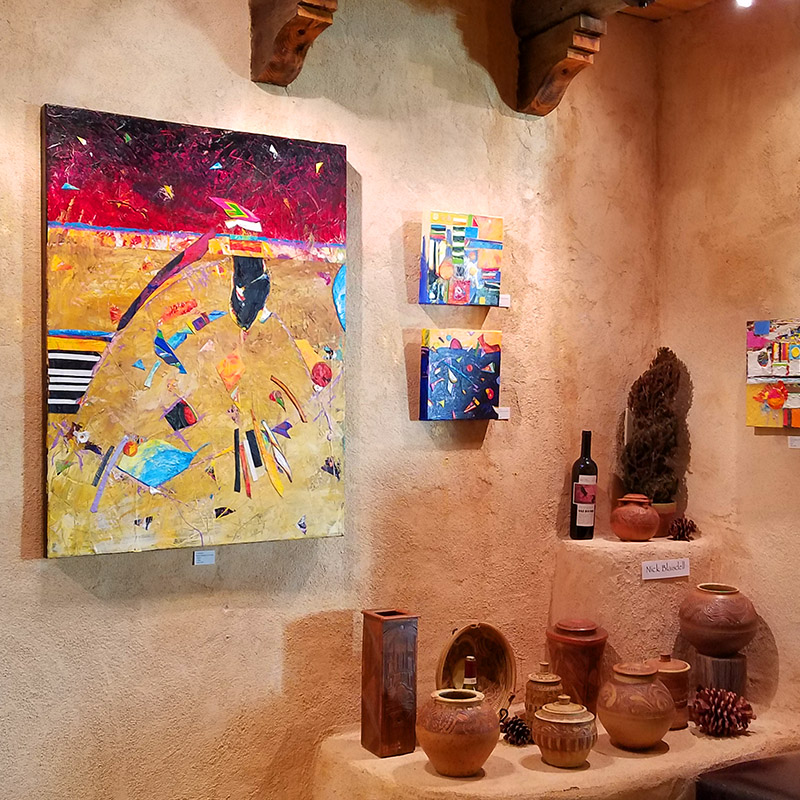 Our final stop was at one of our very favorite restaurants in the Southwest, Olio.  Chef Blankenship had invited another Creative District art show, and this was a solo exhibit of Dale Latta paintings (also on display was pottery by master ceramist, Nick Blaisdell).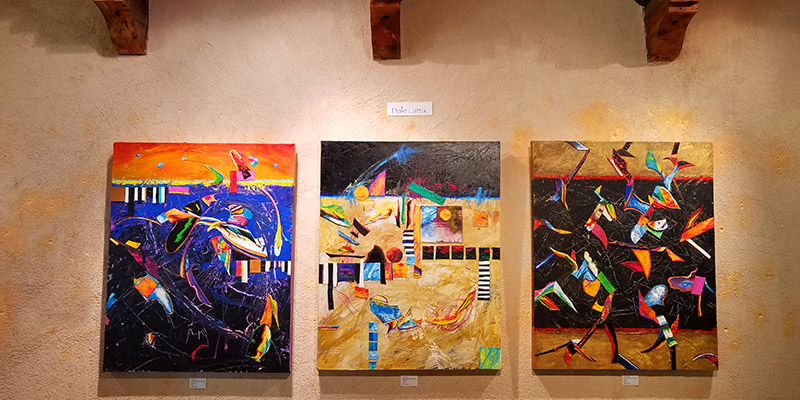 The brilliant multimedia collage works adorned the adobe walls, and will remain on display through February 3rd of 2018.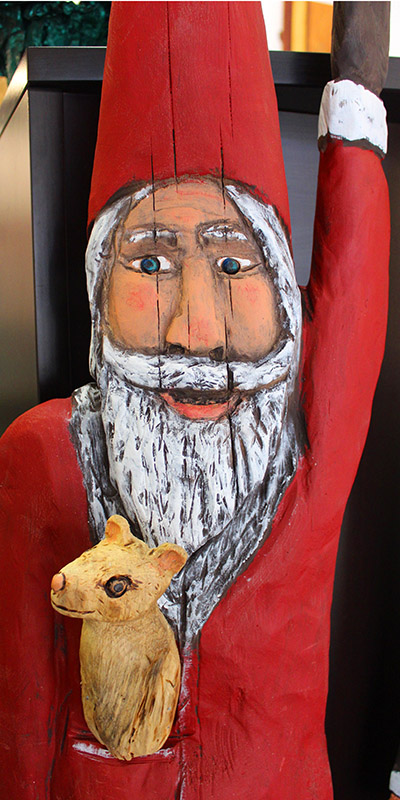 As Santa always says, "Support your local artists and you're sure to make the Nice list!"
We didn't make it to all of the venues in Mancos, and we just know this new holiday arts market is going to grow and get better with every year.
Also, downtown Durango is a mecca of galleries and a must-do stroll for holiday shopping.
We wish you a very Merry Christmas, Happy Holidays, and many joyous discoveries!
Amy and Mr.D