When chile season begins in August, drums like this roll out everywhere in the Southwest.  Everywhere … farmer's markets, grocery stores, country fairs, along roadsides.  They're for bulk roasting bushels of green chiles, so you don't have to buy a big bunch to take home and roast a dozen or so at a time on your stovetop or bbq.  (Although lots of people and families get together this time of year for roasting parties to do just that.)  The ultimate goal is to get your chiles charred just right, into baggies and stocked in your freezer(s) to last until next August.  And celebrate the season!
The grill (above) with motor and wheels is one of the fancier I've seen …
This is the more commonly used electric model.  It plugs into a socket without a gas powered motor.
On Saturday we followed our noses to Gazpacho for their 24th Annual Chile Roast.  That long-awaited aroma.  Intoxicating.  Once you know it, unforgettable.   Gazpacho trucks their bounty up from Hatch, New Mexico, the Chile Capital of the World.  For two glorious days of chile pepper nirvana.
This is how it works …
Buy your bushel(s) and they tag your bag.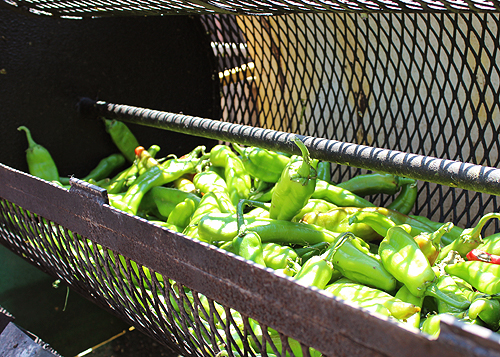 Then Matt Damon … oh wait a sec, this is Tanner who is a master chile roaster … loads them into the drum, one bushel at a time.
A good spray of water gets them steaming and roasting.
The five rectangles at the bottom are jets that throw flames (hooked up to a propane tank) onto the chiles while they roll and bounce around.
See that smoke there?  That's the precise moment when the sublime aroma starts wafting all around.  I was talking with the roasting guys about how it is the happiest smell in the world.
The chiles start to crackle and pop … the jets make this loud whooshing sound.  It's all very dramatic, theatrical.
The fancy drum here has another special feature I'd not seen before.  When the chiles have roasted for about 12 minutes …
… they roll a plastic bag cart underneath …
… open the bottom of the drum and the chiles fall right into the bags.  Twist tie the tops, place in your burlap sack and presto! ready to go!
Then they start again.   We were lucky we showed up when we did and got one of the last bags before they sold out.
Pop Quiz:  What is your response when February rolls around and a friend says "Hey, my chile stockpile is gone.  Do you have any left?  Can I have some of yours?"
Answer:  "Sorry, no.  Nope.  All gone."
Even if your second freezer chest still has two bushels on ice, you say no.  That's just the way it goes around here.  Unless it's your darling dearest grandmother, you say no.  And then you swear her to secrecy.
About this rig as told to me by Gazpacho owner Matt …  Twenty-five years ago it was built by a man who traveled around New Mexico and southern Colorado with a truck full of chiles and this drum.  Because it ran on a motor and propane, didn't need electricity, he was totally mobile and could stop at any roadside spot or market along his route to roast for people.  Pretty genius.  When he retired, Gazpacho bought it and they carry on the tradition.  Their fest has been going for 24 years now.  Back in the day if you wanted your chiles drum charred, they were the only outfit around the Durango area.
By the way … meet Lady.  Gazpacho mascot and festivity watchdog.
This is my bag,  Sometimes you get a red chile in the mix, they've ripened a bit on the plant and taste just as herbie robust as the rest.  Nice pop of color and flavor.
For more info on Gazpacho here is their website.  Be sure to mark your calendar for next August and the 25th Annual Chile Roast.
Chile season will continue through mid-September.  In the Durango area you can find them at the Saturday morning  Farmer's Market and at Albertson's.   Also, look for roadside stands and City Market should start soon.
xoAmy
Copyright 2015.  All Materials, Photographs and Text, All Rights Reserved, I'd Order That