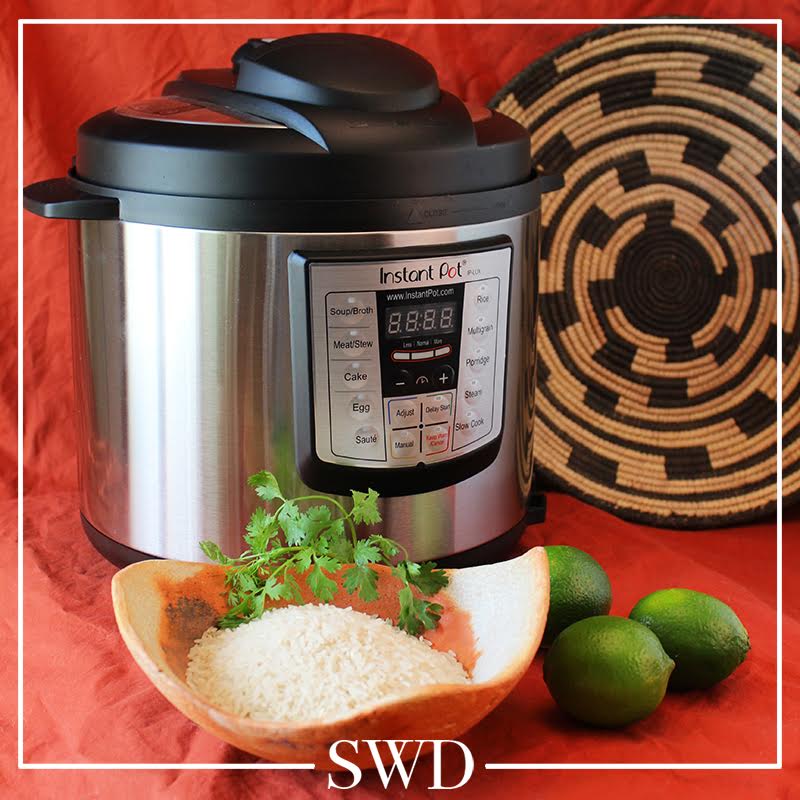 Most of our main meals are served with a side of traditional yellow toasted Mexican rice with carrots and peas — and we love it any day of the week.  This summer we have an herby fresh citrus-y rice that cooks perfectly in our Instant Pot.  The portions of water to rice differ slightly than the stove-top cooking method, and with the Instant Pot it cooks in 10 minutes without heating up the kitchen during these warm summer months, plus it uses 70% less energy.
We love how this recipe consistently turns out, and if you try it out let us know how you like it.
Wishing you Good Luck on the Giveaway!
Amy, Mr.D and the SWD Team
INSTANT POT GIVEAWAY
Note:  Last day to enter is Friday, July 28, 2017
PERFECT CILANTRO LIME RICE EVERY TIME — IN THE INSTANT POT:
2 cups long grain white rice
2 1/2 cups cool water
Juice of 1 lime
1 cup lightly packed cilantro leaves, chopped fine
1 tsp sea salt
Place the rice and water in the Instant Pot. Follow the instructions to properly close and secure the pot.
Press the rice button and it will cook for approx. 10 minutes.
Follow the instructions for decompressing … it's so easy!
Move the rice to a serving bowl.  Drizzle with the lime juice, sprinkle evenly with the cilantro and salt.  Toss to mix well.  Serve warm.
Buen Provecho!